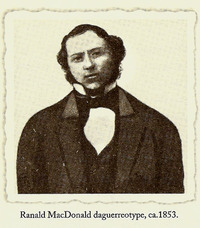 Source: Link
MACDONALD, RANALD, homme d'affaires et explorateur, né le 3 février 1824 à Fort George (Astoria, Oregon), fils aîné d'Archibald McDonald*, trafiquant de fourrures pour la Hudson's Bay Company, et de la princesse chinook Raven (Sunday), fille du chef Comcomly ; décédé célibataire le 24 août 1894 à Toroda, Washington.
Ranald Macdonald perdit sa mère alors qu'il était en très bas âge et c'est sa belle-mère, Jane Klyne, qui l'éleva. Il passa les premières années de sa vie dans divers postes de la Hudson's Bay Company situés dans le district de la Colombie puis, en 1834, on l'envoya étudier à la Red River Academy du fort Garry (Winnipeg) [V. David Thomas Jones*]. Quatre ans plus tard, il se rendit à St Thomas, dans le Haut-Canada, pour s'initier aux opérations bancaires dans un établissement dirigé par l'un des amis de son père, Edward Ermatinger*. Il se lassa rapidement de ce travail et, dès le début de 1841, le quitta subrepticement pour prendre la mer. Déterminé à visiter ce pays fermé qu'était le Japon, il partit de Lahaina (Hawaï) en 1848 à bord du baleinier Plymouth et s'arrangea pour qu'on le débarque près de la côte ouest de l'île d'Ezo (Hokkaidô) ; il s'y fit passer pour un marin naufragé.
Amené à Nagasaki par les autorités japonaises, Macdonald s'accommoda du mieux qu'il put de sa confortable réclusion dans une pièce d'un temple en devenant le premier professeur d'anglais du Japon. C'est d'ailleurs surtout à ce titre que l'on se souvient de lui, là-bas. L'un de ses élèves, Enosuke Moriyama, devint plus tard un interprète célèbre pour les missions du commodore Matthew Calbraith Perry entre 1853 et 1854 et de lord Elgin [Bruce*] en 1858–1859.
À la fin d'avril 1849, on rembarqua Macdonald sur le sloop de guerre américain Preble, en visite à Nagasaki à la recherche des marins américains qui avaient déserté le baleinier Lagoda. Il voyagea beaucoup en Asie, en Australie et en Europe avant de revenir, peu après le décès de son père en 1853, dans sa famille alors installée à St Andrews (Saint-André-Est), dans le Bas-Canada. Il vécut là environ cinq ans et c'est à cette époque qu'il devint franc-maçon.
En 1858, Ranald et son demi-frère Allan retournèrent sur la côte du Pacifique, dans la nouvelle colonie de la Colombie-Britannique. Ils montèrent une entreprise de transport de marchandises entre Port Douglas (Douglas), à la tête du petit lac Harrison, et les mines d'or du Fraser et exploitèrent un service de traversier sur ce fleuve, à Lillooet. Leur frère cadet, Benjamin, se joignit à eux par la suite. En 1861–1862, Ranald Macdonald et Johnston George Hillbride Barnston, dont les familles étaient liées par le mariage, créèrent la Bentinck Arm and Fraser River Road Company dans le but de desservir les nouvelles mines de la région de Cariboo. La route qu'ils empruntaient suivait un sentier muletier depuis l'emplacement de l'actuel Bella Coola jusqu'au Fraser, près du fort Alexandria (Alexandria, Colombie-Britannique). Mais l'entreprise avorta en raison de difficultés financières. Macdonald se joignit en 1864 en compagnie du jeune frère de Barnston, Alexander, à une expédition qui allait explorer l'île de Vancouver [V. Robert Brown]. Avec cette expédition, il traversa quatre fois l'intérieur en grande partie inexploré de l'île et participa à la découverte de vastes réserves de bois de première qualité, des champs aurifères de Sooke et d'un important gisement de charbon sur la Browns, près de Comox. L'année suivante, il conduisit une expédition d'exploration minière commanditée par le gouvernement dans le secteur de Horsefly, à l'intérieur de la région de Cariboo.
Macdonald passa la décennie suivante dans la région de Cariboo, y partageant son temps entre l'exploration et son ranch de Hat Creek. Il travailla aussi pour la Barnard's Express and Stage Line [V. Francis Jones Barnard*] et, plus tard, au Bonaparte House, l'hôtel que dirigeaient Charles Augustus Semlin* et Philip Parke à Cache Creek. En 1875, il seconda sa cousine Christina MacDonald à son commerce de Kamloops. Finalement, il se retira dans une cabane en rondins construite à proximité de la résidence de Donald MacDonald, le frère de Christina, non loin du fort Colvile (près de Colville, Washington), là où son père avait exploité une grande ferme pour le compte de la Hudson's Bay Company au cours des années 1830.
Une fois à la retraite, Ranald Macdonald essaya de trouver un éditeur qui publierait le récit de son séjour au Japon. Malcolm McLeod, qui en 1872 avait publié le journal dans lequel Archibald McDonald racontait un voyage en canot sur la rivière de la Paix, édita son manuscrit à Ottawa. Par la suite on soumit plusieurs ébauches à des éditeurs canadiens, américains et britanniques. Un projet de publication à Montréal sous le titre « A Canadian in Japan » échoua en 1892 par manque de souscriptions, mais une version remaniée que McLeod prépara l'année suivante parut finalement en 1923.
Une partie du compte rendu original de la visite de Ranald Macdonald au Japon est conservée dans les papiers de Malcolm McLeod aux PABC, Add. mss 1249, avec une des trois copies manuscrites de l'édition finale de 1893 de McLeod, « Japan : story of adventure of Ranald MacDonald, first teacher of English in Japan, A.D. 1848–49 ». Une autre copie (celle que McLeod retourna à Macdonald) se trouve à l'Eastern Wash. State Hist. Soc. (Spokane), qui la publia en 1923 sous le titre de Ranald MacDonald : the narrative of his early life on the Columbia under the Hudson's Bay Company's regime ; of his experiences in the Pacific whale fishery ;and of his great adventure to Japan ; with a sketch of his later life on the western frontier, 1824–1894, W. S. Lewis et Naojiro Murakami, édit. Une traduction japonaise de Narrative préparée par Toruo Tomita, Makudonarudo « Nihon Kaisoki », parut à Tokyo en 1979.
Macdonald est aussi l'auteur de Bentinck Arm and Fraser River Road Company, Limited, prospectus (Victoria, 1862), préparé en collaboration avec son associé, Johnston George Hillbride Barnston.
Japon, Ministry of Foreign Affairs Repository (Tokyo), Zoku Tsushin Zenran Ruishu (coll. de documents datant de l'époque du gouvernement de Tokugawa) ; « Beikoku Hyomin no Geisen Nagasaki-ko ni Torai Ikken » (compte rendu de la visite à Nagasaki du Preble, 1849) ; « Kita Kaigan Hyochaku no Beikokujin Nagasaki Goso e Ikken, 1848–1849 » (compte rendu de Ranald Macdonald et des marins du Lagoda).— PABC, Add. mss 794, particulièrement Vancouver Island Exploring Expedition journals of Robert Brown and of Ranald Macdonald.— [Robert Brown], Vancouver Island ; exploration, 1864 (Victoria, [1865]).— « An interesting visitor », Ottawa Daily Citizen, 1er sept. 1888 ; réimpr. dans le Daily News-Advertiser (Vancouver), 15 sept. 1888.— Frederick Whymper, Travel and adventure in the territory of Alaska, formerly Russian American – now ceded to the United States – and in various other parts of the north Pacific (Londres, 1868).— British Colonist (Victoria), 1858–1860.— Daily British Colonist, 1860–1864.— Daily Colonist, sept. 1894.— Cariboo Sentinel (Barkerville, C.-B.), 12 juin 1865.— China Mail (Hong Kong), 1er mai 1849.— Morning Oregonian (Portland), 12 févr. 1891.— Spokesman-Review (Spokane), 31 août 1894.— DAB.— J. E. Ferris, « Ranald MacDonald, the sailor boy who visited Japan », Pacific Northwest Quarterly (Seattle, Wash.), 48 (1957) : 13–16 ; « Ranald MacDonald's monument, Toroda Creek, state of Washington », BCHQ, 15 (1951) : 223–227.— Province (Vancouver), 18 nov. 1963.— Shunzo Sakamaki, « Japan and the United States, 1790–1853 », Asiatic Soc. of Japan, Trans., 2e sér., 18 (1939) : 44–49.— Vancouver Daily Province, 20 mai 1928.
© 1990–2023 University of Toronto/Université Laval
Cite This Article
David H. Wallace, "MACDONALD, RANALD," in Dictionary of Canadian Biography, vol. 12, University of Toronto/Université Laval, 2003–, accessed 3 juin 2023, http://www.biographi.ca/en/bio/macdonald_ranald_12E.html.
The citation above shows the format for footnotes and endnotes according to the Chicago manual of style (16th edition). Information to be used in other citation formats:
| | |
| --- | --- |
| Permalink: | http://www.biographi.ca/en/bio/macdonald_ranald_12E.html |
| Author of Article: | David H. Wallace |
| Title of Article: | MACDONALD, RANALD |
| Publication Name: | Dictionary of Canadian Biography, vol. 12 |
| Publisher: | University of Toronto/Université Laval |
| Year of publication: | 1990 |
| Year of revision: | 1990 |
| Access Date: | 3 juin 2023 |