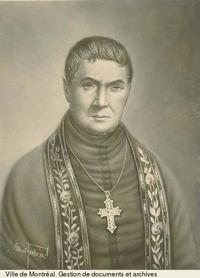 Source: Link
DOLLARD, WILLIAM (sometimes written as Dullard), Roman Catholic priest and bishop; baptized 29 Nov. 1789 in Ballytarina, County Kilkenny (Republic of Ireland), son of Michael Dollard and Anastasia Dunphy; d. 29 Aug. 1851 in Fredericton.
Little is known of William Dollard's background or of the influences which may have shaped his character. Kilkenny was a relatively stable part of Ireland during his youth, not much affected by the bloody rebellion of 1798 and its aftermath in the neighbouring counties. He was first educated in a hedge-school (an unauthorized school which served the Roman Catholic population) but entered St Kieran's College, just outside the town of Kilkenny, possibly as early as 1804. By 1812 he was listed as a student of theology.
Between 1812 and 1815, Joseph-Octave Plessis*, bishop of Quebec, made three tours of the missions of the Maritimes. He found that the recent migrations of Scots and Irish had left thousands of Roman Catholics without adequate spiritual care, and in 1813 he attempted to recruit missionaries or theology students who spoke either Irish or Scottish Gaelic. One of the schools he canvassed was St Kieran's, and one of those who responded was William Dollard.
In 1816 Dollard took passage for Quebec City, where he completed his training. After being raised through the minor orders, he was ordained by Plessis on 12 Oct. 1817. Ten days later he was posted to Arichat, where he shared with Abbé François Lejamtel* the burden of ministering to the whole of Cape Breton. In the next few years, Dollard, who assumed responsibility for the Scots and the Micmacs, was constantly on the move. Often sleeping in the open, even in winter, he seems to have managed his difficult task despite poor health. He served as many of his scattered parishioners as possible and learned Scottish Gaelic in the process. One of the many people he befriended was Lawrence Kavanagh*, the influential St Peters merchant who successfully challenged the laws which barred Roman Catholics from public office in Nova Scotia. In 1822, just as Kavanagh was beginning his struggle, Dollard was sick at his house, stricken with pleurisy. Plessis was forced to recall him to Quebec where he entered the ecclesiastical society for a needed rest.
The next year Dollard was sent back to the Maritimes, to serve the growing community on the Miramichi in New Brunswick. The timber trade had brought thousands of Irish and Scots to the north shore of the colony, and the ports of Chatham and Newcastle had a turbulent immigrant population controlled by merchants who practically wrote their own laws [see Alexander Rankin; Joseph Cunard*]. The single parish church, at Bartibog, had been built in 1800, but the centre of population had moved upriver. The Irish were now concentrated in the parish of Nelson, where they used a small chapel built in 1769, and in 1825 Dollard opened a new church in Nelson (Nelson-Miramichi) dedicated to St Patrick. Although the disastrous fire that swept the settlement that year stilled ethnic and religious antagonisms for a time, Dollard's greatest problems were the rivalry between the Irish and Scottish Catholics, and the stiff competition he faced from aggressive evangelist missionaries such as the Baptist preacher Joseph Crandall. His disposition earned the respect of all parties, including his Protestant rivals and his strongly Scottish superior, Bishop Angus Bernard MacEachern* of Charlottetown. Civil authorities demonstrated their admiration by appointing him to the local boards of health and education.
In 1833 Dollard was summoned by MacEachern to the episcopal residence at St Andrews, P.E.I., where he apparently lectured in the small seminary and served as vicar general of the diocese. The bishop's death two years later led to the first of a series of feuds over episcopal succession among the French, Scots, and Irish in the Maritimes. Dollard's role in this dispute is obscure, but he seems to have supported Bernard Donald Macdonald, the man chosen in 1837 to be MacEachern's successor. In 1836 Dollard was appointed to the mission at Fredericton and the following year was again named vicar general by the new bishop.
Although Fredericton was less rowdy than the Miramichi, having both the lieutenant governor's entourage and a garrison, Dollard's new duties were no less challenging. His parish covered all of central New Brunswick, and he had to serve a scattered Roman Catholic population of French, Indians, and Irish. Because there were only a few small chapels, his first task was to provide suitable churches, which he promptly did at Woodstock and Kingsclear. Although nowhere was this need as pressing as in the capital itself, the demands on Dollard's time kept him from replacing the small chapel there for some years. In response to a growth in the Catholic population throughout his mission as well as to ethnic jealousies, ecclesiastical jurisdictions in the Maritimes were reorganized in September 1842. Halifax was elevated to an archiepiscopate with responsibility for the Maritimes, and a diocese for New Brunswick was carved out of the diocese of Charlottetown. The choice of bishop for New Brunswick rekindled old flames. Abbé Antoine Gagnon*, who worked in the northern section of the colony, had more seniority, but Dollard apparently had better connections. After Bishop Macdonald had been given his choice of diocese and had decided to stay on the Island, William Dollard was given New Brunswick.
Dollard was consecrated bishop of Fredericton by Pierre-Flavien Turgeon*, coadjutor bishop of Quebec, on 11 June 1843. He never used that title, preferring "Bishop of New Brunswick." Had an Irish Catholic bishop styled himself after the very British capital of a British and Anglican province, there might have been problems. Perhaps Dollard also wished to avoid any confrontation with the Church of England (which in any case soon sent John Medley* as its own bishop to assume the Fredericton title). With a sense of urgency, probably created by his consecration, he immediately set about building a new church in Fredericton. It was reported that he collected as much money from Protestants as from Catholics. One donation came from the British government in exchange for free pew space for the Catholic soldiers in the garrison. The provincial government was not so generous. Beginning in 1844, Dollard attempted to have the diocese incorporated so that he need not own church property as a private citizen. Twice the House of Assembly passed the enabling legislation, and twice it was rejected by the Legislative Council. On the third attempt, the council relented, and the diocese was incorporated on 6 July 1846. During the previous year the new church, diplomatically dedicated to an appropriate Englishman, Saint Dunstan, had been opened, although it was far from completed. In the next few years gifts of altar furniture arrived from Lower Canada and Ireland, until Dollard and his new charge had one of the finest wooden churches in the province.
Even before it was finished, more important events drew Dollard away from his principal church. The Irish famine had driven thousands of immigrants to New Brunswick, and he felt he could be of more use in the port city of Saint John. By 1848 he had shifted his residence there. Alleviating starvation, disease, and poverty was more urgent to Dollard than maintaining the prestige of a bishop in the capital. It was also imperative that he do all in his power to ameliorate relations between the suspicious and often hostile resident communities and the bitter and angry Irish newcomers. In 1847 a serious clash had occurred in Woodstock, and two years later a far more serious confrontation took place in Saint John. Dollard's role was to advocate moderation. The bishop's attempt to organize and settle the immigrants meant almost continuous travel and a return of poor health. On Friday, 29 Aug. 1851, while on a visit to Fredericton, Dollard died, possibly of diabetes. On the following Sunday, he was quietly and fittingly interred under the altar of St Dunstan's. (A century later, the altar-boy descendants of his immigrant charges, including the undersigned, were to assure one another in hushed and reverent tones that the holy water of the baptismal font dripped onto his forehead, ensuring eternal communion with the Catholic community he had done so much to create.)
To describe William Dollard merely as a missionary and bishop is to ignore the tremendous impact this man had on the growing and unstable society that was New Brunswick during the first half of the 19th century. In his quiet and benevolent, yet diligent manner, Dollard was a pioneer who contributed as much as those, including some of his fellow missionaries, who achieved a fleeting notoriety through opposite qualities. He was universally seen as an honest broker who could bridge the gaps created by ethnic and denominational rivalry. Even the most virulent critics of the Irish or the Roman Catholics could still cite him as the exception to the rule. No hostile reference to him as a person has survived, if such ever existed. Given the New Brunswick of the time, what better epitaph.
Arch. of the Diocese of Saint John (Saint John, N.B.), Dollard papers. [Robert Cooney], The autobiography of a Wesleyan Methodist missionary, (formerly a Roman Catholic), containing an account of his conversion from Romanism, and his reception into the Wesleyan ministry; also reminiscences of nearly twenty-five years' itinerancy in the North American provinces . . . (Montreal, 1856); A compendious history of the northern part of the province of New Brunswick, and of the district of Gaspé, in Lower Canada (Halifax, 1832; repub. Chatham, N.B., 1896). A. A. Johnston, Hist. of Catholic Church in eastern N.S. J. G. McDonald, "Nucleus of Saint John diocese centred in pioneer mission work of Jesuits 300 years ago," Official historical booklet, Diocese of Saint John, ed. B. P. McCafferty (Saint John, 1948). C. A. Nugent, "A study of the Right Reverend William Dollard, D.D., first Catholic bishop of New Brunswick" (typescript essay, 1964, formerly at N.B. Museum but withdrawn, 1983). W. J. Osborne, "The Right Reverend William Dollard, D.D., first bishop of New Brunswick," CCHA Report, 9 (1941–42): 23–28.
© 1985–2023 University of Toronto/Université Laval
Cite This Article
Peter M. Toner, "DOLLARD, WILLIAM," in Dictionary of Canadian Biography, vol. 8, University of Toronto/Université Laval, 2003–, accessed October 4, 2023, http://www.biographi.ca/en/bio/dollard_william_8E.html.
The citation above shows the format for footnotes and endnotes according to the Chicago manual of style (16th edition). Information to be used in other citation formats:
| | |
| --- | --- |
| Permalink: | http://www.biographi.ca/en/bio/dollard_william_8E.html |
| Author of Article: | Peter M. Toner |
| Title of Article: | DOLLARD, WILLIAM |
| Publication Name: | Dictionary of Canadian Biography, vol. 8 |
| Publisher: | University of Toronto/Université Laval |
| Year of publication: | 1985 |
| Year of revision: | 1985 |
| Access Date: | October 4, 2023 |