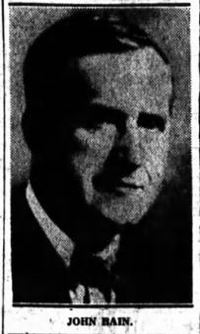 Source: Link
BAIN, JOHN, civil servant, political adviser, and businessman; b. 8 June 1869 in Paisley, Scotland, son of Robert Bain, a dry-salter, and Agnes Allison; m. 5 April 1899 Maud (Maude) Mary Buckley in Paris, Ont., and they had two daughters, one of whom predeceased him; d. 26 Feb. 1932 in Ottawa and was buried in Beechwood Cemetery.
John Bain was born and raised in Paisley, a large town seven miles west of Glasgow, and received his education there. During his early years, he lost a leg below the knee in a railway accident. In 1888 he came with his parents to Canada. The family settled in Brant County, where John found work with the Toronto Globe and the Brantford Expositor and in the law; at some point he used his skills as a shorthand writer in the courts of New York City. He was the founding president of the Young Men's Liberal Club in Paris, and on 3 Aug. 1896, following the victory of Wilfrid Laurier*'s Liberals in the federal election of 23 June, he became private secretary to the head of the Department of Customs, William Paterson, the veteran mp for Brant South. Bain, who initially earned a modest salary of $600, worked with Paterson and Minister of Finance William Stevens Fielding* on the establishment of tariffs under an imperial preferences agreement and accompanied his minister to the Colonial Conference of 1902 in London. On 1 July 1903 Bain was promoted to assistant commissioner of customs (while retaining his role as private secretary to the minister), and his salary, which had already been increased to $1,500, was doubled. By 1905–6, when he served as the English-language secretary of a tariff commission consisting of Fielding, Paterson, Louis-Philippe Brodeur*, and Sir Richard John Cartwright*, Bain was the acknowledged expert on the country's tariffs and external trade. He advised the Laurier government on a broad range of related issues, including trade with Australia and the impact of the McKinley tariff on the sale of Canadian farm produce in the United States.
Bain also became a trusted political adviser to the prime minister. In late 1907 he warned Laurier that the Liberal Party was in danger of growing complacent. "Practically nothing is being done to make people Liberals or to inspire those who are Liberals," he wrote. "A shaking-up of the dry bones is necessary and I think it should come from headquarters." In the last weeks before the federal election of 26 Oct. 1908, Bain pleaded in vain with his leader to speak in the Ontario ridings of Brantford and Hamilton East. The Liberals narrowly held the former and lost the latter constituency, but won a comfortable majority nationwide. Afterwards, Bain successfully urged Laurier to have Sir Frederick William Borden*, the minister of militia and defence, follow through on his promise to establish a militia cavalry regiment in Brant County: the 25th (Brant) Dragoons was created on 1 April 1909.
By this time Bain had left the civil service, having resigned in February 1907 and taken his expertise into the private sector, associated until 1913 with former minister of the interior Clifford Sifton*. Bain organized the Canadian Western Natural Gas, Light, Heat and Power Company in Calgary and was manager of the International Marine Signal Company. From an office in downtown Ottawa he worked as a financial broker and customs specialist, and in 1909 he was named the British Board of Trade's imperial correspondent for the city. After the First World War broke out in 1914, Bain served as an adviser to the Ford Motor Company of Canada [see Gordon Morton McGregor*], which was seeking government contracts from the Conservative government of Sir Robert Laird Borden. Bain remained a devoted Liberal and a confidant of Laurier in the early years of the war. On 28 April 1915 he sent Sir Wilfrid a memorandum that extolled the party's achievements and plotted its future campaign strategy, and in December he was appointed secretary of the newly formed National Liberal Advisory Committee, a role that kept him in regular contact with his leader.
In October 1917, however, the tie between Bain and Laurier was broken over the issue of conscription. Laurier refused to support the policy, but many English Canadian Liberals who did, such as Ontario opposition leader Newton Wesley Rowell*, abandoned their party and backed Borden's Unionists. On 5 October Laurier wrote to Bain suggesting that they have "a heart to heart talk," and they met two days later. Afterwards Laurier, seemingly convinced that Bain would remain faithful to the party, asked him to write a handbook for Liberal speakers to use in the upcoming election campaign. Instead, Bain made the hard decision to part ways. "It has been a great wrench to me to run counter to your opinions and wishes," he wrote on 20 October, "but feeling as I do, and have since conscription became an issue, I cannot conscientiously do otherwise." Bain not only left the Liberals, but actively supported Borden during the run-up to the vote on 17 Dec. 1917. According to journalist Hector Willoughby Charlesworth*, he became the Union government's publicity director and devised "pithy paragraphs and pointed questions" to discredit Laurier, even suggesting that the German emperor, Kaiser Wilhelm II, preferred to see a Liberal victory.
On 11 Jan. 1918 Borden, having won a majority government, expressed his "very warm and deep appreciation" to Bain for the "fine and effective service which you gave during the recent election." In September 1920 Bain became head of the information office of the National Liberal and Conservative Party, successor to the Unionists. He served Prime Minister Arthur Meighen* in that role until the victory of William Lyon Mackenzie King*'s Liberals in the election of 6 Dec. 1921. Bain was now 52 years of age, and his connection with the Canadian government as a civil servant, lobbyist, and political adviser came to an end.
John Bain appears to have carried on his business activities in Ottawa until his final days. A member of the Civic Hospital's board of trustees for many years, he was also a sports enthusiast who enjoyed curling and lawn bowling. He died on 26 Feb. 1932 at his home on James Street, several hours after suffering a stroke. His funeral was held three days later at St Andrew's Church, and he was buried in Beechwood Cemetery. He left all of his $118,605.68 estate to his wife and daughter.
The First World War shattered the easy, long-held assumptions of many Canadians about political loyalty. In the wake of the conscription crisis of 1917, Sir Wilfrid Laurier lost some of his closest English-speaking Liberal colleagues and advisers. John Bain was one of them.
Much of John Bain's correspondence is held by LAC in the Sir Wilfrid Laurier fonds, R10811-0-X; the Sir Robert Borden fonds, R6113-0-X; and the Arthur Meighen fonds, R14423-0-6. In the Laurier fonds, the following letters are of particular importance: Bain to Laurier, 26 Nov. 1907 (vol.492, pp.132823–34), 4 Oct. 1908 (vol.537, pp.145574–77), 28 April 1915 (vol.695, pp.190888–99), 20 Oct. 1917 (vol.714, pp.197684–86); Laurier to Bain, 5 Oct. 1917 (vol.713, p.197315). In the Borden fonds, see Borden to Bain, 11 Jan. 1918 (vol.227, p.127188).
Globe, 23 July 1903. Ottawa Citizen, 26 Feb. 1932. Ottawa Evening Journal, 26 Feb., 18 April 1932. Can., Dept. of the Secretary of State, The civil service list of Canada … (Ottawa), 1897–1906. Canadian annual rev., 1915. Canadian men and women of the time (Morgan; 1912). Cyclopædia of Canadian biog. (Rose and Charlesworth), vol.2. National encyclopedia of Canadian biography, ed. J. E. Middleton and W. S. Downs (2v., Toronto, 1935–37), 1.
© 2022–2023 University of Toronto/Université Laval
Image Gallery

Cite This Article
Robert Craig Brown, "BAIN, JOHN," in Dictionary of Canadian Biography, vol. 16, University of Toronto/Université Laval, 2003–, accessed October 1, 2023, http://www.biographi.ca/en/bio/bain_john_16E.html.
The citation above shows the format for footnotes and endnotes according to the Chicago manual of style (16th edition). Information to be used in other citation formats:
| | |
| --- | --- |
| Permalink: | http://www.biographi.ca/en/bio/bain_john_16E.html |
| Author of Article: | Robert Craig Brown |
| Title of Article: | BAIN, JOHN |
| Publication Name: | Dictionary of Canadian Biography, vol. 16 |
| Publisher: | University of Toronto/Université Laval |
| Year of publication: | 2022 |
| Year of revision: | 2022 |
| Access Date: | October 1, 2023 |