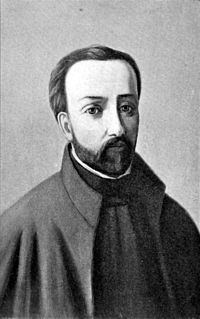 Source: Courtesy of Wikimedia Commons
LALEMANT, GABRIEL, priest, Jesuit, missionary and martyr; canonized by Pope Pius XI, 29 June 1930; b. 3 Oct. 1610 in Paris; killed by the Iroquois 17 March 1649.

Gabriel Lalemant was the son of a lawyer in the judicial court (Parlement) of Paris. The 1649 Relation implies that he belonged to the nobility: "Although, in leaving the world, he had left the share which his birth gave him in honorable offices. . . ." He was 20 when he entered the noviciate in Paris on 24 March 1630. Two years later he was granted permission by his superiors to add to the three usual religious vows that of devoting himself to foreign missions; 14 years were to elapse between the taking of this vow and Gabriel's arrival in Canada. In the interval he was a teacher at the Collège in Moulins (1632-35), studied theology at Bourges (1635–39), was minister to the boarding-school pupils at the Collège in La Flèche (1639–41), was philosophy teacher at the Collège in Moulins (1641–44), and prefect of the Collège in Bourges (1644–46). The Journal des Jésuites records his arrival under the date 20 Sept. 1646. We know little about his stay in Quebec (1646–48). Early in September 1648 he arrived at Sainte-Marie-des-Hurons and he was diligent in the study of the language. His success was so prompt that in February 1649 he replaced at the Saint-Louis mission Father Noël Chabanel, who had been called away.
On 16 March 1649, a war-party of 1,000 Iroquois overran the little town of Saint-Ignace and captured it before sunrise, almost without striking a blow. From there they went on to the Saint-Louis mission, about a league away. Here the Hurons defended themselves stoutly, and drove back two separate attacks. But by weight of numbers the Iroquois were victorious here as well.
Jean de Brébeuf and Gabriel Lalemant were at that time at the Saint-Louis mission. They were urged to flee; they refused, "and, during the heat of the combat, their hearts were only fire for the salvation of souls." As soon as they were captured they were stripped of their clothes, their nails were torn out, and they were taken to the little town of Saint-Ignace (half-way between Coldwater and Vasey, in the county of Simcoe, Ontario).
Brébeuf died 16 March, at four in the afternoon. Was Lalemant aware of his fellow missionary's suffering? We do not know. As for him, his martyrdom began 16 March at six in the evening and lasted until the following morning. Here is the account of it given in the Relation: "At the height of these torments, Father Gabriel Lallemant lifted his eyes to Heaven, clasping his hands from time to time and uttering sighs to God, whom he invoked to his aid." He "had received a hatchet blow on the left ear, which they had driven into his brain, which appeared exposed: we saw no part of his body, from the feet even to the head, which had not been broiled, and in which he had not been burned alive, – even the eyes, into which those impious ones had thrust burning coals."
His body, buried with Brébeuf's beneath the chapel of the Sainte-Marie residence, was taken up and moved to Quebec in the spring of 1650.
Almost all that we know about Gabriel Lalemant we owe to the Relation of 1649 (JR (Thwaites), XXXIV, 24–36). JJ (Laverdière et Casgrain), passim. See also ACSM, "Mémoires touchant la mort et les vertus des pères Isaac Jogues . . ." (Ragueneau), repr. APQ Rapport, 1924–25, 3–93, passim. Positio causae. Christophe Regnaut, "Récit veritable du martyre et de la bien heureuse mort, du Père Jean de Breboeuf et du Père Gabriel l'Alemant en la Nouvelle France, dans le pays des hurons par les Iroquois, ennemis de la foy," 1678, in PAC Report, 1884, Note E. 1xiii. Léon Pouliot, "Notice sur Gabriel Lalemant," dans Les saints martyrs canadiens (Montréal, 1949), 25–28; 115–21. Rochemonteix, Les Jésuites et la Nouvelle-France au XVIIe siècle, II.
© 1966–2023 University of Toronto/Université Laval
Cite This Article
Léon Pouliot, "LALEMANT, GABRIEL," in Dictionary of Canadian Biography, vol. 1, University of Toronto/Université Laval, 2003–, accessed December 5, 2023, http://www.biographi.ca/en/bio/lalemant_gabriel_1E.html.
The citation above shows the format for footnotes and endnotes according to the Chicago manual of style (16th edition). Information to be used in other citation formats:
| | |
| --- | --- |
| Permalink: | http://www.biographi.ca/en/bio/lalemant_gabriel_1E.html |
| Author of Article: | Léon Pouliot |
| Title of Article: | LALEMANT, GABRIEL |
| Publication Name: | Dictionary of Canadian Biography, vol. 1 |
| Publisher: | University of Toronto/Université Laval |
| Year of publication: | 1966 |
| Year of revision: | 1979 |
| Access Date: | December 5, 2023 |