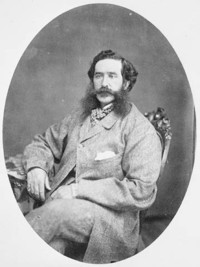 IRUMBERRY DE SALABERRY, CHARLES-RENÉ-LÉONIDAS D', militia officer and officeholder; b. 27 Aug. 1820 in Chambly, Lower Canada, the third son of Lieutenant-Colonel Charles-Michel d'Irumberry* de Salaberry, hero of the battle of Châteauguay, and Marie-Anne-Julie Hertel de Rouville; m. first 30 Jan. 1849 Marie-Victorine-Cordélia Franchère (d. 1855), and they had three children; m. secondly 1 Sept. 1869 Louise-Joséphine Allard (d. 1877), and they had four children; m. thirdly 3 Nov. 1880 Marie-Louise Baby; d. 25 March 1882 at L'Assomption, Que.
The ancestry and marriages of Charles-René-Léonidas d'Irumberry de Salaberry go far to explain his character and career. He grew up in a family accustomed to private means and public service. As a younger son he was perhaps more than usually dependent on public employment to which he and his friends came to feel he was reasonably entitled. His background may explain his lack of professional training: contrary to statements often made, there is no evidence that he was an engineer or even a land surveyor. He belonged to the class, already disappearing by the mid 19th century, whose members might expect to live on their name.
In 1852 he was a lieutenant-colonel in the 2nd Battalion of the Rouville militia. He served with the same rank in the Voltigeurs de Québec, his commission being signed in 1862 at the height of the Trent affair [see Sir Charles Hastings Doyle]. Salaberry then attended the School of Military Instruction of Quebec, established as part of a programme to improve the militia of Canada, especially as a result of the pressures leading to the American Civil War; he received a 1st class certificate in 1865. In becoming a qualified militia officer, Salaberry had continued the military traditions of his famous father and also of his mother's family. What other employment he may have had in the 1850s and 1860s, and what means he used to support his family, are not known. He was, however, briefly in the public service.
In 1857 Salaberry was appointed to the hastily organized Canadian exploration expedition, led by George Gladman* and including Simon James Dawson* and Henry Youle Hind*, charged with exploring the route between Fort William (Thunder Bay, Ont.) and the Red River Settlement (Man.), and providing detailed information for the Canadian government on the feasibility of using this route. Salaberry and G.-F. Gaudet, the only French Canadians appointed to the expedition, were listed as "assistants under the charge" of Dawson, but were paid only 7s. 6d. a day, the wages of chainmen and less than the assistants of Gladman and Hind received. There was clearly mismanagement of some sort, especially as Gaudet had some professional training as an engineer, and they protested. It may well be that the two French Canadians were a belated appointment.
At Red River in 1857 Salaberry's name and language made him useful in hiring French-speaking members of the community and in buying supplies from them for the survey of the route from Upper Fort Garry (Winnipeg) to the Lake of the Woods. Moreover, veterans of the War of 1812 who lived in Red River, remembering his father, sought his aid in applying for pensions in recognition of their service. Late that fall Salaberry went to Toronto with other members of the expedition, and he returned to Red River ahead of the main party for the expedition of 1858 led by Dawson and Hind. That summer he worked under Dawson's direction and was commended for his skill in encouraging the boatmen during the exploration on the Saskatchewan and Assiniboine rivers. A third expedition in 1859 did not materialize.
Salaberry then dropped out of public view, apparently living by private means. In February 1868 a petition prepared by friends was submitted to the Legislative Assembly of Quebec requesting an appointment for him. No action was taken that year but in July 1869 he was appointed superintendent of woods and forests in the district of Montreal.
In the fall of 1869, however, the Red River rebellion broke out under the leadership of Louis Riel. The federal government, seeking to reassure the people of Red River of its good intentions, decided in December to dispatch emissaries. It appointed Abbé Jean-Baptiste Thibault*, who had served in the northwest for 35 years, and Salaberry, who was probably chosen on the recommendation of Sir George-Étienne Cartier* because of his experience in the northwest in 1857 and 1858.
On Christmas Eve 1869 Salaberry arrived in Pembina (N. Dak.) with Thibault, who continued on alone to the Red River Settlement where he was kept under surveillance by Riel's men at Bishop Alexandre-Antonin Taché*'s palace in St Boniface. Early in January Salaberry joined his colleague and they appeared before the Métis council of the provisional government. Riel, who had insisted upon seeing their instructions, declared that these did not empower Thibault and Salaberry to negotiate on behalf of Canada and politely dismissed them. The two commissioners had not succeeded in persuading the inhabitants of Red River to stop resisting the Canadian government but they did manage to soothe the feeling in St Boniface.
Donald Alexander Smith*, a commissioner appointed by Sir John A. Macdonald* after Thibault and Salaberry had been selected, had arrived in the Red River Settlement with Richard Charles Hardisty on 27 December. It was evident on 19 January, the first day of a two-day convention held at Upper Fort Garry, that Smith had succeeded in weakening support for Riel among the people of Red River by using the influence and funds of the Hudson's Bay Company. However, the next day the convention decided, on Riel's suggestion, that a council of the settlement be elected to prepare terms for their own delegates to take with them to Canada. Smith had wanted to negotiate a settlement himself and blamed this setback on Thibault, whom he accused of helping rally Riel's supporters. It is to be presumed that Salaberry concurred with the sending of delegates, for when questioned by the meeting he firmly assured those present that the Canadian government would pay the expenses of these delegates to Ottawa. This was Salaberry's sole contribution to the proceedings at Red River; his other activity during his three-month sojourn at St Boniface was to organize and train a boys' band.
On 24 March 1870 Salaberry left Red River with Joseph-Noël Ritchot*, one of the provisional government's delegates, for Ottawa, where he introduced him to Cartier and Joseph Howe*, the secretary of state for the provinces. Salaberry later returned to Quebec and resumed his duties as superintendent of woods and forests in the Montreal district. He retained the post until his death in 1882.
PAC, MG 24, G45, 5: 1468–72; 9: 2023; MG 27, I, C6, Le Moine to Salaberry, 19 Dec. 1869. PAM, HBCA, D.5/44, 9 Sept. 1857; D.5/46, 21 Jan. 1858. Begg, Red River journal (Morton). Can., Prov. of, Legislative Assembly, App. to the journals, 1858, II: app.3; 1859, IV: app.36. Manitoba: the birth of a province, ed. W. L. Morton (Altona, Man., 1965). P.-G. Roy, La famille d'Irumberry de Salaberry (Lévis, Qué., 1905). Stanley, Louis Riel.
© 1982–2023 University of Toronto/Université Laval
Cite This Article
W. L. Morton, "IRUMBERRY DE SALABERRY, CHARLES-RENÉ-LÉONIDAS D'," in Dictionary of Canadian Biography, vol. 11, University of Toronto/Université Laval, 2003–, accessed September 29, 2023, http://www.biographi.ca/en/bio/irumberry_de_salaberry_charles_rene_leonidas_d_11E.html.
The citation above shows the format for footnotes and endnotes according to the Chicago manual of style (16th edition). Information to be used in other citation formats:
| | |
| --- | --- |
| Permalink: | http://www.biographi.ca/en/bio/irumberry_de_salaberry_charles_rene_leonidas_d_11E.html |
| Author of Article: | W. L. Morton |
| Title of Article: | IRUMBERRY DE SALABERRY, CHARLES-RENÉ-LÉONIDAS D' |
| Publication Name: | Dictionary of Canadian Biography, vol. 11 |
| Publisher: | University of Toronto/Université Laval |
| Year of publication: | 1982 |
| Year of revision: | 1982 |
| Access Date: | September 29, 2023 |