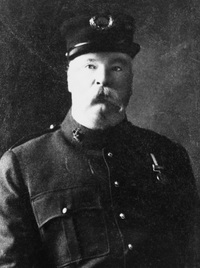 Source: Link
ENGLISH, THOMAS, constable and police chief; b. 5 Dec. 1846 in London Township, Upper Canada, son of Thomas English and Mary Ann McStay; m. Annie Bolton, and they had three daughters and two sons; d. 15 Dec. 1916 in Vancouver.
Thomas English's paternal grandfather had come to London Township from County Armagh (Northern Ireland) about 1819. The sixth of nine children, Thomas left home while a young man; by the 1860s he was working in Chicago, where he apparently organized a company of Canadians for service during the Fenian raids of 1866. He subsequently began his policing career somewhere in Ontario. In later years he possessed an inscribed pearl-handled revolver, a gift from the police in Cleveland, Ohio, for his arrest of the man who had murdered one of their lieutenants.
On 25 Jan. 1882 English joined the Winnipeg police force. His promotion to sergeant a year later suggests that he had some ability, but his tenure in Winnipeg was to be brief. In the spring of 1886 the police commission launched an investigation into allegations that Chief David B. Murray had received money from certain bawdy- and gambling houses in exchange for protection from raids and prosecution. One of 30 witnesses, English had "understood" from a city detective that there had been some arrangement with the chief about the houses not being "pulled." Murray was exonerated but English did not fare so well. On 25 March the commissioners passed a resolution that he be dismissed since he had not shared his information with his superiors. Over the next four years he worked as a licence inspector for the city.
In December 1890 Calgary was looking for a new chief of police. Undeterred by English's dismissal in Winnipeg, on 21 Jan. 1891 town council accepted a recommendation that he be appointed. The new chief had evidently had some supporters in Winnipeg. Shortly after his appointment, the Calgary Tribune published a letter from a former alderman there who observed that council "could not have found a man better suited for the position." As chief for the next 18 years, during which time his force would grow from a constable and a night-watchman to 26 men, English would see Calgary develop from a cattle and railway town of some 4,000 to a city of over 30,000. An unfearing man familiar with the use of intimidation, English, in the estimate of historian Max Foran, was a "rugged frontier lawman who ran the town effectively."
Before long English was once more embroiled in controversy. In 1892 tension arose between the North-West Mounted Police stationed in Calgary and the municipal force, who in the view of the NWMP provided less than full cooperation in putting a prostitute named Lottie Carkeek out of business. Some of the mounted police felt that English was, at best, soft in enforcement and, at worst, guilty of protecting a prostitute, an accusation that led him to consider suing for defamation.
The jurisdictional uncertainty and tension surfaced again later the same year. An outbreak of smallpox sparked a vicious anti-Chinese riot, during which the NWMP were compelled to enforce a quarantine as well as the peace. English, who was out of town at the height of the riot, was not keen on supporting them. At one point, after he had entered the quarantine grounds and attacked a NWMP sergeant when he left, they had English charged. Complaints about the apparent ineffectiveness of his police prompted council on 10 Aug. 1892 to instruct the police committee to decide whether the NWMP should assume responsibility for Calgary. When the committee asked the force to take over, it declined.
In the early 1890s a brief depression had sparked a swell of boosterism, which held that brothels, saloons, gambling dens, and hobo jungles threatened civic virtue and economic well-being. The crusade led by commercial, civic, and religious groups was translated into action under English. The effectiveness of this heightened attention is, however, a matter of conjecture. Although raids brought in increasing numbers of offenders, the decrepit local jail could not always accommodate them. It appears that many of those convicted, and jailed because they could not pay their fines, were released. Moreover, the crusade did not affect brothels located on the outskirts, which were beyond municipal jurisdiction.
In spite of increased enforcement, the police could not fulfil unrealistic civic expectations. English was authorized by council in 1906 "to rid the City of all questionable characters" and to restrict the hack drivers and livery owners who catered to the bawdy trade. English, however, dared publicly to downplay the problem of gambling and prostitution. In 1907 a citizens' league was organized to investigate allegations of police inaction. Although an investigation early the following year cleared English, he may well have turned a blind eye to prostitution in Calgary. Enforcement was difficult, however, and because of limited resources and a dramatic growth in population, there was doubtless a substantial volume of undetected and unprosecuted crime. English had a staff in 1906 of only seven men to cover an area of about six square miles, containing 14,000 people. With the explosion in population over the next three years, the force was enlarged rapidly, but most of his men were hired for brawn rather than familiarity with the Criminal Code or city by-laws. Since they were concerned more with serious crime and routine duties than with periodic bursts of public virtue, few arrests for prostitution appear in the police booking records. English undoubtedly knew too that women could not be easily accommodated: the Calgary jail had only four cells – primarily drunk tanks – and the only place designated for female prisoners was the guardroom of the mounted police.
English's days as chief were numbered as a result of the 1908 investigation. In the summer of 1909 he was accused of improperly re-laying some charges for gambling, a step necessitated by the need to pursue matters under local by-laws rather than the Criminal Code. An inquiry concluded that the charges had been renewed with no impropriety and at the direction of the city solicitor, but on 14 July 1909 the commissioners asked for English's resignation. When he failed to comply, he was dismissed.
Thomas English remained in Calgary and in 1910 he opened the New Method Employment Agency. In November 1916 his wife passed away and shortly thereafter he went to Vancouver, where he died of apparent heart failure.
As a policeman in the Canadian west, the affable English experienced a career that spanned the close of the frontier and early 20th-century urbanization. Though he was no stranger to controversy or setback, the length of his professional survival, notably in Calgary, was remarkable given the social change that took place during that time.
Calgary Police Service Museum/Arch., John Robertson, history of the Calgary Police Force. City of Calgary Arch., Council minutes, 21 Jan. 1890: 230–31; 16 July 1909: 429. City of Winnipeg, Arch. and records control branch, City Council, minutes, 25 Jan. 1882. Winnipeg Police Dept. Museum, Police commission minutes, 17, 25 March 1886, and undated newspaper extracts attached to these minutes. Calgary Herald, 14 July 1909, 15 Dec. 1916. Calgary Tribune, 21 Jan. 1891. William Beahen, "Mob law could not prevail," Alberta Hist. (Calgary), 29 (1981), no.3: 1–7. Judy Bedford, "Prostitution in Calgary, 1905–1914," Alberta Hist., 29, no.2: 1–11. "The English family: descendants of Thomas English Senior & Abigail Watt . . . ," comp. W. E. Hitchins (typescript, London, Ont., 1980; copy in London Public Library and Art Museum). Max Foran with Edward Cavell, Calgary: an illustrated history (Toronto, 1978). Frontier Calgary: town, city, and region, 1875–1914, ed. A. W. Rasporich and H. C. Klassen (Calgary, 1975). Margaret Gilkes and Marilyn Symons, Calgary's finest: a history of the city police force (Calgary, 1975). T[homas] Thorner and N. [B.] Watson, "Patterns of prairie crime: Calgary, 1875–1939," in Crime and criminal justice in Europe and Canada, ed. L. A. Knafla (Waterloo, Ont., 1981), 219–55. Tom Ward, Cowtown: an album of early Calgary (Calgary, 1975).
© 1998–2023 University of Toronto/Université Laval
Image Gallery

Cite This Article
Neil B. Watson, "ENGLISH, THOMAS," in Dictionary of Canadian Biography, vol. 14, University of Toronto/Université Laval, 2003–, accessed May 28, 2023, http://www.biographi.ca/en/bio/english_thomas_14E.html.
The citation above shows the format for footnotes and endnotes according to the Chicago manual of style (16th edition). Information to be used in other citation formats:
| | |
| --- | --- |
| Permalink: | http://www.biographi.ca/en/bio/english_thomas_14E.html |
| Author of Article: | Neil B. Watson |
| Title of Article: | ENGLISH, THOMAS |
| Publication Name: | Dictionary of Canadian Biography, vol. 14 |
| Publisher: | University of Toronto/Université Laval |
| Year of publication: | 1998 |
| Year of revision: | 1998 |
| Access Date: | May 28, 2023 |