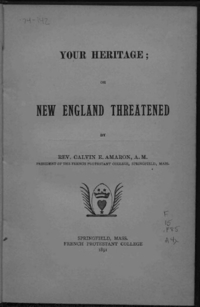 Source: Link
AMARON, CALVIN ELIJAH, Presbyterian minister, educator, newspaper editor, and author; b. 4 Sept. 1852 in De Ramsay (Saint-Félix-de-Valois), Lower Canada, son of Étienne-Daniel Amaron and Annette Cruchet; m. first 19 Oct. 1881 Agnes McDougall; m. secondly 26 Nov. 1895 Margaret (Maggie) Lorne Lynch in Montreal; he had five children, at least three of whom were born of the second marriage; d. 15 March 1917 in Verdun, Que., and was buried in Berthier (Berthierville).
The son of Swiss missionaries who were recruited by the French Canadian Missionary Society, Calvin Amaron received his early education at the Académie de Berthier and at the Institut de Pointe-aux-Trembles established by Olympe Tanner [Hoerner*] and her husband, missionaries of the same society. He graduated ba with honours in mental and moral philosophy from McGill College in Montreal in 1877; he would obtain an ma from McGill in 1880 and a bd from the Presbyterian College of Montreal in 1884.
Amaron was ordained to the ministry of the Presbyterian Church in Canada on 15 Oct. 1879 for Trois-Rivières, but in May 1882 he accepted a call to the French Protestant Church in Lowell, Mass., to continue the work of evangelizing French Canadians. During the second half of the 19th century hundreds of thousands of French Canadians migrated south to work in the factories of New England: by 1900 they would form about 10 per cent of that region's population. Recognizing the need for educational institutions to support his evangelization, Amaron founded the French Protestant College at Lowell in 1885, with the help of ministers from the Massachusetts Home Missionary Society, a Congregational organization. The following year he resigned his charge to become president of the college. Two years later the college would move to Springfield.
In the fall of 1886 ministers working with the missionary society met to establish a newspaper; they formed the French Publishing Society and in November 1887 launched Le Semeur franco-américain, a weekly newspaper published in Ware. Amaron joined the publishing society a few weeks after its establishment and became editor of the paper's English section. Eight months later, after certain financial difficulties, Le Semeur's headquarters were transported to the French Protestant College in Lowell and Amaron assumed the job of manager. The paper subsequently moved with the college to Springfield. The society was enlarged and reorganized in 1889, reincorporating as the French Evangelical Publishing Society. It issued a new paper, Le Citoyen franco-américain, a 16-page weekly, with about 12 pages in French and 4 in English. Amaron was the English-language editor and a director of the society.
In 1885 Amaron had published The evangelization of the French Canadians of New England. The 16-page booklet contained a brief résumé of the missionary work accomplished and ended with a plea for funds for the college that was to be established. A full-length book, Your heritage; or, New England threatened, written six years later, described the work of the French Protestant College, explaining that evangelization and education of French Canadian emigrants were the keys to removing them from the domination of their church and were necessary to guarantee the security of America's republican institutions. In 1891 he recruited a friend from Montreal, the Reverend Laurent-Édouard Rivard, to join the staff of the college and assume editorship of Le Citoyen franco-américain. Amaron resigned his position as president two years later to travel in Europe.
After returning to Montreal in 1895, Amaron founded the Dominion Publishing Company, of which he became a manager. He was probably among those who in 1893 or 1894 had formed the Compagnie d'Imprimerie et de Publication L'Aurore Limitée to purchase L'Aurore, a paper Rivard had established in 1866 as the voice of French Protestantism in Canada. For some time he was editor of the newspaper and he would contribute to it on a regular basis. In 1896 he was called to the pulpit of St John's French Presbyterian Church in Montreal; he resigned to become minister of Gardenville Avenue Presbyterian Church in Longueuil in May 1906, the year in which he was awarded a dd by the French Protestant College. From 1909 to 1911 he was in charge of the Presbyterian church at Joliette, and the last years of his active ministry, 1911 to 1916, were spent at the Église Presbytérienne Française in Quebec City. During his years in Quebec he was responsible for the building of the church and the founding of a school at Loretteville. He served as moderator of Montreal and Ottawa presbytery in 1904 and in 1913 addressed the church's General Assembly on the subject of French Canadian missions.
Amaron was considered to be an eloquent preacher in both French and English. He was also a popular public speaker, lecturing widely on historical topics such as "The Huguenots in France and Canada" and on contemporary issues, including "The French Canadian problem." In addition to his lifelong interest in French Canadian evangelization, which he declared essential for the survival of a united Canada, he was an outspoken anti-ultramontanist, prohibitionist, and free trader. Although he claimed to be non-partisan in politics, he was by his own account sympathetic to the policies and principles of the Liberal party.
Calvin Elijah Amaron is the author of The evangelization of the French Canadians of New England (Lowell, Mass., 1885); Inspection of public and private schools (Springfield, Mass., 1890); Your heritage; or New England threatened (Springfield, 1891; 2nd ed., 1922); The future of Canada; the extraordinary privileges of the Roman Catholic Church in Quebec ([Saint-Paul, Que.?, 1912?]); Le problème canadien-français; les privilèges de l'Église de Rome (Québec, 1913); and The relation of French Protestantism to the Quebec problem; address . . . at the meeting of the synod of Montreal and Ottawa, May 14th, 1913 (Prescott, Ont., [1913?]). In addition, he was the editor of the English section of the newspaper Le Semeur franco-américain (Ware, Mass.; etc.) and its successor, Le Citoyen franco-américain (Springfield). For a period during the 1890s he was also editor of L'Aurore (Montréal).
AC, Joliette, État civil, Presbytériens, St James (Berthierville), 17 March 1917; Québec, État civil, Presbytériens, Église presbytérienne française, 1911–16. ANQ-M, CE1-126, 26 nov. 1895. UCC-C, Biog. file. L'Aurore, 25 juill. 1896, 15 juill. 1899, 1er nov. 1946. Montreal Daily Star, 16 March 1917. Canadian men and women of the time (Morgan; 1898 and 1912). Directories, Montreal, 1894–97; Quebec, 1911–17. R.-P. Duclos, Histoire du protestantisme français au Canada et aux États-Unis (2v., Montréal, [1913]). Hand-book of the Presbyterian Church in Canada, 1883, ed. A. F. Kemp et al. (Ottawa, 1883). PCC, Board of Foreign Missions, The pre-assembly congress (Toronto, 1913), 135–41; General Assembly, Acts and proc. (Toronto), 1880, 1917.
© 1998–2023 University of Toronto/Université Laval
Image Gallery

Cite This Article
John S. Moir, "AMARON, CALVIN ELIJAH," in Dictionary of Canadian Biography, vol. 14, University of Toronto/Université Laval, 2003–, accessed September 28, 2023, http://www.biographi.ca/en/bio/amaron_calvin_elijah_14E.html.
The citation above shows the format for footnotes and endnotes according to the Chicago manual of style (16th edition). Information to be used in other citation formats:
| | |
| --- | --- |
| Permalink: | http://www.biographi.ca/en/bio/amaron_calvin_elijah_14E.html |
| Author of Article: | John S. Moir |
| Title of Article: | AMARON, CALVIN ELIJAH |
| Publication Name: | Dictionary of Canadian Biography, vol. 14 |
| Publisher: | University of Toronto/Université Laval |
| Year of publication: | 1998 |
| Year of revision: | 1998 |
| Access Date: | September 28, 2023 |