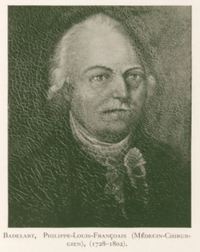 Source: Link
BADELARD (Badelart), PHILIPPE-LOUIS-FRANÇOIS, army officer and surgeon; b. 25 May 1728 in Coucy-le-Château, France, son of Philippe-Martin Badelard, a cooper, and Esther Bruyer; m. 23 May 1758 Marie-Charlotte Guillimin, widow of the merchant Joseph Riverin*, in L'Ancienne-Lorette (Que.), and they had two children, one of whom, Louise-Philippe, married Jean-Antoine Panet in 1779; d. 7 Feb. 1802 at Quebec, Lower Canada, and was buried two days later in L'Ancienne-Lorette.
Little is known about Philippe-Louis-François Badelard's life in France other than that he practised medicine and surgery in a hospital at Metz and served in the French regular troops before coming to Louisbourg, Île Royale (Cape Breton Island), in 1757 as surgeon-major to the two battalions of the Régiment de Berry. That year he set out with his regiment for Quebec on the Toison d'Or, but the vessel was shipwrecked three leagues from its destination. Having survived this tragic accident, he reached the quarters that had been assigned his regiment on Île d'Orléans on 27 September. Badelard was present at the battle of the Plains of Abraham and was taken prisoner by John Fraser, a soldier in the 78th Foot.
Under the British régime Badelard was first appointed surgeon to the Canadian militia, and in this capacity took part in the defence of Quebec against American forces in 1775 [see Benedict Arnold; Richard Montgomery*]. On 15 May 1776 he was commissioned as surgeon to the Quebec garrison. It is, however, thanks to his study of the Baie-Saint-Paul malady that his name still figures in the annals of Canadian medicine. In 1776, three years after the appearance of the disease, the origin of which was apparently connected with the presence of Scottish soldiers at Baie-Saint-Paul, Badelard was appointed by Governor Guy Carleton as a replacement for a Dr Menzies of Quebec to investigate the nature of the malady and to treat its victims free of charge. On various occasions between 1776 and 1784 he went to visit the parishes where the disease had shown up. During the latter year, when the epidemic was affecting five per cent of the population of the province, he wrote a brochure entitled Direction pour la guérison du mal de la baie St-Paul, one of the earliest medical texts published in Canada. It was printed in 1785 at government expense and distributed free in both rural areas, which were the main seat of infection, and urban districts. A condensed version had already appeared four times in the Quebec Gazette in 1784. In his account Badelard remarked that the symptoms were first a throat inflammation and the appearance of ulcerated pustules on the genitals, then severe pain in the joints, and in the final stages swelling of the periosteum followed by general destruction of the victim's bone tissue. On the basis of these symptoms he suggested a treatment for the malady, which he did not yet dare identify but which Charles Blake, a Montreal surgeon, and then François-Xavier Swediaur, a doctor in Scotland, were to term correctly a venereal disease. The measures he advised to combat the illness in fact turned out to be of a curative nature. He said almost nothing about possible prophylaxis. Indeed, recourse to prevention seems scarcely to have attracted his attention. In addition to purges and lukewarm baths, in his opinion mercury proved the most effective treatment, although the therapy caused some patients to lose teeth, to go blind, and to suffer loss of memory. It was also important for those affected to watch what they ate and to have a light diet based on vegetables, cereals, dairy products, and meat broth.
Badelard was well known as a surgeon, in particular for his skill in performing cystotomies. In addition to his army duties he had a sizeable civilian practice. From 1765 to 1779 he, along with others, was doctor to the Séminaire de Québec, and he counted Bishop Jean-Olivier Briand* among his patients. His reputation finally led to his sitting on the Quebec Medical Board in 1801 and 1802.
Badelard was fairly well-to-do, as the 6,075 livres (5,499 of it in payment orders) he brought to his marriage indicate, and he lived in a fashionable part of Quebec. He resided on Rue des Jardins until 1784, and then on Rue Saint-Louis, where he owned two houses, one valued at £200 in 1785. His wife also held a piece of land at L'Ancienne-Lorette. Upon the death of his parents he had inherited some properties at Coucy-le-Château; he left the usufruct of these to his sister Louise-Suzanne, probably in 1788, on the occasion of a trip to France. On 13 July 1797 he repossessed through the courts a two-storey stone house on Rue des Ursulines whose owner, George Wilds, was unable to meet payments; it was resold some months later for £234. At his death Badelard gave 12,000 livres to the Hôpital Général of Quebec to set up in perpetuity a foundation to provide shelter in the winter for four poor people.
Although he was one of the most respected and heeded specialists in the French-speaking wing of the medical profession, Badelard apparently was not an easy person to get along with; at any rate Louis-Joseph de Montcalm* had complained of this characteristic several times, and Marie-Charlotte Badelard left her husband around 1770 to escape from his "bad behaviour" and the "violence" he inflicted on her. In matters of religion he was not devout, and it is said that when he died, the parish priest of Notre-Dame-de-l'Annonciation at L'Ancienne-Lorette, Charles-Joseph Brassard* Deschenaux, tried to prevent his burial in the parish cemetery.
Philippe-Louis-François Badelard is the author of Direction pour la guérison du mal de la baie St-Paul (Québec, 1785), a shorter version of which was published earlier in the Quebec Gazette, 29 July, 5, 19 Aug., 28 Oct. 1784, under the title "Observations sur la maladie de la Baye . . . données au public par ordre de son excellence le gouverneur."
AD, Aisne (Laon), État civil, Saint-Sauveur de Coucy-le-Château, 25 mai 1728. ANQ-Q, CN1-83, 31 août 1786; CN1-92, 28 oct. 1784, 11 août 1785; CN1-115, 23 mai 1758; CN1-205, 17 oct. 1781, 17 juill. 1782; CN1-206, 26 juill. 1798; CN1-230, 27 mai 1803; CN1-284, 13 sept. 1797; ZQ-75. AP, Notre-Dame-de-l'Annonciation (L'Ancienne-Lorette), Reg. des baptêmes, mariages et sépultures, 23 mai 1758, 9 févr. 1802. ASQ, C 35; Évêques, no.17. PAC, MG 23, GV, 8; RG 8, I (C ser.), 1714A. "Les dénombrements de Québec" (Plessis), ANQ Rapport, 1948–49: 23, 73, 122. "Cahier des témoignages de liberté au mariage commencé le 15 avril 1757," ANQ Rapport, 1951–53: 52. Quebec Gazette, 1 Oct. 1789, 4 Nov. 1790, 11 Feb. 1802. Quebec almanac, 1788–1801. M.-J. et G. Ahern, Notes pour l'hist. de la médecine, 21–32. Sylvio Leblond, "Une conférence inédite du docteur Joseph Painchaud," Trois siècles de médecine québecoise (Québec, 1970), 59. J.-E. Roy, "La maladie de la Baie," BRH, 1 (1895): 138–41. Benjamin Sulte, "Le docteur Badelart," BRH, 21 (1915): 343–47; "Le mal de la baie Saint-Paul," BRH, 22 (1916): 36–39.
© 1983–2023 University of Toronto/Université Laval
Image Gallery

Cite This Article
Jacques Bernier, "BADELARD, PHILIPPE-LOUIS-FRANÇOIS," in Dictionary of Canadian Biography, vol. 5, University of Toronto/Université Laval, 2003–, accessed October 4, 2023, http://www.biographi.ca/en/bio/badelard_philippe_louis_francois_5E.html.
The citation above shows the format for footnotes and endnotes according to the Chicago manual of style (16th edition). Information to be used in other citation formats:
| | |
| --- | --- |
| Permalink: | http://www.biographi.ca/en/bio/badelard_philippe_louis_francois_5E.html |
| Author of Article: | Jacques Bernier |
| Title of Article: | BADELARD, PHILIPPE-LOUIS-FRANÇOIS |
| Publication Name: | Dictionary of Canadian Biography, vol. 5 |
| Publisher: | University of Toronto/Université Laval |
| Year of publication: | 1983 |
| Year of revision: | 1983 |
| Access Date: | October 4, 2023 |