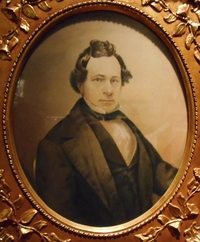 Source: Courtesy of Wikimedia Commons
BERTHELET, OLIVIER (baptized Antoine-Olivier), businessman, mha, and philanthropist; b. 25 May 1798 at Montreal, son of Pierre Berthelet*, a merchant, and Marguerite Viger; d. 25 Sept. 1872 in the same town.
Olivier Berthelet was educated at the Petit Séminaire de Montréal, where his fellow-students included Côme-Séraphin Cherrier*, John Anthony Donegani*, and Édouard-Raymond Fabre*. On his father's death in 1830, he launched out into business. He had foreseen that the town of Montreal would develop rapidly eastwards, and he bought up huge stretches of land which he sold again at a profit or made over as outright gifts to charitable institutions. As member of the assembly for Montreal East from 1832 to 1834, Berthelet realized that politics was not the field in which he could most usefully serve his compatriots. He did, however, lend his name and prestige to patriotic organizations. Thus he was one of the members of the Fils de la Liberté in 1837; however, he does not seem to have favoured recourse to arms. Berthelet likewise joined the Institut Canadien in Montreal, but he resigned after the intervention of Bishop Ignace Bourget*, who in 1858 condemned the institute and its liberalism. He belonged to a generation among whom by far the most widely held opinion was that Catholicism was one of the elements essential to French Canadian patriotism.
His great-grandson, the engineer Alfred La Rocque, has demonstrated that during the last 25 years of his life Olivier Berthelet lived in retirement from business and devoted himself entirely to charitable works. According to statistics prepared by La Rocque, he gave more than $400,000, an incredible sum for the period, to charitable and educational institutions. In addition there were other acts of generosity of which the extent is not known. There was virtually no community in Montreal that did not benefit from his liberality: the Sisters of Providence, Society of Jesus, Oblates of Mary Immaculate, Sisters of Miséricorde, Good Shepherd Nuns, Sisters of St Ann, Society of the Sacred Heart, Brothers of Charity, and so on. Several of these religious groups owe their long survival to the timely bounty of Olivier Berthelet. In 1868, when Zouaves were being recruited to defend the papal states, he contributed personally as president of the committee, and from his own funds assumed the travel and maintenance costs for 20 soldiers of the pope.
The flourishing development of charitable works that marked Bishop Bourget's episcopate has been rightly admired, but it is fair to say that this success would have been neither so spectacular nor so durable if the bishop had not had the full collaboration of someone who might be called his minister of finance; a finance minister of a rare kind who did not seek to get the money from the pockets of others, but who taxed himself. Indeed, in his last years Olivier Berthelet reduced his style of living in order to be able to give more.
In 1844 Cardinal Joseph Fransoni, prefect of the Propaganda, addressed a letter of thanks to him for his services to the church, and sent him a medal bearing the effigy of Gregory XVI; in 1864 Father Pierre Beck, general of the Society of Jesus, granted him the title of distinguished benefactor; and in 1869 he was named commander of the Order of Pius IX in recognition of the outstanding part he had played in the recruitment and organization of the Zouaves.
Olivier Berthelet died on 25 Sept. 1872; his funeral took place three days later at Notre-Dame and attracted a large crowd. It was the collective farewell of all Montreal to a man who had only friends and who had given happiness to many. His body was placed in the church of Saint-Joseph, which he had built in Rue Cathédrale and which he had subsequently made over to the Grey Nuns. When this church was demolished in 1930, his remains were moved to the cemetery of the Grey Nuns' mother house.
On 30 Oct. 1822 Berthelet had married Amélie (Émilie) Chaboillez (d. 20 April 1850), by whom he had a daughter, Amélia, who married Alfred La Rocque. Of his second marriage with Charlotte, Louis Guy's daughter, whom he married on 21 Oct. 1851, there were no children.
[At the time of Berthelet's death many biographical sketches were published by the newspapers. The most important is the one which appeared in Le Nouveau Monde (Montreal) between 27 Sept. and 8 Oct. 1872. l.p.]
ASJCF, 2286, 5; 3098; 3175, 15. F.-J. Audet, Les députés de Montréal, 107–12. Borthwick, Montreal, 49. L'Institut de la Providence; histoire des Filles de la Charité Servantes des Pauvres dites sœurs de la Providence (6v., Montréal, 1925–40), VI, 265–313. É.-Z. Massicotte, "Un philanthrope canadien-français, M. A.-O. Berthelet," BRH, XXII (1916), 183–85. Léon Trépanier, "Un philanthrope d'autrefois: Antoine-Olivier Berthelet," SCHÉC Rapport, 1961, 19–25.
Revisions based on:
Bibliothèque et Arch. Nationales du Québec, Centre d'arch. de Montréal, CE601-S51, 25 mai 1798, 30 oct. 1822, 24 avril 1850, 21 oct. 1851, 28 sept. 1872; CE601-S243, 4 oct. 1912. La Minerve​, 27 sept. 1872.
© 1972–2023 University of Toronto/Université Laval
Cite This Article
Léon Pouliot, "BERTHELET, OLIVIER (baptized Antoine-Olivier)," in Dictionary of Canadian Biography, vol. 10, University of Toronto/Université Laval, 2003–, accessed October 2, 2023, http://www.biographi.ca/en/bio/berthelet_antoine_olivier_10E.html.
The citation above shows the format for footnotes and endnotes according to the Chicago manual of style (16th edition). Information to be used in other citation formats:
| | |
| --- | --- |
| Permalink: | http://www.biographi.ca/en/bio/berthelet_antoine_olivier_10E.html |
| Author of Article: | Léon Pouliot |
| Title of Article: | BERTHELET, OLIVIER (baptized Antoine-Olivier) |
| Publication Name: | Dictionary of Canadian Biography, vol. 10 |
| Publisher: | University of Toronto/Université Laval |
| Year of publication: | 1972 |
| Year of revision: | 2019 |
| Access Date: | October 2, 2023 |