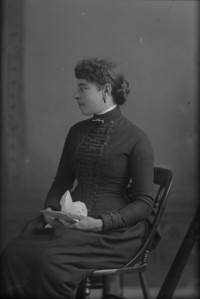 BISHOP, MINNIE BLANCHE, teacher and author; b. 27 Dec. 1864 in Greenwich, N.S., daughter of Gustavus Edwin Young Bishop and Clara Louise Davison; d. unmarried there 16 Oct. 1917.
Born into a farming family proud of its Baptist and Planter roots in Nova Scotia, Blanche Bishop attended the local Greenwich school before entering Acadia Seminary in Wolfville in 1879 under Principal Mary Elizabeth Graves*. Wishing to proceed to university, Bishop joined three other like-minded women in pressing the administration of Acadia College for admission to the hitherto all-male institution. The only woman in a class of 14 men, she graduated in arts in 1886. After two years at home in Greenwich, Bishop travelled with Eliza T. Harding, a teacher at Acadia Seminary, to Berlin, where Mary E. Graves and another seminary teacher, Helen L. Buttrick, were already established. She studied German language and literature for nearly two years (which included a brief visit to Russia) and spent a shorter period in France perfecting her French pronunciation. From 1890 to 1895 Bishop taught modern languages and English at Moulton College in Toronto, where her fellow Acadia graduate Alice Maud D. Fitch was principal in 1893–95.
During her tenure at Moulton, Bishop wrote the school song, "Per ardua" (said to have been originally set to the German tune "The watch on the Rhine"), assisted the students in submitting their writing to the McMaster University Monthly (Toronto), and, in 1894, completed ma degrees at both Acadia and McMaster. In need of a rest, Bishop resigned in 1895, the same year as did Fitch. In paying tribute to the two women, Dr Theodore Harding Rand*, the chancellor of McMaster, particularly cited Bishop's literary gifts, hoping "that some day she will give to permanent literature the benefit of a singularly gifted mind, whose command of broad and massive English in poetic writing is singularly promising." Speaking of both Fitch and Bishop, he added, "Acadia has great reason for pride in her daughters."
In 1898, after a period at home, Bishop was appointed as a teacher of English literature, French, and German at Harding Hall in London, Ont., a school dedicated to developing "earnest, refined, well poised women." She apparently left in 1899 and spent some months in 1900 with a publishing house in New York City as she explored the possibilities of journalism. In 1901 she accepted an appointment to teach modern languages at Acadia Seminary at $325 per annum. Committed to the principle of having her students speak the languages that they were studying, Bishop encouraged dramatic productions in French and German, often costuming them herself. Forced to retire in 1912 because of ill health, she spent her last years at home in Greenwich. She faced death in 1917 by remarking, "It's a good time to die; so many are dying now." In its tribute to her, the Acadia Athenœum (Wolfville) particularly praised Bishop's "unselfish devotion," "sense of humour," and "beautiful, lovable spirit."
Beginning as a student, Bishop had published poetry, travel accounts, and fiction in periodicals as varied as the Messenger and Visitor (Saint John), the Maritime Baptist (Saint John; Halifax), the Family Herald and Weekly Star (Montreal), the Youth's Companion (Boston), the Outlook and Independent (New York), the Sunday School Times (Philadelphia), the Acadian (Wolfville), the Acadia Athenœum, and the McMaster University Monthly. Various travel accounts sent to the Messenger and Visitor, the St. John Daily Sun (Saint John), and the Family Herald and Weekly Star from 1888 to 1890, when she was studying in Germany, reveal a sprightly wit, an eye for the visual, and an independence of opinion. As polished as any travel sketches written by Bishop's better-known contemporaries Sara Jeannette Duncan* and Alice Jones*, neither they nor Bishop's stories, essays, and reviews have been collected. Often commended for the "winsomeness" of her personality, Bishop was none the less capable of making tart observation, noting in the press of the Reverend Dr Joseph Wild* that his "jokes make one laugh in delicious pity at their very lack of wit." Her poetry tended to be more conventional, often focusing on landscape and religious themes. Her long poem "Tidal years" was read at the alumni reception at the Acadia College jubilee in 1888, and three of her poems were selected for inclusion in T. H. Rand's A treasury of Canadian verse (1900). In 1918, immediately after her death, there were discussions about issuing a memorial volume of her poetry and selected prose. However, only her verse appears in Poems, published privately in 1929. During her lifetime she was also known for a small publication on French verbs printed by Acadia Seminary and endorsed by the well-known publishing house of D. C. Heath and Company.
Bishop's career represents the way in which young middle-class women in Canada began to push for greater educational opportunities in the 1880s and 1890s and translated these opportunities into national and international travel, mobility in their careers, and independence in expressing their views. While exerting a liberating educational influence on the young women whom she taught, Bishop also succeeded in achieving modest success as a writer. Her impatience with cant, her pride in women's accomplishments, and her commitment to a sense of community informed both her writing and her teaching.
Minnie Blanche Bishop's Poems was issued privately as a memorial edition, Wolfville, N.S., 1929. A collection of her published poems, fiction, travel accounts, and letters to newspapers in two small scrapbook volumes is preserved in the Acadia Univ. Arch., Wolfville, as "Memorabilia of Miss Blanche Bishop."
Acadia Univ. Arch., Board of governors, minutes, 1885–1908: 426, 430; 1908–49: 84, 101. PANS, MG 1, 134, nos.321–23; 3185, no.2. Acadia Athenœum (Wolfville), December 1888: 16, 26; March 1894: 118; June 1894: 189; December 1898: 26; November 1917: 11–12. The Acadia record, 1838–1953, comp. Watson Kirkconnell (4th ed., Wolfville, 1953). A. W. H. Eaton, The history of Kings County, Nova Scotia . . . (Salem, Mass., 1910; repr Belleville, Ont., 1972). The genealogy of the Bishop family of Horton, N.S., comp. W. E. Boggs and B. R. Bishop (n.p., [1918]; rev. ed., ed. J. L. Bishop, n.p., [1982?]). Alfreda Hall, Per ardua: the story of Moulton College, Toronto, 1888–1954 ([Toronto], 1987). Harding Hall: a collegiate school for girls, 1899–1900 ([London, Ont., 1900?]). Harding Hall College and Central Conservatory, Term calendar ([London]), 1905/6 (copy in Univ. of Western Ont. Library, Regional Coll., London). McMaster Univ. Monthly (Toronto), 3 (1893–94): 379. A treasury of Canadian verse, with brief biographical notes, ed. T. H. Rand (Toronto and London, 1900; repr. Freeport, N.Y., 1969).
© 1998–2023 University of Toronto/Université Laval
Image Gallery

Cite This Article
Gwendolyn Davies, "BISHOP, MINNIE BLANCHE," in Dictionary of Canadian Biography, vol. 14, University of Toronto/Université Laval, 2003–, accessed October 2, 2023, http://www.biographi.ca/en/bio/bishop_minnie_blanche_14E.html.
The citation above shows the format for footnotes and endnotes according to the Chicago manual of style (16th edition). Information to be used in other citation formats:
| | |
| --- | --- |
| Permalink: | http://www.biographi.ca/en/bio/bishop_minnie_blanche_14E.html |
| Author of Article: | Gwendolyn Davies |
| Title of Article: | BISHOP, MINNIE BLANCHE |
| Publication Name: | Dictionary of Canadian Biography, vol. 14 |
| Publisher: | University of Toronto/Université Laval |
| Year of publication: | 1998 |
| Year of revision: | 1998 |
| Access Date: | October 2, 2023 |