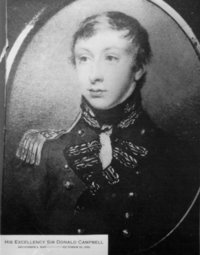 Source: Link
CAMPBELL, Sir DONALD, colonial administrator; b. 3 April 1800 in Dunstaffnage, Scotland, only son of Angus Campbell and Lillias Buchanan; m. 21 June 1825 Caroline Eliza Plomer, daughter of Sir William Plomer, and they had four sons and one daughter; d. 10 Oct. 1850 in Charlottetown.
There is no obvious reason why Sir Donald Campbell, an obscure country gentleman descended from "an ancient branch of the noble House of Campbell" in Argyll, should have been appointed lieutenant governor of Prince Edward Island on 20 Oct. 1847. Following a brief stint in the cavalry as a young man and after succeeding his uncle in 1829 as 16th captain of Dunstaffnage, Campbell appears to have dropped out of sight. On 11 March 1836 he had been created a baronet, but he had had no administrative experience and was "personally unknown" to the colonial secretary, Lord Grey. The factors most likely to have swayed Grey were Campbell's impeccable credentials as a Whig and his willingness to accept the comparatively low-paid post. Contrary to later rumours he was not the appointee of the absentee landowners, whose influence with Grey was negligible, even though, like all other lieutenant governors of the Island, he sought to protect their interests and to discourage a revival of the agitation for escheat. Nor was he chosen because of pressure from a three-man delegation of conservative politicians, including Edward Palmer* and Joseph Pope*, which travelled to London in the summer of 1847 to press for the dismissal of Campbell's predecessor, Sir Henry Vere Huntley*, already in disfavour with Grey because of his erratic and partisan behaviour. The delegation did persuade the Colonial Office to dispatch Campbell immediately, and Pope accompanied him.
The first Highlander to serve as lieutenant governor of the Island, Campbell was warmly welcomed by the Highland Society when he assumed office on 9 Dec. 1847. His appointment was also enthusiastically endorsed by the local official faction. Its members had been eager to remove Huntley and were soon assured that Campbell, although a Whig, was a Whig of a conservative bent. At the centre of this faction was the colonial secretary, Thomas Heath Haviland*, and he quickly became Campbell's chief adviser. With Haviland at his side Campbell travelled extensively across the Island in 1848, raising and distributing funds for the destitute, whose numbers had swelled after a partial failure of the potato crop, and attempting to control an outbreak of smallpox. He became a patron of local institutions, and held the largest party "ever assembled within the walls of Government House." A "practical farmer," he restored the house's garden, which Huntley had allowed to deteriorate, and established and chaired the meetings of the Royal Agricultural Society in a vain effort to promote greater interest in the development of agriculture. At least among the Island's small élite he was regarded as a "well intentioned straightforward man."
Initially even the reformers applauded the appointment of a man "with political principles closely akin to our own – as a member of the Reform Club of England." But when Campbell began to distribute patronage almost exclusively upon the advice of the old official faction his popularity was severely damaged. In his first speech to the House of Assembly, on 1 Feb. 1848, Campbell recommended a series of administrative reforms in the management of the postal service, the immigration and election laws, and local currency regulations. Virtually without exception his measures were defeated and Campbell's relations with George Coles*, the only reformer in the assembly with a seat on the Executive Council, deteriorated into nearly open hostility. In June, Campbell opposed a move to fill a vacancy on council with James Warburton, another reformer whom Huntley had nominated, and recommended Palmer instead. That September he appointed Palmer solicitor general. Coles resigned from the council and attacked Campbell for a "want of sincerity" and for yielding his authority "to the Officials who surrounded him."
Ironically, Campbell's speech of 1 February had been so optimistic about the financial situation in the colony that Grey was moved to discontinue the British parliament's grant, and in mid January 1849 Campbell learned that thenceforth the colony would have to pay the salaries of its own officials except for that of the lieutenant governor. Even with Palmer's support Campbell could persuade the assembly to provide for the civil service only for one year and at reduced levels. A motion by the reformers for responsible government was defeated, but the conservative majority demanded that at least four members of the Executive Council should be responsible to the assembly, and they ignored Campbell's recommendations for a more highly centralized system of allocating money for roads and bridges and for the establishment of a police force in Charlottetown. Upon closing the session in May, Campbell admitted that the results of it were "not very satisfactory" and in January 1850, with little hope for a change of heart in the assembly, he dissolved the legislature in a move which caught even his supporters by surprise. When an election was called for February Campbell encouraged the rumour that the Island might be annexed to Nova Scotia if the assembly remained recalcitrant.
The reformers swept to victory in the election. When the assembly met in March it passed by 19 to 5 a vote of non-confidence in the Executive Council, which promptly resigned. Campbell met with the leaders of the reform party, Coles, Warburton, and William Swabey*, and offered them three of nine seats on the council if they would compromise over the size of the civil list, but they demanded complete control over the composition of the council and a pared-down civil list. Campbell prorogued the house until April 25 and, when the assembly then reiterated its demands and refused to vote supplies, he expressed his "disapprobation of this premeditated neglect of your legislative function." He again prorogued the house on 1 May and sought to discontinue public services, such as postal delivery, for which the assembly had not provided.
He also asked Grey for authority to dissolve the legislature in the autumn. Yet in private he admitted that responsible government was "sure to be conceded" and he appealed to Grey at least to alter the electoral system by raising the voting qualification for tenants from 40s. to £5 per annum to ensure that a more respectable class of men would be sent to the assembly. In fact, Grey had already prepared a dispatch instructing Campbell to grant responsible government. Whether Campbell could have come to an arrangement with the assembly is doubtful, since the reformers deeply distrusted him. But he was never forced to try because on 10 Oct. 1850, after "a very lingering and painful illness," apparently cancer of the stomach, he died. The colony was administered by Ambrose Lane* until the arrival of Campbell's successor, Sir Alexander Bannerman*.
Most Islanders probably agreed with the Examiner, which refused to view Campbell's death as a calamity and condemned his "love of power." That verdict may be harsh but clearly Campbell lacked the temperament to be a successful colonial governor during the transition to responsible government, and he had little understanding of how to deal with popularly elected assemblies. By the spring of 1850 he was at loggerheads even with Palmer, who later claimed to have pressed upon him "the necessity of establishing Responsible Government," and there is considerable truth in the assessment of Charles Wright Jr, a sympathetic Islander who described him as "too much of the Highland Laird."
Court of the Lord Lyon (Edinburgh), Public reg. of all arms and bearings in Scotland, 4: f.6. GRO (Edinburgh), Kilmore and Kilbride, reg. of births and baptisms, 3, 16 April 1800. N.B. Museum, Jarvis family papers, E. J. Jarvis to William Jarvis, 14 Feb. 1848; Mrs William Jarvis to Jane Boyd, 16 Jan. 1849. PAC, MG 24, B 133: 176–84, 190–218, 221–24, 228–29, 231–37, 250–56 (photocopies; copies at PAPEI). PAPEI, Ace. 2918/3. PRO, CO 226/71–79; CO 227/9–10. [H. G. Grey, 3rd] Earl Grey, The colonial policy of Lord John Russell's administration (2nd ed., 2v., London, 1853), 1: 349. P.E.I., House of Assembly, Journal, 1848–50. Examiner (Charlottetown), 1847–50. Islander, 1847–50. Royal Gazette (Charlottetown), 1847–50. Burke's landed gentry (1965–72). G.B., WO, Army list, 1819, 1824. A memorial history of the Campbells of Melfort, Argyllshire . . . , comp. M. O. Campbell (London, 1882), 81. Buckner, Transition to responsible government, 319–20. Duncan Campbell, History of Prince Edward Island (Charlottetown, 1875; repr. Belleville, Ont., 1972), 107–8. W. R. Livingston, Responsible government in Prince Edward Island: a triumph of self-government under the crown (Iowa City, 1931), 24, 31 et seq. F. MacKinnon, Government of P.E.I., 66–67, 83–84. W. E. MacKinnon, The life of the party: a history of the Liberal party in Prince Edward Island (Summerside, P.E.I., 1973), 19–21.
© 1988–2023 University of Toronto/Université Laval
Image Gallery

Cite This Article
Phillip Buckner, "CAMPBELL, Sir DONALD," in Dictionary of Canadian Biography, vol. 7, University of Toronto/Université Laval, 2003–, accessed September 28, 2023, http://www.biographi.ca/en/bio/campbell_donald_7E.html.
The citation above shows the format for footnotes and endnotes according to the Chicago manual of style (16th edition). Information to be used in other citation formats:
| | |
| --- | --- |
| Permalink: | http://www.biographi.ca/en/bio/campbell_donald_7E.html |
| Author of Article: | Phillip Buckner |
| Title of Article: | CAMPBELL, Sir DONALD |
| Publication Name: | Dictionary of Canadian Biography, vol. 7 |
| Publisher: | University of Toronto/Université Laval |
| Year of publication: | 1988 |
| Year of revision: | 1988 |
| Access Date: | September 28, 2023 |