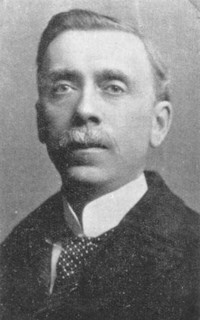 Source: Link
GAUVIN, CHARLES-ÉDOUARD (baptized Marie-Joseph-Charles-Édouard), draftsman, surveyor, civil engineer, and office holder; b. 27 Aug. 1853 in Quebec City, son of Joseph Gauvin, a merchant, and Bernardine Gagnon; nephew of Ernest Gagnon*; m. there 10 July 1877 Ann Chaloner, and they had three sons and seven daughters; d. there 10 April 1935.
After studying at the École Normale Laval in Quebec City, Charles-Édouard Gauvin was apprenticed to the architect Joseph-Ferdinand Peachy* and to Charles Baillairgé*, an architect, engineer, and surveyor. On 16 April 1874 he was sworn in and authorized to practise the profession of provincial surveyor.
Gauvin had begun his professional career a little earlier, however, working as a clerk in 1872–73, and as a draftsman in 1874–75 at the Quebec City land registry office in the Department of Crown Lands. On 3 Jan. 1876 he obtained a position there as a draftsman and surveyor at a salary of $900 a year. Until 1878 he helped Eugène-Étienne Taché*, the assistant commissioner of the department, to draft plans for the Quebec legislative building. He was equally engaged in the great railway construction projects characteristic of the period including, among others, the mapping out of the route for the Quebec and Lake Saint John Railway, on which he collaborated in 1879. In 1881–82 he was the chief engineering assistant and in charge of part of the Quebec Central Railway's construction. From 1874 he also worked as a surveyor, probably in a private capacity, in several areas of the province.
On 29 Oct. 1882 Gauvin took on a more important responsibility as superintendent of land surveying with the Department of Crown Lands, a position he would hold until 1910. His versatility enabled him to become involved in a variety of projects. For instance, in 1888 when the department's commissioner, Pierre Garneau*, favoured bridges of steel construction, and Premier Honoré Mercier* ordered that the Belgian engineer Gérard Macquet be hired to meet the need for expertise, it fell to Gauvin to assist the newcomer in drawing up the estimates and in overseeing the erection of the bridge over the Rivière Malbaie and the Garneau Bridge over the Rivière Chaudière. In 1896 Gauvin prepared a report on possible sites for the future Quebec Bridge [see Phelps Johnson*], and submitted it to Edmund James Flynn*, who was Quebec's premier and commissioner of public works.
At the turn of the 20th century Gauvin's expertise was still much in demand. The promise of economic development linked to white coal (hydroelectric power) and the decision of the Judicial Committee of the Privy Council in London, which had ruled in 1898 that hydraulic energy was a natural resource within the jurisdiction of the provinces, convinced the provincial government of the need to take stock of the potential of waterways and to do more to exploit them. On behalf of what had become the Department of Lands, Forests, and Fisheries, then of Lands, Mines, and Fisheries (and, in 1905, the Department of Lands and Forests), Gauvin authored numerous reports on the hydroelectric capacity of rivers, from 1898 in his role as a civil engineer, and then as a hydraulic-power engineer from 1907. Since the hydraulic service was not created until 1909, he worked under the minister's direction and was paid by the department for inspecting and evaluating the possibilities of rivers.
Gauvin was not content to be only a surveyor and civil engineer. Quite early in his career he had begun to take an interest in the professional concerns of surveyors. He was a member of the Land Surveyors of the Province of Quebec from the time of its formation on 27 May 1882 and would remain one for the rest of his life, becoming the most senior of surveyors. Affable and a witty conversationalist, he was named to the association's board of directors on 7 July 1885. Elected secretary-treasurer, he would retain this office until 11 April 1907.
Around 1890 Gauvin had agreed to prepare a report on the technical language of French-speaking surveyors. He was particularly aware, he said, that surveyors used a great many anglicisms and incorrect terms and expressions in their profession's official documents. He also declared his support for a movement which, for several years, had been preoccupied with refining the French language, and with which members of the French Canadian press and various writers were actively involved. In his analysis of the situation, Gauvin attributed the poor technical language of French Canadian surveyors to the almost exclusive use of English-language texts in the course of their training. With the help of dictionaries and general works, he studied the terminology and proposed solutions that he presented in 1893, 1894, and 1896 to the annual meeting of the association. These papers, entitled "Notre langue technique," were published in the organization's annual reports. Gauvin had also belonged to the Canadian Society of Civil Engineers from its founding in 1887 by Thomas Coltrin Keefer*.
The latter part of Gauvin's career was spent in the service of the federal government. On 1 July 1909 he became a secretary of the National Battlefields Commission, but the appointment was not ratified by the governor in council until 12 March 1910. In the intervening period, according to the minutes of the NBC, he "acted as secretary," a wording that indicated his was a temporary position. Moreover, his appointment created something of a stir since the office of permanent secretary was coveted by Honoré-Julien-Jean-Baptiste Chouinard, who was already one of the three interim secretaries of the NBC. Chouinard had been very active in organizing Quebec City's tercentenary celebrations and in establishing what would become a national park; he also enjoyed the support of the Société Saint-Jean-Baptiste de la Cité de Québec. But at a meeting of the NBC's board of directors on 15 May 1909 Sir Georges Garneau*, its chairman, announced the choice of Gauvin. He justified his decision by the fact that Gauvin was a civil engineer and surveyor and would be able to help the commission carry out its mandate to acquire lands with a view to creating a national park. Gauvin served as secretary of the NBC until 14 March 1935, less than a month before his death from a serious illness that had afflicted him since August 1934.
In addition to executing his official functions and writing numerous reports, Charles-Édouard Gauvin distinguished himself by his contributions to the children's pages of the Quebec City periodicals L'Action catholique, Almanach de l'Action sociale catholique, and L'Apôtre. The obituary in L'Action catholique on 10 April 1935 described him as "a distinguished writer and peerless storyteller." Others emphasized as well his philanthropy and his great tact. Gauvin no doubt helped stabilize and develop the Land Surveyors of the Province of Quebec and the NBC during his long tenure as secretary-treasurer and secretary respectively in the early days of those organizations. He also held the office of superintendent of land surveying for many years. Consequently, eminent persons from public life and the professional world gathered together at his funeral to honour his memory.
BANQ-Q, CE301-S1, 30 août 1853; CE301-S98, 10 juill. 1877; Index BMS, dist. judiciaire de Québec, Saint-Cœur-de-Marie, 12 avril 1935. National Battlefields Commission Arch. (Quebec), Minutes of the National Battlefields Commission, 1908–35. L'Action catholique (Québec), 10, 12 avril 1935. Claude Bellavance, "L'État, la 'houille blanche' et le grand capital: l'aliénation des ressources hydrauliques du domaine public québécois au début du XXe siècle," RHAF, 51 (1997–98): 487–520. Michel L'Hébreux, Le pont de Québec (Sillery [Québec], 2001). Land Surveyors of the Prov. of Que., Annual report (Quebec), 1888–98; Directory ([Quebec]), 1934/35: 27–28. D. [P.]. Massell, Amassing power: J. B. Duke and the Saguenay River, 1897–1927 (Montreal, 2000). J.‑R. Pelletier, Arpenteurs-géomètres, un siècle, 1882–1982 (Québec, 1982). Que., Parl., Sessional papers, 1899–1911 (reports of the minister of lands, forests, and fisheries, later the minister of lands, mines, and fisheries, and finally the minister of lands and forests, 1898–1910).
© 2015–2023 University of Toronto/Université Laval
Cite This Article
Normand Perron, "GAUVIN, CHARLES-ÉDOUARD (baptized Marie-Joseph-Charles-Édouard)," in Dictionary of Canadian Biography, vol. 16, University of Toronto/Université Laval, 2003–, accessed September 22, 2023, http://www.biographi.ca/en/bio/gauvin_charles_edouard_16E.html.
The citation above shows the format for footnotes and endnotes according to the Chicago manual of style (16th edition). Information to be used in other citation formats:
| | |
| --- | --- |
| Permalink: | http://www.biographi.ca/en/bio/gauvin_charles_edouard_16E.html |
| Author of Article: | Normand Perron |
| Title of Article: | GAUVIN, CHARLES-ÉDOUARD (baptized Marie-Joseph-Charles-Édouard) |
| Publication Name: | Dictionary of Canadian Biography, vol. 16 |
| Publisher: | University of Toronto/Université Laval |
| Year of publication: | 2015 |
| Year of revision: | 2015 |
| Access Date: | September 22, 2023 |