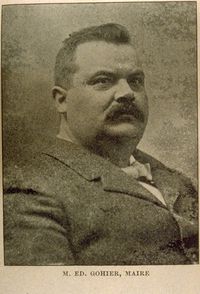 Source: Courtesy of Bibliothèque et Archives Nationales du Québec / 52327/2075028
GOHIER, ÉDOUARD (baptized Benjamin-Édouard), businessman, politician, and philanthropist; b. 27 April 1861 in Saint-Martin (Laval), Lower Canada, son of Benjamin Goyer, a farmer, and Célina Crevier; m. 2 April 1883 in the parish of Saint-Laurent, Que., Pomela Gosselin, daughter of Narcisse Gosselin, an innkeeper, and Philomène Saint-Aubin, and they had 13 children, eight of whom lived to adulthood; d. there 12 March 1923.
Born into a farming family that had settled in Saint-Laurent several decades earlier, Édouard Gohier spent the first years of his life in Saint-Martin and on the family farm on Chemin Côte-Vertu in the parish municipality of Saint-Laurent, where his father would serve as mayor from 1885 to 1890. Édouard completed the sixth year of studies (Rhetoric) at the Petit Séminaire de Sainte-Thérèse and afterwards learned a trade as a tailor of ready-made garments. In 1883, at the age of 22, he opened a dry goods shop in the parish of Saint-Laurent, which he sold in 1890. He then embarked on a career as a land and real estate developer by purchasing from his father, for $2,700, some parcels of land on which the town of Saint-Laurent would be built three years later. His business partner at the time was Théophile Migneron (who, like Gohier himself, would become mayor of the town).
Gohier was among those who brought the town of Saint-Laurent into being on 27 Feb. 1893, and he would reside there with his family for the rest of his life. Elected mayor by acclamation on three occasions, he held this office from 25 April 1893 to 5 Feb. 1901, from 19 Jan. 1903 to 19 Jan. 1905, and from 7 Feb. 1911 to 4 Feb. 1913. Convinced that Saint-Laurent had geographical advantages, since it was at the heart of the island of Montreal and close to many roads, he obtained a charter authorizing the new town, among other things, to increase its borrowing power in order to develop the area and improve its infrastructure. Under Gohier's administration, Saint-Laurent changed considerably in appearance, becoming a small suburban town with modern urban services: a network of streets, public transit (1896), street lights (1900), and sewers and waterworks (1903). The town passed laws and municipal regulations and organized a fire protection service. In 1911 the Recorder's Court was opened, and the following year the first town hall and a fire station were built. Gohier's position as a landowner greatly facilitated the establishment of urban services; at the same time his position as mayor enabled him to make his land development business more profitable. In 1896, for instance, he provided, free of charge, the land on which a streetcar line was constructed. As a result the nearby building lots, which also belonged to him, became more desirable.
After serving for 12 years, Gohier was forced by health reasons to give up the mayoralty of Saint-Laurent. Meanwhile, in the provincial general elections of 1897 and 1904, he had tried to win a seat for the Conservative party in the riding of Jacques-Cartier, in which Saint-Laurent was located. He was defeated on both occasions, although his opponent in 1897, Joseph-Adolphe Chauret, won by only ten votes. Another member of his family was to leave his mark on the political history of Saint-Laurent. His son Édouard, a lumber merchant and land developer, would be mayor from 1928 to 1938 and from 1943 to 1949.
Gohier's start in real estate in 1890 had coincided with the rapid expansion of small suburban municipalities in various parts of the island of Montreal. The participants in this suburbanization movement were trying to persuade investors to buy vacant lots, but in order to do so they had to carry out certain improvements. Thanks to his position as mayor, Gohier was able to use this strategy in Saint-Laurent, where in 1896, for instance, he and his partner, Ludger Cousineau, put forward a proposal for a subdivision. The project, known as the Grande Allée de Florence, constituted the first plan for the town, which was built around a central artery (now Boulevard Décarie) where the streetcars ran. The economic problems that beset the country led to the dissolution of Gohier and Cousineau's company at the end of the 19th century, but this did not put an end to Gohier's land speculation, for he bought back the company's assets from its creditors.
In March 1907, in partnership with real estate agent Ucal-Henri Dandurand* and lawyer Joseph-Ulric Emard, Gohier founded the Compagnie des Boulevards de l'Île de Montréal, "for the purpose of buying and selling lots specially intended for building, and investing capital in public improvement firms." A few years after its inception, this company owned a large part of the land in the parish of Saint-Laurent and the village of Cartierville (Montreal). From 1908 to 1910 it also developed land in Bordeaux (Montreal), Ville Emard (Montreal), and the village of Sainte-Geneviève-de-Pierrefonds (Sainte-Geneviève). Gohier and his partners had an interest as well in the area near Mount Royal, where they purchased some of the land on which the new buildings of the Université de Montréal would be built in the 1930s. In 1911 the company sold to the Canadian Northern Land Company, for $600,000, a parcel of land on which part of the Town of Mount Royal would be built. This financial transaction was one of the largest the firm carried out. Gohier was also a director of the Northmount Land Company.
In view of the rapidity with which Gohier, alone or in partnership, completed speculative transactions, it is difficult to estimate the value of the real estate he traded. There is no doubt, however, that he profited handsomely from buying and selling land. He also showed foresight by purchasing vast tracts of land that he subdivided to increase his gains. From 1908 to 1912, the period when Gohier's career was at its peak, his speculative strategy proved highly rewarding. During that time the land value of some of his properties, especially in Cartierville, increased tenfold.
In 1913, however, Gohier would feel the impact of the economic recession, which substantially reduced the demand for new homes and sales of lots, and thereby led Montreal into a real estate crisis. In some suburban localities, moreover, the population had not reached the anticipated levels. As an example, Saint-Laurent had gone from 1,225 in 1893 to 1,860 in 1911, while the land area of the municipality had doubled with the annexation of parts of the parish in 1901 and 1908. In other words, the increase in population had not kept pace with the increase in land area and the rise in the value of real estate. Thus Gohier was put in a precarious financial situation, given the loans he had to repay. The war years worsened his plight, and he would never manage to resume his activities as a speculator.
In March 1914 the federal government appointed Gohier to the Georgian Bay Canal Commission, which was set up to promote a plan for constructing a canal to link Montreal, Ottawa, and Georgian Bay by way of the Ottawa River. He was also appointed to the Commission of Conservation [see Sir Clifford Sifton]. Since he was neither a specialist on environmental issues nor a scientist, he played a secondary role in these bodies.
Édouard Gohier was known for his practical turn of mind and charitable spirit, his business sense, and his integrity. A man of his time, he took part in modernizing urban space, while remaining attached to the values of Catholicism. A fervent Roman Catholic and patriot, he made many gifts to the church for the purpose of creating closed retreat houses (in particular the Villa Saint-Martin, which was opened in 1913), whose tranquillity he himself appreciated. His contemporaries recognized him also for his great generosity, his modesty, and his enthusiasm for the many charitable causes that were dear to his heart: help for the destitute, the sick, the dying, and those on retreat, and the propagation of Christian and nationalist values (such as the preservation of the faith and traditions, as well as the economic development of the province). His patronage also included a contribution in 1911 to the founding of the École Sociale Populaire [see Joseph-Papin Archambault*]. He was a member of the Society of St Vincent de Paul and a trustee of Notre-Dame Hospital in Montreal and of the Hôpital Notre-Dame-de-l'Espérance in Saint-Laurent. One of the founders of Le Devoir in 1910, he was also a director of this paper and of the Imprimerie Populaire Limitée (where Le Devoir was printed). According to an article it published on 14 March 1923, Gohier, who reputedly had "slight differences of opinion on minor issues" with the other founders, was "a fine example of a Canadian, with a keen intellect [and] a large and generous nature: what the English call a big-minded, big-hearted man."
ANQ-M, CE601-S44, 2 avril 1883; CE601-S48, 28 avril 1861. Arch. de la Ville de Saint-Laurent, Qué., Fonds institutionnel de la paroisse et de la ville de Saint-Laurent, 1788–1965, 11a/6, plans; 11b/2, lots 409-137 and 409-137a, 1890–1938. Palais de Justice, Montréal, Cour supérieure, Greffes, Hercule Gohier, 25 juin 1901; 13 sept. 1907; 8 avril 1908; 22 févr. 1910; 24 juin 1913; 2 mars 1914; 13 avril 1917; 28 mai, 21 juin 1923. VM-DGDA, P12, Rôles d'évaluation, 1908–12. Le Devoir, 13–14 mars 1923. La Presse, 13 mars 1923. J.-P. Archambault, Figures catholiques (Montréal, 1950), 76–94. W. H. Atherton, Montreal, 1534–1914 (3v., Montreal, 1914), 3. M. F. Girard, L'écologisme retrouvé: essor et déclin de la Commission de la conservation du Canada: 1909–1921 (Ottawa, 1994). Linteau, Hist. de Montréal. Montréal fin-de-siècle; histoire de la métropole du Canada au dix-neuvième siècle (Montréal, 1899), 193–94. Mario Nadon, Saint-Laurent mayors and city councils: a history worth discovering ([Saint-Laurent, 1993]); Les rues de Saint-Laurent, répertoire toponymique: un patrimoine à découvrir ([Saint-Laurent, 1992]). Qué., Statuts, 1907, c.94. Robert Rumilly, Histoire de Saint-Laurent (Montréal, 1969).
© 2005–2023 University of Toronto/Université Laval
Image Gallery

Cite This Article
Claire Poitras, "GOHIER, ÉDOUARD," in Dictionary of Canadian Biography, vol. 15, University of Toronto/Université Laval, 2003–, accessed September 23, 2023, http://www.biographi.ca/en/bio/gohier_edouard_15E.html.
The citation above shows the format for footnotes and endnotes according to the Chicago manual of style (16th edition). Information to be used in other citation formats:
| | |
| --- | --- |
| Permalink: | http://www.biographi.ca/en/bio/gohier_edouard_15E.html |
| Author of Article: | Claire Poitras |
| Title of Article: | GOHIER, ÉDOUARD |
| Publication Name: | Dictionary of Canadian Biography, vol. 15 |
| Publisher: | University of Toronto/Université Laval |
| Year of publication: | 2005 |
| Year of revision: | 2005 |
| Access Date: | September 23, 2023 |