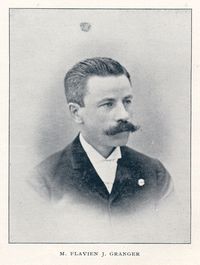 Source: Courtesy of Bibliothèque et Archives Nationales du Québec / 52327/1956595
GRANGER, FLAVIEN (Flavien-Joseph), bookseller and publisher; b. 9 May 1856 in Sainte-Anne-des-Plaines, Lower Canada, son of Hector Granger, a merchant, and Adélaïde Hamelin; m. 1888 Emma Gibeau in Montreal, and they had one daughter; d. there 18 Nov. 1913.
As a young man, Flavien Granger worked in his father's store in Sainte-Anne-des-Plaines. In 1878 he became a clerk at Chapleau et Labelle, a bookstore in Montreal, where he stayed for three years. He then went to another firm in the same business, Cadieux et Derome, where he was employed until 1884, first as senior clerk and later as manager.
In April 1885 Granger started his own enterprise under the name of F. J. Granger, Papetier, also known as Flavien J. Granger, Stationer, Bookbinder and Bookseller. With a modest capital of $500, he opened a shop at 13 Côte Saint-Lambert in Montreal. He had no employees and was obliged to shut his store when he had to make deliveries. The following year he moved into the Muir building, at 1699 Rue Notre-Dame on the corner of Place d'Armes, which would be closely associated with the store's development at the turn of the century. With his brother Hector he founded the firm of Granger Frères in 1887. Hector died in 1890, and his place was taken the following year by a second brother, Alphonse-Auguste, who brought with him 15 years' experience at J.-B. Rolland et Fils, booksellers. The two partners would work in close cooperation until their deaths some 20 years later.
The 1890s marked the beginning of considerable growth for the company. It soon expanded from the ground floor of 1699 Rue Notre-Dame to occupy the entire building and then the building next door. In 1902 it was split into a wholesale business known as Librairie Granger, managed by Flavien, and a retail bookstore known as Granger Frères, run by Alphonse-Auguste. Over the next 15 years the firm would become the largest bookstore in French Canada. The development of the wholesale business prompted the owners to buy or rent buildings on Rue Notre-Dame and later on Boulevard Saint-Laurent and Rue Saint-Paul, where the sample rooms, warehouses, and shipping rooms were located. By 1920 the store on Rue Notre-Dame would have more than ten departments, four of which would be devoted to books.
The growth of Granger Frères was connected to some extent with the development of mail-order sales. A contemporary columnist compared its catalogues to those of Timothy Eaton*'s stores. From the 1890s Granger Frères specialized in this type of merchandising. Much of it was carried on with remote areas not covered by the store's agents. Customers were sent specialized catalogues listing items offered by the various departments.
In 1900 Flavien Granger was commissioned to organize a display of Canadian books at the universal exposition in Paris. For the occasion he published a book entitled France-Canada: bibliographie canadienne; catalogue d'un choix d'ouvrages canadiens-français accompagné de notes bibliographiques, listing 386 French Canadian works; an enlarged version with more than 2,000 titles would be issued in 1906. It had always been Granger's intention to build up a well-stocked bookstore. To add to his list, he had set up a system for purchasing used books and had also bought private libraries and business inventories. Thus by the turn of the century the firm had a unique selection of Canadian works.
For two years Granger published a monthly bibliographical bulletin, L'Abeille paroissiale (1895–96), in a print run of 5,000, to promote new publications and other works available in the store. Most of the advertised books and religious articles were imported. Granger had exclusive distribution rights for many titles. In 1889 he had signed a contract with Eugène Plon to bring out jointly Une colonie féodale en Amérique; l'Acadie (1604–1881), by François-Edme Rameau de Saint-Père.
The firm also published many books. Some 40 titles have been listed as appearing under the imprint of Granger Frères from 1889 to 1913, an average of two books a year. They were mostly school textbooks, devotional works, and historical monographs, including several works by Benjamin Sulte*. In addition, there were titles by Louis Fréchette*, Feuilles volantes (1890) and Bienvenue à Son Altesse royale le duc d'York et de Cornwall (1901), and travel accounts, Six mois dans les Montagnes-Rocheuses: Colorado, Utah, Nouveau-Mexique (1890) by Honoré Beaugrand* and Dans la ville éternelle . . . (1897) by Abbé Jean-Baptiste Proulx*. Granger had his books printed by Eusèbe Senécal*, Gustave Vekeman, Laflamme et Proulx, Desaulniers et Leblanc, and the Imprimerie Moderne. He also acquired publication rights to a number of works brought out by fellow publishers. As well as books, Granger issued and sold postcards, maps, and tourist guides. The Guide de Montréal et de ses environs, which appeared in 1897, is still a model of its kind.
The firm's expansion soon required new financing and management strategies. Over the years Granger had bought up the inventories of several businesses: booksellers Gareau et Sauriol; the National Loose Leaf Company, the Librairie Napoléon Giroux, and part of Cadieux et Derome. When the floors of the bookstore on Rue Notre-Dame collapsed under the weight of merchandise in 1906, it was symptomatic of the great increase in stock. To facilitate future development and improve the firm's sources of financing, a limited company was set up on 27 Jan. 1910 under the name of Granger Frères Limitée. The new corporation had five members: Flavien and Alphonse-Auguste Granger, accountant Rodolphe Bédard, bookstore manager Origène-A. Thibault, and bookstore clerk Frédéric H. Meck. The decision proved wise, for three years later the two founders both passed away within the space of a few months. Flavien died on 18 Nov. 1913 at 57, and Alphonse-Auguste on 23 April 1914 at 55. The Société d'Administration Générale, a trust company, would ensure continuity by reorganizing the company's executive. The Granger brothers had interested one of their nephews, Paul Granger, in the business, and he was to serve on the new board of directors for many years.
The firm would suffer later from changes in the book market brought about by the Quiet Revolution and from the arrival on the scene of new distributing companies. At the end of the 1980s, 100 years after it was established and 70 years after the death of its founders, Granger Frères would close its doors. Its passing was scarcely noticed by the public.
Flavien Granger is the compiler of France-Canada: bibliographie canadienne; catalogue d'un choix d'ouvrages canadiens-français accompagné de notes bibliographiques et préparé à l'occasion de l'Exposition universelle de 1900 (Montréal, [1900?]).
AC, Montréal, État civil, Catholiques, Cimetière Notre-Dame-des-Neiges (Montréal), 21 nov. 1913. ANQ-M, CE6-6, 9 mai 1856. Le Canada (Montréal), 28 mars 1910. La Presse, 27 avril 1906; 18, 21 nov. 1913. Directory, Montreal, 1888–1915. Émile Benoist, Monographies économiques (2e éd., Montréal, 1925), 94–101. Dominique Garand, "La librairie et la distribution: Granger Frères," in L'édition du livre populaire, sous la direction de Jacques Michon (Sherbrooke, Qué., 1988), 153–84. J. Hamelin et al., La presse québécoise. Roger Le Moine, Napoléon Bourassa: l'homme et l'artiste (Ottawa, 1974). Jean Marot, "La librairie Granger Frères," in Le problème industriel au Canada français (Montréal, 1922), 273–74. Souvenir de Maisonneuve, esquisse historique de la ville de Montréal . . . (Montréal, [1894?]).
© 1998–2023 University of Toronto/Université Laval
Image Gallery

Cite This Article
Jacques Michon, "GRANGER, FLAVIEN," in Dictionary of Canadian Biography, vol. 14, University of Toronto/Université Laval, 2003–, accessed September 25, 2023, http://www.biographi.ca/en/bio/granger_flavien_14E.html.
The citation above shows the format for footnotes and endnotes according to the Chicago manual of style (16th edition). Information to be used in other citation formats:
| | |
| --- | --- |
| Permalink: | http://www.biographi.ca/en/bio/granger_flavien_14E.html |
| Author of Article: | Jacques Michon |
| Title of Article: | GRANGER, FLAVIEN |
| Publication Name: | Dictionary of Canadian Biography, vol. 14 |
| Publisher: | University of Toronto/Université Laval |
| Year of publication: | 1998 |
| Year of revision: | 1998 |
| Access Date: | September 25, 2023 |