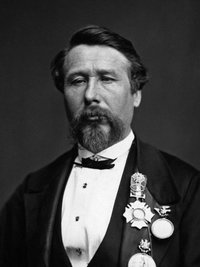 Source: Courtesy of Wikimedia Commons
GRAVELET, JEAN-FRANÇOIS, known as Charles Blondin, tightrope walker; b. 28 Feb. 1824 in Saint-Omer, France; d. 22 Feb. 1897 in Ealing (London), England.
Jean-François Gravelet, who would later use his fair-haired father's nickname ("blondie" in English), walked his first tightrope at the age of five. It was a clothes-line strung between two kitchen chairs. He fell off. That was his last fall, although he would prance on ropes until he was more than 70 years old. Blondin made his first stage appearance at eight, billed as "The Little Wonder," and he soon became a child star of French and British music-halls and circuses. Showman Phineas Taylor Barnum brought him to North America with a troupe of aerialists. In 1859, now a solo performer, he arrived at Niagara Falls and announced that he would cross the terrifying gorge.
The area around the falls, particularly the Canadian side, had become a huge tourist trap, luring tens of thousands of visitors. Having viewed the natural wonders, they demanded stunts, and these had been lavishly provided since the days of William Forsyth*. Blondin's stunt would be the greatest yet, but his initial audience was poor. Few believed a man could do it and live, and the majority thought he would back down and run away. A local promoter donated 1,300 feet of two-inch manila rope with guy wires, which was stretched across the gorge from about three-quarters of a mile below the Canadian falls, above the present Maid of the Mist dock, to White's Pleasure Grounds below Prospect Point on the American side.
At 4:45 p.m. on 30 June Blondin, in his shimmering silk suit, sprang on to the rope at the pleasure grounds, carrying his 35-foot balancing pole. A band played "La Marseillaise." According to the Toronto Globe, "After walking out about 150 yards, he suddenly sank down on the rope and took a short rest. An involuntary shudder passed through the crowd as he thus fearlessly threw himself on his face on the cable, while several of the ladies gave a petite scream, and clung more firmly to their protectors." In the middle of the gorge he sat down again, passed a string down to the Maid of the Mist steamer, hauled up a bottle "containing some liquor," drank it, and started uphill to the Canadian shore. It was uphill because the rope was slack, drooping about 50 feet. He looked tired towards the end, but was probably acting. The crossing had taken 15 minutes. After being wined and dined in Canada, he trotted back along his rope in seven minutes. Before automobiles and helicopters it was the fastest way to go.
Blondin was now as famous as the falls themselves. Vast crowds arrived by train, coach, and steamboat to watch him laugh at danger. He walked at night, on stilts, and with a sack over his head, did back somersaults on the rope, struggled in chains, and cooked a meal over the gorge on a large iron stove. "I verily believe," wrote the London Times correspondent, "that at least one-half of the crowds that go to see Blondin go there in the firm expectation that . . . he must fall off."
Now recognized as a superman, in August 1859 he volunteered to humanize his performance by carrying an ordinary mortal on his back. No one stepped forward, so his manager, Harry Colcord, was pressed into service. The sight of the terrified Harry dismounting six times during the crossing because Blondin was in trouble was the greatest thrill yet. A guy wire broke and Colcord claimed gamblers had sabotaged it.
The following year Blondin returned to the falls to perform for the Prince of Wales. He offered to carry the bulky prince on his back, but the invitation was graciously declined. Instead, he took his own assistant, Romain Mouton. Half-way across Mouton got off for a rest and refused to climb back up. Blondin threatened to leave him to get home on his own. The prince watched, thunderstruck, as the two men raged in French.
In 1861 the prince brought Blondin to London to perform 180 feet up in the Crystal Palace, and Blondin subsequently appeared many times in England and on the Continent. The great funambulist retired for a short time, but he resumed his career in 1880, and he gave his last performance in Belfast at the age of 72.
AO, Hiram Walker Hist. Museum Coll., ms 392, file 133 ("Blondin"). Buffalo and Erie County Hist. Soc. (Buffalo, N.Y.), Posters, photographs, and newspaper files relating to Charles Blondin [J.-F. Gravelet]. Globe, 1 July 1859. Times (London), 2 Oct. 1860, 23 Feb. 1897. M. F. Campbell, Niagara: hinge of the golden arc (Toronto, 1958). Gordon Donaldson, Niagara! the eternal circus (Toronto and Garden City, N.Y., 1979). Niagara Falls, Canada: a history of the city and the world famous beauty spot; an anthology (Niagara Falls, Ont.., 1967). Andy O'Brien, Daredevils of Niagara (Toronto, 1964). Percy Rowe, Niagara Falls and falls (Markham, Ont., 1976). R. L. Way, Ontario's Niagara parks: a history (2nd ed., [Fort Erie, Ont.], 1960).
© 1990–2023 University of Toronto/Université Laval
Cite This Article
Gordon Donaldson, "GRAVELET, JEAN-FRANÇOIS, known as Charles Blondin," in Dictionary of Canadian Biography, vol. 12, University of Toronto/Université Laval, 2003–, accessed September 28, 2023, http://www.biographi.ca/en/bio/gravelet_jean_francois_12E.html.
The citation above shows the format for footnotes and endnotes according to the Chicago manual of style (16th edition). Information to be used in other citation formats:
| | |
| --- | --- |
| Permalink: | http://www.biographi.ca/en/bio/gravelet_jean_francois_12E.html |
| Author of Article: | Gordon Donaldson |
| Title of Article: | GRAVELET, JEAN-FRANÇOIS, known as Charles Blondin |
| Publication Name: | Dictionary of Canadian Biography, vol. 12 |
| Publisher: | University of Toronto/Université Laval |
| Year of publication: | 1990 |
| Year of revision: | 1990 |
| Access Date: | September 28, 2023 |