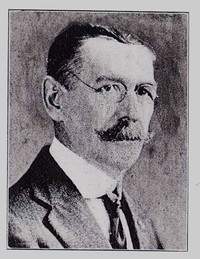 Courtesy of Jean-Claude Dionne.
Source: Link
GUYON, LOUIS (baptized Pierre-Louis-Henri), author, labourer, insurance agent, union leader, and civil servant; b. 3 July 1853 in Sandy Hill (Hudson Falls), N.Y., son of Henry (Henri) Guyon, a saddler, and Domithilde Desjarlais; m. 19 Sept. 1882 Victoria Lefebvre (d. 11 Nov. 1918) in the parish of Saint-Joseph, Montreal, and they had nine children, six of whom reached adulthood; d. 15 Nov. 1933 in Montreal and was buried there three days later in Notre-Dame-des-Neiges cemetery.
Franco-American by birth, Louis Guyon was the fifth of eight children. Towards the end of the 1850s his family settled in Montreal, where he studied with the Brothers of the Christian Schools and pursued technical training. He was a machinist by 1880 but would leave that job in 1885 to become an insurance agent with the Citizens' Insurance Company of Canada.
Guyon became involved in the union movement at the beginning of the 1880s when he joined the Knights of Labor [see Olivier-David Benoît*]. He was elected master workman of the Concorde Assembly and secretary of Assembly No. 114 in 1885. On 12 Jan. 1886 he became the first president of the Central Trades and Labor Council of Montreal (CTLC).
It was in 1885 that an act to protect the life and health of persons employed in factories was signed into law under the provincial Conservative government of John Jones Ross*. A misunderstanding surrounding the Knights of Labor, which arose as a result of the pastoral letter issued by Elzéar-Alexandre Taschereau*, archbishop of Quebec, condemning certain organizations, delayed the act's implementation. In fact, the appointment of factory inspectors, which was necessary if the act was to be brought into force, did not occur until 8 May 1888, the date on which the provincial Liberal government of Honoré Mercier* finally named three inspectors: Charles T. Côté, James Mitchell, and Guyon. Mercier wanted the inspectors to come from management and labour. Guyon, who not only had the support of the leaders of the CTLC but was also a Liberal, was a prime candidate.
With a wealth of experience and knowledge of the working class and labour relations, Guyon soon displayed his leadership qualities within the small team. There was plenty to do: define the powers and duties of inspectors, organize inspections, investigate accidents, distribute copies of regulations to companies, and draw up regulations concerning unsafe factories, industrial establishments, and the minimum hiring age for children. The work was not carried out in a vacuum. The three appointees became members of State Factory Inspectors, which had been founded in the United States in 1887 and was renamed the International Association of Factory Inspectors of North America in 1891. The thirteenth annual convention of the organization took place in Quebec City from 29 to 31 Aug. 1899 and the seventeenth in Montreal from 25 to 27 Aug. 1903. The many exchanges among the participants at the conventions covered all aspects of inspection and safety. In 1910 Guyon was elected president of the association for a one-year period. His faithful attendance at the meetings for more than 20 years and his sound knowledge of labour laws in North America and Europe, among other factors, justified his obtaining the position.
Guyon also kept an eye out for new developments in Europe. A year after his appointment as inspector of factories, he attended the first international congress on workplace accidents, held in Paris. As secretary of its statistics and administration section, he met delegates from a number of countries, including inspectors and directors of museums of accident prevention with whom he would maintain regular correspondence for several years. He brought back to Quebec a splendid illustrated album, entitled Collection de dispositions et d'appareils destinés à éviter les accidents de machines, produced by the Association pour Prévenir les Accidents de Fabrique. It contained many examples of safety mechanisms for transmission belts, hoists, woodworking and textile-industry machines, lifting devices, rolling mills, and construction workshops; the book also included examples of tools for manufacturing paper and handling corrosive liquids as well as tube surrounds for boiler water-level gauges. The volume gave him the idea of organizing an exhibition in Montreal about ways to prevent workplace accidents. Guyon regularly applied for funds from the government and industrialists to obtain the various kinds of safety equipment required to install the displays. In 1900 he travelled to the universal exposition in Paris with the sum of $1,600 ($1,000 from the government and $600 from factory owners). He attended the international congress on workplace accidents and social insurance as well as the first international congress for the legal protection of workers, and he visited an exhibition on accident-prevention methods and devices. On his return to Montreal he carried out his plan for an exhibition. The first of its kind on the North American continent, it opened on 23 Sept. 1901 in the former St Gabriel Street Church, at the corner of Rue Saint-Gabriel and Rue Saint-Jacques, where it remained until 1903. Through a government grant in 1909 the exhibition was designated a museum; it was officially inaugurated in 1910 and installed in the Montreal Technical School the following year.
Guyon, who was well known for his knowledge of various aspects of safety and inspection, had been appointed chief inspector of the province's industrial establishment and public-building inspection branch in December 1900. In 1919 he became the first deputy minister of the Department of Public Works and Labour, an office he would hold until his retirement on 12 Nov. 1931. In addition to dealing with day-to-day tasks associated with the administrative positions he held simultaneously (such as planning and following up on inspection visits, assisting at coroners' inquests as an expert witness, and making improvements to labour regulations), he gave lectures, delivered some 20 papers to the annual conferences of the International Association of Factory Inspectors of North America, and published at least two articles in the Bulletin sanitaire. A prominent figure in the fields of workplace health and safety in Quebec, Guyon demonstrated great ability, curiosity, initiative, dynamism, commitment, and determination to improve conditions for workers. As a delegate from Quebec and Canada, he took part in several other national and international conferences, including the first session of the International Labor Conference in Washington, held from 29 Oct. to 29 Nov. 1919.
During the four decades of his career as a civil servant, Guyon contributed to the development, modification, and implementation of almost all the laws and regulations within his areas of competence. As soon as he returned from the Paris conference in 1889, he persuaded the government to give royal assent to an act amending the law on the protection of employees in factories, which enabled the appointment of a medical officer of health. In 1904 he supported the bill on industrial accidents [see Sir Horace Archambeault*]. He also took part in drafting the legislation relating to working hours for women and children in some factories (1910) and foundries (1911), and the provision of one day of rest per week for employees in certain industries (1918).
Guyon had shown an interest in the dramatic arts before entering the labour movement. In 1878, at the age of 25, he presented his first stage play, Le secret du rocher noir, in Montreal. The work was very French in style, as were those that followed: La fleur de lys (1879), À la Bastille (1879), Tony l'espion (1881), and Luigi l'empoisonneur (1881). These plays were very successful in Montreal, first at the Salle de l'Opéra and especially at the Theatre Royal, featuring the amateur performers of the Cercle Jacques-Cartier. Guyon wrote nine original plays for the group, of which he was also a member. Some 20 years later Guyon's productions bore more of a resemblance to the American Broadway model. The first of this series, Denis le patriote, was very well received on 15 Sept. 1902 at the Théâtre National Français in Montreal. The second, Joe Montferrand, was presented on 26 Oct. 1903 at the same theatre. This stunning show was enormously popular: it ran for three consecutive weeks and was staged at least three more times. Similarly, Guyon's third play, Montcalm, performed at the Théâtre National Français on 25 Nov. 1907, was a resounding success. Several of his dramas were also produced in Quebec City. Indefatigable, Guyon translated into French two comedies, one story, and a play by English and Spanish authors. In addition, he published Étude généalogique sur Jean Guyon et ses descendants in Montreal in 1927. His broad knowledge and his literary qualities won him admission to the Société des Auteurs Français; furthermore, on 1 May 1910 the French government made him a member of the Ordre des Palmes Académiques. A prolific author, Guyon made a remarkable contribution to the development of the theatre in Quebec. The themes of his plays, in the early years of the 20th century, show that he was one of the pioneers of a dramatic art that was inspired by national sentiment.
Louis Guyon died on 15 Nov. 1933, in his home at 3434 Avenue Laval, Montreal, at the age of 80. The funeral service took place in the chapel of the parish of Saint-Louis-de-France. Representatives from political circles, the civil service, the theatre, and the labour movement attended the ceremony. Le Monde ouvrier commented on his death: "We owe to him nearly all the labour legislation in our provincial statutes because for more than forty years he collaborated on all the measures aiming to improve the lot of the working class [, which] has lost a true friend and a devoted protector."
At the annual convention of the International Assoc. of Factory Inspectors of North America, Louis Guyon delivered, among other speeches, the following: "Emery wheels: their use and misuse," Proc. (Toronto, 1896), 25–28, and "Can our methods of handling belts be improved?," Proc. (Detroit, 1897), 46–49. He wrote at least two technical articles: "Des dangers dans la fabrication des allumettes," Bull. sanitaire (Montréal), 10 (1910): 101–7, and "Conditions d'insalubrité des établissements industriels," Bull. sanitaire, 16 (1916): 86–92. He is also the author of the play Un mariage à la gaumine (Montréal, 1904) and the melodrama Les ceintures fléchées (s.l., 1928).
BANQ-CAM, CE601-S38, 19 sept. 1882. BANQ-MCQ, CE401-S15, 21 juill. 1855. FD, Notre-Dame (Montréal), 13 nov. 1918, 18 nov. 1933. Le Devoir, 16 nov. 1933. Labor World (Montreal), 18 Nov. 1933. La Patrie, 23 sept. 1901, 27 août 1903. Violette Allaire, "Notes bio-bibliographiques sur Louis Guyon …" (travail de ba, univ. de Montréal, 1953). Archidiocèse de Québec, Mandement de Monseigneur E.‑A. Taschereau, archevêque de Québec, sur certaines sociétés défendues, 19 avril 1886 ([Québec?, 1886?]). BCF, 1920. Jean Béraud, 350 ans de théâtre au Canada français (Ottawa, 1958). J.‑C. Dionne, "Notes de recherche: documents pour l'étude des expositions et musées pour la prévention des accidents et des maladies du travail au Québec au début du siècle," Labour (St John's), 40 (1997): 199–211. Jean Doat, Anthologie du théâtre québécois (Québec, 1973). Bernard La Mothe, "Naissance de la prévention au Québec: visite guidée … dans le temps," Prévention au travail (Montréal), 15 (hiver 2002), no.1: 7–14. Éric Leroux, "Louis Guyon," Regroupement des Chercheurs-Chercheures en Hist. des Travailleurs et Travailleuses du Québec, Bull. (Montréal), 21 (1995), no.3: 3–4. Que., Parl., Sessional papers, 1890 (reports of the factory inspector, 1888–90); 1899–1901 (reports of the industrial establishments and public buildings inspector, 1898–1900); 1903–5, 1907–9 (reports of the chief inspector, 1902–4, 1906–9); 1919–20, 1923–24, 1931–32 (reports of the Deputy Minister of Labour, 1918–19, 1922–23, 1930–31). Soc. for the Prevention of Accidents in Factories, Collection de dispositions et d'appareils destinés à éviter les accidents de machines (Mulhouse, France, 1889). La vie littéraire au Québec, sous la dir. de Maurice Lemire et al. (6v. parus, Sainte-Foy [Québec], 1991– ), 4, 5.
© 2020–2023 University of Toronto/Université Laval
Image Gallery

Cite This Article
Jean-Claude Dionne, "GUYON, LOUIS (baptized Pierre-Louis-Henri)," in Dictionary of Canadian Biography, vol. 16, University of Toronto/Université Laval, 2003–, accessed September 24, 2023, http://www.biographi.ca/en/bio/guyon_louis_16E.html.
The citation above shows the format for footnotes and endnotes according to the Chicago manual of style (16th edition). Information to be used in other citation formats:
| | |
| --- | --- |
| Permalink: | http://www.biographi.ca/en/bio/guyon_louis_16E.html |
| Author of Article: | Jean-Claude Dionne |
| Title of Article: | GUYON, LOUIS (baptized Pierre-Louis-Henri) |
| Publication Name: | Dictionary of Canadian Biography, vol. 16 |
| Publisher: | University of Toronto/Université Laval |
| Year of publication: | 2020 |
| Year of revision: | 2020 |
| Access Date: | September 24, 2023 |