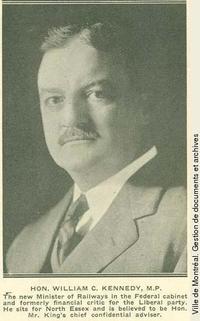 Source: Link
KENNEDY, WILLIAM COSTELLO, businessman and politician; b. 27 Aug. 1868 in Ottawa, son of William Kennedy and Julia Costello; m. 8 May 1907 Glencora Bolton in Detroit; they had no children; d. 17 Jan. 1923 in Naples, Fla, and was buried in Windsor, Ont.
Sometime before 1871 William C. Kennedy moved with his family to Toronto, where his father, a bookkeeper, became a messenger at the Legislative Assembly. He attended separate schools and De La Salle Institute and was a page in the legislature. In 1887 he joined the London and Canadian Loan and Agency Company as a clerk. A natural athlete and a member of the Toronto Rowing Club, he developed into one of the city's best-known oarsmen as well as a skilled lacrosse player.
In 1897 Kennedy accepted an offer of employment in the oil and gas industry of southwest Ontario, which, though new to him, proved to be a fertile field for his instincts for making money. Shrewd and disciplined, he was secretary-treasurer of the United Gas and Oil Company of Ontario Limited (incorporated in 1900) and, from 1908 to 1917, president of the Windsor Gas Company Limited. Kennedy invested in various commercial interests on both sides of the Detroit River – for some years before 1910 he lived in Detroit – and he was possibly involved in the development of the Oklahoma oil industry. He gained recognition from his participation in public life as well as from business. Twice elected to the presidency of the Windsor Board of Trade (1909 and 1910), he was a trustee of the Board of Education (1913–18) and sat on the council of the neighbouring municipality of Ojibway (1913–23). In addition, he was a founder and treasurer of the Children's Aid Society in Windsor, and a prominent member of St Alphonsus' Roman Catholic Church.
Kennedy's first foray into federal politics occurred in 1911, when he ran for the Liberal nomination in Essex North. A deadlock at the convention ended only when Kennedy persuaded his main rival that they should both step down in favour of a compromise candidate (who in the end lost to his Conservative opponent). Talk of an election in 1915 prompted the Liberals unanimously to choose Kennedy, but no contest was held because of World War I, and he had to wait until the writ was dropped in late 1917. His opponent was Ernest Solomon Wigle, a Conservative Unionist and former commander of the 99th Infantry Battalion. Although he was a popular threat to Kennedy as a military man who had served overseas, the biggest concern facing any Liberal candidate in English-speaking Canada was conscription, which had been introduced that August by Sir Robert Laird Borden*'s Union government over the opposition of Sir Wilfrid Laurier*. Ever the Liberal loyalist, Kennedy supported Laurier as his leader, but he left himself room to manoeuvre. Although he was consistently critical of the government's application of the Military Service Act, especially to farmers, he did not attack the act itself since he believed that conscription was the best way to end the war.
During the campaign, Kennedy endured taunts of disloyalty and the likelihood of a large military vote for Wigle. His own candidacy, however, had behind it the high-powered, severely patriotic Victory Loan drive led by Gordon Morton McGregor, head of the local Ford plant and a strong Laurier Liberal. Kennedy won by 446 votes. Laurier made him the opposition's finance critic, a natural fit for a businessman of his calibre. Though he had little taste for combative behaviour in the House of Commons, the assignment allowed him to flourish as a novice parliamentarian and to hone his skills as a presenter of fact. In his first speech in the commons, which was devoted to the budget of 1918, Kennedy displayed his brilliant mind for figures. He exposed the exorbitant expense of raising Victory Loans, defended the working man by criticizing recent bank mergers and the proposed tax on tea, and, with devastating wit, castigated the special interests that were courting cabinet and scorned finance minister Sir William Thomas White* for living in the United States. While serving as finance critic, he attended as well to his constituency. It was through his effort, for instance, that Windsor-area residents working in Detroit were exempted from American income taxes imposed on them in 1919.
Following Laurier's death in February 1919, Kennedy supported William Lyon Mackenzie King*'s winning bid for the party leadership. The two soon formed "a close and confidential friendship." Kennedy remained finance critic and helped to organize King's tour of western Canada in 1920. In the election of December 1921 the Liberals gained power. In Essex North, a campaign dominated by Gordon McGregor's vehement defence of Liberal tariff policy helped sweep Kennedy to a remarkable 7,195-vote majority. King was so determined to give him a portfolio – he initially lined him up for public works – that he took the unusual step of placing two Ontario Catholics in cabinet, Kennedy as minister of railways and canals and Charles Murphy* as postmaster general. Despite his limited experience in the commons, Kennedy had the advantage of having no ties to the railway interests.
In a ministry overflowing with political landmines, he had to find his way through a range of nagging issues, including demands for lower freight rates, the renewal of the Crowsnest Pass agreement, and the threat of a nation-wide rail strike. These questions, however, paled in comparison with his primary task: implementing the Canadian National Railways Act of 1919. He undertook a three-week tour of Canada's lines in January 1922 and submitted his report in March. The following month he made his statement on railway conditions and policy; aided by an acquiescent commons, he performed flawlessly. His chief triumph as minister was to initiate the processes that led to the proper functioning of the Canadian National. This goal necessitated the careful amalgamation of more than 22,000 miles of track, previously run by the Canadian Northern, the Canadian Government Railways, the Grand Trunk, and the Grand Trunk Pacific, and the establishment of a single board of directors. Kennedy's choice for the CN's first president, in October 1922, was Sir Henry Worth Thornton*.
On 25 August Kennedy had undergone surgery for an undisclosed problem at the Royal Victoria Hospital in Montreal. A second operation a month later largely forced him out of political circulation. One of his last acts was a letter to King on 30 December stressing the opposition of western Ontario Liberals to any material change in the tariff. To recuperate Kennedy went to Stratford, Ont., where two sisters lived, and then to Florida. His unexpected death there on 17 Jan. 1923 shocked the political establishment. The prime minister and his entire cabinet, as well as opposition leader Arthur Meighen*, attended Kennedy's requiem at St Alphonsus' Church in Windsor, where Father Charles Edward Coughlin, later known as the radio priest, delivered the eulogy.
According to the Toronto Globe, Kennedy had been "the administrative hope of the Liberal party. He had the persistence, the clear thinking, the business experience, the sound judgment necessary to the solution of the country's biggest problems." Only 54 at his death, he might have become a great minister.
AO, RG 22-311, no.1923/117. City of Windsor Municipal Arch. (Windsor, Ont.), RG 5, BI-1/1/2: 184 (Ojibway, special council meeting, 22 Jan. 1923). LAC, RG 31, C1, 1871, Toronto, St Patrick's Ward, div.1: 106. Border Cities Star (Windsor), 11 Sept. 1918; 1–22 March 1919; 27 April 1920; 23 Nov.–7 Dec. 1921; 19 Jan. 1923. Evening Record (Windsor), 8 May 1907; 10 May 1915; 16, 23, 26 Nov. 1917. Globe, 10 May 1915, 18 Jan. 1923. [Glencora Bolton Kennedy], In memory of the late Hon. William Costello Kennedy, p.c., m.p. (n.p., [1923?]; copy in Univ. of Windsor Arch.). Can., House of Commons, Debates, 2 May 1918, 16 June 1919, 21 May 1920, 14 May 1921. Canadian annual rev., 1920: 431; 1922: 306, 468–97. CPG, 1922. Cyclopædia of Canadian biog. (Rose and Charlesworth), vol.3. R. MacG. Dawson and H. B. Neatby, William Lyon Mackenzie King: a political biography (3v., Toronto, 1958-76), 1. Directory, Windsor, 1903–16.
© 2005–2023 University of Toronto/Université Laval
Cite This Article
Michael Power, "KENNEDY, WILLIAM COSTELLO," in Dictionary of Canadian Biography, vol. 15, University of Toronto/Université Laval, 2003–, accessed September 22, 2023, http://www.biographi.ca/en/bio/kennedy_william_costello_15E.html.
The citation above shows the format for footnotes and endnotes according to the Chicago manual of style (16th edition). Information to be used in other citation formats:
| | |
| --- | --- |
| Permalink: | http://www.biographi.ca/en/bio/kennedy_william_costello_15E.html |
| Author of Article: | Michael Power |
| Title of Article: | KENNEDY, WILLIAM COSTELLO |
| Publication Name: | Dictionary of Canadian Biography, vol. 15 |
| Publisher: | University of Toronto/Université Laval |
| Year of publication: | 2005 |
| Year of revision: | 2005 |
| Access Date: | September 22, 2023 |