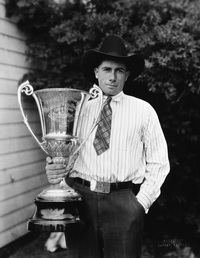 Source: Link
KNIGHT, CHARLES PETER, farmer and bronc rider; b. 5 May 1903 in Philadelphia, son of William B. Knight and Katherine Carson; m. 21 March 1932 Ida (Babe) Lee Avant in Hot Springs, Ark., and they had one daughter; d. 23 May 1937 in Hayward, Calif.
Pete Knight was the son of an English father and an Irish mother who immigrated to Kansas separately, met and married there, and then settled in Philadelphia, where Pete was born. In 1906 the Knights relocated to Stroud, Okla., and eight years later, enticed by Canadian promotional literature and grain samples, they moved to Crossfield, Alta. While working on the farm east of town that his family had rented, Pete became interested in rodeo and began practising at the nearby Deep Dale Ranch. He participated in informal Sunday events there until 1918, when he entered the Crossfield Rodeo and won second prize in the saddle-bronc category despite being just 15 years old.
Knight was too young to take part in Calgary's "Victory Stampede" the following summer, but he was so impressed by the bronc riding of Enos Edward (Yakima) Canutt, a famed rodeo champion and Hollywood stuntman, that he studied and copied his style. Knight honed his skills in local Alberta rodeos until entrepreneur Guy Weadick* invited him to compete in the 1923 Calgary Stampede. During the opening-day parade, however, he was thrown from his horse and broke his left leg, which forced him to spend several months recuperating and working on his parents' farm.
Knight returned to the Calgary Stampede the next year and his spectacular performance on a bucking horse named Alberta Kid earned him a second-place finish. This was his first success in a major rodeo, and his exceptional abilities soon came to the attention of Peter Welsh, owner of the Alberta Stampede Company (ASC), who asked him to take part in a tour by professional cowboys. The ASC's initial show was the Edmonton Stampede in the summer of 1925, at which Knight won the saddle-bronc event. He then competed in Vancouver, Winnipeg, Toronto, Ottawa, and Montreal, and he returned home that fall having earned enough money to buy his own farm. He worked it with his brothers, Robert and Walter, between rodeos, and there he also raised his own string of bucking broncs.
At the ASC's rodeo in Winnipeg the following year, Knight conquered six of the company's most notorious animals and scored the highest number of points. For this feat he won the North American open championship, as well as a silver-mounted bridle that was presented to him by Hollywood star Tom Mix. After visiting Vancouver and Ottawa the tour arrived in Toronto, which was hosting its first "International Western Stampede." There Knight's ride on Bassano was good enough to win the Canadian final and take second place in the North American championship. In Montreal, the last stop on the 1926 tour, he mounted the legendary Midnight for the first time but was thrown off just short of the ten seconds then required to post a successful ride.
In 1927 Knight returned to the Calgary Stampede after a one-year absence and finally secured both the North American open and the Canadian championships, the latter victory earning him the Prince of Wales Trophy. He followed the ASC circuit to the Ohio State Fair in Columbus, where he won the bucking-horse event in his first American competition. The company also put on rodeos in Montreal, Detroit, and Buffalo that year, but it went out of business at the end of the season.
Now on his own, Knight competed in Canadian and American rodeos and quickly added to his fame as an outstanding bronc rider. In 1930 he captured the North American and Canadian championships at the Calgary Stampede, taking the Prince of Wales Trophy for a second time. He also won, among other victories, the unofficial bucking-horse world championship in Pendleton, Oreg., and the all-American championship at the Frontier Days rodeo in Cheyenne, Wyo. Two years later he competed in the Ride of Champions, a special four-man event in Reno, Nev., against elite riders Earl Thode, Gene Ross, and Frank Studnik, and fought Cannonball to a standstill to claim a trophy donated by boxer Jack Dempsey. That year the Rodeo Association of America declared Knight the world champion in saddle-bronc riding. He earned this title again in 1933, when he won the Prince of Wales Trophy for a third time, a triumph that allowed him to keep the cup permanently. The following year the Canadian country singer Wilfred Arthur Charles Carter* first performed his song "Pete Knight, king of the cowboys" in New York. Knight did not defend his world title that year, embarking instead on a rodeo tour of England and Australia, but he regained it in 1935 and 1936.
While not a big man, Knight was described by journalist Fred Kennedy as being "strong as a bull and he showed it in his riding." Rodeo contestant Eddie Woods observed: "He was one of the nicest men I've ever known. He was never belligerent or obnoxious. He had a sort of little school-boy way about him – a bit shy and grinning." Throughout his career Knight neither smoked nor drank, and he lived frugally, though he was known for his generosity, often paying the medical expenses of cowboys who had been injured in competition and assisting those who were down and out.
On 23 May 1937, five weeks after his wife, Babe, gave birth to a daughter, Deanna Thomasina, Pete Knight was killed at a rodeo in Hayward, Calif., when he was thrown and trampled by a horse named Duster. Guy Weadick remembered him not only as a rodeo legend, but also as "a fine fellow, a real man, and a devoted husband," and Herman Linder*, a champion himself, judged that his fallen friend "was one of the greatest, if not the greatest bronc rider that ever lived." Knight's place in the sport is recognized today by the ProRodeo Hall of Fame in Colorado Springs, Colo., and the Canadian Pro Rodeo Hall of Fame in Calgary, both of which made him one of their original inductees.
Calif. Dept. of Public Health Vital Records (Sacramento), Charles Knight, death certificate no.32444. U.S. National Arch. and Records Administration (Washington), United States census, 1910, Okla., Creek, Depew. Calgary Herald, 25 May 1937: 1. Jim Davis, We remember … Pete Knight (Calgary, 1976). M.‑E. Kelm, A wilder west: rodeo in western Canada (Vancouver, 2011). Fred Kennedy, Alberta was my beat: "memoirs of a western newspaperman" (Calgary, 1975); The authentic story of the Calgary Stampede ([Vancouver, 1965]); The Calgary Stampede story ([Calgary?], 1952). Darrell Knight, Pete Knight: the cowboy king (Calgary, 2004). Sam Savitt, Midnight, champion bucking horse (New York, 1957). Guy Weadick, "Pete Knight: champion rider of the rodeos," Canadian Cattlemen (Calgary), 7 (1944–45): 14, 34. C. P. Westermeier, Man, beast, dust: the story of rodeo ([Denver, Colo., 1947]).
© 2020–2023 University of Toronto/Université Laval
Cite This Article
Hugh A. Dempsey, "KNIGHT, CHARLES PETER," in Dictionary of Canadian Biography, vol. 16, University of Toronto/Université Laval, 2003–, accessed October 4, 2023, http://www.biographi.ca/en/bio/knight_charles_peter_16E.html.
The citation above shows the format for footnotes and endnotes according to the Chicago manual of style (16th edition). Information to be used in other citation formats:
| | |
| --- | --- |
| Permalink: | http://www.biographi.ca/en/bio/knight_charles_peter_16E.html |
| Author of Article: | Hugh A. Dempsey |
| Title of Article: | KNIGHT, CHARLES PETER |
| Publication Name: | Dictionary of Canadian Biography, vol. 16 |
| Publisher: | University of Toronto/Université Laval |
| Year of publication: | 2020 |
| Year of revision: | 2020 |
| Access Date: | October 4, 2023 |