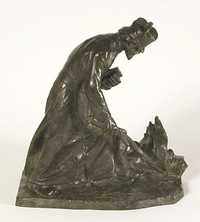 Source: Link

LA BROSSE, JEAN-BAPTISTE DE, Jesuit, priest, missionary, and professor; b. 30 April 1724 at Magnac, a hamlet in the parish of Jauldes (dept of Charente), France, son of Jean de La Brosse, seigneur of La Chabrouillère and of Magnac, and Louise Dubois-Cuvier; d. 11 April 1782 at Tadoussac (Que.).

After studying at the Jesuit college in Angoulême, Jean-Baptiste de La Brosse began his noviciate with the Jesuits in Bordeaux on 9 Oct. 1740. He took his first vows on 10 Oct. 1742, studied philosophy for two years, and taught in various schools until 1749. He completed his training as a Jesuit by a third year of philosophy and four years of theology.

Ordained priest early in April 1753, La Brosse came to Canada with a number of other Jesuits the following year. He stayed at Quebec and then in the autumn of 1755 went to join Father Charles Germain in Acadia, where he ministered to the Abenakis, Malecites, and Acadians of the St John River region (N.B.). Since July 1755, when the deportation of their people had begun [see Charles Lawrence*], these Acadians had been pursued and had had to take refuge in the forests. As soon as he arrived Father La Brosse went along, helping them and encouraging them to flee. Early in March 1756 he narrowly escaped being taken by the British.

Returning to Quebec in the autumn, La Brosse lived in the Jesuit college until 1758, serving as procurator, adviser to the rector, confessor, and professor of philosophy. On 2 Feb. 1758 he pronounced his solemn vows in the presence of Father Claude-Godefroy Coquart* and then worked as chaplain in the Hôpital Général in Quebec until April. In the summer he went to assist Father Pierre-Joseph-Antoine Roubaud, who was with the Abenakis at Saint-François-de-Sales (Odanak), and at the same time he undertook regular duties in the parish of Saint-Michel-d'Yamaska. In July 1759 La Brosse went with a party of Abenakis to Quebec, which was under siege. He was taken prisoner at Pointeaux-Trembles (Neuville) but the next day was liberated as a military chaplain. On 4 October he and Father Roubaud escaped Major Robert Rogers' raid on the Abenakis at Saint-François. The following year he still claimed the title of "missionary to the Abenakis" and was ministering occasionally in the parish of Saint-Louis-de-Terrebonne. During his years with these Indians he had improved his knowledge of their speech and in 1760 completed a basic dictionary of the Abenaki language.


From his earliest days in Canada, Father La Brosse had espoused the cause of the Acadians, Abenakis, and Malecites. In 1761, however, he was given the tranquil parish of Saint-Henri-de-Mascouche, and remained there until the middle of 1766 despite requests from the Indians of Saint-François for his return. He was then appointed missionary to the Montagnais, who inhabited an immense territory stretching from he aux Coudres to Sept-Îles and from Tadoussac to Chicoutimi, and he began the most significant work of his life, through which he would make an outstanding contribution and attain both historical fame and legendary renown. In 1770 Bishop Briand also made him responsible for ministering to the area from Cacouna to Rimouski on the south side of the St Lawrence, as well as to Acadia, St John's (Prince Edward) Island, and Cape Breton Island. In 1773, however, Joseph-Mathurin Bourg took over his responsibilities for the Acadians and Micmacs.


Annals containing his annual summaries of his activities from 1766 to 1776, two Tadoussac registers recording his official acts – the "Miscellaneorum Liber" and the "Magnus Liber" – his letters, and various other statements reveal the nature of his work. His chief concern was to establish a Montagnais Christian community on firm human foundations. As early as 1767 he had William Brown and Thomas Gilmore print 3,000 spellers and 2,000 prayer books in Montagnais, designed, as he noted, for "those who know how to read and for those who will learn." He devoted winters to the education of the Montagnais, showing them how to read and write, teaching them the catechism, liturgical rites, singing, and the rudiments of music, and training catechists to carry on his work in his absence and after his death. He also served the French on both sides of the St Lawrence and the Acadians of Baie des Chaleurs, since registers of at least 15 parishes record his ministrations. But his creative work was primarily with the Montagnais, among whom he established a church which was respectful of their language and which could sustain itself.

Employees and clerks of the trading posts made his task difficult because of their general conduct and their trade in spirits with the Indians. In his concern to save his Montagnais Christian community Father La Brosse did not hesitate to write in 1780 to the vicar general of Quebec, Henri-François Gravé* de La Rive, to censure the diocesan authorities for their spinelessness and indulgence towards the French living at the posts. Despite these obstacles his forceful personality enabled him to accomplish his purpose in large measure. We can form some idea of his achievement by the number of prayer books and spellers he had printed, the large quantity of Indian religious calendars he bought from Brown and Gilmore, and above all from the records he entered in the registers of Tadoussac. The "Catalogus generalis totius Montanensium gentis" kept by his successor, Abbé Jean-Joseph Roy, is also a valuable source of detailed information. Written around 1785 and now housed in the Archives de l'archidiocèse de Québec, this "Catalogus" is clearly a continuation of one which Brown and Gilmore printed for Father La Brosse in 200 copies in 1767. Virtually a census of the Montagnais Christians, it gives for each person a number, names of parents, date of birth, assessment of literacy and of religious performance, date of first communion, and date of death where applicable.

In spite of extensive travel every year, Father La Brosse successfully engaged in work which reveals his ability as a scholar and professor. Wherever he went he made use of his Jesuit predecessors' studies. He did further research, made comments and corrections on their work, and developed it in his own writings. He used the dictionary of Father Joseph Aubery* as a basis for his etymological dictionary of the Abenaki language, and for his book of Montagnais prayers he drew inspiration from one by Father Pierre-Michel Laure* on which he wrote numerous comments. The catechetical instructions written by Father Antoine Silvy* are covered with comments and notes by La Brosse from which he drew the materials for a Montagnais grammar and speller. He laboured for eight years compiling a Montagnais dictionary. He also translated selections from the Bible into that language and, since there was no money to get the translations printed, he had students make manuscript copies.

La Brosse's efforts to teach reading and writing were certainly not wasted. When James McKenzie* passed through Tadoussac in 1808, 26 years after La Brosse's death, he noted that the Montagnais could read and write their own language well enough to be able to correspond with one another, that they excelled in singing hymns, and that those who sang in church read music well enough to sing accurately.

La Brosse was no ordinary man and legends soon sprang up about him. His medical knowledge, his gifts of healing, and the admiration, sympathy, and deep respect he attracted were all magnified to make him the hero of many tales, two of which are particularly well known. According to the "legend of the bells" La Brosse had predicted the exact moment of his own death and when he died, at midnight, the bells in all the chapels and churches that he served began to toll spontaneously. In another legend, the missionary kept back a forest fire by tracing a line on the ground with a stick. The sculptor Alfred Laliberté* did a bronze statue illustrating this story early in the 20th century.

[Information about Jean-Baptiste de La Brosse's work as a teacher at the Jesuit college can be found in the notes of one of his students, André Couillard, in ASQ, 1; B. The "Miscellaneorum Liber" also contains the "Annales Missionis ab anno 1766," ff.87v–90, which in effect is La Brosse's "relation" in Latin of his annual comings and goings from 1766 to 1776. Part of the "Annales" appeared, with a French translation and notes by Biblo [Jean-Philéas Gagnon], in L'Union libérale (Québec), 24 août 1888, 3. Victor Tremblay included a translation of a large part of the text in his Hist. du Saguenay. The whole text, with translation and commentaries, was published in "Les annales du père Jean-Baptiste de La Brosse, s.j.," edited by L.-P. Hébert, Saguenayensia (Chicoutimi, Qué.), 16 (1974), 75–94. "Les lettres du père Jean-Baptiste de La Brosse," edited by L.-P. Hébert, was published in this journal in no. 17 (1975), 73–83.


, 67. For his ministry from 1766 to 1781, sources include the third register kept for Tadoussac, "Miscellaneorum Liber," and the fourth register, "Magnus Liber," which are in AAQ, U, Registre des postes du domaine du roy, A

Father La Brosse frequently signed his work with the pseudonym Jan-Batist Nudenans. The Musée d'Odanak has a bound manuscript of an etymological dictionary of the Abenaki language which bears the title "Radicum Wabanakaerum Sylvae Collecta a J. B. Nudenaus Anno 1760." The Archives historiques oblates in Ottawa holds manuscripts of a Montagnais-Latin dictionary begun at Tadoussac in 1766 and completed at Île-Verte in 1774–75, a Montagnais grammar dated 1768, and a Latin-Montagnais dictionary dated 1772. Both this archives and AAQ hold a Montagnais alphabet entitled ABEGHJIKMNOPRSTU (Uabistiguiatsh [Québec], 1767), of which 3,000 copies were printed. The BNQ in Montreal holds an Abenaki alphabet, Akitami Kakikemesudi-Arenarag' Auikhigan . . . (Kebec-Dari [Quebec], 1770) signed Jan Batist Nudenans, of which 600 copies were printed. Nehiro-Iriniui Aiamihe Massinahigan . . . (Uabistiguiatsh [Quebec], 1767; 2nd ed., 1817; 3rd ed., 1844), containing a collection of prayers and a Montagnais catechism, had a run of 2,000 copies in its first edition; copies can be found at AAQ, the Archives historiques oblates, the Bibliothèque de l'Assemblée nationale, and the Bibliothèque de la ville de Montréal. .]


AAQ, 12 A, C, 250v, 308; 22A, IV, 83; 61 CD, Saint-Laurent, île d'Orléans, I, 6. Archives de l'archevêché de Rimouski (Rimouski, Qué.), 355.106, lettre du père J.-B. de La Brosse à Mgr Gravé, 21 avril 1780. Archives de l'évêché de Gaspé (Gaspé, Qué.), casier des paroisses, Bonaventure, lettre du père J.-B. de La Brosse à Mgr Briand, 28 déc. 1771. ASJCF, D-7, 1. PAC, MG 24, B1, 49–50, 52–53, 57, 59, 100–2. Les bourgeois de la Compagnie du Nord-Ouest (Masson), II, 405–54. JR (Thwaites). L'Oiseau-mouche (Chicoutimi, Qué.), I (1893), 15, 19, reproduces in Montagnais and in French Bishop Briand's pastoral letter to the Montagnais of 13 May 1769. This document does not appear in Mandements des évêques de Québec (Têtu et Gagnon). H.-R. Casgrain, Œuvres complètes (4v., Montréal, 1884–88), I. Alexandre Chambre, Un grand apôtre du Canada, originaire de l'Angoumois: le R. P. J.-B. de La Brosse, né à Jauldes (Charente), mort à Tadoussac (Saguenay) (Jauldes, France, [1904]). Antonio Dragon, Trente robes noires au Saguenay, Adrien Pouliot, édit. (Chicoutimi, 1971). Rochemonteix, Les jésuites et la N.-F. au XVIIIe siècle. A. E. Jones, "Quelques notes sur le P. Jean-Baptiste de La Brosse," L' Union libérale (Québec), 23 nov. 1888, 3; 26 avril 1889, 3. Yves Tremblay, "Le père de La Brosse, sa vie, son œuvre," SCHÉC Rapport, 35 (1968), 47–59.
© 1979–2023 University of Toronto/Université Laval
Image Gallery

Cite This Article
Léo-Paul Hébert, "LA BROSSE, JEAN-BAPTISTE DE," in Dictionary of Canadian Biography, vol. 4, University of Toronto/Université Laval, 2003–, accessed September 24, 2023, http://www.biographi.ca/en/bio/la_brosse_jean_baptiste_de_4E.html.
The citation above shows the format for footnotes and endnotes according to the Chicago manual of style (16th edition). Information to be used in other citation formats:
| | |
| --- | --- |
| Permalink: | http://www.biographi.ca/en/bio/la_brosse_jean_baptiste_de_4E.html |
| Author of Article: | Léo-Paul Hébert |
| Title of Article: | LA BROSSE, JEAN-BAPTISTE DE |
| Publication Name: | Dictionary of Canadian Biography, vol. 4 |
| Publisher: | University of Toronto/Université Laval |
| Year of publication: | 1979 |
| Year of revision: | 1979 |
| Access Date: | September 24, 2023 |