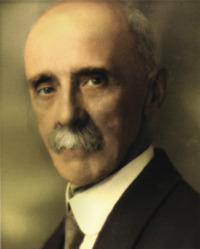 Source: Link
LECLERC, FRANÇOIS (baptized François-Xavier), businessman and manufacturer; b. 20 Jan. 1865 in Saint-Pierre, Île d'Orléans, Lower Canada, son of François Leclerc, a shoemaker, and Marie-Rosalie Ferland; m. 20 Jan. 1890 Zélia Richard (d. 5 July 1918) in the parish of Saint-Sauveur at Quebec, and they had 11 children, 5 of whom died in infancy; d. 30 Jan. 1939 at Quebec.
The eldest in a large family, François Leclerc did not have much schooling. He attended only the local village school, and left in his teens to help his father with farm chores and his trade as a shoemaker. When he was about 18 he moved to Quebec City, where he probably lived at the home of his uncle Cléophas Leclerc, a shoemaker in Saint-Roch ward. For six years he worked for a grocer, earning the modest salary of two dollars a month. In 1889, following these years of apprenticeship in the retail trade, he opened a grocery store at the corner of Rue Saint-Olivier and Côte Sainte-Geneviève, in Saint-Jean ward. He moved his business to Rue du Roi in Saint-Roch in 1892 but closed it the following year. Retail on a small scale, especially in food, was difficult. Probably influenced by his young brother Louis, a confectioner, and possibly drawn by the prospect of a more stable income, François moved into cookie manufacturing. In 1893 he joined his brother in the employ of Désiré Charest, a pastry cook and confectioner on Rue Saint-Joseph in Saint-Sauveur ward. He gradually moved up the ladder until he became foreman in the cookie factory that Charest would later establish on Rue Sauvageau (De Mazenod). Leclerc continued to work for Charest until he reached the age of 40, when he decided to set up his own cookie factory.
Cookie making was a highly competitive field in Quebec City in the early 20th century. It had been dominated in the previous century by large-scale local wholesalers who sold directly to the small stores in the city. Later on, the big biscuit makers of Montreal and Toronto opened branch plants there. Thus, when Leclerc started his cookie factory, he found himself in competition with close to 20 manufacturers and wholesalers scattered throughout the region, in addition to the bakers and confectioners engaged in the same business. Having the list of his former employer's customers and some secret recipes in hand, as well as a thorough knowledge of all aspects of the manufacturing operation, he founded his company on 17 June 1905, with a couple of hundred dollars as his initial capital investment, and located it in a room in the house on Rue Arago in Saint-Roch that he had bought in 1892 for $1,000. He borrowed $125 from a cousin to purchase a horse and wagon. With the help of his wife Zélia, he made his cookies by hand, using a very small oven. In 1906 he moved his business to Boulevard Langelier, but he brought it back to the family home the following year and in the outbuildings behind his house he installed a small, two-storey factory with a brick oven that was later heated by electricity.
When he first went into business, Leclerc developed an apple-jelly sponge cookie, which would become his specialty, and then the Feuille d'Érable cookie. Throughout his life he introduced new varieties to his line of products, such as sandwich, wine, and tea cookies, and the Village cookie. At first he sold them door to door, and then he began supplying grocery stores in the surrounding neighbourhoods. In the 1920s his products would be on sale in Kamouraska, and in the 1930s, from Trois-Rivières to Gaspé.
The year 1918 was a difficult one for Leclerc. His wife died, leaving him with at least four children still at home, and his house and factory were damaged by fire. Having overcome the problems of obtaining supplies of flour and sugar that stemmed from the food rationing imposed by the Canadian government during World War I, he enlarged his factory in 1920 and turned increasingly to his sons Albini and Donat, who began learning the trade and took part in the firm's activities from then on.
On 2 May 1931 his house was damaged by fire a second time, and his three-storey factory was completely destroyed. The loss totalled about $75,000, of which Leclerc recovered nearly a third from his insurance. Two months later he paid $12,000 on the spot for the former boot and shoe factory of O. Goulet et Fils Inc. on Rue Saint-Vallier. Having started with half a dozen employees in 1908, the cookie factory had nearly 50 when it reopened in 1931. According to the Bradstreet credit agency, Leclerc's capital went from class Z ($0 to $500) in 1909 to class T ($10,000 to $20,000) in 1927 and then dropped slightly until the depression was over.
Leclerc had been a prudent investor. In 1911 he purchased a building on Rue Turgeon, which he later transferred to his daughter Marie-Berthe. A few years later he bought a lot on the same street and in 1929 he had an apartment building erected on it at a cost of $6,000. A few days before the 1931 fire, perhaps with a view to enlarging his factory again, he paid $1,500 for two parcels of land between the factory and Sainte-Geneviève hill.
As a devout believer, Leclerc was actively engaged in parish activities, including the conference of the St Vincent de Paul Society of Quebec, the Ligue du Sacré-Cœur, the Apostleship of Prayer, the Third Order of St Francis of Assisi, and the Sodality of Our Lady. He was also a churchwarden in the parish of Notre-Dame-de-Jacques-Cartier from 1928 to 1930. Obituaries noted he would be remembered as a philanthropist and a scrupulously honest man who gave money to charity and discreetly helped people less well off than himself. Thus, after the death of his daughter Marie-Berthe in 1928, for instance, he took in his son-in-law and his nine grandchildren, whom for the rest of his life he raised as his own children.
Leclerc died on 30 Jan. 1939, a few days after he turned 74. He bequeathed to his sons Albini and Donat the cookie factory, the family home, and an apartment building, which were assessed by the municipality at $47,200, not including the machinery in the factory. His funeral was held in the church of Notre-Dame-de-Jacques-Cartier on 2 February and was attended by many workers and representatives of the business community in Lower Town. Interment took place the same day in Saint-Charles cemetery at Quebec.
François Leclerc was able to adapt to the economic conditions of the early 20th century and to recover from the tribulations that jeopardized the growth of his business. He was involved in his community and contributed in his own way to the development of Saint-Roch and Saint-Sauveur wards by providing employment for many workers who had lost their jobs as a result of the footwear industry's decline. His 12 years of experience as an employee at the Charest cookie factory, his mature business sense, the continuity ensured by his two sons, and the moderate growth of his business explain how it managed to come through the depression of the 1930s and survive in a highly competitive manufacturing sector. Since the 1980s, Biscuits Leclerc Limitée has experienced such extensive growth that at the beginning of the 21st century, this 100-year-old company owns five factories in Canada and the United States and turns out about 100 products, some of which are exported to more than 20 countries around the world.
AVQ, QA5, Rôles d'évaluation et d'imposition, 1883–1939; QC2-6/746; QD1, Permis de construction. BANQ-Q, CE301-S12, 20 janv. 1865; CE301-S96, 20 janv. 1890; CN301-S357, 1883–1937; TP11, S1, SS2, SSS1, dossier 1244 (1925); dossier 2207 (1889); dossier 31100 (1935). Bureau de la Publicité des Droits (Québec), vol.B-432, no.227456. FD, Cimetière Saint-Charles (Québec), 2 févr. 1939. LAC, RG 31, C1, 1871, Montmorency, Saint-Pierre, Que.; 1881, Montmorency, Saint-Pierre, Que.; 1891, Montmorency, Saint-Pierre, Que., and Quebec City, Saint-Jean Ward and Saint-Roch Ward; 1901, Montmorency, Saint-Pierre, Que., and Quebec East, Jacques-Cartier Ward; 1911, Quebec East, Jacques-Cartier Ward. Palais de Justice, Québec, Cour supérieure, Greffes, Paul Grenier, 28 avril 1931. L'Action catholique (Québec), 31 janv., 3 févr. 1939. Les Affaires (Montréal), 3 déc. 1994. L'Événement, 4 mai 1931. Le Magazine perspectives (Montréal), 26 sept. 1981. Le Soleil, 6 juill. 1918, 31 déc. 1928, 4 mai 1931, 31 janv. 1939. Annuaire, Québec, 1884–1939. Diane Bérard, "Vendre en 1994," PME (Montréal), 10 (1994), no.2: 6–10. Bradstreet's book of commercial ratings of bankers, merchants, manufacturers, etc., in the United States and Canada (New York), 1909–33. Insurance plan of the city of Quebec, Canada (2v., Montreal, 1922). J.‑M. Lebel, "Les Leclerc: héritiers d'une longue tradition de fabricants de biscuits," Prestige (Québec), 7 (2002–3), no.3: 38–39. Une page d'histoire de Québec: magnifique essor industriel ([Montréal, 1955]), 206–8.
© 2014–2023 University of Toronto/Université Laval
Image Gallery

Cite This Article
André Roy, "LECLERC, FRANÇOIS (baptized François-Xavier)," in Dictionary of Canadian Biography, vol. 16, University of Toronto/Université Laval, 2003–, accessed September 25, 2023, http://www.biographi.ca/en/bio/leclerc_francois_16E.html.
The citation above shows the format for footnotes and endnotes according to the Chicago manual of style (16th edition). Information to be used in other citation formats:
| | |
| --- | --- |
| Permalink: | http://www.biographi.ca/en/bio/leclerc_francois_16E.html |
| Author of Article: | André Roy |
| Title of Article: | LECLERC, FRANÇOIS (baptized François-Xavier) |
| Publication Name: | Dictionary of Canadian Biography, vol. 16 |
| Publisher: | University of Toronto/Université Laval |
| Year of publication: | 2014 |
| Year of revision: | 2014 |
| Access Date: | September 25, 2023 |