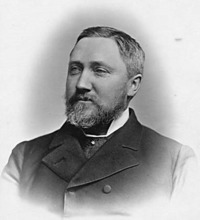 Source: Link
MacLEAN, MALCOLM ALEXANDER, schoolteacher, businessman, politician, jp, magistrate, immigration agent, and author; b. 14 July 1844 in Tiree, Scotland, son of Allan McLean and Jane —; m. 5 Jan. 1869 Margaret Anne Cattanach of Glengarry County, Ont., and they had three daughters and two sons; d. 4 April 1895 in Vancouver.
Malcolm Alexander MacLean was born on his father's croft on the island of Tiree, Argyllshire, and came with his family to Ops Township, Upper Canada, when he was about four years old. Educated locally, he then taught school for three years in Victoria County, hoping to earn enough money to become a doctor. He abandoned his plans for a medical career, however, when his brother's lumber business failed. After helping his brother pay off his debts, he enrolled at Eastman's National Business College in Poughkeepsie, N.Y.
Following graduation MacLean joined the Cunard Steamship Company in New York City. In the late 1860s he returned to Ontario and operated a general store in Oshawa. Shortly after their marriage the MacLeans moved to Dundas, where MacLean had another general store before being appointed an official assignee in insolvency cases in Toronto in the early 1870s. In 1873 his sister-in-law married Arthur Wellington Ross*, a school inspector, and for the next 20 years the two families would be closely connected.
In 1878 MacLean went to Winnipeg, where Ross had settled the year before, and set up a successful business as a commission-merchant. With Ross he went into real estate, making a large fortune during the boom of 1881–82. In the depression that followed, however, MacLean suffered gravely, gave up his businesses in Winnipeg, and moved with his family to the Laggan stock farm in the Qu'Appelle valley near present-day Wolseley, Sask. He may have served during the North-West rebellion in the spring of 1885 [see Louis Riel*].
In mid 1885 MacLean set out for Honolulu intending to enter the sugar-beet industry. When he reached San Francisco, however, he decided to visit Granville (Vancouver), the town that Ross, as adviser to William Cornelius Van Horne*, had recommended for the Pacific terminus of the Canadian Pacific Railway. MacLean arrived in Granville in January 1886, and the following month he was placed in charge of Ross's newly established real estate office while Ross, mp for Lisgar, Man., was absent in Ottawa. By 1 June he had formed his own real estate firm.
Almost immediately upon arriving in Granville MacLean had entered local politics. In January and February he and a group of residents petitioned the provincial legislature for a change in the name of the town and for its incorporation; as a result, the city of Vancouver came into existence on 6 April. On 3 May MacLean was elected its first mayor, defeating Richard Henry Alexander, manager of the venerable Hastings Saw Mill, by 242 votes to 227. Alexander, who had come to the province in colonial days, drew his support from the old Granville establishment. MacLean was favoured by the newly arrived Manitobans and Ontarians (to whom Alexander had referred by the early colonists' epithet "North American Chinamen") and by the local Knights of Labor [see Samuel H. Myers*] and the workers at the Hastings Saw Mill, who were involved in a labour dispute with Alexander. On 28 May, however, ten of Alexander's prominent supporters – including David Oppenheimer – sent a petition to Victoria charging that at least 100 ballots had been cast by persons unqualified to vote. This charge was confirmed in interviews held 50 years later by James Skitt Matthews with three of MacLean's backers, who recalled that illegal voters in the election had included everyone from houseboat tenants to itinerant hotel guests.
The charges were forgotten, however, in the aftermath of the great fire of 13 June 1886, when the burden of reconstruction fell on the mayor and his council. Later that month MacLean petitioned Governor General Lord Lansdowne [Petty-Fitzmaurice*] to transfer the Burrard Inlet military reserve to the city for use as a park, later known as Stanley Park. That December MacLean was re-elected on a platform of a more liberal franchise and the restriction of Chinese property rights. He considered the completion of the CPR as "the placing of the keystone in the arch of confederation" and in May 1887 he welcomed the first CPR train to Vancouver. In September he presided over the inaugural meeting of the Vancouver Board of Trade. At the end of the year MacLean reflected proudly that during his two years in office the city streets had been cleared of giant stumps and graded, bridges and sidewalks had been constructed, and a fire department, a waterworks system, electric light and gas service, and sewers had been put in place.
On 25 May 1886 MacLean had been made justice of the peace at Vancouver, and at the end of his mayoralty he was appointed police magistrate of the city, a position he held until 1890. In January 1893 the dominion appointed him a special commissioner of immigration in the United States. There he lectured to Canadian expatriates and others on the "splendid chances which are opened to them in British Columbia, the Northwest Territory, and Manitoba." He also contributed articles to British periodicals and to the Scottish American (New York), praising the Canadian west and British Columbia. Fluent in Gaelic, he had organized the St Andrew's and Caledonian Society of Vancouver in 1886.
Known as "Squire MacLean" because of his "wise and smiling" countenance and prematurely white hair, Vancouver's conscientious first mayor died in 1895 at the age of 50, just weeks after he had been appointed stipendiary magistrate for the district of Vancouver. According to an obituary in the Vancouver Daily World, MacLean was "a warm-hearted, liberal-minded gentleman, and possessed magnetic qualities that compelled affection."
City of Vancouver Arch., Add. mss 54 (J. S. Matthews coll.), 13, files G-116, H-142, MAC-46, O-54, S-41, -143; City Council minute-book, 10 May 1886–4 July 1887; M5797 (J. S. Matthews newsclippings), "Vancouver welcomes Hon. Thomas White" (unidentified clipping, 16 July 1886); J. S. Matthews, "Early Vancouver – narratives of pioneers of Vancouver, B.C." (typescript, 7v., 1932–56). Daily British Colonist (Victoria), 11 Feb. 1886. Sun (Winnipeg), 6 Jan. 1888. Vancouver Daily World, 6 Jan. 1893, 5 April 1895. Vancouver News, 1 June 1886. Vancouver Weekly Herald and North Pacific News, 15 Jan., 19 Feb., 28 May 1886. Kerr, Biog. dict. of British Columbians. Pierre Berton, The last spike: the great railway, 1881–1885 (Toronto and Montreal, 1971). Derek Pethick, Vancouver: the pioneer years, 1774–1886 (Langley, B.C., 1984). P. E. Roy, Vancouver: an illustrated history (Toronto, 1980). E. O. S. Scholefield and F. W. Howay, British Columbia from the earliest times to the present (4v., Vancouver, 1914). H. R. Boutilier, "Vancouver's earliest days," BCHQ, 10 (1946): 151–70. Oban Times (Oban, Scot.), 29 Dec. 1934, 5 Jan. 1935.
© 1990–2023 University of Toronto/Université Laval
Image Gallery

Cite This Article
Richard Mackie, "MacLEAN, MALCOLM ALEXANDER," in Dictionary of Canadian Biography, vol. 12, University of Toronto/Université Laval, 2003–, accessed September 22, 2023, http://www.biographi.ca/en/bio/maclean_malcolm_alexander_12E.html.
The citation above shows the format for footnotes and endnotes according to the Chicago manual of style (16th edition). Information to be used in other citation formats:
| | |
| --- | --- |
| Permalink: | http://www.biographi.ca/en/bio/maclean_malcolm_alexander_12E.html |
| Author of Article: | Richard Mackie |
| Title of Article: | MacLEAN, MALCOLM ALEXANDER |
| Publication Name: | Dictionary of Canadian Biography, vol. 12 |
| Publisher: | University of Toronto/Université Laval |
| Year of publication: | 1990 |
| Year of revision: | 1990 |
| Access Date: | September 22, 2023 |