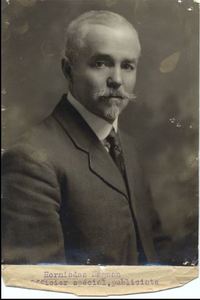 Source: Link
MAGNAN, HORMISDAS (baptized Joseph-Édouard-Hormidas), journalist, author, historian, and civil servant; b. 25 Feb. 1861 in Sainte-Ursule, Lower Canada, son of Jean-Baptiste Magnan, a miller, and Adeline Béland; m. first 3 June 1899 Céline-Alice Lemieux (d. 2 Sept. 1914) in the parish of Saint-Jean-Baptiste (Quebec City) and they had 11 children, six of whom survived him; m. secondly 24 Aug. 1915 Alice Pâquet in the parish of Notre-Dame de Québec; d. 10 July 1935 in Quebec City and was buried on 13 July in Notre-Dame de Belmont cemetery in Sainte-Foy (Quebec City).
After completing primary school in Sainte-Ursule, Hormisdas Magnan studied at the Séminaire de Nicolet from 1874 to 1883, where he received excellent marks. On 7 Dec. 1884 he became coadjutor brother with the Jesuits in Montreal; he probably spent two years as a novice at the Maison Saint-Joseph in Sault-au-Récollet (Montreal). Around 1887 he worked at the Scolasticat de l'Immaculée-Conception, where he helped found a printing house; then, beginning in 1889, he instituted the classification system for the library of the Collège Sainte-Marie. While he was completing this task, he had to leave his community in 1895 because of health problems.
Following a year's rest at La Malbaie, Magnan initially wanted to devote himself to teaching, but finally, after two years of study and a period of practice teaching at the École Normale Laval in Quebec City, in 1898 he chose the profession of journalist. Until 1901 he was subeditor of L'Enseignement primaire, a periodical issued in Quebec City whose owner and publisher was his brother, Charles-Joseph Magnan*. Afterwards, from 1902 to 1904, he was an editor at the liberal daily Le Soleil. In May 1905 he joined the newspaper Le Progrès du Saguenay as editor and manager. He was responsible, in particular, for the agricultural pages at L'Action sociale, where he worked from the time the Quebec daily was started until 1910 [see François-Xavier-Jules Dorion]. His interest in farming had its roots in the rural community where he had spent his childhood.
Magnan was one of 13 specialists appointed to the advertising committee of the Union Expérimentale des Agriculteurs de Québec in 1910. That year Charles Ramsay Devlin* gave him the job of publicity director at the Department of Colonization, Mines, and Fisheries, which he headed. Magnan thus became responsible for public relations and communications; he also had to prepare the annual reports and regional studies. The writer Edmond de Nevers [Boisvert*], a friend of Magnan's since college, had also held this post at the outset of the 20th century. Magnan considered the parish to be the most important entity for the religious and national survival of French Canadians. As part of his duties, in 1913 he published in Quebec City Monographies paroissiales: esquisses des paroisses de colonisation de la province de Québec. In it he noted: "the useful and patriotic work of the Department of Colonization … has as its sole aim the aggrandizement of our province through the Canadian parish!" He was also the author of some 20 brochures, which for the most part described the colonization regions of the province.
As well, this enlightened patriot, who was passionate about his country, devoted his free time to writing historical works. Thus in 1918 Magnan published in Quebec City La paroisse de Saint-Nicolas: la famille Pâquet et les familles alliées, a book about the place and family to which he was connected through his second wife. At the beginning of 1925 Magnan released the Dictionnaire historique et géographique des paroisses, missions et municipalités de la province de Québec in Arthabaska (Victoriaville) at his own expense. The book, which contains 1,268 "monographs," is a collection of clear and precise information primarily about the chronology of parish, municipal, and postal organization. In addition, each article includes notes on the history and origin of the province's place names. Magnan often obtained these particulars by sending questionnaires to curés and by corresponding with them. For this painstaking work he received much praise. Cyrille Gagnon, priest and director of the Grand Séminaire de Québec, even stated in 1925 in Quebec City's Le Canada français that this book "has similarities to Bishop Tanguay's [Cyprien Tanguay*] valuable work, the Dictionnaire généalogique des familles canadiennes."
That year Magnan published La famille Magnan, établie à Charlesbourg en 1665 in Quebec City, and there in 1932 he brought out a short treatise about his close friend, the painter Charles Huot*. He also wrote articles for specialty journals, the Bulletin des recherches historiques (Lévis), the Geographical Society of Quebec's Bulletin, and Le terroir, and was a member or director of several artistic, historical, and geographical societies in Quebec City and Montreal.
Hormisdas Magnan was a learned man in whom knowledge and goodness were indivisible. This committed lay apostle, a rather short man with a delicate constitution, was always active in religious organizations. Full of zeal for charitable work, he was treasurer of the Œuvre des Sourds-Muets et des Aveugles du Diocèse de Québec for 25 years. He was still director of publicity at the Department of Colonization and was preparing a second edition of the Dictionnaire historique et géographique when illness struck. After a painful struggle lasting seven months, he died at the age of 74 in his home, 6 Rue Fraser in Quebec City. He was mourned by his second wife, Alice Pâquet, sister of the theologian Louis-Adolphe Pâquet*. On the day of his death the newspaper La Patrie declared that Magnan was "one of the best-known journalists in the province."
Much of the information on the life and work of Hormisdas Magnan is taken from his volume titled La famille Magnan établie à Charlesbourg en 1665: quelques notes sur la famille Magnan, établie à Saint-Cuthbert en 1775, puis à Sainte-Ursule en 1852: les familles alliées: Béland, Bruneau, Lemieux, Paquet, Cloutier et Tardivel (Québec, 1925). In addition to the works already mentioned, Magnan wrote the following: Notes historiques sur la banlieue de Québec: le quartier Belvédère; la paroisse de Notre-Dame-du-Chemin (Québec, 1915); Saint Joseph, époux de la très sainte Vierge Marie, premier patron du Canada et de l'Église universelle (Québec, 1921); Cinquantenaire de notre hymne national "O Canada, terre de nos aïeux": les origines de nos drapeaux et chants nationaux, armoiries, emblèmes, devises (Québec, 1929); Charles Huot, artiste-peintre, officier de l'Instruction publique: sa vie, sa carrière, ses œuvres, sa mort (Québec, 1932); Le guide du colon de la province de Québec (Québec, 1932).
BANQ-MCQ, CE401-S32, 26 févr. 1861. BANQ-Q, CE301-S97, 3 juin 1899; P456. FD, Cathédrale Notre-Dame (Québec), 24 août 1915; Saint-Dominique (Québec), 13 juill. 1935. L'Action catholique (Québec), 10 juill. 1935. L'Écho de Saint-Justin (Saint-Justin, Québec), 18 juill. 1935. La Patrie, 10 juill. 1935. Le Progrès du Saguenay (Chicoutimi [Saguenay], Québec), 23 nov. 1905. Le Soleil, 28 déc. 1901; 11 avril 1903; 2, 4 sept. 1914; 10, 17 juill. 1935. André Beaulieu et al., Répertoire des publications gouvernementales du Québec de 1867 à 1964 (Québec, 1968). André Beaulieu et Jean Hamelin, Les journaux du Québec de 1764 à 1964 (Québec and Paris, 1965). J.‑A.‑I. Douville, Histoire du collège-séminaire de Nicolet, 1803–1903 … (2v., Montréal, 1903). A. G., "M. Hormisdas Magnan," La Vie nicolétaine (Nicolet, Québec), 4 (1936), no.3: 21–22. Cyrille Gagnon, "Paroisses canadiennes: à propos d'un livre récent," Le Canada français (Québec), 2e sér., 13 (1925–26): 267–69. Micheline Gagnon, "Magnan, Hormisdas" (bibliography of works written by Hormisdas Magnan, typescript, [Québec], 2005). J. Hamelin et al., La presse québécoise. M. L., "Hormisdas Magnan: La famille Magnan" [book review], Le Canada français, 2e sér., 12 (1924–25): 568–69. G.‑E. Marquis, "Hormisdas Magnan," Le Terroir (Québec), 17 (1935–36), nos.2–3: 12–13; "La paroisse de Saint-Nicolas. La famille Paquet et les familles alliées, par Hormisdas Magnan" [book review], Le Terroir, 1 (1918–19), no.5: 46–47. Que., Dept. of Agriculture, Report, 1910; Treasury Dept., Statement of the public accounts, 1910, 1912. Nazaire Le Vasseur, "Un souvenir posthume de Nazaire Le Vasseur," Soc. de Géographie de Québec, Bull. (Québec), 22 (1928): 1–3.
© 2016–2023 University of Toronto/Université Laval
Image Gallery

Cite This Article
Jean Poirier, "MAGNAN, HORMISDAS (baptized Joseph-Édouard-Hormidas)," in Dictionary of Canadian Biography, vol. 16, University of Toronto/Université Laval, 2003–, accessed October 2, 2023, http://www.biographi.ca/en/bio/magnan_hormisdas_16E.html.
The citation above shows the format for footnotes and endnotes according to the Chicago manual of style (16th edition). Information to be used in other citation formats:
| | |
| --- | --- |
| Permalink: | http://www.biographi.ca/en/bio/magnan_hormisdas_16E.html |
| Author of Article: | Jean Poirier |
| Title of Article: | MAGNAN, HORMISDAS (baptized Joseph-Édouard-Hormidas) |
| Publication Name: | Dictionary of Canadian Biography, vol. 16 |
| Publisher: | University of Toronto/Université Laval |
| Year of publication: | 2016 |
| Year of revision: | 2016 |
| Access Date: | October 2, 2023 |