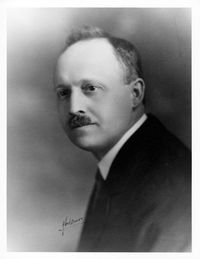 Source: Link
MILLER, ÉMILE (baptized Émile-Ladislas), office holder, geographer, author, professor, and executive secretary; b. 18 Sept. 1884 in Saint-Placide, Que., son of Théophile Miller, a cobbler, and Éléonore (Léonard) Ladouceur; m. 12 July 1908 Albertine Maillé in the Montreal parish of Saint-Jacques, and they had nine children; d. 3 Aug. 1922 in Contrecœur, Que., at the age of 37, while trying to rescue his young son from drowning.
The seventh of thirteen children, Émile Miller attracted attention even in elementary school because of his studiousness and industry, his cheerfulness and penchant for daydreaming, and his passion for reading. Around 1899 the Miller family moved from Saint-Placide to Montreal. At his father's urging, Émile rather reluctantly enrolled in a course in pharmacy, and he obtained his diploma in 1902. Soon after, and without his family's knowledge, he boarded the first ship for Europe. With no financial resources and no clear-cut goal, he found employment as a labourer and set out in search of adventure. In this way he visited England and France.
Having lived through some difficult times, Miller returned to Montreal and went back to regular studies at the École Normale Jacques-Cartier. Soured by life and not really interested in teaching at the elementary level, he got to know Abbé Adélard Desrosiers, the school's vice-principal, who introduced him to the study of geography, a discipline then not much in demand. After completing his studies, Miller got a job in the municipal office of the village of Lorimier (Montreal) in 1906; later he would work in the office of the Montreal city archives. He continued to be interested in geography, and in Montreal in 1912 he published his first book; entitled Terres et peuples du Canada, it had a preface by Desrosiers. This volume occupies an important place among Miller's writings and in the geographical field. For the first time, serious questions were being posed about the geography of the country, and the relationship between human beings and their environment was being studied. In 1915 Miller had an article in the Revue trimestrielle canadienne (Montréal), entitled "La géographie au service de l'histoire," which emphasized the importance of dialogue between the two disciplines. Along with his writing, he taught classes in geography at the school sponsored by the Council of Arts and Manufactures of the Province of Quebec in Montreal. In 1917 he left the archives to become executive secretary of the Société Saint-Jean-Baptiste in Montreal, a position he would hold until 1922. In 1918, at the urging of this society, he taught public classes in geography at the Monument National and the Union Catholique, among other centres. During the period of his employment, Miller would serve as editor of Le Courrier de la Société Saint-Jean-Baptiste de Montréal; first issued in 1921, the journal was to report on the activities of the society's branches. In 1920 he had been appointed to the chair of geography in the new faculty of arts at the Université de Montréal. The following year saw the publication in Montreal of his second volume, Pour qu'on aime la géographie, which contained both previously published and unpublished articles. Here Miller took the new approach of geographers in explaining how the environment can be the source of information about methods of colonization and the development of fundamental activities. He was also the author of many articles in various journals, including the Bulletin (Québec) of the Geographical Society of Quebec, L'Action française (Montréal), and the Revue trimestrielle canadienne.
Émile Miller died too young, before he had time to record all he knew, but he was one of the earliest French Canadian geographers, if not indeed the first. Not until French geographer Raoul Blanchard came to teach and to write about French Canada in works published from 1935 to 1952 would interest in geography revive. Miller had made good use of knowledge acquired through reading the great geographers of France and Germany, such as Paul Vidal de La Blache. His explanations sometimes were based on a superficial determinism; nevertheless he had sought to put forward an overview of Canada by linking physical and human geography so as to bring out more clearly the oneness of the country and of the people living in it. After Miller's death, Abbé Desrosiers gathered up his manuscripts and in 1924 he published in Beauceville a Géographie générale that would fill a gap in school geography textbooks.
In addition to the publications already mentioned, Émile Miller is the author of Les armoiries de Montréal (Montréal, 1920) and Mon voyage autour du monde (Montréal, 1923); the latter work was published posthumously by his widow.
ANQ-M, CE606-S11, 1er janv. 1856–27 déc. 1873; CE606-S16, 1873–99, esp. 20 sept. 1884. Univ. Laval (Québec), Laboratoire de Géographie Historique, Arch. de la Soc. de Géographie de Québec. Le Devoir, 4 août, 9 sept. 1922. La Patrie, 4 août 1922. La Presse, 4 août 1922. Le Soleil, 4 août 1922. La Tribune (Sherbrooke, Qué.), 4 août 1922. Benoît Brouillette, "Un pionnier de la géographie au Canada français: Émile Miller," Rev. canadienne de géographie (Montréal), 4 (1950), nos.1-2: 94–96. Lionel Groulx, Mes mémoires (4v., Montréal, 1970–74), 2. Édouard Montpetit, "Émile Miller," Rev. trimestrielle canadienne (Montréal), 8 (1922): 263–66. Christian Morissonneau, La Société de géographie de Québec, 1877–1970 (Québec, 1971). "Pour qu'on aime la géographie," Rev. trimestrielle canadienne, 7 (1921): 510–12. Eugène Rouillard, "Une perte pour la géographie canadienne: M. Émile Miller," Soc. de Géographie de Québec, Bull., 16 (1922): 195. Robert Rumilly, Histoire de la Société Saint-Jean-Baptiste de Montréal: des patriotes au fleurdelisé, 1834–1948 (Montréal, 1975). Soc. Généalogique Canadienne-Française, Mariages de la paroisse Saint-Jacques de Montréal (1873–1984) (13v., Montréal, 1987–90), 10: 25.
© 2005–2023 University of Toronto/Université Laval
Image Gallery

Cite This Article
Michel Boisvert, "MILLER, ÉMILE," in Dictionary of Canadian Biography, vol. 15, University of Toronto/Université Laval, 2003–, accessed December 4, 2023, http://www.biographi.ca/en/bio/miller_emile_15E.html.
The citation above shows the format for footnotes and endnotes according to the Chicago manual of style (16th edition). Information to be used in other citation formats:
| | |
| --- | --- |
| Permalink: | http://www.biographi.ca/en/bio/miller_emile_15E.html |
| Author of Article: | Michel Boisvert |
| Title of Article: | MILLER, ÉMILE |
| Publication Name: | Dictionary of Canadian Biography, vol. 15 |
| Publisher: | University of Toronto/Université Laval |
| Year of publication: | 2005 |
| Year of revision: | 2005 |
| Access Date: | December 4, 2023 |