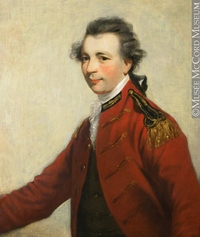 Source: Link
MILLS, Sir THOMAS, army officer and officeholder; d. 28 Feb. 1793 in London, England.
Thomas Mills entered the army as an ensign in the 15th Foot on 26 April 1759 and was promoted lieutenant in the 47th Foot on 11 May 1760. The date of his arrival in North America has not been determined, but during the military régime in Quebec he served under Murray in Quebec City as adjutant and then as town major. Although his origins are unknown, he was evidently well connected; he enjoyed the friendship of Frederick Haldimand and the patronage of the influential Lord Mansfield. (William Smith later alleged that Mills was Mansfield's illegitimate son.) After several years in England he returned to Quebec in June 1766 with appointments as receiver general, member of the Council, and brigade major.
The financing of colonies was a controversial matter in the 1760s. Murray's instructions as civil governor in 1763 forbade him to impose taxes without the consent of an assembly, and he seems consequently to have ceased collecting the customs duties which had been continued from the French régime. The law officers of the crown, however, gave the opinion that the duties could legally be collected "by proper authority," and Mills's royal appointment as receiver general on 10 July 1765 was the result.
When Mills took up his duties, he revealed a vanity bordering on arrogance and an almost complete lack of integrity. The administrator of the colony, Paulus Æmilius Irving, found him quite unfit for office. According to Irving he had little understanding of the question he had been appointed to solve and claimed totally unrealistic prerogatives. The receiver general was responsible to the Treasury Board for the collection and expenditure of public funds. In Mills's view he was therefore not obliged to submit accounts to the Council; nor was he required to have the governor's warrant in order to make payment. Indeed the governor and Council should merely decide what needed to be done; the receiver general would allot the contracts. These doctrines were quite impractical given the governor's personal responsibility for administering the colony in an economical manner. In the face of determined opposition by Irving, Mills quickly backed down.
Politically, Mills was one of the first councillors to abandon the vulnerable Governor Murray after the arrival of Guy Carleton* as lieutenant governor in September 1766. Murray was certain that the "Corrupt Boy Mills" had secretly worked with his enemies to bring about his recall. Mills aligned himself with Carleton, who at first had the favour of Murray's enemies. When in October Carleton decided to support George Allsopp* and other fur merchants seeking free access to the "king's posts," Mills went along despite the fact that he had publicly taken a diametrically opposed position favouring the claims to monopoly by his close friend Thomas Dunn*, one of the lessees.
Mills returned to London in August 1767 and for ten years his office was administered by acting appointees because he did not have the power to name a deputy. Carleton first appointed Hector Theophilus Cramahé and then in July 1770, Thomas Dunn. Mills's influence in London was sufficient to obtain a knighthood in 1772 and a new commission as receiver general in 1777, this time with the right to appoint a deputy. He named William Grant* of Saint-Roch. Grant was forced to retire in July 1784 when his malversation of funds was discovered, and Haldimand replaced him with Henry Caldwell* a year later. On 1 Sept. 1787 Mills chose George Davison as Caldwell's replacement but, financially embarrassed, returned himself to take up the post two months later.
Mills again cut a prominent social figure with his choice wines, fine fowling pieces, and the brown mare, Coquet, which he raced on the Plains of Abraham. When he was unable to meet certain payments in 1789 the Legislative Council investigated his accounts and found he had used more than £3,000 of public money to pay his debts. Despite his attempts to mystify Governor Dorchester [Carleton] with figures suggesting the crown owed him money, he was suspended by the governor on 25 August and returned to England later that year. He died insolvent in London in 1793, the same year a government audit revealed that he and his deputies owed the crown more than £18,500.
Mills had a remarkable capacity for self-deception. He even claimed credit for the passage of the Quebec Act. In a letter of June 1774 to Haldimand, he asserted that in face of Lord North's deplorable ignorance, his own lobbying of the House of Commons had saved the day for "King and Country" and had done "Justice to the Conquered." Indeed it was not too much to say that "The Limits – the Religion, the French Law, & the Council they owe to me."
BL, Add. mss 21687, 21728, 21858. Greater London Record Office (London, Eng.), P89/MRY1/314, 6 March 1793. PAC, MG 23, A4, 64; GII, 1, ser. 1, 2, pp.289–95; MG 55/14, 2. PRO, CO 42/26, 42/66, 42/86. [Frederick Haldimand], "Private diary of Gen. Haldimand," PAC Report, 1889, 123–299. Maseres, Maseres letters (Wallace), 43. [William Smith], The diary and selected papers of Chief Justice William Smith, 1784–1793, ed. L. F. S. Upton (2v., Toronto, 1963–65). Quebec Gazette, 21 Feb. 1765; 3 July, 11 Aug. 1766; 21 Sept., 1 Oct., 12 Nov. 1789; 13 June 1793. Quebec Herald, Miscellany and Advertiser, 21 Sept. 1789. Caron, "Inv. de la corr. de Mgr Briand," ANQ Rapport, 1929–30, 65. G.B., WO, Army list, 1760, 1763. Burt, Old prov. of Que. F.-J. Audet, "Les législateurs de la province de Québec," BRH, XXXI (1925), 484. H. R. Balls, "Quebec, 1763–1774: the financial administration," CHR, XLI (1960), 203–14. A. L. Burt, "Sir Guy Carleton and his first council," CHR, IV (1923), 321–32.
© 1979–2023 University of Toronto/Université Laval
Image Gallery

Cite This Article
F. Murray Greenwood, "MILLS, Sir THOMAS," in Dictionary of Canadian Biography, vol. 4, University of Toronto/Université Laval, 2003–, accessed October 2, 2023, http://www.biographi.ca/en/bio/mills_thomas_4E.html.
The citation above shows the format for footnotes and endnotes according to the Chicago manual of style (16th edition). Information to be used in other citation formats:
| | |
| --- | --- |
| Permalink: | http://www.biographi.ca/en/bio/mills_thomas_4E.html |
| Author of Article: | F. Murray Greenwood |
| Title of Article: | MILLS, Sir THOMAS |
| Publication Name: | Dictionary of Canadian Biography, vol. 4 |
| Publisher: | University of Toronto/Université Laval |
| Year of publication: | 1979 |
| Year of revision: | 1979 |
| Access Date: | October 2, 2023 |