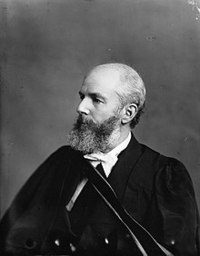 Source: Courtesy of Wikimedia Commons
MURRAY, JOHN CLARK, philosopher, educator, author, and social reformer; b. 19 March 1836 in Paisley, Scotland, son of David Murray, a shopkeeper and municipal politician, and Elizabeth Clark; m. there 20 July 1865 Margaret Smith Polson*, daughter of manufacturer William Polson, and they had four daughters and one son; d. 20 Nov. 1917 in Montreal.
Clark Murray studied theology at Glasgow and Edinburgh and in Heidelberg and Göttingen (Germany) in preparation for ministry in the Free Church of Scotland. Repelled by denominational politics and evangelical Calvinist theology and drawn instead to literature, philosophy, and a socially engaged and undogmatic Christianity, he sought a career in education rather than the ministry. He became professor of mental and moral philosophy at Queen's College, Kingston, Upper Canada, in 1862 and was attracted to McGill College, Montreal, in 1872 by the promise, unfulfilled, of a position combining philosophy and English literature. Murray held the John Frothingham Chair of mental and moral philosophy from 1873 until his retirement in 1903. He also taught classes for the Montreal Ladies' Educational Association and the Kingston Ladies' Educational Association, the Glenmore Summer School of Philosophy in New York State, the Cooper Union and the People's Institute in New York City, and the Presbyterian College of Montreal.
Murray arrived in the Canadas as the teaching of philosophy in colleges was maturing and his career demonstrates the discipline's transition from amateur avocation to professional pursuit; he focused more exclusively on philosophy than his predecessors, but lacked the advanced training, single-minded dedication, and broader reputation of later colleagues and successors. His predecessor at Queen's was a clergyman, James George*, and his successor the noted neo-Kantian John Watson*. At McGill he succeeded clergyman William Turnbull Leach* and he was the only teacher of philosophy until a part-time assistant in logic was hired in 1886. Tireless in promoting curricular reform and an expanded department, he received a full-time colleague only in 1901. On his retirement the by-then anachronistic title of "mental and moral philosophy" was dropped from the Frothingham chair and his duties were assumed by Alfred Edward Taylor and William Caldwell. Murray was a dedicated and well-loved teacher who encouraged students to pursue their education outside the classroom and he actively promoted students' extracurricular literary, philosophical, and charitable societies. Throughout his career at McGill he taught the senior course in moral philosophy, which was obligatory for graduates in arts; in his hands it included political economy and social ethics.
Murray's philosophical work was concentrated in metaphysics and epistemology, mental philosophy, and ethics. Since he was temperamentally opposed to extremism or excessive abstraction, his philosophy was not speculative or novel, but typically sought mediation between established schools and inculcation of a way of life balancing reason and experience and characterized by a disciplined, critical intelligence. In metaphysics and epistemology, he initially pursued a mediation of common sense realism and Kantianism as envisioned by his Edinburgh mentor, Sir William Hamilton, but moved progressively closer to a form of idealism informed by George Berkeley and Baruch Spinoza. In mental philosophy he sought to steer between idealism and materialism by asserting the central role of a consciousness which could be known in part through physiological investigation. In ethics he used reason and duty as the guides which kept intellect, emotion, and will, the three sides of human nature, in harmony. Murray's views lack sharp definition in part because they were developed primarily in popular lectures and articles aimed at an educated but non-professional audience and in textbooks intended mainly for an undergraduate readership; apart from some later pieces on social ethics, his contributions to the newly emerging professional philosophical journals consisted largely of biographical pieces and short commentaries.
Considering himself more an educator and a man of letters than a professional philosopher, Murray devoted himself to the task of shaping an intelligent, rational, and just society. In articles and columns in newspapers and periodicals he addressed political and social issues from the standpoint of contemporary liberalism, rejecting nationalism and militarism, advocating free trade, decrying party politics, and arguing against unreasonable barriers to individual free action. He particularly opposed restrictions which limited women's education and professional opportunities. Murray followed Mary Wollstonecraft and John Stuart Mill in arguing women's case on the basis of natural rights and he strongly opposed the segregation of women in domestically oriented schools and activities. Through the 1880s he publicly challenged the plan of Principal John William Dawson* for separate facilities at McGill, labelling it an insult to women and an unnecessary extravagance in a college which could not adequately pay its faculty.
From the 1880s onwards, the social consequences of industrialization led Murray to question the ability of laissez-faire economics to obtain social justice. His posthumously published work, The industrial kingdom of God, written in 1887, is an effort to temper laissez-faire by combining it with a neo-Kantian ethic emphasizing the duty of altruism; it exemplifies the Christian framework which Murray believed was indispensable to social philosophy. Murray experimented with various formulations of a social philosophy which advocated unions, workers' cooperative enterprises, and a labour theory of value, before publishing a novel, He that had received the five talents (1904), which plotted a paternalist path to social utopia.
Murray's work was well received by contemporaries; he was granted an lld from the University of Glasgow and was a charter-member of the Royal Society of Canada, enrolled in its section on English literature. Yet he resisted narrow specialization, writing poetry and plays, studying Scottish literary culture, and dabbling in phonetic reform. He was unafraid of controversy and as a result was frequently embroiled in it, both on his own account and through the actions of his wife; Margaret Polson Murray was described by the Countess of Jersey as "energetic but indiscreet" in her efforts to promote and direct the Imperial Order Daughters of the Empire, which she founded in 1900. Clark Murray's forthrightness antagonized university administrators, but won him the respect and admiration of the students to whom he was dedicated. One of them noted at his death that "his classroom was one of the few places of free discussion and bracing intellectual activity in which one felt, in sharp contrast to the deadening atmosphere of others, that everything was not once and forever fixed and settled in the world."
A bibliography of John Clark Murray's writings up to 1894 appears in RSC, Trans., 1st ser., 12 (1894), proc.: 61–62. A more complete but not exhaustive listing can be found in the author's ma thesis, "A Victorian frame of mind: the thought of John Clark Murray" (McMaster Univ., Hamilton, Ont., 1983). The following are among his more important publications: Outline of Sir William Hamilton's philosophy: a text-book for students, intro. James McCosh (Boston and New York, 1870); The ballads and songs of Scotland in view of their influence on the character of the people (London, 1874); A handbook of psychology (London, 1885); An introduction to ethics (Boston and Montreal, 1891); He that had received the five talents (London, 1904); and The industrial kingdom of God, ed. Leslie Armour and Elizabeth Trott, which was issued at Ottawa in 1982.
Major sources for Murray's biography include his papers in McGill Univ. Arch. (Montreal), MG 3083; Leslie Armour and Elizabeth Trott, The faces of reason: an essay on philosophy and culture in English Canada, 1850–1950 (Waterloo, Ont., 1981); Margaret Gillett, We walked very warily: a history of women at McGill (Montreal, 1981); and the author's article "A tale of two cities: John Clark Murray's search for the industrial kingdom of God," JCS, 27 (1992–93), no.3: 5–27.
© 1998–2023 University of Toronto/Université Laval
Cite This Article
Nicholas Terpstra, "MURRAY, JOHN CLARK," in Dictionary of Canadian Biography, vol. 14, University of Toronto/Université Laval, 2003–, accessed September 24, 2023, http://www.biographi.ca/en/bio/murray_john_clark_14E.html.
The citation above shows the format for footnotes and endnotes according to the Chicago manual of style (16th edition). Information to be used in other citation formats:
| | |
| --- | --- |
| Permalink: | http://www.biographi.ca/en/bio/murray_john_clark_14E.html |
| Author of Article: | Nicholas Terpstra |
| Title of Article: | MURRAY, JOHN CLARK |
| Publication Name: | Dictionary of Canadian Biography, vol. 14 |
| Publisher: | University of Toronto/Université Laval |
| Year of publication: | 1998 |
| Year of revision: | 1998 |
| Access Date: | September 24, 2023 |