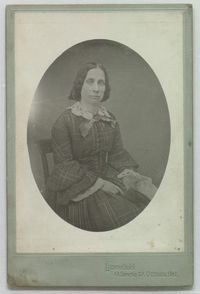 Source: Courtesy of Wikimedia Commons
MURRAY, LOUISA ANNIE, teacher and author; b. 23 May 1818 in Carisbrooke, England, eldest child of Edward Murray, an army officer, and Louisa Rose Lyons; d. unmarried 27 July 1894 in Stamford Township, Ont.
When Louisa Annie Murray was an infant, her family settled near her paternal grandfather, who lived at Ballina Park, in County Wicklow (Republic of Ireland). Mainly self-educated, she was part of a happy circle of friends and relatives. However, economic prospects for young people were not good in famine-stricken Ireland and a half-pay officer's salary was limited; so the family emigrated early in the 1840s. They became pioneers on Wolfe Island, near Kingston, Upper Canada. Louisa served as a schoolteacher while beginning to write with the encouragement of her neighbour, the Reverend Joseph Antisell Allen, poet and father of novelist Charles Grant Blairfindie Allen. Practical help came from Susanna Moodie [Strickland*] who recommended Murray's "beautiful story" to Eliza Lanesford Cushing [Foster*], editor of the Literary Garland (Montreal). "Fauna, or the red flower of Leafy Hollow" appeared there serially in 1851. The Literary Garland was collapsing at this time, and publication difficulties continued to plague Murray's career. One manuscript was lost when a projected magazine was stillborn; another was accidentally burned. Several attempted book publications also failed. The contracted edition of "The cited curate," a darkly romantic novel of a weak-hearted hero set in County Wicklow, which appeared in the British American Magazine (Toronto) in 1863 and was later judged to be "the most finished of all [her] novels," did not materialize upon the projected publisher's closure.
Although her contemporaries lamented this failure to reach wider audiences, Murray persevered to become the major Canadian prose writer of the 1870s. In this endeavour she was sustained by friendships with many artists, especially painter Daniel Fowler, whom she came to know when visiting her brother on Amherst Island. She wrote to Fowler from the various places to which she moved: in 1872 she followed her sister Clemena Going to Tillsonburg; she subsequently lived in Welland County, first at Montrose and then from 1877 in Stamford Township, where she joined her mother and unmarried sister and brothers on Glen Farm. She corresponded also with younger women writers Susie Frances Harrison [Riley*], Agnes Ethelwyn Wetherald*, and Agnes Maule Machar* who paid tribute to her as "one of the best prose writers Canada has yet possessed."
Murray published several poems in the Victorian romantic mode, such as "Merlin's cave," but she was best known for her fiction. "A born story teller," as Wetherald called her, she wrote romances which rely on coincidence and the deus ex machina to bring the fast-paced adventure to a happy end. In the debate at the end of the century over the merits of literary realism, Murray took the side of the idealists. Her characters are larger than life, the men chivalrous and strong, the women fair and gentle, as like George Eliot she strove to show humans trying to do their best. Murray followed Eliot's model too in developing independent and adventurous heroines. Her women enjoyed considerable freedom of movement, especially in the Canadian backwoods as is the case in her first novel, "Fauna," in which an Indian girl helps an English girl to enjoy new liberty and eventually to marry the man they both love. Murray demonstrates her flair for descriptive writing in her detailed renderings of the romantic backdrop of the forest. Whether the setting be Canada as in "Fauna" and "The settlers of Long Arrow," Ireland as in "The cited curate" and "Little Dorinn: a Fenian story," or Italy as in "Carmina," Murray's representations of the landscape are used variously for local colour, realism, and atmospheric suggestiveness.
"Fauna" introduces a major theme in Murray's writing, the question of women's equality. "Learning and genius in a woman! Oh! acme of iniquity – the horror of one sex, the dread of the other and the never failing sign of a predestined old maid!" She portrayed this dilemma more fully and tragically in her story "Marguerite Kneller: artist and woman," where the possibility of enjoying both a happy marriage and a brilliant artistic career proves impossible. The theme, developed from Mme de Staël's Corinne, ou l'Italie (1807), served as a stimulus for a number of essays Murray contributed to the Christian Guardian, the Canadian Monthly and National Review, the Nation, and the Week, all of Toronto, under such titles as "Old maids, ancient and modern," "A few words about some literary women," "Suppression of genius in women," "Carlyle's first loves," and "The story of L.E.L. [Letitia Elizabeth Landon]." Here the dilemma was resolved on a more positive note. The essays allowed her to explore the literary contributions of women as well as the frustrations of those, such as Dorothy Wordsworth and Jane Baillie Carlyle, who were overshadowed or prevented from writing by the male authors in the family. Although her essays on these and other literary topics evoked admiring comparison to George Eliot for their intellectual powers, plans to publish them in book form failed.
Louisa Annie Murray is almost forgotten today, though she was prominent in her lifetime. She bridged the period between the early Gothic and travel writing of pioneers such as Susanna Moodie and the generation of professional woman novelists and journalists at the turn of the century with their interest in the "new woman."
Private arch., Louisa Murray King (North Andover, Mass.), L. A. Murray papers, letters to Murray; Murray, list of mss submitted for publication. British American Magazine (Toronto), 1 (1863)–2 (1863–64). Canadian Monthly and National Rev. (Toronto), 1 (January–June 1872): 28–33, 107–17, 239–47, 334–43, 432–38, 519–26; 2 (July–December 1872): 385–408, 481–505; 3 (January–June 1873): 275–88, 379–94, 471–86; 4 (July–December 1873): 21–28, 229–38, 280–99, 376–87, 501–15; 6 (July–December 1874): 130–46. Literary Garland (Montreal), new ser., 9 (1851): 145–59, 209–21, 241–56, 289–307, 337–47, 385–95, 433–43. Nation (Toronto), 6 Aug. 1875: 368–69; 24 Sept. 1875: 451–53. Once a Week (London), 5 (1861): 421–29, 449–55, 477–85, 505–12, 533–39, 561–69, 589–97, 617–23, 645–51, 673–79, 701–5. Week, 26 June 1884: 474–75; 3 July 1884: 489–91; 19 April 1888: 335–36; 5 April 1889: 280; 12 April 1889: 295–96; 2 Dec. 1892: 9–11; 5 Oct. 1894: 1063–64. Canada, an encyclopædia (Hopkins), 5: 170–76. The encyclopedia of Canada, ed. W. S. Wallace (6v., Toronto, [1948]), 4: 359–60. An index to the "Canadian Monthly and National Review" and to "Rose-Belford's Canadian Monthly and National Review," 1872–1882, comp. and intro. M. G. Flitton ([Toronto], 1976). H. J. Morgan, Biographies of celebrated Canadians (Quebec, 1862); Sketches of celebrated Canadians. Types of Canadian women (Morgan). Wallace, Macmillan dict. Judith Zelmanovits, "Louisa Murray, writing woman," Canadian Woman Studies (Downsview [Toronto]), 7 (1986), no.3: 39–42.
© 1990–2023 University of Toronto/Université Laval
Image Gallery

Cite This Article
Barbara Godard, "MURRAY, LOUISA ANNIE," in Dictionary of Canadian Biography, vol. 12, University of Toronto/Université Laval, 2003–, accessed September 25, 2023, http://www.biographi.ca/en/bio/murray_louisa_annie_12E.html.
The citation above shows the format for footnotes and endnotes according to the Chicago manual of style (16th edition). Information to be used in other citation formats:
| | |
| --- | --- |
| Permalink: | http://www.biographi.ca/en/bio/murray_louisa_annie_12E.html |
| Author of Article: | Barbara Godard |
| Title of Article: | MURRAY, LOUISA ANNIE |
| Publication Name: | Dictionary of Canadian Biography, vol. 12 |
| Publisher: | University of Toronto/Université Laval |
| Year of publication: | 1990 |
| Year of revision: | 1990 |
| Access Date: | September 25, 2023 |