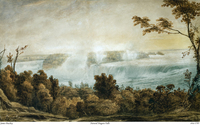 Source: Link
PEACHEY (Peachy, Pitchy), JAMES, surveyor, draughtsman, army officer, and artist; probably of British origin; d. 24 Nov. 1797, likely in Martinique.
Records of James Peachey begin with the first of his three visits to North America. Nothing has been discovered about his early life or training. In 1773 or 1774 he began employment in the Boston office of Samuel Jan Holland*, surveyor general of the province of Quebec and of the Northern District of North America. The Board of Trade, under whose sponsorship Holland was working, wanted the most up-to-date general maps of North America possible, especially with the approach of the American revolution. Peachey may have been hired specifically for this project. In late 1775 Holland sent him and two assistant surveyors to England. Lodged in London apartments, they were to prepare maps for a publication that never materialized. The board gave its financial support to Joseph Frederick Wallet DesBarres*'s rival proposal for the Atlantic Neptune, into which Holland's surveys were incorporated. Peachey not surprisingly disappeared from Holland's pay-list by 1777. Remarking on the visual similarity between the supplementary topographical views in the Atlantic Neptune and Peachey's works, Michael Bell has suggested that Peachey's talents were perhaps utilized in this publication.
By 1780 Peachey had again crossed the Atlantic. He spent the next few years in the Quebec region, as evidenced by the earliest known, dated examples of his artistic production. Through his portrayal of Governor Haldimand*'s entourage and of habitants in idyllic local landscape settings exquisitely executed in water-colour, Peachey captured the attention and patronage of the governor and of William Tryon, former governor of New York. In correspondence with the latter in 1784, Holland referred to Peachey as being "for Som time Draughtsman to General Haldimand" and "on the footing of a Gentleman, of which he has made himselfe deserving of, as well by his Conduct & Improvements in Drawing & Painting."
By May 1783 Peachey was employed as a deputy surveyor under Holland. His assignments were connected with surveying and laying out lots of land for disbanded troops and refugee loyalists in the future Upper Canada. Peachey and his colleagues René-Hippolyte Pepin*, dit Laforce, and Lewis Kotte (Koth, Cotté) were instructed to journey the north shore of Lake Ontario to Niagara (near Youngstown, N.Y.). Peachey wintered in the vicinity of Cataraqui (Kingston), where in association with Kotte until 1784 he continued the surveys of Adolphustown and Fredericksburgh (North and South Fredericksburgh) townships begun by John Collins the previous year. In November Peachey accompanied Haldimand to England.
Among other works Peachey then produced two distinguished series of Canadian views, frequently of identical subject. The first, represented in the collections of the Public Archives of Canada, consists of several fine small-scale water-colours, alphabetically keyed, which were probably at one time insets of a large-scale plan of the St Lawrence valley, possibly intended for publication. A second series, now dispersed, is dated 1785 and may have been commissioned by Haldimand. Peachey used the technique of pouncing to transfer the elements of his preparatory drawing in producing some of these highly finished works. He sometimes copied works after his associates Kotte, James Hunter, and Peter Couture.
Peachey capitalized on his modest success on the London scene by producing his compositions in varying formats, media, and sizes. He prepared etched outlines of topographical views related to his second visit which were then coloured by his own or another hand. He also sought professional assistance to produce aquatints, published in London in 1785 and 1786, after his Canadian views. Residing in the Mayfair district, he exhibited views of Montreal and Quebec at the Royal Academy in 1786 and three more Canadian subjects in 1787. In all likelihood his success was enhanced by his connection with Haldimand. His works may have influenced the perception that Englishmen formed of Canada.
Peachey also tried his hand at book illustration through an association with the London printer C. Buckton. He etched the frontispiece to A primer, for the use of the Mohawk children . . . (2nd ed., London, 1786) by Christian Daniel Claus and the frontispiece and 18 biblical scenes for The Book of Common Prayer . . . translated into the Mohawk language . . . to which is added the gospel according to St. Mark, translated into the Mohawk language by Captn. Joseph Brant . . . (4th ed., London, 1787).
On 3 Oct. 1787 Peachey obtained an ensign's commission in the 60th Foot under Haldimand's command. He arrived at Quebec in August 1788 to join the 1st battalion, then mustered at Niagara. His correspondence with Haldimand refers to a view of the Niagara Falls and a portrait of Catharine Brant [Adonwentishon*], the wife of Joseph Brant [Thayendanegea*], but no Canadian works unmistakably dated to his third visit are known to have survived. By 1790 the 60th had moved to the Montreal region, and Peachey worked under Holland as a deputy provincial surveyor. He was required to amend earlier plans and surveys and to make new ones, including a survey of the rivers St Lawrence and Ottawa above Repentigny in 1793; some of these were compiled into larger plans. On 31 Oct. 1793 he was promoted lieutenant and transferred to the 7th Foot, then stationed at Quebec. A year later the regiment moved to Halifax and in 1795 returned to England. Peachey was made captain 29 July 1795 and transferred to the 43rd Foot on 2 Feb. 1797. His death that year was likely due to an epidemic which decimated the regiment while posted in Martinique.
W. Martha E. Cooke and Bruce G. Wilson
The names Wm Peachy and W. Peachy, inscribed on two aquatints after Peachey, are probably erroneous. Representative examples of Peachey's works are in ASQ, BL, the Metropolitan Toronto Library, the National Gallery of Canada (Ottawa), the New York Public Library, PAC, PAO, the Royal Ontario Museum (Toronto), and private collections.
BL, Add. mss 21737, pp.183–84; 21784, pp.34–37; 21892, ff.13–14 (transcripts at PAC). PAC, RG 1, E15, A, 25/2–27/2; 45/1. PAO, RG 1, A-I-6, 1, Copy of instructions to Mr James Peachey . . . 15 Feb. 1793; Peachey to Holland, 28 Feb. 1793; Holland to Peachey, 17 March 1793. PRO, AO 3/140, pp.52–57, 73, 81; CO 42/16, pp.230–33; CO 323/29, pp.20–22; WO 12/5563, f.79; WO 17/1500–5. [Frederick Haldimand], "Private diary of Gen. Haldimand," PAC Report, 1889, 175, 243. "James Peachey (active/connu 1773–1797)," intro. and catalogue by B. G. Wilson, Archives Canada Microfiches (Ottawa), 2, (1975–76). Mary Allodi, Canadian watercolours and drawings in the Royal Ontario Museum (2v., Toronto, 1974). Catalogue of the manuscript maps, charts, and plans, and of the topographical drawings in the British Museum (3v., London, 1844–61; repr. Brussels, 1962), III. W. M. E. Cooke, Catalogue of paintings, water-colours and drawings in the W. H. Coverdale collection of Canadiana (forthcoming). Algernon Graves, The Royal Academy of Arts: a complete dictionary of contributors and their works from its foundation in 1769 to 1904 (8v., London, 1905–6; repr. 8v. in 4, East Ardsley, Eng., 1970). G.B., WO, Army list, 1788–99. Image of Canada, documentary watercolours and drawings from the permanent collection of the Public Archives of Canada, intro. Michael Bell ([Ottawa, 1972]). Landmarks of Canada . . . a guide to the J. Ross Robertson historical collection in the Public Reference Library, Toronto . . . (2v., Toronto, 1917–21; [new ed.], 2v. in 1, 1967), I. [The authors wish to thank Michael Bell, Douglas Schoenherr, Mrs J. M. White, and Peter Winkworth for their assistance. w.m.e.c. and b.g.w.]
© 1979–2023 University of Toronto/Université Laval
Cite This Article
W. Martha E. Cooke and Bruce G. Wilson, "PEACHEY, JAMES," in Dictionary of Canadian Biography, vol. 4, University of Toronto/Université Laval, 2003–, accessed September 25, 2023, http://www.biographi.ca/en/bio/peachey_james_4E.html.
The citation above shows the format for footnotes and endnotes according to the Chicago manual of style (16th edition). Information to be used in other citation formats:
| | |
| --- | --- |
| Permalink: | http://www.biographi.ca/en/bio/peachey_james_4E.html |
| Author of Article: | W. Martha E. Cooke and Bruce G. Wilson |
| Title of Article: | PEACHEY, JAMES |
| Publication Name: | Dictionary of Canadian Biography, vol. 4 |
| Publisher: | University of Toronto/Université Laval |
| Year of publication: | 1979 |
| Year of revision: | 1979 |
| Access Date: | September 25, 2023 |