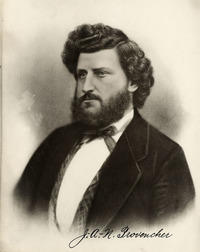 Source: Link
PROVENCHER, JOSEPH-ALFRED-NORBERT (baptized Joseph-Albert Villebrun, dit Provencher), lawyer, journalist, and public servant; b. 6 Jan. 1843 at Baie-du-Febvre (Baieville), Canada East, son of Godfroi Villebrun, dit Provencher (Provencher, dit Villebrun), a farmer, and Placide Lafrance; m. 24 May 1876 Louise Delagrave in the parish of Notre Dame de Québec; d. 28 Oct. 1887 in Montreal, Que., and was buried there three days later in Notre-Dame-des-Neiges cemetery.
Joseph-Alfred-Norbert Provencher received his classical education at the Séminaire de Nicolet from 1851 to 1859, perhaps partly with the help of his distant cousin Joseph-Norbert Provencher*, the bishop of St Boniface (Man.). When he left the college, he articled in Trois-Rivières in the law office of William McDougall. Around 1862, while engaged in his legal studies, Provencher founded the short-lived newspaper, La Sentinelle (Trois-Rivières). Called to the bar of Lower Canada on 30 April 1864, he did not immediately go into practice, since a career as a journalist seemed more attractive, and he became night editor at La Minerve in Montreal. A contemporary, the journalist Léon Ledieu, recounted that when Provencher arrived people wondered what "this tall, bulky fellow, with an odd-looking head, hands of a Hercules, sloppy garb, heavy gait, and enormous bushy mop of hair" could be doing in the editorial office of a newspaper. That year, with writers Napoléon Bourassa*, Joseph Royal*, and several others, he helped found La Revue canadienne (Montreal); in it he published several well-researched articles on such subjects as constitutional issues and political economy. For a time he was also secretary of the literary circle attached to the Cabinet de Lecture Paroissial.
In 1867 the Conservative party chose Provencher as its candidate in the federal elections in Yamaska, a stronghold of the Liberal party; he was narrowly defeated by the Rouge candidate, Moïse Fortier. He continued to hold the post of editor of La Minerve, which he had been given on the departure of Évariste Gélinas* in 1865. He left the paper in 1869 when he was appointed secretary to William McDougall*, the Ontario politician who was named the new lieutenant governor of the North-West Territories, the sale of which had just been negotiated in London. In October 1869 he went in this capacity to the Red River Settlement (Man.) in advance of McDougall, to assert the authority of the Canadian government in the territory, but on his arrival in St Norbert on 1 November he was arrested and imprisoned. He explained to his captors, among them Louis Riel, that the imperial parliament in London had authorized the annexation of the territories to Canada, and that the Canadian House of Commons, with the Hudson's Bay Company's agreement, had approved the terms of the transfer. Released after one day, he was escorted by Riel's troops to Pembina (West Lynne, Man.) and forced to seek refuge in American territory. There McDougall, who had unsuccessfully tried to enter the colony, ordered him to draft proclamations calling on the Métis to surrender their lands. It was later learned that McDougall did not have the authority to issue these proclamations and that they were not valid.
After McDougall returned to Ottawa and the federal government established order in the Red River region, Provencher presumably went back to central Canada. In October 1871 he was appointed immigration commissioner in Manitoba for the federal Department of Agriculture. In 1872 he was given the responsibility of representing the Canadian government in Paris to encourage French immigration to Canada. He left Paris the following year to return to Manitoba as acting superintendent of Indian affairs in the Department of the Interior, a post he retained until 1877. His duties included negotiating treaties with a number of First Nations to acquire their lands in return for compensation, including sums of money. Thus, with Simon James Dawson* he served on a commission led by Alexander Morris which in 1873 concluded Treaty no.3 with the Ojibwa of the Lake of the Woods area, whereby the Ojibwa ceded all their lands to the Canadian government. Provencher was removed from his post some four years after his appointment following an investigation into his difficult relations with indigenous peoples and alleged fraud committed in the office of the Indian affairs branch in Winnipeg [see Ebenezer McColl*]. He then practised law there and worked as a notary in partnership with Michel Carey. In 1877 he represented the Collège de Saint-Boniface on the council of the University of Manitoba. Two years later he ran as a government candidate in the provincial elections in St Boniface, but received only 4 votes against 127 for his opponent, Alphonse-Alfred-Clément La Rivière*. As a result of this defeat, he decided to turn to writing again.
Back in Montreal in 1880, Provencher once more worked in the office of La Minerve, which was under the editorship of his friend Joseph Tassé*. For a short time he was editor of Le Monde (1883), and then of La Presse (1884–85). He also contributed to Le Figaro (Montreal) in 1883, to the Nouvelles Soirées canadiennes in 1884, and to La Minerve from 1885 to 1887. After a brief illness he died in Montreal in his 45th year, and was remembered as a journalist of superior talent and a competent administrator. As journalist Léon Ledieu observed, "Provencher was the last of the Dansereau, Decelles and Dunn generation."
[As a journalist Joseph-Alfred-Norbert Provencher wrote on a variety of subjects, including the British constitution, land credit, the agricultural census of Canada East, and the paper manufacturing industry. His articles can be found in a number of newspapers and journals including the Rev. canadienne, 1864–69, La Minerve, 1864–69, 1880–87, Le Monde, 1883, and La Presse, 1884–87. k.l.]
ANQ-Q, AP-G-134. Morris, Treaties of Canada with the Indians. Le Canadien, 2 nov. 1887. L'Événement, 22 avril 1870. La Minerve, 29 oct. 1887. Le Monde, 29 oct. 1887. Le Monde illustré (Montréal), 12 nov. 1887. La Presse, 29 oct. 1887. Beaulieu et J. Hamelin, La presse québécoise, II: 20; III: 51, 71. A.-G. Morice, Dictionnaire historique des Canadiens et des Métis français de l'Ouest (Québec et Montréal, 1908). J.-A.-I. Douville, Histoire du collège-séminaire de Nicolet, 1803–1903, avec les listes complètes des directeurs, professeurs et élèves de l'institution (2v., Montréal, 1903). Stanley, Birth of western Canada; Louis Riel. L. H. Thomas, The struggle for responsible government in the North-West Territories, 1870–97 (Toronto, 1956). Donatien Frémont, "Alfred-Norbert Provencher, 1843–1887," RSC Trans., 3rd ser., 51 (1957), sect.i: 29–41.
Revisions based on:
Bibliothèque et Arch. Nationales du Québec, Centre d'arch. de la Mauricie et du Centre-du-Québec (Trois-Rivières, Québec), CE401-S13, 8 nov. 1877; Centre d'arch. de Montréal, CE601-S51, 31 oct. 1887; CE603-S2, 7 janv. 1843; Centre d'arch. de Québec, CE301-S1, 24 mai 1876. La Minerve, 2 nov. 1887. Frances McColl, Ebenezer McColl, "Friend to the Indians," superintendent of Indian affairs for Manitoba and Northwest Territories: a biography, 1835–1902 (Winnipeg, 1989).
© 1982–2023 University of Toronto/Université Laval
Cite This Article
Kenneth Landry, "PROVENCHER, JOSEPH-ALFRED-NORBERT (baptized Joseph-Albert Villebrun, dit Provencher)," in Dictionary of Canadian Biography, vol. 11, University of Toronto/Université Laval, 2003–, accessed October 1, 2023, http://www.biographi.ca/en/bio/provencher_joseph_alfred_norbert_11E.html.
The citation above shows the format for footnotes and endnotes according to the Chicago manual of style (16th edition). Information to be used in other citation formats:
| | |
| --- | --- |
| Permalink: | http://www.biographi.ca/en/bio/provencher_joseph_alfred_norbert_11E.html |
| Author of Article: | Kenneth Landry |
| Title of Article: | PROVENCHER, JOSEPH-ALFRED-NORBERT (baptized Joseph-Albert Villebrun, dit Provencher) |
| Publication Name: | Dictionary of Canadian Biography, vol. 11 |
| Publisher: | University of Toronto/Université Laval |
| Year of publication: | 1982 |
| Year of revision: | 2022 |
| Access Date: | October 1, 2023 |