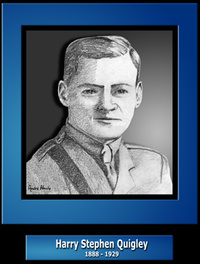 Source: Link
QUIGLEY, HARRY STEPHEN, soldier, aviator, and businessman; b. 3 May 1888 in Toronto, son of Robert John Quigley, a businessman from New Jersey, and Annie Jane Primrose, who was born at Quebec; d. unmarried 3 Jan. 1929 in Port of Spain (Republic of Trinidad and Tobago).
Harry Quigley, whose father was the founder of the American Watch Case Company of Canada, was raised in Toronto. His parents died prematurely, his mother in 1899 and his father three years later, leaving ten children, several of whom were still very young. Harry and his young brothers and sisters were raised by the eldest of the family, Lillian Primrose. Early in life he began working at various trades – as an accountant, real estate agent, and surveyor.
In 1914 Quigley was in Winnipeg, and when World War I broke out he enrolled in the army. He sailed for England with the 11th Infantry Battalion on 3 October. His courage was soon put to the test in action with the Royal Canadian Engineers (signal corps). He was wounded in the face in May 1915, very likely at the battle of Ypres, and was awarded the Distinguished Conduct Medal. The following January he was promoted lieutenant and in August 1916 he was decorated with the Military Cross. On hearing that the Royal Flying Corps was looking for officers who knew Morse code for its observation units, he obtained a transfer on 30 October and served as an observer with the 9th Squadron and other units. He later learned to fly and in May 1917 he was made a captain. He was serving with the Royal Air Force when the war ended. From his letters to his sister Lillian, it appears that he had persuaded his younger brother Francis Grainger to obtain a transfer to the Royal Air Force as well. Francis was one of the great Canadian aces of World War I, shooting down 34 enemy aircraft. Sadly, just before he was due to return to Canada, he contracted Spanish influenza and he died in 1918, with Harry at his bedside.
Harry put aside his uniform in July 1919, but the battles had left their mark. His experience in the trenches had left him in a state of depression, with a constant nervous tremor, except when stress-related adrenaline provided a stimulant. Like many aviators, he also suffered from partial deafness. Despite the state of his health, his love of flying led him to undertake a new career in the emerging field of civil aviation.
Quigley had some dealings with the Air Board, a federal agency created in June 1919. Its many objectives included the establishment of an aerial forest-patrol and aerial cartography service for the provinces. However, the agency soon became entangled in petty political wrangling, which Quigley found distasteful. Since Price Brothers and Company Limited, located in the Saguenay–Lac-Saint-Jean region [see Sir William Price], set up an air service for the same purposes in 1920, he applied for a position and was appointed its chief pilot. Quigley and his team carried on their work from Chicoutimi using two Martinsyde seaplanes. At the end of 1922 Price decided to contract out this operation and Quigley, in order to be in the running, founded the Dominion Aerial Exploration Company. Price, and later the Quebec government, hired him to provide forest-protection, transportation, and photographic services in the Lac-Saint-Jean region and on the north shore of the St Lawrence. Quigley had up to 20 employees in all, including half a dozen pilots and mechanics. He owned two HS-2L seaplanes at the outset, and regularly bought new aircraft; by 1928 he would have five HS-2L seaplanes and two Fairchild monoplanes. In 1926 he moved his main base of operations from Chicoutimi to Trois-Rivières, which was more central and afforded better prospects for contracts. At that time he changed the company's name to Canadian Airways Limited (not to be confused with the company of the same name owned by James Armstrong Richardson*, who in 1930 would buy part of the assets formerly held by Quigley).
Quigley was also a pioneer in the field of air mail. In 1926 one of his seaplanes picked up some mail tied up in a water-tight package and attached to a lifebuoy, which had been thrown overboard from the Empress of Scotland off Anticosti Island. After a stop in Rimouski, the package was delivered in Montreal. Because of the many risks involved, this arrangement was soon abandoned. In September 1927 Quigley carried out new experiments for the Post Office Department, but this time the mail was unloaded from a transatlantic liner at the pilot station in Pointe-au-Père and taken westward from there by air. The following year Quigley won the contract to deliver air mail on the Montreal–Toronto line. (A competitor had already obtained the connection to the east.) From then on carrying mail became one of his main activities, and he moved his operations to Pointe-aux-Trembles (Montreal).
Quigley sold his interest in Canadian Airways Limited in October 1928 because his health was deteriorating. He went to the islands of Trinidad and Tobago in hopes of recovery, but died in Port of Spain on 3 January of the following year. His funeral service was held in Toronto.
Harry Quigley came to the world of aviation through the fortunes of war, and he found there a new, adventure-filled life. He defended his country with outstanding zeal and applied the same energy to developing air services for the people of Canada. Despite the brevity of his career, he managed to leave his mark as a pioneer in Canadian civil aviation.
Can., Dept. of National Defence, National Defence Headquarters, Directorate of Hist. and Heritage (Ottawa), Canadians in the British flying service, 1914–18, 77/661; Victor Tremblay, "M. Harry Quigley" (typescript, 1961). LAC, RG 150, Acc. 1992–93/166. Private arch., Mrs Joan Page (Waterdown, Ont.), Geneal. of the Quigley family; corr. between H. S. Quigley and his sister Lillian Primrose. Can., Dept. of National Defence, Report on civil aviation (Ottawa), 1923–30. F. H. Ellis, Canada's flying heritage (Toronto, 1954), 161–62, 239, 313–14, 364. G. A. Mackie, "Aviation suffers severe loss in death of Capt. H. S. Quigley," Illustrated Canadian Forest and Outdoors (Montreal), 25 (1929): 51. Larry Milberry, Air transport in Canada (2v., Toronto, 1997), 1. K. M. Molson, Pioneering in Canadian air transport ([Winnipeg], 1974). The official history of the Royal Canadian Air Force (3v. to date, [Toronto and Ottawa], 1980– ), 1; 2. [G. J.] Whitehouse, Heroes of the sunlit sky (Garden City, N.Y., 1967), 230–31.
© 2005–2023 University of Toronto/Université Laval
Image Gallery

Cite This Article
Yves Tremblay, "QUIGLEY, HARRY STEPHEN," in Dictionary of Canadian Biography, vol. 15, University of Toronto/Université Laval, 2003–, accessed September 28, 2023, http://www.biographi.ca/en/bio/quigley_harry_stephen_15E.html.
The citation above shows the format for footnotes and endnotes according to the Chicago manual of style (16th edition). Information to be used in other citation formats:
| | |
| --- | --- |
| Permalink: | http://www.biographi.ca/en/bio/quigley_harry_stephen_15E.html |
| Author of Article: | Yves Tremblay |
| Title of Article: | QUIGLEY, HARRY STEPHEN |
| Publication Name: | Dictionary of Canadian Biography, vol. 15 |
| Publisher: | University of Toronto/Université Laval |
| Year of publication: | 2005 |
| Year of revision: | 2005 |
| Access Date: | September 28, 2023 |