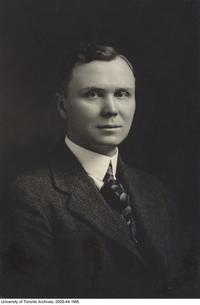 Source: Link
RUSSELL, THOMAS ALEXANDER, industrialist and cattle breeder; b. 17 April 1877 in Usborne Township (South Huron), Ont., eldest of the six children of Thomas Russell and Margaret Harvey Fowlie; m. 24 Dec. 1903 Olive Lillian Brown in Toronto, and they had three sons and two daughters; a son and a daughter predeceased him; d. 29 Dec. 1940 in Toronto.
Thomas Alexander Russell grew up near Exeter in southwestern Ontario. His father was a prosperous farmer who was well known for breeding Shorthorns, initially importing some from his native Scotland in 1879. Tommy, as he was called, took a keen interest in helping with the livestock and accompanied his father to agricultural fairs, where Thos. Russell and Son exhibited their prize-winning cattle. While Tommy may have been content to follow in his father's footsteps, his parents made sure that he took his education seriously. He attended elementary school in Exeter and high school in St Marys, where he earned the highest marks in several subjects in his final year. According to his classmate and lifelong friend Arthur Meighen*, Tommy showed great promise academically and "was the widest reader of my acquaintance." Russell was awarded a scholarship to the University of Toronto and entered University College in 1895. Tall and fit, he was an avid rugby player, a member of the winning intercollegiate debates team, and, during his final year, secretary-treasurer of the university's athletic association. He graduated in 1899 at the top of his class with a ba in political science.
Russell's academic success secured him a postgraduate scholarship that provided a one-year appointment as lecturer in the department of political science. He then thought about returning to the land, but decided to explore new opportunities in business and industry. He learned that the Canadian Manufacturers' Association was looking for an executive secretary to run the central office in Toronto. He applied and was, as he would later confess, "more than a trifle surprised" when he was hired in 1901.
At the time the CMA was a rather conservative, undersubscribed organization with only 132 members, each paying annual dues of $10. Within just 18 months Russell had boosted membership to over 900 and established the official magazine, Industrial Canada. His achievements caught the attention of the Toronto business community. Joseph Wesley Flavelle was so impressed that he approached Russell about working for him at the William Davies Company Limited, his meat-packing firm. Russell declined because he could not see himself employed at an abattoir. Flavelle was also one of the financiers behind the Canada Cycle and Motor Company, along with fellow Methodists Walter Edward Hart Massey*, George Albertus Cox*, Alfred Ernest Ames, and others. During the bicycle boom of the late 1890s they had purchased and merged five southern Ontario bicycle manufacturers to form CCM, which would soon be one of Canada's largest companies with public subscribers. However, after a sudden decline in bicycle sales, a fire that destroyed its St Catharines factory in 1901, and financial fallout from bad management decisions, CCM was facing bankruptcy and lawsuits from shareholders. The company needed a shake-up, and Flavelle convinced the board that the young, capable Tommy Russell had the talent to do it. Russell accepted the task in 1902 and found CCM to his liking: not only did it present an administrative and financial challenge, but as a farm lad with an aptitude for mechanics, he also enjoyed the engineering details and factory operations although he had no formal technical training. Moreover, CCM aspired to make automobiles, and Russell, like Gordon Morton McGregor* and Robert Samuel McLaughlin*, was intrigued by the motor car, becoming an early enthusiast.
Russell first turned his attention to restructuring. He consolidated manufacturing under one roof in the plant in west-end Toronto's Junction area, closing other operations in Brantford, St Catharines, Hamilton, and Toronto. He also eliminated stores in St John's, Montreal, Winnipeg, and Vancouver, as well as in London, England. He travelled to Australia and New Zealand, where he sold off 22 retail branches, keeping only the 4 that were the most profitable. Within 12 months he had reduced public liabilities by about $250,000 and had turned around the previous year's loss, reporting a profit of almost $30,000. By 1903 he was made general manager. While retrenching, Russell and the board decided to forge ahead with diversifying CCM's product line. In 1904 the company patented a new lightweight ice skate, which incorporated a tubular aluminum top with a blade of nickel and steel – an improvement over the available Swiss and German models. Sales were initially slow because of a mild winter, but within a few years CCM skates became the most popular brand in Canada. Most important for Russell personally was the automobile division. Motor vehicles had started to become visible at the turn of the century, and Russell was excited about their potential. He persuaded the board to purchase the idle Canadian Motor Company Limited and manufacture the two-seater Ivanhoe electric car. Production lasted for a couple of years, until the internal combustion engine began to gain popularity. Russell spearheaded the development of a car suited to Canadian driving conditions, with wheels spaced to fit wagon ruts on country roads, and the first CCM-designed vehicle debuted in 1905. Named the Russell in honour of the general manager, it was marketed as "the thoroughly Canadian car, with Canadian material, Canadian labour, and Canadian capital." In a famous publicity stunt, the vehicle's power was confirmed in a race with an ice yacht on frozen Lake Ontario.
Between 1905 and 1915 the Russell Motor Car earned a reputation across Canada as a reliable, well-made, stylish automobile, and sales offices were opened in England, Australia, and New Zealand. CCM advertisements promoted each new model with the slogan "Made up to a standard – not down to a price." During that decade Russell and other car enthusiasts, including Perry Ernest Doolittle, actively supported an organized motoring fraternity, advancing the idea of a provincial and, ultimately, national association. In 1905 Russell, with members of the Toronto and Hamilton automobile clubs, gathered at Queen's Park and took mpps for rides in an effort to convince them to raise the urban speed limit to 10 mph from 8 mph. These clubs later collaborated with those of Kingston and Ottawa in establishing the Ontario Motor League, and they elected Russell as the first president in 1908. He was probably also the OML's first approved instructor when he taught Flavelle how to drive his newly delivered Russell.
In 1909 Russell struck a deal with the Daimler Motor Company Limited of England for the Canadian rights to the state-of-the-art Knight sleeve-valve engine, which powered Daimler and other European luxury cars. For Russell, the driving machine that bore his name was going to be the "Daimler of the Dominion," equal, if not superior, to any manufactured in the world. The first Knight-equipped Russell appeared in 1910, and the company started to move upscale. To increase CCM's capital and to reflect the fact that the manufacture of motor cars was now its principal activity, Russell and the board of directors decided to reorganize. In April 1911 they changed the name to the Russell Motor Car Company Limited, but continued to make bicycles, skates, and other products under the CCM brand.
Even though Russell's career had led him away from his rural roots, his father's passion for cattle had stayed with him. In 1910 he bought a 40-acre farm in Downsview (North York) and began showing purebred Shorthorns at the Canadian National Exhibition in Toronto and the Provincial Winter Fair in Guelph. He quickly expanded Brae Lodge, as he named his property, to 650 acres and would go on to compete throughout North America for many years, gaining an international reputation as an expert Shorthorn breeder.
Still only in his mid thirties in 1912, Russell was rapidly becoming acknowledged as one of Canada's leading industrialists – a man sought after to sit on the boards of major enterprises and encouraged by Flavelle, Meighen, and others to run for a seat. Despite having a degree in political science and a keen interest in public affairs, Russell preferred to exercise his influence behind the scenes. He had a profound sense of civic duty, and spent much time and energy on behalf of several institutions. He was a trustee of the Toronto General Hospital and later the Banting Institute [see Sir Frederick Grant Banting*], and a member of the Canadian National Exhibition board, of which he was president in 1918–19. He also maintained ties to his alma mater, serving as governor for 28 years (1912–40), 15 of them as chairman of the finance committee and 8 as vice-chairman of the board. In 1920 he was appointed to a royal commission on university finances led by the Reverend Henry John Cody*; as well, Russell was instrumental in building a men's residence for University College, and he headed fund-raising campaigns for numerous endowments. In 1930 he was awarded an honorary lld in recognition of his many contributions.
Like several of his business associates, Russell was both an anglophile and a Canadian nationalist. That the two identities were synonymous was not unusual in the imperialist age. He and other prominent businessmen, including his mentor, Flavelle, looked forward to the day when Canada would become an equal partner in the British empire, shedding its colonial trappings and attaining national status. This is not to say that Russell was not occasionally critical of British foreign policy, especially when it was perceived to be detrimental to Canada's industrial growth, but he saw the motherland as a counterweight to the increasingly powerful United States. Russell, along with many other Canadian businessmen, became alarmed when Prime Minister Sir Wilfrid Laurier* began talks with the Americans about free trade in agricultural products. Although he was a Liberal, he denounced the resulting reciprocity agreement of 1911 [see William Stevens Fielding*], reflecting the fears of the Canadian Manufacturers' Association and the Toronto financial elite that free trade in certain products would open the door to eventual unrestricted reciprocity and threaten Canadian identity. Within a month of Ottawa's announcement of the deal a group of prominent Liberal businessmen and financiers published a manifesto against it. Russell aligned himself with the propaganda efforts of the "Toronto Eighteen," headed by Sir Byron Edmund Walker*, and the CMA. On 13 Jan. 1911 he was chief spokesman for a delegation of manufacturers sent to Ottawa. He chaired the CMA's powerful Canadian Home Market Association, whose extremely effective anti-reciprocity campaign in Ontario, along with that of the Canadian National League, chaired by Zebulon Aiton Lash*, one of the 18, helped ensure the defeat of the Laurier government in the election of September 1911.
When World War I began in 1914 Russell pondered his role and that of RMCC. Ever the shrewd entrepreneur, he realized that motorized transport would be essential to Canada's armed forces, so on 14 Aug. 1914 he journeyed to Ottawa with his top salesman in the hope of convincing officials in the Department of Militia and Defence to place an order with his company. Seven touring cars were requested right away, and the minister, Samuel Hughes*, went a step further, persuading Russell to act as an extra-departmental purchasing agent and commissioning him to acquire as quickly as possible the armoured cars, trucks, wagons, and ambulances necessary for the Canadian Expeditionary Force. Russell accepted out of a sense of responsibility, and he quickly made arrangements to ascertain the army's needs and negotiate prices with various manufacturers. He purchased 141 chassis, had the engineers at the RMCC design bodies for them, and secured other vital accessories. By 13 September the cargo was ready for shipment, and it was sent by rail to Montreal. There Russell supervised the process of loading it onto eight steamers. He then oversaw the vehicles' assembly on Salisbury Plain in England. It was a job well done: Russell had provided the first Canadian contingent with some of the most efficient mechanical-transport support in the British army. When allegations of scandal surrounding military purchasing practices led to a parliamentary investigation in 1915, Russell was questioned about giving contracts to his own firm. His explanation convinced the Public Accounts Committee of the House of Commons that profits of six per cent were not unduly large, that he himself had not received a commission, and that no other organization had the expertise to do the work so quickly. The RMCC was acquitted, and the press applauded Russell for his candid testimony.
While in England Russell was apprised of Britain's need for munitions. Shortly after his return to Canada he decided that it was the "duty and the privilege" of the company to devote its facilities to the manufacture of munitions; automobiles could wait until the war had been won. Russell and the chief officers of the RMCC devoted themselves almost exclusively to acquiring the knowledge and means to turn out high-explosive shells and fuses. In 1915 the Toronto plant was rearranged, and new machinery was purchased and installed. The RMCC became the first Canadian business to obtain a contract from the British War Office when it received an order for 500,000 fuses on 19 July. In November Flavelle was made chair of the newly formed Imperial Munitions Board and more contracts flowed into the RMCC. By 1917 company operations had expanded to four factories employing almost 6,000 labourers (more than 3,000 were women) who worked day and night. Automobile manufacturing had ceased because of the demand for arms and the economic downturn, and in 1916 the RMCC's car-making wing was merged with the Willys-Overland Company of Toledo, Ohio.
After the war the RMCC's munitions division made the transition to a peacetime industry as the Russell Gear and Machine Company (later Canadian Acme Screw and Gear Limited). Along with the subsidiary CCM, RGMC remained reasonably solvent throughout the Great Depression. In 1937 the board of directors decided that the name Russell Motor Car Company no longer reflected the true nature of the parent firm; as of the annual meeting in February 1938, it became Russell Industries Limited, with its namesake as president. He had also been appointed president and director of the Massey-Harris Company [see Hart Almerrin Massey*] in 1930 upon the resignation of Thomas Bradshaw. Russell, who had been a director since 1924, was instrumental in guiding the company through the difficult depression years, when it sustained massive losses. He started making cutbacks, hired a tough new general manager, Bertram W. Burtsell, and convinced the board of the Canadian Bank of Commerce, of which he was a respected member, that it was important to keep Massey-Harris alive. He would continue as president until his death in 1940.
In December 1940 Russell was in the midst of converting his plants for a second war effort, declaring once again that "every ounce of strength should be given toward Canada's contribution to restore sanity to the world through a victory of the British Empire." Shortly before Christmas he felt unwell and came home from the office. He was diagnosed with pneumonia, and the heart problems he had been experiencing for some years complicated the illness. He died at home a few days later at the age of 63. His funeral service was held in Convocation Hall at the University of Toronto on 31 December, and he was laid to rest in the Mount Pleasant Mausoleum.
Though a quiet, very private person, Thomas Alexander Russell was a man of immense influence who wielded power deftly and unobtrusively. Competitive and tenacious in everything from school sports to business, he was a gentle tycoon, patriotic to the core, and he served his community and country to his dying day. As one obituary stated, "He was recognized as a rare exception, in business, in generosity of heart and fine human qualities." That Russell has been largely forgotten, at least when compared with contemporaries such as Flavelle and McLaughlin, attests more to the fact that he never sought publicity for himself than to the broad measure of his accomplishments.
Thomas Alexander Russell is the author of "The grain growers and the manufacturers," Industrial Canada (Toronto), 11 (1910–11): 637–42 (an address given to the Canadian Club, Toronto), and "What an industry employing 1,000 hands means to a community," Industrial Canada, 11: 1283–85.
AO, RG 80-2-0-95, no.11120. Globe and Mail, 30 Dec. 1940. Michael Bliss, A Canadian millionaire: the life and business times of Sir Joseph Flavelle, bart., 1858–1939 (Toronto, 1978). Canadian annual rev., 1915. Canadian men and women of the time (Morgan; 1912). David Carnegie, The history of munitions supply in Canada, 1914–1918 (London and Toronto, 1925). Peter Cook, Massey at the brink: the story of Canada's greatest multinational and its struggle to survive (Toronto, 1981). Merrill Denison, C.C.M.: the story of the first fifty years ([Toronto, 1946]). Hugh Durnford and Glenn Baechler, Cars of Canada (Toronto, 1973). Mike Filey, Mount Pleasant Cemetery: an illustrated guide (Toronto, 1990). Noras Georgas, "Tommy Russell: Toronto business pioneer," Metropolitan Toronto Business Journal (Toronto), 72 (1982), no.3: 18–24. G. R. Laing, "The Russell touring car," Canadian Army Journal (Ottawa), 16 (1962), no.1: 92–95. "New connection for Russell Motors," Saturday Night, 27 Nov. 1915: 15. Jaroslav Petryshyn, Made up to a standard: Thomas Alexander Russell and the Russell Motor Car Company (Burnstown, Ont., 2000). P. E. Rider, "The Imperial Munitions Board and its relationship to government, business, and labour, 1914–1920" (phd thesis, Univ. of Toronto, 1974). Heather Robertson, Driving force: the McLaughlin family and the age of the car (Toronto, 1995). Who's who in Canada, 1912–38.
© 2017–2023 University of Toronto/Université Laval
Cite This Article
Jaroslav Petryshyn, "RUSSELL, THOMAS ALEXANDER," in Dictionary of Canadian Biography, vol. 16, University of Toronto/Université Laval, 2003–, accessed October 1, 2023, http://www.biographi.ca/en/bio/russell_thomas_alexander_16E.html.
The citation above shows the format for footnotes and endnotes according to the Chicago manual of style (16th edition). Information to be used in other citation formats:
| | |
| --- | --- |
| Permalink: | http://www.biographi.ca/en/bio/russell_thomas_alexander_16E.html |
| Author of Article: | Jaroslav Petryshyn |
| Title of Article: | RUSSELL, THOMAS ALEXANDER |
| Publication Name: | Dictionary of Canadian Biography, vol. 16 |
| Publisher: | University of Toronto/Université Laval |
| Year of publication: | 2017 |
| Year of revision: | 2017 |
| Access Date: | October 1, 2023 |