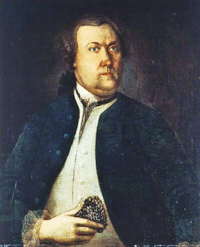 Source: Courtesy of Wikimedia Commons
KALM, PEHR (baptized Petter), natural historian; b. 6 March 1716 (n.s.) in Ångermanland province, Sweden, son of Gabriel Kalm, a Finnish clergyman, and Catherine Ross, of Scots ancestry; m. February 1750 Anna Magaretha Sandin, née Sjöman, in Philadelphia (Pa); d. 16 Nov. 1779 at Åbo (Turku), Finland.
Pehr Kalm was born in Sweden but was taken to Finland after 1721. Although brought up in poverty, he was able to attend school in Vaasa and matriculated to the University of Åbo in 1735. There he studied under the utilitarian mineralogist Herman Diedrich Spöring and two followers of the naturalist Carl Linnaeus (Linné), Johan Browallius and Carl Fredrik Mennander. He tutored in various parts of Finland in 1738 and 1739, noting the natural history of the country.
In 1740 Kalm came to the attention of Baron Sten Carl Bielke, an Åbo judge and member of the Royal Swedish Academy of Sciences. Becoming Bielke's ward, he went to the baron's estate in Sweden to manage his experimental plantations. In December he entered the University of Uppsala, where he heard the lectures of the noted scientist Anders Celsius. From 1741 he was a friend and student of Linnaeus. Under the influence of Bielke and Linnaeus, Pehr Kalm developed a strong interest in utilitarian botany, that is, botany as applied to problems of agriculture and industry. Linnaeus began to plan an expedition to North America in order to collect information on economically useful plants that might be viable in Scandinavia, and in 1747 Kalm was chosen to undertake the trip. Just before his departure he was appointed professor of oeconomia (economic natural history) at Åbo.
Kalm sailed for England in November 1747 and remained there for some months; he reached Philadelphia in September 1748. He met the leading American naturalists and set out to learn all he could about the natural history of the British colonies. His instructions from the Royal Swedish Academy of Sciences, however, were to spend as much time as possible in Canada since its climate was thought to be similar to that of Sweden and Finland, and so he proceeded north.
On 2 July 1749 Kalm entered New France at Fort Saint-Frédéric (near Crown Point, N.Y.). The commandant general of the colony, La Galissonière [Barrin*], had been instructed by the minister of Marine to defray Kalm's expenses and the fort's officers were expecting him. Kalm was surprised to learn that they collected rocks and botanical specimens on La Galissonière's orders. After three weeks of botanizing, Kalm moved to Montreal, where he was entertained by the Baron de Longueuil [Le Moyne*].
Having reached Quebec on 5 August, Kalm met La Galissonière, by whom he was greatly impressed. He had already praised American naturalists, but in the commandant general, he wrote, "I imagined I saw our great Linné under a new form." Accompanied by the physician and naturalist Jean-François Gaultier*, Kalm collected seeds of various economic plants in the area. He found Quebec's climate more extreme than Sweden's and felt that some Canadian plants would not thrive in his homeland. After his return to Montreal on 26 September he continued collecting. He wished to return to the British colonies via Fort Frontenac (Kingston, Ont.), where he had been told there were important dye plants and wild rice, and Fort Niagara (near Youngstown, N.Y.), but his request was refused by the new governor general, La Jonquière [Taffanel*], on account of frontier tensions. Instead he was obliged to go by way of Fort Saint-Frédéric.
On 29 October he reached Albany. During the winter he was able to obtain permission to visit Niagara, which he did in August 1750. Its officers received him well and aided in his seed collecting. His account of the falls was published by Benjamin Franklin and by John Bartram, but unfortunately his diary of his trip to Niagara is lost and a full account never appeared. His journeys in New France yielded considerable information and valuable seeds, among which were several such as sugar maple, walnuts, and fast-ripening maize which he had high hopes of domesticating in Scandinavia.
Kalm's diary of his travels formed the basis of a three-volume book, En resa til Norra America (Stockholm, 1753–61). He provides an important account of Canadian society, its religious and social institutions, economic and political structure, customs and traditions, fashions and food. The native peoples interested him greatly and he recorded various observations and reports of their ways, appearance, and origins. His diary shows that his impression of Canadians was much higher than his book suggests. In his published account he speaks glowingly of their personal qualities. He praises the politeness and cheerfulness he found at all levels of society and contrasts the industrious women with the colonial Englishwomen "who have indeed taken the liberty of throwing all the burden of housekeeping upon their husbands." In his manuscripts he is even more favourable, comparing Canada with the British colonies as heaven compares with earth, white with black. No doubt part of this feeling stemmed from the royal treatment he had received in New France, thanks to the intervention of the Swedish minister to Paris. Kalm recognized, however, that men such as La Galissonière were rare; what he did not realize was that he had arrived at the zenith of French scientific interest in New France.
Kalm sailed for Europe in February 1751, reaching Stockholm in May, and late that year he returned to Åbo to take up his post. There he remained for the rest of his life teaching, and publishing, in addition to his account of the North American voyage, numerous articles of which many dealt with North American natural history. Missing from Kalm's published account is a good deal of botanical information on Canadian plants. He hoped to produce a "Flora canadensis" on his return to Finland but the work never materialized. Nevertheless most of the information he had gleaned appeared in dissertations written under his direction.
Kalm was one of the outstanding utilitarian Linnaean botanists, one genus and 90 species of plants being named for him. His major legacy, his book, stimulated natural history in Sweden and provided Europeans with an accurate and wide-ranging account of North American conditions and customs. Kalm's descriptions of Canadian life and mores are among the best found in travel literature concerning the country.
[The part of Pehr Kalm's account of his journey relating to North America appeared in English as Travels into North America . . . , trans. J. R. Forster (3v., Warrington, Eng., and London, 1770–71) and was republished with additional material as The America of 1750: Peter Kalm's travels in North America, ed. A. B. Benson (2v., New York, 1927; repr. 1966). It was also translated into French as Voyage de Kalm en Amérique, L.-W. Marchand, trad. (2v., Montréal, 1880) and into Dutch; the entire work appeared in German. Kalm's description of Niagara is included in [John Bartram], Observations on the inhabitants . . . and other matters worthy of notice, made by Mr. John Bartram, in his travels from Pensilvania to Onondago, Oswego and the Lake Ontario . . . (London, 1751), reprinted under the title Travels in Pensilvania and Canada (Ann Arbor, Mich., 1966). In addition to his book, Kalm wrote a number of articles on specific plants and animals of North America which appeared in the publications of the Royal Swedish Academy of Sciences. Eight of these were translated into English by Esther Louise Larsen and published in Agricultural History ([Baltimore, Md.?]) between 1935 and 1950.
Monographs and articles relating to Kalm include: Israel Acrelius, A history of New Sweden; or, the settlements on the River Delaware, trans. W. M. Reynolds (Philadelphia, 1874); Dictionary of scientific biography, ed. C. C. Gillispie et al. (14v., New York, 1970–76), VII, 210–11; Martti Kerkkonen, Peter Kalm's North American journey; its ideological background and results (Helsinki, 1959); P.-G. Roy, "Le voyageur Kalm et les cloîtres de Québec," BRH, XXXV (1929), 449–51; Carl Skottsberg, "Pehr Kalm: levnadsteckning," Levnadsteckningar över Kungl. Svenska vetenskapsakademiens ledamöter (Stockholm), 8 (1949–54), 219–505; Armand Yon, "Pour un IIe centenaire: du nouveau sur Kalm," RHAF, III (1949–50), 234–55. r.a.j.]
© 1979–2023 University of Toronto/Université Laval
Cite This Article
Richard A. Jarrell, "KALM, PEHR," in Dictionary of Canadian Biography, vol. 4, University of Toronto/Université Laval, 2003–, accessed October 2, 2023, http://www.biographi.ca/en/bio/kalm_pehr_4E.html.
The citation above shows the format for footnotes and endnotes according to the Chicago manual of style (16th edition). Information to be used in other citation formats:
| | |
| --- | --- |
| Permalink: | http://www.biographi.ca/en/bio/kalm_pehr_4E.html |
| Author of Article: | Richard A. Jarrell |
| Title of Article: | KALM, PEHR |
| Publication Name: | Dictionary of Canadian Biography, vol. 4 |
| Publisher: | University of Toronto/Université Laval |
| Year of publication: | 1979 |
| Year of revision: | 1979 |
| Access Date: | October 2, 2023 |