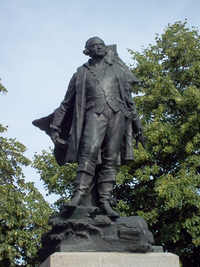 Source: Courtesy of Wikimedia Commons
VAUQUELIN, JEAN, naval officer; b. February 1728 at Dieppe, France; d. 10 Nov. 1772 at Rochefort, France.
Little is known of Jean Vauquelin's early career. The son of a captain in the merchant marine, he went to sea with his father at a young age and during the War of the Austrian Succession served as an officer on a privateering frigate. Becoming a captain in the merchant marine himself around 1750, he had completed 21 voyages before being recruited by the naval commandant at Le Havre at the beginning of the Seven Years' War to serve as an officier bleu. This term was applied to the officers of the merchant marine or naval officers who served on the king's ships as subaltern officers on a voluntary temporary basis without commissions. On 26 April 1757 Vauquelin received command of the frigate Tourterelle and in February 1758 he was commissioned a lieutenant in the royal navy. He was immediately given command of the Pèlerine, a 30-gun frigate which the king had recently bought from an outfitter at Le Havre and renamed the Aréthuse. Vauquelin was sent to Île Royale (Cape Breton Island) and, despite Edward Boscawen*'s blockade, succeeded in entering Louisbourg harbour on 9 June 1758. Moored broadside on, near the lagoon called the Barachois, the Aréthuse hindered the British landing operations significantly by keeping them under fire from the rear; Vauquelin's accurate gunfire caused substantial losses and notably delayed the construction of siegeworks. At the beginning of July Vauquelin received permission from Governor Augustin de Boschenry* de Drucour to go to France with dispatches and to inform the minister of Marine of the plight of the fortress. He set sail on the night of 14–15 July, ran the British blockade once more, and reached Europe after a rapid and uneventful crossing, casting anchor at Santander in Spain on 2 August. As a result of this brilliant manœuvre Vauquelin received a congratulatory letter from the minister, who wrote on 15 August: "The statements given me about your conduct at Louisbourg during the time that you were there are all favourable, and I cannot but be pleased with the speed of your return voyage, especially in view of the frigate's condition."
Vauquelin came to Canada in 1759 as commander of the frigate Atalante. Appointed a fire-ship captain for the campaign, he left Rochefort on 13 March, and on arrival in the colony he was ordered by Governor Rigaud de Vaudreuil to inspect the batteries in the Quebec sector, as well as everything concerning the navy. Vauquelin carried out his mission with his usual dispatch, and Lévis expressed "the highest praise for the bravery and intelligence of this officer." It is nonetheless certain that the naval forces were badly utilized during the siege of Quebec. Although plans were made to launch fire-ships against the British fleet, the operation was not entrusted to sailors and as a result it failed lamentably. The British fleet under Charles Saunders secured mastery of the St Lawrence without difficulty and so obtained freedom to manœuvre. At the end of August an attack on the British ships anchored above Quebec was envisaged, but to carry it out the sailors manning the batteries would have had to be recalled; the project was consequently abandoned.
In the spring of 1760 Vauquelin formed a small division composed of the Atalante, the Pomone, the flute Pie, and some light craft, which left Sorel for Quebec on 20 April to follow Lévis's army and supply it. It reached the Anse au Foulon on 28 April, the day of the French victory at Sainte-Foy. Lévis continued the siege of the city, but on 9 May a British frigate arrived before Quebec and was soon joined by another frigate and a ship of the line [see Robert Swanton*]. Pursued on 16 May by the Lowestoft and the Diana, Vauquelin drew them off towards Cap-Rouge to save the army's supply depots and then had to run his ship aground at Pointe-aux-Trembles (Neuville). He used up his ammunition and then, having nailed his flag to the mast under the enemy's steady fire and thrown his sword into the St Lawrence, he ordered his crew to leave the ship. He had been wounded, and he was taken prisoner with the three officers, the ship's writer, the chaplain, and the six sailors who had remained on board. The next day the British burned the Atalante, which had been reduced to a wreck. Vauquelin, it seems, had greatly impressed his enemies with his bravery. He was quickly released and was able to return to France.
His years of service brought Vauquelin the rank of fire-ship captain on 5 Nov. 1761 and that of lieutenant-commander on 1 Oct. 1764. After commanding the flute Bricole that year, he took the Coulisse the following year on a transport mission to Guiana, where Choiseul, the minister of Marine and the Colonies, was endeavouring to found a settlement to make up for the loss of Canada. Vauquelin was next put in command of the flute Garonne and in April 1767 he left Lorient for a long cruise in the Indian Ocean, where his vessel served as a station ship under the governor general of Île de France (Mauritius). In August 1768 he was ordered to transport to Madagascar Louis-Laurent de Féderbe, Comte de Maudave, who was to try to found a French colony there. Later, he took the Garonne on voyages between Île de France, Mozambique, and Madagascar to trade in black slaves and cattle. These voyages occasioned disputes with Pierre Poivre, the intendant of Île Bourbon (Réunion) and Île de France. Vauquelin was accused of trading illegally, and upon his return to France in December 1769 the king ordered him confined for three months in the château of Le Taureau on the Baie de Morlaix. Because his health would not withstand such imprisonment, he was transferred to Nantes and then released on 1 May 1770. The suspicions about him probably turned out to be ill founded, since on 10 Aug. 1772 he received command of the Faune, which had received orders to proceed to the Indian Ocean. His health, however, was seriously impaired. He fell ill and died at Rochefort three months later. It has been claimed that he was murdered, but this assertion is one of many inaccuracies to be found in accounts of Vauquelin's career.
Jean Vauquelin is a good example of an officer who, since he was born a commoner, entered the royal navy indirectly rather than through the usual route of midshipman, and who succeeded by his talents in carving out an honourable niche for himself.
AN, Col., B, 127, f.21; C4, 20; C11A, 104, ff .193, 270; F3, 50, ff.529–30; Marine, B3, 359, f.51; 533, f.124; 543, ff.94–96; B4, 80, f.284; 98, f.21; C1, 174, p.1656; 180, p.228; C7, 341 (dossier Vauquelin). Coll. des manuscrits de Lévis (Casgrain), I, 227; II, 305; III, 168; IV, 163, 183; VII, 540; VIII, 140, 152, 159, 171, 174, 177, 179–80, 190, 195, 198; IX, 52, 57, 89; X, 224; XI, 263–71. Knox, Hist. journal (Doughty). Le Jeune, Dictionnaire.
Jacques Aman, Les officiers bleus dans la marine française au XVIIIe s. (Paris, 1976), 124–26. Gabriel Gravier, Notice sur Vauguelain de Dieppe, lieutenant de vaisseau (1727–1764), d'après M. Faucher de Saint-Maurice (Rouen, France, 1885). Lacour-Gayet, La marine militaire sous Louis XV. McLennan, Louisbourg, 278, 302. Stanley, New France, 172, 244, 250. N.-H.-É. Faucher de Saint-Maurice, "Un des oubliés de notre histoire, le capitaine de vaisseau Vauquelain," RSC Trans., 1st ser., III (1885), sect.i, 35–47. Ægidius Fauteux, "Jean Vauquelin," RSC Trans., 3rd ser., XXIV (1930), sect.i, 1–30.
© 1979–2023 University of Toronto/Université Laval
Cite This Article
Étienne Taillemite, "VAUQUELIN, JEAN," in Dictionary of Canadian Biography, vol. 4, University of Toronto/Université Laval, 2003–, accessed October 2, 2023, http://www.biographi.ca/en/bio/vauquelin_jean_4E.html.
The citation above shows the format for footnotes and endnotes according to the Chicago manual of style (16th edition). Information to be used in other citation formats:
| | |
| --- | --- |
| Permalink: | http://www.biographi.ca/en/bio/vauquelin_jean_4E.html |
| Author of Article: | Étienne Taillemite |
| Title of Article: | VAUQUELIN, JEAN |
| Publication Name: | Dictionary of Canadian Biography, vol. 4 |
| Publisher: | University of Toronto/Université Laval |
| Year of publication: | 1979 |
| Year of revision: | 1979 |
| Access Date: | October 2, 2023 |