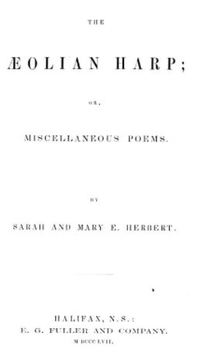 Source: Link
HERBERT, SARAH, author, publisher, and educator; b. October 1824 in Ireland, daughter of Nicholas Michael Herbert and Ann Bates; d. 22 Dec. 1846 in Halifax.
Sarah Herbert seems to have begun her life in Nova Scotia rather dramatically, since she was probably one of the two "infants" wrecked with her parents and other relatives on the Nassau, a passenger ship that broke up off Sable Island on 13 May 1826 en route from Ireland to Quebec. Her 23-year-old mother and several other relatives subsequently died of typhus when transported to Halifax, but by 1827 Sarah's father seems to have sufficiently recovered from the ordeal to establish himself in the city as a shoemaker. He married Catherine Eagan in Halifax on 3 Sept. 1828, and their daughter Mary Eliza* was born the following year.
Throughout their lives, Sarah and Mary Eliza were to be spoken of as literary sisters and collaborators. Their father's fortunes improved in the world as he moved from being a shoemaker and cordwainer to being a manufacturer of blacking and of chest-expanding braces. An 1871 obituary identifies him as the son of the Reverend Nicholas M. Herbert of Tipperary and therefore a close relation of the Earl of Dysart and other members of the Irish gentry. This relationship with a distinguished family may partly explain the interest of the Herbert sisters in heroines of refined sensibility, although both clearly wrote to satisfy society's taste for popular romance. Their father's strong Wesleyan and temperance interests were also to find reflection in their fiction and poetry, but this background tended to manifest itself in the writing of Sarah more pronouncedly than in the work of Mary Eliza. By her late teens, Sarah was submitting religious prose and poetry to Maritime journals such as the Olive Branch, the Morning Herald, and Commercial Advertiser, and the Novascotian, all of Halifax, and the Amaranth and the British North American Wesleyan Methodist Magazine of Saint John, N.B.
In September 1843 Herbert's serial "Agnes Maitland" won a fiction contest sponsored by the Olive Branch. Like her "History of a Halifax belle," also published in the Olive Branch, "Agnes Maitland" was an undramatic and sentimental novella advocating temperance and moral and religious principles. It subsequently appeared in pamphlet form and was one means by which Herbert was brought into prominence in the affairs of the Olive Branch. By 19 April 1844 she had become sole editor and proprietor of the paper, and she reinforced the literary and temperance direction of the journal with the publishing of American writing by Harriet Elizabeth Beecher Stowe and Catherine Maria Sedgwick and regional work by John McPherson and herself. However, the paper unexpectedly collapsed in July 1845, possibly because of Herbert's declining health. Her poem "Presentiments, New Year's Day, 1846" indicates that she knew herself to be fatally ill, and a year later, on 21 Dec. 1846, she died of consumption.
In addition to her writing and editing, Herbert was active in the educational and church affairs of Halifax. In the early 1840s she operated a school which emphasized students' "moral culture" as well as their "intellectual advancement," and she promised in her teaching "to continually illustrate theory by reference to example and experiment." Her endeavours as Sunday school teacher, tract distributor, and secretary of the Halifax Female Temperance Society were acknowledged in a funeral sermon, "On the death of the much lamented Sarah Herbert," preached at the Wesleyan Methodist chapel in January 1847 and printed in the Halifax Morning Post. Here, as in subsequent descriptions of Herbert's life, her virtue and her early death created a romantic aura around her memory. Two essays published in the Provincial: or Halifax Monthly Magazine in 1852 stressed her piety and poetic sensibility, and as late as 1876 Andrew Shiels*'s The preface; a poem of the period paid lengthy tribute to her talents:
Upon her pages, pleasing and polite,
She marvels as the multitudes delight, . . .
Whilst she, – ah! yes, the Mayflower's grow and fade
Upon the grave where Sarah Herbert's laid.
In spite of the sentimental feeling which grew up around Sarah Herbert, it is clear that her youthful talents never had an opportunity to develop as did those of her sister. Mary Eliza's fiction reveals her ability to develop comic confrontation and shows an understanding of society's expectations of women in the 19th century. Sarah's work, on the other hand, rarely transcends the sentimental pieties and moral tone inspired by her religious and temperance background. However, as an early female editor and publisher in British North America, and as a supporter of literary endeavour in Nova Scotia in the 1840s, she made a modest contribution to the province's evolving literary culture.
[The author wishes to acknowledge the assistance of Terrence M. Punch in directing her to the obituary of the Reverend Nicholas M. Herbert, Acadian Recorder, 5 Dec. 1871. g.d.]
Sarah Herbert's novella "Agnes Maitland" appeared in the Olive Branch (Halifax) from 13 Oct. to 17 Nov. 1843 and subsequently as a pamphlet entitled Agnes Maitland, a temperance tale (Halifax, n.d.), no copies of which have been located. "The history of a Halifax belle" was serialized in the Olive Branch from 5 Jan. to 2 Feb. 1844. A collection of Sarah's poems was published posthumously along with those of Mary Eliza in The Æolian harp; or, miscellaneous poems (Halifax, 1857).
PAC, MG 24, C4. PANS, Churches, Brunswick Street United (Halifax), Methodist reg. of baptisms, nos.21, 133, 263, 358, 569; reg. of marriages, 1828–29, no.14 (mfm.); MG 5, Halifax County, Camp Hill Cemetery, Halifax, reg. of burials, 1844–69 (mfm.). Acadian Recorder, 15 July 1826. Free Press (Halifax), 1 Aug. 1826. Halifax Morning Post & Parliamentary Reporter, 5 Jan. 1847. Novascotian, 13 July, 3 Aug. 1826; 28 Dec. 1846. Nova-Scotia Royal Gazette, 31 May, 14 June 1826. Olive Branch, 7 Jan. 1843–4 July 1845 (esp. 16 June, 8 Sept. 1843, 19 April 1844–4 July 1845). Burke's landed gentry (1875), 1: 615–16. R. J. Long, Nova Scotia authors and their work: a bibliography of the province (East Orange, N.J., 1918). H. J. Morgan, Bibliotheca Canadensis. The Oxford companion to Canadian literature, ed. William Toye (Toronto, 1983). Tratt, Survey of N.S. newspapers. Albyn [Andrew Shiels], The preface; a poem of the period (Halifax, 1876). Gwendolyn Davies, "A literary study of selected periodicals from Maritime Canada, 1789–1872" (phd thesis, York Univ., Toronto, 1980). J. S. Thompson, "Introductory memoir," John McPherson, Poems, descriptive and moral . . . (Halifax, 1862), ix–xix. Acadian Recorder, 17 July 1872. "Half hours with our poets . . . ," Provincial: or Halifax Monthly Magazine, 1 (1852): 273–76. D. C. Harvey, "Newspapers of Nova Scotia, 1840–1867," CHR, 26 (1945): 294. M. E. Herbert, "More of Sarah Herbert," Provincial: or Halifax Monthly Magazine, 1: 347–52.
© 1988–2023 University of Toronto/Université Laval
Image Gallery

Cite This Article
Gwendolyn Davies, "HERBERT, SARAH," in Dictionary of Canadian Biography, vol. 7, University of Toronto/Université Laval, 2003–, accessed June 8, 2023, http://www.biographi.ca/en/bio/herbert_sarah_7E.html.
The citation above shows the format for footnotes and endnotes according to the Chicago manual of style (16th edition). Information to be used in other citation formats:
| | |
| --- | --- |
| Permalink: | http://www.biographi.ca/en/bio/herbert_sarah_7E.html |
| Author of Article: | Gwendolyn Davies |
| Title of Article: | HERBERT, SARAH |
| Publication Name: | Dictionary of Canadian Biography, vol. 7 |
| Publisher: | University of Toronto/Université Laval |
| Year of publication: | 1988 |
| Year of revision: | 1988 |
| Access Date: | June 8, 2023 |