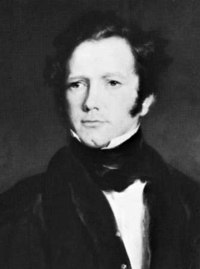 Source: Courtesy of Wikimedia Commons
MARRYAT, FREDERICK, author; b. 10 July 1792 in London, second of 15 children of Joseph Marryat and Charlotte Von Geyer; m. 21 Jan. 1819 Catherine Shairp, and they had 11 children, 8 of whom survived infancy; d. 9 Aug. 1848 in Langham, Norfolk, England.
Frederick Marryat, "a model young scamp" at Mr Freeman's Academy in Ponders End (London), ran away twice with the intention of going to sea. His determination led his father, an influential businessman and later a Tory member of parliament, to get the boy a berth in September 1806 as a volunteer on the naval frigate Impérieuse. After service in various ships that saw more action than most, Marryat passed for lieutenant in October 1812. Promotion was delayed until 26 December because he had not been christened "according to the rules of the Established Church of England."
Between 1813 and 1815 Marryat demonstrated the first signs of haemoptysis, the expectoration of blood from the lungs or bronchi, possibly caused by an unsuccessful attempt to save a seaman who had fallen overboard. His bravery and humanity were recorded in a series of certificates dating from this period, and brought him a medal from the Royal Humane Society. In 1815 Marryat was promoted commander. He commanded the Beaver sloop in 1820–21 and was one of three officers to sketch Napoleon on his deathbed at St Helena on 5 May 1821. Four days later he took to England the dispatches reporting Napoleon's death, and until going on half pay in February 1822, he was employed in the prevention of smuggling in the English Channel. In 1823 he sailed for Burma, where he distinguished himself by adapting a small steam vessel for naval operations. On 14 April 1825 he was confirmed in the rank of post captain. He returned to England in January 1826, paid off his ship, and on 26 Dec. 1826 was made a cb for his services in Burma. He had one more sea command, the frigate Ariadne, from November 1828 to November 1830, protecting British subjects in the Azores during a struggle for the Portuguese throne.
Marryat then took up the career as a writer that he had been flirting with for a number of years. In 1817 he had published A code of signals for the use of vessels employed in the merchant service (London), which remained in official use until 1857. In 1819 he was made a fellow of the Royal Society in recognition of this work as well as for his skill at caricature and his knowledge of science. He would also receive the cross of the French Legion of Honour in 1833 for his services to navigation. His second work, which appeared in 1822, dealt with suggestions for the abolition of impressment. In 1829 in London he published his first, largely autobiographical, novel, The naval officer; or, scenes and adventures in the life of Frank Mildmay. He became editor of the Metropolitan Magazine (London) in 1831 and its proprietor from 1832 to 1836. By 1836 he had published eight more novels, including Mr. Midshipman Easy, one of his best-known works. His vivid narrations of adventures, written with zest and humour, together with his talent for characterization, brought him immediate popular and financial success.
Volatile, even unstable, Marryat became progressively more estranged from his wife. On 3 April 1837 he left for America, ostensibly "to examine what were the effects of a democratic form of government and climate upon a people which, with all its foreign admixture, may still be considered as English," but also with a view to taking action to protect his copyright from pirated American editions of his books and to escape from his marital problems. (He would draw up a formal instrument of separation in 1838.) Most of his time in North America was spent in the United States, but on hearing of the rebellions in Upper and Lower Canada he considered it his "duty as an officer to come up and offer my services as a volunteer." In mid December 1837 he marched north from Montreal with the forces led by Major-General Sir John Colborne* and Lieutenant-Colonel George Augustus Wetherall*. He took part in the battles at Saint-Eustache and Saint-Benôit (Mirabel) against the Patriotes led by Jean-Olivier Chénier and Amury Girod. On 18 December he wrote to his mother, "It has been a sad scene of sacrilege, murder, burning, and destroying. All the fights have been in the churches, and they are now burnt to the ground and strewed with the wasted bodies of the insurgents. War is bad enough, but civil war is dreadful. Thank God it is all over." Several months after the battles, at a St George's Day dinner in Toronto, he proposed the health of Andrew Drew* for his efforts in cutting out the Patriot vessel Caroline in December 1837. Consequently, when he returned to the United States he had to brave the wrath of the American mob. He was burned in effigy in the towns he visited, but he weathered the storm with humour and even enhanced his popularity before leaving for England on 20 Nov. 1838.
Marryat's brief and meteoric passage through the Canadas gave him a smattering of knowledge of the region, which is reflected in A diary in America and other books. A diary, written after his return to England, was widely circulated. It contains vivid descriptions of the events at Saint-Eustache and Saint-Benoît and is one of the few accounts of the rebellion in Lower Canada written from a British point of view. Marryat is highly critical of the Canadians believing, that the chief cause of the rebellion in Lower Canada was Britain's "continual yielding to French clamour and misrepresentation." He advocates total assimilation as the solution to the colony's problems. "If . . . we put the claims of British loyalty against the treason of the French – the English energy, activity, and capital, in opposition to the supineness, ignorance, and incapacity of the French population, – it is evident, that not only injustice and gratitude, but with a due regard to our own interests, the French Canadians must now be wholly deprived of any share of that power which they have abused, and that confidence of which they have proved themselves unworthy." He writes favourably of Upper Canada, which offered to British immigrants the advantages of a temperate climate, fertile soil, and abundant natural resources. Addressing his remarks mainly to a British audience, he argues that the chief benefit of the colonies to Britain is as a bulwark against American expansionism. Of his other works, The settlers in Canada . . . , published in 1844 "for young people," is said to have been based on the Lovekin family, Irish gentry who came to Clarke Township, Upper Canada, in 1796, and there is a dubious suggestion that Dick Short, one of the characters in Snarleyyow; or, the dog fiend (London, 1837), was modelled on a Peterborough man.
On his return from North America Marryat ran short of money, in spite of a generous legacy and the profits from his numerous works. He moved to a property in the country near Langham in 1843 and lived on the proceeds of the children's books to which he now devoted most of his energy. He died there in 1848.
A British naval historian summed Marryat up best: "energetic beyond the ordinary, gifted in diverse ways, never common-place, uncertain in temper and behaviour, and, like many other men and women, tending to overvalue the past as it receded." Described by one admirer from Upper Canada as "a man, a gentleman and a person of force and humour," he shared the values of thousands of British middle and upper class settlers of the 19th century in North America.
Frederick Marryat is the author of A diary in America, with remarks on its institutions (3v., London, 1839) and other works listed in the National union catalog.
NMM, MRY/6, 11; C. G. Pitcairn-Jones, notes on sea officers. Trent Univ. Arch. (Peterborough, Ont.), B-69-001 (Marryat papers). DNB. G.B., Admiralty, The commissioned sea officers of the Royal Navy, 1660–1815, [ed. D. B. Smith et al.] (3v., n.p., [1954]). Marshall, Royal naval biog., vol.3, pt.i: 260. David Hannay, Life of Frederick Marryat (London and New York, 1889; repr. New York, 1973). M-P. Gautier, Captain Frederick Marryat; l'homme et l'œuvre (Montréal, 1973). Robina and K. M. Lizars, Humours of '37, grave, gay and grim: rebellion times in the Canadas (Toronto, 1897). Christopher Lloyd, Captain Marryat and the old navy (London and New York, 1939). Florence Marryat, Life and letters of Captain Marryat (2v., London, 1872). Oliver Warner, Captain Marryat, a rediscovery (London, 1953).
© 1988–2023 University of Toronto/Université Laval
Image Gallery

Cite This Article
W. A. B. Douglas, "MARRYAT, FREDERICK," in Dictionary of Canadian Biography, vol. 7, University of Toronto/Université Laval, 2003–, accessed October 3, 2023, http://www.biographi.ca/en/bio/marryat_frederick_7E.html.
The citation above shows the format for footnotes and endnotes according to the Chicago manual of style (16th edition). Information to be used in other citation formats:
| | |
| --- | --- |
| Permalink: | http://www.biographi.ca/en/bio/marryat_frederick_7E.html |
| Author of Article: | W. A. B. Douglas |
| Title of Article: | MARRYAT, FREDERICK |
| Publication Name: | Dictionary of Canadian Biography, vol. 7 |
| Publisher: | University of Toronto/Université Laval |
| Year of publication: | 1988 |
| Year of revision: | 1988 |
| Access Date: | October 3, 2023 |