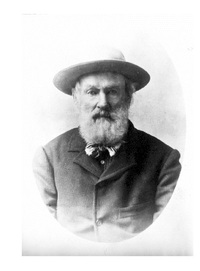 Source: Link
BARKER, WILLIAM, miner and prospector; baptized 7 June 1817 in March, England, son of Samuel Barker and Jane Brighton; m. first 31 Oct. 1839 Jane Lavender, née Young (d. 1850) in Earith, England; m. secondly 13 Jan. 1863 Elizabeth Mary Collyer in Victoria (B.C.); d. 11 July 1894 in Victoria.
William (Billy) Barker, whose birthplace has been stated to be Cornwall, was in fact born in Cambridgeshire, where he was baptized at St Wendreda's Church in the town of March. His father was a waterman, and Billy also took up this occupation, labouring on the barges that plied the canals between March and King's Lynn in Norfolk. On 31 Oct. 1839 he married a widow, Jane Lavender, and their only daughter, Emma Eliza, was born the following May. The coming of the railway in the mid 1840s threw many canalmen out of work, and it appears that Barker decided to seek his fortune in the United States, leaving his family in penurious circumstances.
Almost nothing is known of Barker's years in the United States except that he joined the rush to the California gold-fields. The search for gold was to occupy him for the rest of his life and brought him to British Columbia in 1858 during the Fraser River gold-rush. A Free Miner's Certificate was issued to him there in September 1859, and in partnership with several other Englishmen he first worked a claim at Canada Bar, near Lillooet. A dispute over water rights contributed to Barker's decision to sell his share in this operation the following season, after he had staked claims farther up the river. In the summer of 1860 Bishop George Hills encountered Barker on his tour of the Fraser gold-fields and they talked nostalgically of "Old England." By this time Barker had lost touch with his family (his wife having died in Union Workhouse in Doddington, Cambridgeshire, in 1850), but at the bishop's urging he re-established contact with his daughter.
By early 1861 good prospects were being reported farther north along numerous creeks in the rugged Cariboo country, and Barker now joined about 100 miners trying their luck on Williams Creek. In association with five other men he formed Barker and Company, which officially registered its first claims on Williams Creek on 15 August. Like many of the miners, Barker and his partners toiled all summer without any significant strike. Barker, displaying a restlessness that seems to have characterized his entire mining career, persuaded several miners to join him in staking claims well below Black Jack Canyon near Stouts Gulch the following season. Around the same time, he sold his interest in the first claim, ironically only a few days before his former partners struck pay dirt. Many of his contemporaries felt he had been foolhardy, for the second claim was believed to be too far down the creek to yield any gold. Indeed, Barker's company was forced to dig deeper shafts than any others built in the area thus far, but after two futile attempts, on 17 Aug. 1862 he and his seven partners found rich gold deposits at a depth of 40 feet. Bishop Hills recorded: "Heard of the lead being struck on the Barker claim, which I visited on Williams Creek several days ago. At once each partner places his interest as worth twenty thousand dollars. All for several days have been 'on the spree.'"
Billy Barker, now a rich man, left the working of the claim to one of his partners and went to enjoy a comfortable winter in Victoria. There in early January he married Elizabeth Collyer, a widow who had recently arrived from England on the Rosedale. In the summer of 1863 she accompanied her husband to Williams Creek, where a Free Miner's Certificate was registered in her name. A boom town, soon to be known as Barkerville, was now springing up around the rich strike made by Barker and his partners. After another successful mining season, in which there were three shafts operating on the Barker claim, the couple returned to Victoria.
There is no evidence to support the story that Barker's wife helped him spend his fortune and then left him when the money ran out. Their short-lived marriage ended when Elizabeth died on 21 May 1865 at the age of 38. The previous year Barker had sold his shares in the claim that had made him famous, since most of the "lead" gold had been cleared out. He may have thought he had made enough to live comfortably and still invest in further ventures, but his fortunes declined. His reputed generosity may also have contributed to his impoverishment.
None of Barker's subsequent ventures paid off. In 1869 the Barker No.2 claim, located between Williams and Valley creeks, seemed promising but was ruined by "slum" flooding the shaft. In the 1870s Barker led several prospecting parties into the Horsefly country, a mountainous region southeast of Quesnel Forks. The government of British Columbia was petitioned to appoint him to lead another prospecting expedition in 1875. Although not successful, the petition, printed in the Cariboo Sentinel on 30 January, pays tribute to Barker's reputation as a miner "known throughout the length and breadth of this province – a person of acknowledged experience and undoubted ability." In 1876 he participated in a rush to Black Creek, entering into a mining company led by an old comrade, John Burson, who had first worked with him on the Fraser River. A mountain and a creek in the Horsefly country are named after Barker.
Another story about Barker, claiming that he became a cook on a road crew in later years, has proved incorrect and seems to have arisen from mistaken identity. He continued to be active in prospecting and mining until the last year of his life. In the 1880s Barker was based in the town of Clinton, where he wintered at the Dominion Hotel. In 1891, however, the census-taker found him back on Lightning Creek in the Cariboo, living in a one-room cabin with two other miners. Several years later, suffering from cancer of the jaw, he was persuaded to seek refuge in the Old Men's Home in Victoria, where he died on 11 July 1894. He was buried in an unmarked pauper's grave in Ross Bay cemetery.
Lasting fortune had eluded Barker, but he occupies a singular place in the gold-mining history of British Columbia. Although the town bearing his name had waned by his death, in 1959, after a major restoration, Barkerville was opened as a provincial historic park and in 1962 a memorial plaque was placed on his grave.
ACC, Provincial Diocese of New Westminster Arch. (Vancouver), George Hills, diaries, 1860–62 (mfm. at PABC). GRO (London), Marriage certificate, William Barker and Jane Lavender, parish of Bluntisham, Huntingdonshire, 31 Oct. 1839 (copy). PABC, GR 216, 35; GR 224, list of free miners' certificates, 26 Sept. 1859; claims recorded, 21 Nov. 1859; GR 1372, F 524, Thomas Elwyn to colonial secretary, 3 Jan., 14 March, 14 April 1860; 22 Aug. 1862; Vert. file, William Barker. Private arch., Ken Mather (Vernon, B.C.), Ken Mather, "William 'Billy' Barker: myth and reality." Cariboo Sentinel (Barkerville, B.C.), 20 Nov. 1869, 22 Aug. 1870, 30 Jan. 1875. Daily Colonist (Victoria), 14 Jan. 1863; 12–13 July 1894. T. W. Paterson, "Billy Barker of Barkerville," Pioneer days in British Columbia: a selection of historical articles from "BC Outdoors" magazine, ed. A. [G.] Downs (Surrey, B.C.), 1 (1973): 95–96. Richard Wright, Discover Barkerville (Vancouver, 1984).
© 1990–2023 University of Toronto/Université Laval
Cite This Article
Sylvia Van Kirk, Ken Mather, and Dorothy Sweet, "BARKER, WILLIAM," in Dictionary of Canadian Biography, vol. 12, University of Toronto/Université Laval, 2003–, accessed June 5, 2023, http://www.biographi.ca/en/bio/barker_william_12E.html.
The citation above shows the format for footnotes and endnotes according to the Chicago manual of style (16th edition). Information to be used in other citation formats:
| | |
| --- | --- |
| Permalink: | http://www.biographi.ca/en/bio/barker_william_12E.html |
| Author of Article: | Sylvia Van Kirk, Ken Mather, and Dorothy Sweet |
| Title of Article: | BARKER, WILLIAM |
| Publication Name: | Dictionary of Canadian Biography, vol. 12 |
| Publisher: | University of Toronto/Université Laval |
| Year of publication: | 1990 |
| Year of revision: | 1990 |
| Access Date: | June 5, 2023 |