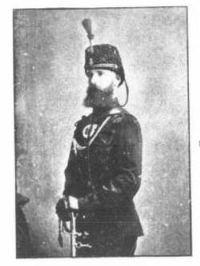 Source: Link
CHADWICK, EDWARD MARION, lawyer, heraldist, and genealogist; b. 22 Sept. 1840 near Jerseyville in Ancaster Township, Upper Canada, third son of John Craven Chadwick and Louisa Bell; m. first 28 June 1864 Ellen Byrne Beatty in Toronto; m. there secondly 20 Feb. 1868 Maria Martha Fisher, and they had five sons and two daughters; d. there 15 Dec. 1921.
Marion Chadwick's father came to Upper Canada from Northern Ireland about 1837 and settled in Ancaster. Around 1850 the family moved to Guelph, where John Craven Chadwick served as a justice of the peace and was active in the Church of England. The extended Chadwick family were large landholders and very prominent in the Guelph area.
Marion could not have been much older than the minimum age of 16 when he began to study law in Toronto. At the time legal education was primarily a matter of apprenticeship to an established practitioner. Students were, however, given a list of readings on which they were examined by the Law Society of Upper Canada. Chadwick and a fellow student, Calvin Browne, compiled an impressive book, published in Toronto in 1862, to assist others in preparing for the society's questions. The authors pointed out that their work was to be used by the student "as an aid to the study of the books upon which he will be examined, but never to be read in lieu of them." This was the first of many books and pamphlets that Chadwick would write, although it was to be his only "law book."
Admitted as a solicitor in 1862, Chadwick was called to the bar the following year. In February 1863 he entered into partnership with William Henry Beatty*, who by the turn of the century would use his marital connection to the Gooderham and Worts families to make their firm the largest law firm in the country. They would be partners for almost 50 years. In 1864 Chadwick married Beatty's sister, Ellen Byrne. Regrettably, she died the following February at the age of 21, likely in childbirth.
Chadwick's legal practice focused on conveyancing and estates. Although he never applied to be made a kc, the honour eventually came to him in 1910. According to John Beverley Robinson, who joined the firm in 1918, Chadwick designed most of the forms used – deeds, powers of attorney, mortgages, and the like. He was also known for avoiding excess verbiage and ignoring punctuation, "claiming that if the words did not speak for themselves without punctuation, the deed was not properly drawn."
Chadwick was heavily involved in the affairs of the Church of England in Toronto, favouring the high church rather than the low, evangelical branch. He was a representative to diocesan and provincial synods, and beginning in 1883 he was a key player in a significant, albeit much troubled, project – the building of the Cathedral of St Alban the Martyr just north of the then city boundaries in the area which came to be known as the Annex. Sir William Pearce Howland*, who had previously owned the land, had sold it to a syndicate headed by W. H. Beatty and his own son Oliver Aiken; the syndicate in turn sold four and a half acres to the diocese and offered Bishop Arthur Sweatman* financial encouragement to begin his cathedral, intending that it should be the centrepiece of a new residential development. When the building had progressed enough, the partially completed structure began to be used for services. Chadwick moved into a house on Howland Avenue across from St Alban's, where he acted as lay canon and treasurer. After the project ran into financial difficulty, he was criticized for his multi-faceted role in it. Not only had he done the real estate and conveyancing work for the syndicate but he had served on the building committee of the cathedral and had pushed for his son William Craven Vaux to assume the role of architect. His response was a privately published pamphlet setting out the history of the project and naively, but sincerely, explaining his selfless motives.
Perhaps it is not surprising that, as a founder of a firm in which family connections were so important, Chadwick was a noted genealogist. As time went on and he began to lose his hearing, genealogical research consumed more and more of his energy. In part inspired by the centenary of the founding of the province, he wrote a work entitled Ontarian families. This extensive, two-volume study of United Empire Loyalist and other early families was published in Toronto in 1894–98. From 1898 to 1901 he continued his work in the Ontarian Genealogist and Family Historian, a quarterly journal. He also wrote a genealogical study of his own family, The Chadwicks of Guelph and Toronto . . . , which he privately published in 1914.
Chadwick was one of Canada's leading heraldists, and Ontarian families includes many coats of arms which he had researched and drawn. He was an active participant in debates about such subjects as whether there were laws that controlled the acquisition and regulation of coats of arms (he thought not). In 1901 he published Ye armiger, the first heraldic study from a Canadian perspective. He encouraged the use of Canadian flora and fauna in heraldry and was instrumental in securing the maple leaf as a Canadian national symbol. He also designed the shield for Saskatchewan (1905), the coat of arms of the General Synod of the Church of England in Canada (1908), and a new augmentation of the Ontario shield (1909).
Having grown up near the Six Nations Reserve, Chadwick had developed an interest in and sympathy for Canada's aboriginal peoples and had come to have many native friends. He was made an honorary chief of the Turtle clan of the Mohawk. The name Shagotyohgwisaks, meaning "one who seeks a gathering of the people," was given him for his advocacy of the formation of a Six Nations militia regiment. (He himself served as an officer in the Queen's Own Rifles from 1866 to 1882, retiring with the rank of major.) He collected native regalia, now housed in the Royal Ontario Museum, and wrote The people of the longhouse (Toronto, 1897) about the Iroquois and their genealogy, symbols, and customs.
Chadwick died at his home in Toronto on 15 Dec. 1921. It was only fitting that his funeral service, presided over by Bishop James Fielding Sweeney*, was held in St Alban's, the church he had worked to build. He was buried in St James' Cemetery.
The guide for law students that Chadwick wrote with Calvin Browne was published under the title Osgoode Hall examination questions; given at the examinations for call with and without honours, and for certificates of fitness, with concise answers . . . (Toronto, 1862). His defence of the failed cathedral project was issued privately as Monograph of the Cathedral of St. Alban the Martyr, 1920-21 (Toronto, 1921; copy in Anglican Church of Canada, Diocese of Toronto). Chadwick's Ontarian families: genealogies of United-Empire-Loyalist and other pioneer families of Upper Canada (2v., Toronto, 1894-98), has been reprinted a number of times, most recently in 1972. For further details concerning the items mentioned in the text and other writings by Chadwick, see CIHM, Reg., and R. M. Black, infra.
On 22 May 1908 Chadwick donated to the government of Ontario a three-volume manuscript entitled "An ordinary of arms borne in the province of Ontario." The original, as well as a microfiche copy, is preserved in the Ontario Legislative Library, Toronto.
Anglican Church of Canada, Diocese of Toronto Arch., St Alban-the-Martyr (Toronto), records. Fasken Martineau DuMoulin Arch. (Toronto), J. B. Robinson, memoirs; uncredited newspaper clipping pasted into the firm's copy of E. M. Chadwick, Ontarian families, on the funeral service for Chadwick: "Honored in death: Bishop Sweeney pays high tribute at service in St. Alban's." Irish Law Soc. Arch. (Dublin), E. M. Chadwick to Violet Baker, 23 Sept. 1921 (copy in Fasken Martineau DuMoulin Arch.). Law Soc. of Upper Canada Arch. (Toronto), 1-5 (Convocation, rolls), barristers' roll, 1863, 1880. Globe, 16 Dec. 1921. Toronto Daily Star, 17 Dec. 1921. R. M. Black, "Shagotyohgwisaks: E. M. Chadwick and Canadian heraldry," Heraldry in Canada (Ottawa), 24 (1990), no.3: 2-17.
© 2005–2023 University of Toronto/Université Laval
Cite This Article
C. Ian Kyer, "CHADWICK, EDWARD MARION," in Dictionary of Canadian Biography, vol. 15, University of Toronto/Université Laval, 2003–, accessed October 3, 2023, http://www.biographi.ca/en/bio/chadwick_edward_marion_15E.html.
The citation above shows the format for footnotes and endnotes according to the Chicago manual of style (16th edition). Information to be used in other citation formats:
| | |
| --- | --- |
| Permalink: | http://www.biographi.ca/en/bio/chadwick_edward_marion_15E.html |
| Author of Article: | C. Ian Kyer |
| Title of Article: | CHADWICK, EDWARD MARION |
| Publication Name: | Dictionary of Canadian Biography, vol. 15 |
| Publisher: | University of Toronto/Université Laval |
| Year of publication: | 2005 |
| Year of revision: | 2005 |
| Access Date: | October 3, 2023 |