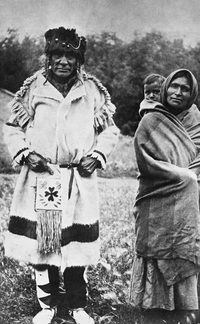 Source: Link
AHCHUCHWAHAUHHATOHAPIT (Ahchacoosacootacoopits, Star Blanket), Plains Cree chief; b. c. 1845 in the lower Qu'Appelle valley (Sask./Man.), son of Wapiimoosetoosus; d. 1917 on the Star Blanket Indian Reserve, Sask.
Ahchuchwahauhhatohapit is sometimes confused with Ahtahkakoop (Atakakup), who lived at Sandy Lake, on the Shell River (Shell Brook, Sask.), and was also called Star Blanket. The Star Blanket of this biography was the son of one of the Plains Cree chiefs who signed Treaty No.4 at Fort Qu'Appelle (Sask.) in 1874 [see Paskwāw*]; shortly after the treaty, his father died and Star Blanket became chief of the small band.
Star Blanket usually followed the example of Payipwat* in dealings with the Canadian government. He supported Payipwat's assertion that what had taken place at Fort Qu'Appelle in 1874 was a preliminary negotiation for a treaty that was to be made in 1875. Like other Cree and Saulteaux leaders he wanted better terms with regard to annuities, ammunition, supplies, and instruction in the new technologies. When the request failed, Star Blanket went to the Cypress Hills (Alta/Sask.), where he could be with Payipwat and others seeking treaty revisions and the creation there of a large Indian territory. In 1879, with the disappearance of the buffalo, Star Blanket asked for and received a reserve in the File Hills of the lower Qu'Appelle valley.
Star Blanket continued to call for improvements in the treaties. He was part of a delegation of Treaty 4 leaders who met Governor General Lord Lorne [Campbell] in 1881 to speak about the inadequacy of the existing documents. In the spring of 1884 he went to Paskwāw's reserve in support of Payipwat's plan to obtain better terms. That movement ended when the government of Canada suppressed it with the troops sent to put down the Métis rebellion in 1885 [see Louis Riel*]. Star Blanket was arrested and detained as a rebel because all Indian persons who had left their reserves during the uprising, as he had done, were labelled rebels, but there is no record of his being put on trial. When he returned home from Regina, he found the government determined to exercise more control over the Indian people in the west. File Hills was made a new Indian agency, and an agent was located there.
Star Blanket came into conflict with the agent, Peter Job Williams, who tried to stop the Sun Dance on all reserves within his jurisdiction. Williams also tried to undermine the traditional leaders by attempting to amalgamate all four File Hills bands into one and by sending the agency children away to residential schools. Star Blanket opposed these actions as counter to what the government had promised during the treaty negotiations in 1874 and 1875. He insisted that schools should be built on the reserves, and refused to allow any children to be sent away for education. Even when in 1890 the government tried intimidation by stopping all assistance to his band, Star Blanket held firm. His persistence in the traditional ways, and his apparent interest in the Messiah and Ghost Dance movement [see Ta-tanka I-yotank*], led officials of the Department of Indian Affairs in 1891 to use his "intransigence," and his being a "malcontent," to revive proposals for amalgamating the File Hills bands under one chief. Star Blanket believed that the government had no authority to make this change, and encouraged the other chiefs in File Hills not to fear what Ottawa would do. They all rejected the plan, which was abandoned for a time.
The department persisted, however, in trying to get Star Blanket to send the children to residential schools, and to stop holding and attending the Thirst Dance. Threats were made to arrest and depose him if he did not comply. Star Blanket remained adamant, and denied that the department had the power. He was deposed in 1893, but the band continued to look to him for leadership and refused to cooperate with the department until he was reinstated. In 1895 Star Blanket was restored to office because he agreed to let one of his children attend the Regina Industrial School. He extracted a promise that the boy's hair would not be cut, nor would he be obliged to join a marching band or the army. By 1898, however, agent William Morris Graham* was pressuring him to put his children into school or face deposition.
Star Blanket's determination to live according to the old Cree values got him in further trouble with Ottawa in 1898. He had taken a second wife while his first still lived, and Canadian law called his actions bigamous. When he was told he had to repudiate his new wife, he instead renounced the first. However, this solution was not acceptable to the department, for it would not accept the Cree custom on divorce. It insisted he had to give up his second wife and keep his first.
Star Blanket lost that battle, but between 1902 and 1906 he successfully led the resistance to the government's revived efforts to amalgamate the four bands of the File Hills area. Graham now wanted to reduce them to two in order to turn over two reserves to the new File Hills Colony. This colony had been designed to create a model Indian reserve, populated by the top graduates of the residential and industrial schools in the prairie region. Although it was established, in 1901, it never had the territorial extent that was first envisioned, because Star Blanket was still respected enough to prevent amalgamation of the bands and surrender of the two reserves.
In the 1905–12 period Star Blanket was part of Saskatchewan's first Treaty Rights movement. Until this time native leaders had tried to protect their culture by condemning the treaties as inadequate. Now they asserted that the treaties had been intended to protect their customary way of life and that Ottawa's policy of assimilation violated the promises at the heart of them. Star Blanket protested the government's deposition of Indian leaders, its ban on traditional religious practices and ceremonials, and its insistence on residential schools. In 1912 he wrote to the governor general, the Duke of Connaught [Arthur*], expressing his displeasure at not having the school on his reserve that he believed the treaties guaranteed. He cited the danger children faced from the diseases that rampaged through the residential schools. When this letter led to queries about what the old man had said, his statements were dismissed by Graham as the product of "a chronic complainer." Five years later, in 1917, Star Blanket died.
Indian and Northern Affairs Canada, Program Reference Centre (Ottawa), Central registry files, file 675/30-1. NA, RG 10, 1397–400; 3584, file 1130-3B; 3589, file 82250-7; 3597, file 1350; 3625, file 5489; 3686, file 13168; 3687, file 13642; 3730, file 26219; 3745, file 29506-4; 3752, file 30421; 3875, file 90299; 3940, file 121698-13; 4048, file 422752; 4053, files 379203-1–2; 7768, file 27111-2. Bob Beal and R. [C.] Macleod, Prairie fire: the 1885 North-West rebellion (Edmonton, 1984). S. [A.] Carter, "Demonstrating success: the File Hills farm colony," Prairie Forum (Regina), 16 (1991): 157–83; Lost harvests: prairie Indian reserve farmers and government policy (Montreal and Kingston, Ont., 1990). Isaac Cowie, The company of adventurers: a narrative of seven years in the service of the Hudson's Bay Company during 1867–1874 . . . (Toronto, 1913). Alexander Morris, The treaties of Canada with the Indians of Manitoba and the North-West Territories . . . (Toronto, 1880; repr. 1971). J. L. Tobias, "Canada's subjugation of the Plains Cree, 1879–1885," CHR, 64 (1983): 519–48; "Indian reserves in western Canada: Indian homelands or devices for assimiliation," in Approaches to native history in Canada: papers of a conference held at the National Museum of Man, October, 1975, ed. D. A. Muise (Ottawa, 1977), 89–103; "The origins of the Treaty Rights movement in Saskatchewan," in 1885 and after: native society in transition, ed. F. L. Barron and J. B. Waldram (Regina, 1986), 241–52; and "Protection, civilization, assimilation: an outline history of Canada's Indian policy," Western Canadian Journal of Anthropology (Edmonton), 6 (1976), no.2: 13–30.
© 1998–2023 University of Toronto/Université Laval
Image Gallery

Cite This Article
John L. Tobias, "AHCHUCHWAHAUHHATOHAPIT," in Dictionary of Canadian Biography, vol. 14, University of Toronto/Université Laval, 2003–, accessed November 30, 2023, http://www.biographi.ca/en/bio/ahchuchwahauhhatohapit_14E.html.
The citation above shows the format for footnotes and endnotes according to the Chicago manual of style (16th edition). Information to be used in other citation formats:
| | |
| --- | --- |
| Permalink: | http://www.biographi.ca/en/bio/ahchuchwahauhhatohapit_14E.html |
| Author of Article: | John L. Tobias |
| Title of Article: | AHCHUCHWAHAUHHATOHAPIT |
| Publication Name: | Dictionary of Canadian Biography, vol. 14 |
| Publisher: | University of Toronto/Université Laval |
| Year of publication: | 1998 |
| Year of revision: | 1998 |
| Access Date: | November 30, 2023 |