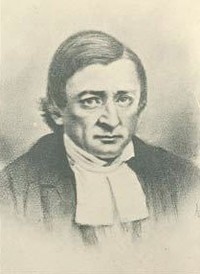 Source: Courtesy of Wikimedia Commons
ANGERS, FRANÇOIS-RÉAL, author, lawyer, office holder, and journalist; b. 20 Nov. 1812 at Pointe-aux-Trembles (Neuville), Lower Canada, son of François Angers (Anger), a farmer, and Marie-Desanges Larue; m. 4 April 1842 Louise-Adèle Taschereau (d. August 1849) at Sainte-Marie-de-la-Nouvelle-Beauce (Sainte-Marie), Lower Canada; m. secondly 23 Nov. 1853 Louise Panet at Quebec; d. there 27 March 1860 and was buried four days later at Pointe-aux-Trembles.
François-Réal Angers received his classical education at the Petit Séminaire de Québec. He was in the fifth-year class (Belles-Lettres) when on 9 Dec. 1830 he and some fellow students founded the Société littéraire, the first of its kind to be set up there, as Honorius Provost confirms in his volume on the Séminaire de Québec. With two other students he was chosen as a member of a committee charged with "drawing up a constitution for the Société littéraire and proposing regulations." The constitution for the society, which lasted only four months, was presented and approved with some amendments at a meeting on 14 December.
In 1836, when he was a law student, Angers published a pamphlet entitled Système de sténographie, applicable au français et à l'anglais. Called to the bar on 6 Oct. 1837, he was immediately appointed official reporter of the debates in the House of Assembly of Lower Canada, and his publication was no doubt extremely useful to him in carrying out his duties. While practising law he was co-editor, from 1845 to 1848, of the Revue de législation et de jurisprudence, which, according to historians André Beaulieu and Jean Hamelin, constitutes "one of [the] oldest collections of the rulings of the courts of Lower Canada." In 1850 and 1851 he was president of the Institut Canadien in Quebec; however, his name does not appear on the list of founding members published by Alphonse Désilets in 1948. From 1851 until his death Angers was one of the principal contributors to the Décisions des tribunaux du Bas-Canada.
Before entering upon his legal career, Angers had made himself known as a writer. Five of his poems, many in the form of songs, appeared in Le répertoire national, compiled by James Huston in the years 1848–50. In his poem "L'avenir" Angers extols liberty, condemns slavery, and devoutly hopes that French Canadians and the sons of Albion will form one nation. In "Réconciliation" he opposes armed conflict, which usually leads to division, to separation, indeed to death. In "La voix d'une ombre" he disapproves of the insurrection by the Patriotes and deplores the fate held in store for his "most unhappy brothers / Led astray by their hearts" and forced into exile. In the poem "À Saint Jean-Baptiste" he pays homage to the noble patron saint of French Canadians, from whom he seeks protection.
But Angers's greatest success was unquestionably Les révélations du crime ou Cambray et ses complices, published at Quebec in 1837, in which he reconstructs the climate of terror created in that city between 1832 and 1834 by a group of brigands who were hiding out at nearby Cap-Rouge under the leadership of Charles Cambray (actually Charles Chambers), a timber merchant of Quebec and the brother of Robert Chambers, a future mayor of the city. This fictional account about the crimes of the "Chambers gang," a work some wrongly consider to be the first French Canadian novel, remains, according to Professor David M. Hayne, "one of the most readable and widely circulated books of the first half of the 19th century in Canada." Republished in 1867, in 1880, and again in 1969, it was serialized in at least three newspapers and was translated into English in 1867 as The Canadian brigands; an intensely exciting story of crime in Quebec, thirty years ago!
Angers soon gave up literature to devote himself entirely to practising law. It was he who, with Thomas-Jean-Jacques Loranger*, defended the censitaires in the years 1854–56 before the Seigneurial Court, presided over by the chief justice, Louis-Hippolyte La Fontaine*, which had the responsibility of adjudging the claims made following the passing of the bill abolishing the seigneurial régime. During the long debates that marked the hearing of the numerous cases, he showed himself to be an outstanding jurist and a speaker as talented as he was convincing.
Although he had a brilliant career in law, François-Réal Angers is little known. The brief, scattered obituaries contain errors concerning his writings and the date of his death. When he died on 27 March 1860, an anonymous reporter for Le Canadien wrote that "the bar was losing . . . its foremost lawyer [and] its most distinguished speaker; Canadian literature, one of its finest ornaments; the country, an ardent and devoted patriot." One of his children, Auguste-Réal*, had a distinguished political career, and in 1887 became lieutenant governor of Quebec.
François-Réal Angers published poems in newspapers between 1836 and 1843, which were reproduced, with one exception, in Le répertoire national (Huston, 1848–50; 1893). He also wrote Système de sténographie, applicable au français et à l'anglais (Québec, 1836) and Les révélations du crime ou Cambray et ses complices; chroniques canadiennes de 1834 (Québec, 1837). Further editions of the latter work were published at Quebec in 1867 and 1880, and in Montréal in 1969; it was also translated into English under the title The Canadian brigands; an intensely exciting story of crime in Quebec, thirty years ago! (Montreal, 1867).
ANQ-Q, CE1-1, 23 nov. 1853, 31 mars 1860; ZQ6, 4 avril 1842. Le Séminaire de Québec: documents et biographies, Honorius Provost, édit. (Québec, 1964). Le Canadien, 28, 30 mars 1860. DOLQ, 1: 578–79, 655–56. Réginald Hamel et al., Dictionnaire pratique des auteurs québécois (Montréal, 1976). Morgan, Bibliotheca Canadensis, 10. P.-G. Roy, Les avocats de la région de Québec. Wallace, Macmillan dict. Alphonse Désilets, "Les fondateurs de l'Institut canadien," Rev. de l'univ. Laval (Québec), 2 (1947–48): 708–12. P.-G. Roy, "La bande de Chambers," Cahiers des Dix, 3 (1938): 89–113.
Revisions based on:
Bibliothèque et Arch. Nationales du Québec, Centre d'arch. de Québec, C301-S25, 1er sept. 1849.
© 1985–2023 University of Toronto/Université Laval
Image Gallery

Cite This Article
Aurélien Boivin, "ANGERS, FRANÇOIS-RÉAL," in Dictionary of Canadian Biography, vol. 8, University of Toronto/Université Laval, 2003–, accessed December 10, 2023, http://www.biographi.ca/en/bio/angers_francois_real_8E.html.
The citation above shows the format for footnotes and endnotes according to the Chicago manual of style (16th edition). Information to be used in other citation formats:
| | |
| --- | --- |
| Permalink: | http://www.biographi.ca/en/bio/angers_francois_real_8E.html |
| Author of Article: | Aurélien Boivin |
| Title of Article: | ANGERS, FRANÇOIS-RÉAL |
| Publication Name: | Dictionary of Canadian Biography, vol. 8 |
| Publisher: | University of Toronto/Université Laval |
| Year of publication: | 1985 |
| Year of revision: | 2019 |
| Access Date: | December 10, 2023 |