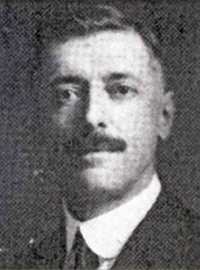 Source: Link
ARCAND, NARCISSE (baptized Narcisse-Joseph-Philias), carpenter and trade union leader; b. 24 April 1871 in Deschambault, Que., eighth child of Narcisse Arcand, a farmer, and Mélanie Belisle; m. 6 Oct. 1896 Marie-Anne Mathieu in Montreal; d. 14 Feb. 1927 in Montreal, and was survived by three sons and six daughters.
Narcisse Arcand moved to Montreal around 1895 and worked as a carpenter. By 1900 he had joined Local 134 of the United Brotherhood of Carpenters and Joiners of America, the local of French-speaking carpenters and joiners in that city. Originating in the United States, the brotherhood was one of the largest trade unions in Canada at the start of the 20th century. It practised a form of business unionism, based on negotiation of working conditions and on respect for the capitalist system, in the tradition of American Gomperism, and it claimed jurisdiction over virtually all the trades connected with the construction industry. In 1912 Arcand would even propose that the Amalgamated Society of Carpenters and Joiners, a British union in competition with the brotherhood, be expelled from the Trades and Labor Congress of Canada (TLC) in order to protect the monopoly of the United Brotherhood.
Arcand was soon playing an important role within his union. In 1902 he became its provincial organizer, a position he would hold for 23 years. He was active everywhere, both in Montreal and in outlying parts of the province. His work led to the creation of many locals of carpenters and joiners, including Thetford Mines Local 1554 in 1907 and Saint-Hyacinthe Local 1108 in 1915. Even in Trois-Rivières, where the Catholic unions were trying to stem the rise of the "international" unions, the majority of carpenters and joiners belonged to the United Brotherhood during World War I. In 1910 Arcand had been a delegate to its convention in the United States. From 1921 to 1927, during the last six years of his life, he was president of the union's provincial council, and in 1925 he was secretary of the Montreal district council. He also held other offices in the Canadian trade union movement. A member of the provincial executive committee of the TLC in 1913, 1914, and 1918, he became its president in 1917. For a few months in 1916 he had worked as a fair-wage officer in the Department of Labour in Ottawa, taking the place of Victor Dubreuil*, who had recently died. He resigned in a huff at the end of August, after responsibility for the miners in Thetford Mines was taken out of his hands.
Carpenters and joiners were not Arcand's only concern as a union organizer. In 1917, for instance, he supported the steps taken by the Western Federation of Miners to organize the miners of Thetford Mines into a militant union outside the Catholic fold. Interventions of this kind would make him a favourite target of Roman Catholic authorities, who denounced what they called the takeover of Canadian unionism by Americans.
In addition to his trade union activities, Arcand participated in the political life of Montreal, where he was involved in the political battles of the early 20th century. One of the first activists in the Labour party, which had been founded in Montreal in 1899 [see Joseph-Alphonse Rodier*], he was campaign manager for Alphonse Verville, its candidate in the riding of Hochelaga in the provincial election of 1904. Verville was defeated but would be elected to the House of Commons for Maisonneuve in 1906. Arcand himself ran for the party in Montreal-Dorion in the 1912 provincial election. He received 912 votes, but the seat was won by Liberal Georges Mayrand. Arcand's platform included the eight-hour day, municipal ownership of public services such as street railways and street lighting, the nationalization of railways, abolition of child labour for those under 14 years of age, and numerous political measures such as the use of referendums. Arcand suffered another defeat in the provincial election of 1923, this time at the hands of Conservative Adolphe L'Archevêque in Montreal-Mercier. He had based his campaign on the need for "reasonable" wages for public works employees. In 1917, having been mandated by the TLC to reorganize the Labour party, whose central committee he chaired, he had helped set up the Quebec provincial section of the Canadian Labor party. He was a delegate to the founding convention of this section in November 1917, as well as to that of a local one, the Montreal Assembly, a few months later.
Arcand took an active interest in school questions early in the 20th century. He was one of the spokesmen for the Labour party when it submitted a brief to the royal commission set up in 1909 to look into the Montreal Catholic schools. Calling for free and compulsory education, he directly opposed the Montreal clergy, whom he accused of proscribing those wanting to discuss educational concerns. He declared himself in favour of annexing all the Catholic school boards on the island of Montreal to the Montreal Catholic School Commission, in order to ensure greater uniformity in school administration and the choice of textbooks.
From 1923 Narcisse Arcand devoted himself almost exclusively to his work as an organizer for the United Brotherhood of Carpenters and Joiners of America and gave much less attention to other struggles. He died at home on 14 Feb. 1927, at the age of 55. Of the nine children who survived him, his son Adrien*, leader of the Canadian fascist movement, is certainly the best known.
ANQ-Q, CE301-S25, 26 janv. 1851, 24 avril 1871; CE601-S1, 6 oct. 1896. Labor World (Montreal), 9 Dec. 1916, 2 June 1917, 19 Feb. 1927, May–June 1950. Le Pays (Montréal), 14 mai 1910, 20 avril 1912. La Presse, 20 avril 1912; 7 févr., 27 avril 1916. Le Soleil, 8 juill. 1917. R. H. Babcock, Gompers in Canada: a study in American continentalism before the First World War (Toronto and Buffalo, N.Y., 1974), 146. Bernard Dansereau, "Congrès des métiers et du travail du Canada, comité exécutif, province de Québec, 1889–1937," RCHTQ [Regroupement des Chercheurs-Chercheures en Hist. des Travailleurs et Travailleuses du Québec], Bull. (Montréal), 23 (1997), no.1: 41–44. Directory, Montreal, 1897–1900. Robert Gagnon, Histoire de la Commission des écoles catholiques de Montréal; le développement d'un réseau d'écoles publiques en milieu urbain ([Montréal], 1996). Résultats électoraux depuis 1867.
© 2005–2023 University of Toronto/Université Laval
Image Gallery

Cite This Article
Bernard Dansereau, "ARCAND, NARCISSE," in Dictionary of Canadian Biography, vol. 15, University of Toronto/Université Laval, 2003–, accessed October 3, 2023, http://www.biographi.ca/en/bio/arcand_narcisse_15E.html.
The citation above shows the format for footnotes and endnotes according to the Chicago manual of style (16th edition). Information to be used in other citation formats:
| | |
| --- | --- |
| Permalink: | http://www.biographi.ca/en/bio/arcand_narcisse_15E.html |
| Author of Article: | Bernard Dansereau |
| Title of Article: | ARCAND, NARCISSE |
| Publication Name: | Dictionary of Canadian Biography, vol. 15 |
| Publisher: | University of Toronto/Université Laval |
| Year of publication: | 2005 |
| Year of revision: | 2005 |
| Access Date: | October 3, 2023 |