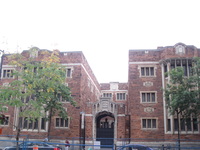 Source: Courtesy of Wikimedia Commons
Archibald, John Smith, architect and office holder; b. 14 Dec. 1872 in Inverness, Scotland, son of David Archibald, a carriage builder, and Mary Fettes Smith; m. 5 Dec. 1900 Rose Edith Thurston (d. 1944) in Sydney, N.S., and they had two sons and a daughter; d. 2 March 1934 in Montreal.
Educated in the public schools and high school of Inverness, John Smith Archibald apprenticed there from 1887 to 1893 with architect William Mackintosh Sr. He arrived in Montreal on 4 May 1893 and found employment in the office of the prominent architect Edward Maxwell*, where he met Charles Jewett Saxe. He and Saxe served as assistants to Maxwell until they established their own partnership, Saxe and Archibald, in 1897. They would practise together until 1915.
Archibald and Saxe divided their professional responsibilities. While Saxe excelled at artistic work, Archibald was better known for his expertise in business and construction. The firm gained a reputation for its organization, budgetary restraint, and range of styles. It also showed considerable skill in fitting complicated buildings to confined sites. The partners designed the Bishop Court Apartments (1904), a Gothic Revival urban apartment building in central Montreal distinguished by its secluded forecourt and multiple entries to clusters of units. In 1908 Archibald was appointed joint architect with Maurice Perrault* for the Montreal Technical School (1909–11). Saxe was also involved in the project, but apparently to a lesser degree. After Perrault's death in 1909, Louis-Alphonse Venne participated as a consulting architect. For this beaux-arts composition, the architects created a courtyard that reduced the scale of the massive institution. In 1909, to fit a town house on a narrowing, steeply pitched site, Saxe and Archibald used round and oval rooms on four levels. Among their other noteworthy projects were additions to Montreal's now-demolished Queen's Hotel in 1909, 1910–12, and 1912–13. In 1915 the partnership ended, for reasons that remain unknown.
In practice on his own, Archibald drew up plans for a variety of buildings, including a private residence (1915) and a garage (1919). His schools were considerably less ornate than his commercial structures. Montreal's Baron Byng High School (1921) and Heroes' Memorial School (1923) in Cowansville demonstrate his interest in straightforward designs, fireproof construction, and access to fresh air and natural lighting. Like most schools of the 1920s, those conceived by Archibald were multilevel rectangular buildings. A central corridor provided entry to two rows of classrooms. The brick exteriors had special features, which were emphasized by classical detailing around the doors, windows, and cornice lines.
In the mid to late 1920s hotels became Archibald's most important commissions. In 1925 he once more extended the Queen's Hotel. For the Canadian National Railways, he designed, in association with John Schofield, the Nova Scotian Hotel and train station in Halifax (1928), the Hotel Vancouver (1928–39), and the Bessborough Hotel in Saskatoon (1930–32); they nearly doubled the size of Ottawa's Château Laurier (1928). The Manoir Richelieu in Pointe-au-Pic (La Malbaie), Que., owned by the Canada Steamship Lines, presented Archibald with the type of material, technical, and environmental challenges he seems to have relished. After the original wooden structure was destroyed by fire in October 1928, he rebuilt the resort in only eight months, using reinforced concrete and steel. Materials were hauled up 200 feet from the St Lawrence River by a specially designed rail system. The region's harsh weather led him to innovate: he wrapped the Château-style structure in a wooden cocoon as it was constructed to protect it from frost.
For several hospitals in Montreal, Archibald employed a model similar to that which he had used for schools. The Royal Edward Institute (1931) was a long, narrow four-storey brick hospital and school set off by neoclassical details. In the Montreal Convalescent Hospital (1931), patients' rooms faced south to maximize the admission of natural light. At its opening, it was ranked by the Canadian Medical Association as among the finest structures of its kind in North America. Archibald also served as a senior consultant in the planning for St Mary's Memorial Hospital, which was completed after his death.
Of Archibald's institutional designs, Montreal's Masonic Memorial Temple (1928), built to honour the freemasons who had fallen in World War I, is the most conspicuous. An imposing three-storey monument, it occupies a major corner on busy Sherbrooke Ouest. Critics at the time compared it to Henry Bacon's Lincoln Memorial in Washington, D.C., a masterpiece of neoclassicism. The temple's golden Queenston limestone cladding glows against the background of Montreal greystone. A stunning Greek-inspired facade features four Ionic columns, a rusticated base, bronze doors, and symbols of masonry. Inside, double-height ceremonial spaces are surrounded by smaller rooms and mezzanines on each level. A freemason, Archibald was active in the Scottish Rite.
Archibald was the architect for several landmarks in the history of athletics. The Montreal Forum (1924), home to the Montreal Maroons and the Montreal Canadiens, was small by today's standards, with 9,500 seats and standing room for an additional 3,000 fans. The Delorimier Downs Stadium (1927) provided a venue for professional baseball in the city until it was demolished in 1971. At Queen's University in Kingston, Ont., he furnished the plans for the gymnasium and swimming pool, built in 1930.
Of the numerous residences designed by Archibald's office, that of Noah Anthony Timmins (1929–30) is particularly handsome. In 1931 Archibald was awarded first prize for its interiors by the Royal Architectural Institute of Canada. This expansive stone structure was typical of prosperous Westmount, where Archibald himself lived. The Timmins mansion looked like a fortress, an impression augmented by its mountain-top location. Executed in the Medieval Revival idiom favoured by Montreal architects before World War II, it featured steeply pitched intersecting roofs, massive chimneys, and a porte cochère.
McGill University professor John Bland* describes Archibald as "a culminating figure in the pre-modern phase of Canadian architecture" and "the last of his sort," suggesting his commitment to traditional architectural values, fine craftsmanship, and masonry construction. His stylistic range, from neoclassicism to picturesque, was impressive, though not unusual for practitioners of his generation. An anonymous biographer, writing in 1937, claimed that Archibald had recommended that North American architects look to Mayan and Aztec precedents rather than to Greek and Roman models, but his work demonstrates careful study of many historical styles.
According to William Sutherland Maxwell, Edward's brother, Archibald possessed extraordinary administrative skills. In 1918 he had been appointed a member of the Montreal Tramways Commission, a body created by the provincial government to oversee public transportation in the city, and he would be its vice-chairman in 1927–34. In 1925 the Montreal Tramways Company employed his expertise in the design of the Craig Street Terminal.
In 1898 Archibald had joined the Province of Quebec Association of Architects; he served on its council from 1898 to 1909 and as its president in 1905. He believed that architects could contribute enormously to the general welfare of society, and he was known to refuse commissions when he thought the client might suffer financial loss. From 1906 until his death in 1934 he was a member of the permanent committee of the International Congress of Architects. As president of the Royal Architectural Institute of Canada in 1924–25, he argued for the education of students in the business side of the practice; his methods for calculating the amount of steel needed in a building were used as a basis for instruction. In 1927 he set out to reform the tendering process, stating that a contractor needed assurance of adequate profits and should not be penalized for a rising market, while an owner ought to benefit from falling prices. Three years later he received a fellowship from the institute, the highest Canadian award given to an architect by his peers. In his spare time he enjoyed reading, woodcarving, hunting, and fishing. After his death from a stroke in 1934, his son Ian Thurston took over the practice with Hugh Percival Illsley; they formed Archibald and Illsley in 1937. The dozens of handsome buildings that still grace the streets of Montreal and other cities are testimony to the legacy of a man who played a prominent role in the development of the architectural profession in Quebec and Canada.
Drawings by John Smith Archibald are preserved in the following institutions: Canadian Centre for Architecture, Architectural Arch. (Montreal), John S. Archibald fonds; and McGill Univ. Libraries, Rare Books and Special Coll. Div. (Montreal), John Bland Canadian Architecture Coll., Acc. no.4. Information about the items that can be consulted at McGill Univ. is in John S. Archibald and his associates: a guide to the archive, ed. Irena Murray (Montreal, 1990). Archibald is the author of "The president's address," Royal Architectural Instit. of Can., Journal (Toronto), 3 (1926): 72–75 and "The new Manoir Richelieu" in the same journal, 7 (1930): 329–36.
Gazette (Montreal), 3 March 1934. Montreal Daily Star, 7 Dec. 1900. "Additions to the Chateau Laurier, Ottawa," Construction (Toronto), 23 (1930): 19–22, 25–31. W. H. Atherton, Montreal, 1534–1914 (3v., Montreal, 1914), 3. "Craig Street Terminal, Montreal," Construction, 19 (1926): 162–64. J. J. Dinan, St. Mary's Hospital: the early years (Montreal and Toronto, 1987). "An excellent convalescent hospital opened in Montreal," Canadian Medical Assoc., Journal (Toronto), new ser., 29 (1933): 438. "Extension to the Queen's Hotel, Montreal," Construction, 19 (1926): 319–24. "The Forum building, Montreal," Construction, 18 (1925): 82–86. "Masonic Memorial Temple, Montreal," Construction, 23 (1930): 386, 387–91. W. S. Maxwell, "John S. Archibald: 1872–1934," Royal Architectural Instit. of Can., Journal, 11 (1934): 44. Montreal metropolis, 1880–1930, ed. Isabelle Gournay and France Vanlaethem (Toronto, 1998). National encyclopedia of Canadian biography, ed. J. E. Middleton and W. S. Downs (2v., Toronto, 1935–37), 2. "The Nova Scotian Hotel and C.N.R. Station, Halifax, N.S.," Construction, 24 (1931): 163–65, 167–73. E. B. Palmer, "Typical schools of the province of Quebec," Royal Architectural Instit. of Can., Journal, 4 (1927): 327–38. Irene Puchalski, "An analysis of four building types by John S. Archibald, architect" (ma thesis, Concordia Univ., Montreal, 1991); "John S. Archibald, architect (1872–1934)," Journal of Canadian Art Hist. (Montreal), 14 (1991), no.2: 94–113. "A town-house of unique plan," Construction, 2 (1909): 55–57. Who's who in Canada, 1923/24.
© 2014–2023 University of Toronto/Université Laval
Cite This Article
Annmarie Adams, "ARCHIBALD, JOHN SMITH," in Dictionary of Canadian Biography, vol. 16, University of Toronto/Université Laval, 2003–, accessed December 5, 2023, http://www.biographi.ca/en/bio/archibald_john_smith_16E.html.
The citation above shows the format for footnotes and endnotes according to the Chicago manual of style (16th edition). Information to be used in other citation formats:
| | |
| --- | --- |
| Permalink: | http://www.biographi.ca/en/bio/archibald_john_smith_16E.html |
| Author of Article: | Annmarie Adams |
| Title of Article: | ARCHIBALD, JOHN SMITH |
| Publication Name: | Dictionary of Canadian Biography, vol. 16 |
| Publisher: | University of Toronto/Université Laval |
| Year of publication: | 2014 |
| Year of revision: | 2014 |
| Access Date: | December 5, 2023 |