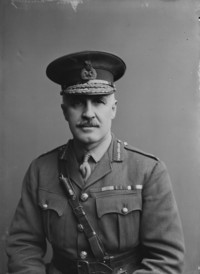 ARMSTRONG, Charles Johnstone, engineer and militia and army officer; b. 27 Aug. 1872 in Montreal, son of Charles Newhouse Armstrong and Amelia Frances Johnstone; m. 19 April 1913 Flora Macdonald Grant Kittson in Ottawa; they had no children; d. 23 Jan. 1934 in Montreal and was buried in Mount Royal Cemetery in Outremont (Montreal).
Charles Johnstone Armstrong attended the High School of Montreal before going to the Royal Military College of Canada (RMC) in Kingston, Ont., in 1889. As cadet No.293, he graduated company sergeant-major in 1893. Three of his brothers would also study at the college. On 18 May 1894 Armstrong was commissioned a second lieutenant in the 5th Battalion of Infantry (Royal Scots of Canada), a fashionable militia unit in Montreal. The following year he was promoted lieutenant. In civilian life he became an engineer, having studied engineering at RMC, where it formed an important part of the curriculum. He probably worked with his father, a railway promoter and contractor as well as the manager of the Atlantic and Lake Superior Railway.
At the outbreak of the South African War in 1899 Armstrong volunteered for service with Canada's first contingent, and he was accepted as a lieutenant in the 2nd (Special Service) Battalion, Royal Canadian Regiment of Infantry. One of the three officers in E Company, which was recruited from the Montreal area, he embarked on 30 October for South Africa. He took part in the battle of Paardeberg, and during the final assault on 27 Feb. 1900 he was slightly wounded in the thigh. He continued the advance with his battalion through the first half of the year, seeing action at Poplar Grove, Houtnek, Zand River, Johannesburg, and Pretoria (Tshwane). After his battalion returned to Canada he remained in South Africa; from July 1900 to May 1902 he served on the staff of the Imperial Military Railways under the direction of another Canadian, Édouard Percy Cranwill Girouard. When the war ended he became divisional engineer of the Central South African Railways, the civilian organization set up to administer the same lines, and he held the position until 1910, when he went back to Canada and joined Sir John Jackson Limited, a firm of railway builders and contractors. Since 1899 Armstrong had remained an absentee officer on the strength of the 5th Regiment (Royal Highlanders of Canada), as the unit had become known. He was promoted brevet captain in 1900 and a substantive captain in 1905, and he was listed in the corps reserve.
At the outbreak of the First World War, Armstrong, like so many other militia officers, offered his services to the Department of Militia and Defence, suggesting that he raise a corps of pioneers or of construction troops. Instead, he was appointed to the command of the proposed Divisional Engineers then assembling at Valcartier, Que. At age 42, his hair now grey, he was commissioned a brevet lieutenant-colonel in the Canadian Expeditionary Force on 5 Sept. 1914, and took charge of the 28 officers and 855 troops who had been selected for overseas service. Organized into a headquarters, two field companies, and a signal company, with a third field company added just before the men sailed, Armstrong's engineers embarked for England on 28 September. On arrival his first duty was to supervise the erection of the huts being built for the Canadians on Salisbury Plain by his former employer, Sir John Jackson Limited.
Armstrong went to France as chief engineer of the 1st Canadian Division on 7 April 1915. His responsibilities expanded rapidly over the following year. He was the senior engineering officer when the division fought its first major engagement, the second battle of Ypres, in April–May 1915, and he participated in the subsequent attacks at Festubert and Givenchy-lez-La Bassée. Trench warfare made ever-increasing demands on the engineers and resulted in the deployment of such novel units as tunnelling companies and tramway troops, who became part of the chief engineer's responsibilities. When the 2nd Canadian Division arrived in France in mid September, the Canadian Corps was formed and Armstrong moved up the ranks to command the corps engineers as a temporary brigadier-general from 13 September. He had been mentioned in dispatches in June 1915 and appeared again in January 1916, when he was also awarded a cmg.
On 29 Feb. 1916, while Armstrong was carrying out the reconnaissance of a bridge near Bernay in northern France, his train was struck from behind by another and he was seriously hurt. His left leg was badly broken, 14 teeth were knocked out along with part of his upper jaw, and he sustained other injuries to his head and shoulders. A long, difficult recovery followed, initially at a French hospital in Bernay, then at No.2 Red Cross Hospital in Rouen, and from April 1917 to October 1917 at hospitals in England. He suffered through pneumonia and pleurisy while at Bernay. The leg wound became septic and the fracture, which required two operations in 1916, took time to heal. More surgery in England extracted pieces of broken bone and tooth from his jaw. Not until 16 Jan. 1918, nearly two years after the accident, did he return to the front. He would carry the effects of the injuries for the rest of his life.
In February Armstrong was back in France. William Bethune Lindsay had taken over for him as brigadier-general on 7 March 1916, and Armstrong, now chief engineer on defences, was employed by the engineer-in-chief at the general headquarters of the British Expeditionary Force. The Germans made their last great offensive the following month. When the 5th British Army front threatened to collapse, he helped to put together an ad hoc force of British, American, and Canadian engineers and other specialist troops to hold the line as infantry.
From 4 Nov. 1918 to March 1919 Armstrong was chief engineer of the British VII Corps in France, tasked with the repair and reconstruction of all canals in France and Belgium devastated by the war. He returned to England on 6 March and to Canada on 14 June. He had received further honours, being again mentioned in dispatches in December 1918 and awarded a cb​ in January 1919. Two others followed: the Military Order of Aviz from the Portuguese in October 1919 and the Ordre de la Couronne from the Belgians in May 1920.
Once back in Canada Armstrong was employed as a full-time staff officer within the Department of Militia and Defence (from 1923 the Department of National Defence). On 28 June 1919 he became the district officer commanding of Military District No.4, with headquarters in Montreal. He ranked as a colonel, but because of his wartime service he was allowed to wear the insignia of an honorary brigadier-general. On 1 June 1921 he became a temporary colonel commandant, a short-lived rank in the militia reserved for those in charge of military districts. In this role, he undertook to reconstitute the militia regiments of the Montreal area on a peacetime footing. He was also active as chairman of a committee of the Royal Military College Club of Canada that oversaw the construction of the Memorial Arch at the front of the college grounds. It was unveiled on 15 June 1924.
In October 1926 Armstrong became the district officer commanding of Military District No.1, with headquarters in London, Ont. In July two years later he was promoted temporary brigadier, when the rank of colonel commandant was eliminated. He received two more awards: the Colonial Auxiliary Forces Officers' Decoration and the Volunteer Officers' Decoration.
Armstrong retired in 1933 and was promoted major-general on the retired list. While at his summer home in Carillon (Saint-André-d'Argenteuil), Que., he fell ill, and he died in a Montreal hospital at age 61. His funeral, from Christ Church Cathedral, was a major military event. The cortège stretched for more than four city blocks.
Charles Johnstone Armstrong's army career occurred during a coming of age for the Canadian military establishment. Despite his studies at RMC he initially had had to earn his living as a civilian, and his appointment in 1914 seems to have owed more to his militia connections than to demonstrated military engineering or administrative skills. Yet his achievements were close to the upper limits of what was possible for a Canadian officer at the time, and he was able to carve out a lifetime military career within the expanding, but still small, Canadian militia.
AO, RG 80-5-0-613, no.2169. BANQ-CAM, CE601-S63, 5 oct. 1872. LAC, R180-76-5, box 225-10. Gazette (Montreal), 28 Aug. 1872; 22 April 1913; 22, 23, 24, 25, 26, 27 Jan. 1934. London Gazette, November 1915–April 1919. Can., Dept. of Militia and Defence, Militia list (Ottawa), 1895–1929; Dept. of National Defence, Defence forces list, Canada (naval, military and air forces) (Ottawa), 1930–33. Directory, Montreal, 1895–1934. A. J. Kerry and W. A. McDill, The history of the Corps of Royal Canadian Engineers (2v., Ottawa, 1962–66), 1. [Minutes of annual meeting of the Royal Military College Club of Canada., 8 April 1924], Royal Military College of Can., Rev. ([Kingston, Ont.]) (May 1924): 75–77. [Minutes of annual meeting of the Royal Military College Club of Canada., 28 Feb. 1925], Royal Military College of Can., Rev. (May 1925). "No. 293, Major-General Charles Johnstone Armstrong, c.b., c.m.g.," Royal Military College of Can., Rev. (June 1934): 93–94. "No. 376, Frederick Percy Armstrong," Royal Military College of Can., Rev. (December 1934): 64. G. R. Stevens, Canadian National Railways (2v., Toronto and Vancouver, 1960–62).
© 2019–2023 University of Toronto/Université Laval
Cite This Article
Owen A. Cooke, "ARMSTRONG, CHARLES JOHNSTONE," in Dictionary of Canadian Biography, vol. 16, University of Toronto/Université Laval, 2003–, accessed December 9, 2023, http://www.biographi.ca/en/bio/armstrong_charles_johnstone_16E.html.
The citation above shows the format for footnotes and endnotes according to the Chicago manual of style (16th edition). Information to be used in other citation formats:
| | |
| --- | --- |
| Permalink: | http://www.biographi.ca/en/bio/armstrong_charles_johnstone_16E.html |
| Author of Article: | Owen A. Cooke |
| Title of Article: | ARMSTRONG, CHARLES JOHNSTONE |
| Publication Name: | Dictionary of Canadian Biography, vol. 16 |
| Publisher: | University of Toronto/Université Laval |
| Year of publication: | 2019 |
| Year of revision: | 2019 |
| Access Date: | December 9, 2023 |