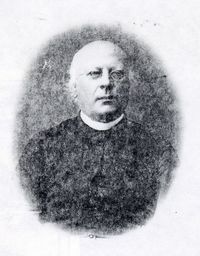 Source: Courtesy of Bibliothèque et Archives Nationales du Québec / 52327/1956311
AUCLAIR, JOSEPH, Roman Catholic priest; b. 16 June 1813 at Jeune-Lorette (Loretteville), Lower Canada, son of Étienne Auclair, a farmer, and Marie-Jeanne Blondeau; d. 29 Nov. 1887 at Quebec City.
Joseph Auclair completed his studies at the Séminaire de Québec in 1836 and began his theology in the autumn of that year. Contrary to common custom, he does not appear to have had a parish ministry during his three years of theological training. He was ordained priest on 21 Sept. 1839, worked as a curate in the parish of Saint-Joseph (now in Lauzon), and in September 1841 was transferred to the parish of Saint-Roch in Quebec City, where he assisted parish priest Zéphirin Charest* until September 1847.
During this time Quebec City was still the principal port of entry in Canada for British immigrants, most of whom were Irish. When they were not stricken with cholera or typhoid, thousands of these poor wretches roamed the streets of Quebec in search of lodgings and employment. The labour market was glutted, all the more because the economy of Quebec, based almost exclusively on the timber trade and shipbuilding, was suffering from the impact of the abolition of the British protective tariffs and from the technological shift to iron and steam in the construction of ships. This overabundance of manpower and long periods of unemployment, particularly with the slackening of activity in the port during the winter, were the most tragic aspects of the prevailing social situation, especially in the working-class parish of Saint-Roch, where according to the clergy one of the consequences was an upsurge in alcoholism. The clergy attempted to combat this by creating on 15 Nov. 1840 the Société de Tempérance de la Paroisse Saint-Roch de Québec. Like the priests in the parish of Notre-Dame in Quebec City, they no doubt also kept a careful record of the poor and needy, and distributed food, clothing, and firewood.
The harsh misfortunes dogging Quebec during these years led the clergy to increase their activity. In May 1845 a terrible fire destroyed 1,630 dwellings, most of which were in Saint-Roch. Two years later a typhoid epidemic spread panic in Quebec, although it did not wreak as much havoc as had previous outbreaks of cholera. Stricken with the disease while carrying out priestly duties at the Marine and Emigrant Hospital, Auclair nevertheless agreed to become parish priest of Sainte-Marie in the Beauce region in September. He had no sooner arrived there than he had to return to the Hôpital Général in Quebec, where it took some weeks of care to prevent his death. After returning to Beauce Auclair continued the fight for temperance launched by the clergy. Early in 1849 he and a number of his parishioners signed a petition urging the government to take steps against drunkenness and to suspend tavern licences. In addition, like his colleagues in the other parishes, he maintained a close watch over teaching establishments.
In September 1851 the resignation of Abbé Louis Proulx* left vacant the perpetual office of priest of the parish of Notre-Dame in Quebec, the incumbents of which had for the most part acceded to the episcopate. This prestigious clerical post required someone with exceptional qualities because of the heterogeneous nature of the parish which included the Upper Town, where the bourgeoisie resided, and the working-class districts of the suburbs and the Lower Town. That year Archbishop Pierre-Flavien Turgeon* appointed Auclair to the post, probably with the expectation that his experience in a working-class environment, his education, and his unassuming ways would make him acceptable to all the parishioners.
Anxious to establish higher moral standards and to protect the Catholic faith from Protestant influence, Auclair took a particular interest in education. The public school system of Quebec City was managed by two institutions: the Quebec Education Society, which had been set up in 1821 by clergy and laity to support the first schools, and the Catholic School Commission. The parish priest of Notre-Dame closely observed and encouraged both these bodies. As a school commissioner and a member of the Board of Examiners for the teachers of the Quebec district, Auclair gave fresh impetus to the Quebec Education Society and invited the Society of St Vincent de Paul to organize evening classes in English and French. The instruction available in the fields of science and commerce apparently did not yet satisfy French Canadian aspirations: periodically Auclair deplored the fact that Catholics were enrolling in English-language Protestant schools. In 1862 he founded the Académie Commerciale de Québec in the belief that it would protect their faith. Auclair also saw education as a solution to the distress and poverty of some of his parishioners and considered that schools could be expected to improve the moral standards of the poor, that is to "reduce the number of vagrants and ne'er-do-wells." In one of his sermons written in 1866 to encourage the faithful to give generously to the Quebec Education Society he observed: "It is better to raise the moral standards of the poor today . . . than to have to pay for a large police force later."
Auclair was particularly sensitive to the destitution caused by the chronic unemployment in Quebec City at that time. The notebooks for his sermons provide detailed and moving descriptions of the predicament of underprivileged groups. He believed that by this means he could arouse the generosity of those who were more prosperous. In one instance he might announce a bazaar for the benefit of the female prisoners and the prostitutes of the Asylum of the Good Shepherd; in another he prepares for a collection for the Hospice Saint-Joseph-de-la-Maternité de Québec which he had founded in 1852 to provide temporary shelter for young unwed mothers and illegitimate children (thus preventing infanticide), or one for the poor and unemployed who lacked even firewood. Or again, he would draw a striking picture of the economic situation and launch a touching appeal to the faithful not affected by the recession, the seasonal slowdown of the port, or the rigours of winter – "an extremely bitter winter . . . ," he often repeated, "no work for a great many of the working class, extraordinarily high prices for the basic necessities of life." Moreover, in his opinion, the giving of alms was "just as much a duty as the commandment to keep the Sabbath holy."
Auclair seems to have been too conscious of the various consequences of unemployment in his parish to look favourably upon the formation of trade unions and the use of the strike as an instrument for bargaining. In any case he could not find words harsh enough to castigate such actions: "You are labouring for the damnation of your souls," he cried, "and you are completing the ruin of your city, which is already all too far advanced."
He remained parish priest of Notre-Dame until his death, having served for 36 years. Despite increasing blindness in the last 12 years of his life he obstinately refused to resign; he gave up his administrative tasks with reluctance and was most hesitant to accept the assistants appointed by his superior Elzéar-Alexandre Taschereau*. The archbishop did, however, succeed in persuading him in his final months to allow another priest to take over; Auclair then entered the Hôpital Général, where he passed away 11 days later.
During his ministry at Notre-Dame, Auclair held several other offices of distinction, which curiously enough were conferred on him largely after 1874, at a time when illness was beginning to affect him. He was appointed a member of the archbishop's general council for the period from 1851 to 1887, vicar general of the dioceses of Sherbrooke and Rimouski in 1874, and non-resident vicar general of the diocese of Chicoutimi in 1878. Finally in 1882 Archbishop Taschereau named him one of the assessors of the metropolitan officiality of Quebec. He owed at least two of his titles to his friendship with the bishops of Chicoutimi and Sherbrooke, Dominique Racine and his brother Antoine*, with whom he went to stay each year for a rest from his labours in his parish.
Joseph Auclair was the author of Le congrès (Québec, 1875) and of Les danses et les bals: sermons, notes et documents par le curé de N.-D. de Québec (Québec, 1879).
AAQ, 61 CD, Sainte-Marie-de-la-Nouvelle-Beauce. ANQ-Q, État civil, Catholiques, Saint-Ambroise (Loretteville), 17 juin 1813. AP, Notre-Dame de Québec, Cahiers de prônes, 26 janv., 13 mai, 2 sept. 1855; 24 févr., 31 août, 7 déc. 1856;10 oct. 1858; 30 janv. 1859; 6 mai, 7 oct. 1860; 14 avril 1861; 12 janv., 27 avril, 4 mai, 3 août 1862; 14 févr. 1863; 22 janv., 24 déc. 1865; 10 juin 1866; 27 janv., 7 juill. 1867; 1er mars 1868; 29 nov. 1869; 2 oct., 11 déc. 1870; 11 juin 1871; 10 nov. 1872; 14 nov. 1875. ASQ, mss, 678; Polygraphie, L: 9, 15, 16; Séminaire, 9: no.4; Univ., carton 103: no.38. Le Courrier du Canada, 2 déc. 1887. La Minerve, 1er déc. 1887. Catalogue de la bibliothèque de feu Rév. M. Joseph Auclair, curé de Québec (Québec, 1888). André Simard, Les évêques et les prêtres séculiers au diocèse de Chicoutimi, 1878–1968; notices biographiques (Chicoutimi, Qué., 1969). Cyprien Tanguay, Répertoire général du clergé canadien par ordre chronologique depuis la fondation de la colonie jusqu'à nos jours (Québec, 1868), 141. G.-P. Côté, Notice biographique sur le Révérend J. Auclair, curé de Notre-Dame de Québec, décédé le 29 novembre 1887 (Québec, 1888). Albert Faucher, Québec en Amérique au XIXe siècle, essai sur les caractères économiques de la Laurentie (Montréal, 1973). J. Hamelin et Roby, Hist. économique. René Hardy, "Aperçu du rôle social et religieux du curé de Notre-Dame de Québec (1840–1860)" (thèse de des, univ. Laval, Québec, 1968). André Labarrère-Paulé, Les instituteurs laïques au Canada français, 1836–1900 (Québec, 1965), 147. Sœur Marie-de-la-Joie [Jacqueline Picard], "La crèche Saint-Vincent-de-Paul et l'enfant né hors mariage (1901–1915)" (thèse de des, univ. Laval, 1965). L'œuvre d'un siècle: les Frères des écoles chrétiennes au Canada (Montréal, 1937), 279–80. Ouellet, Hist. économique. Honorius Provost, Sainte-Marie de la Nouvelle-Beauce: histoire civile (Québec, 1970). René Hardy, "L'activité sociale du curé de Notre-Dame de Québec: aperçu de l'influence du clergé au milieu du XIXe siècle," SH, no.6 (November 1970): 5–32.
© 1982–2023 University of Toronto/Université Laval
Image Gallery

Cite This Article
René Hardy, "AUCLAIR, JOSEPH," in Dictionary of Canadian Biography, vol. 11, University of Toronto/Université Laval, 2003–, accessed October 2, 2023, http://www.biographi.ca/en/bio/auclair_joseph_11E.html.
The citation above shows the format for footnotes and endnotes according to the Chicago manual of style (16th edition). Information to be used in other citation formats:
| | |
| --- | --- |
| Permalink: | http://www.biographi.ca/en/bio/auclair_joseph_11E.html |
| Author of Article: | René Hardy |
| Title of Article: | AUCLAIR, JOSEPH |
| Publication Name: | Dictionary of Canadian Biography, vol. 11 |
| Publisher: | University of Toronto/Université Laval |
| Year of publication: | 1982 |
| Year of revision: | 1982 |
| Access Date: | October 2, 2023 |