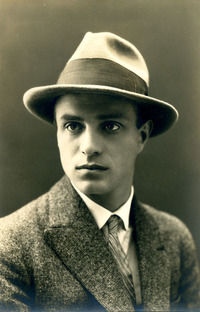 Source: Courtesy of Wikimedia Commons
BabIuk, AndriI (known as Myroslav Irchan), soldier, author, journalist, editor, lecturer, and activist; b. 14 July 1897 in the village of Pyadyky, Kolomyya county, Austrian crownland of Galicia (Ukraine), son of Dmytro Babiuk, a peasant; m. c. 1921 Zdenka ——— in Kiev, and they had one daughter; executed 3 Nov. 1937 in Sandarmokh, Karelia (Russia), and was buried there.
Andrii Babiuk attended the school in his native village, completed six levels of secondary education at the gymnasium in Kolomyya, and then, in 1914, graduated from the teachers' seminary in Lviv. When World War I broke out that year, he signed with the Ukrainian Sich Riflemen in the Austro-Hungarian army and was wounded in battle in October. After the collapse of the Austro-Hungarian empire in October 1918 and the emergence of several nation states from its ruins, the riflemen formed the core of the Ukrainian Galician army of the newly established Western Ukrainian National Republic. Babiuk fought in the Ukrainian–Polish war in Galicia in 1918–19. The Ukrainian Galician army officially became known as the Red Ukrainian Galician army after it was absorbed by the (Russian) Red Army in February 1920. It continued to oppose the Poles until its defeat two months later.
Babiuk joined the Communist Party (Bolshevik) of Ukraine in 1921. He lived in Kiev, where he married a woman of Czech origin known only by her first name, Zdenka. According to biographer Peter Krawchuk, Babiuk and his wife relocated to Prague (Czech Republic) in 1922 in company with her parents, who had decided to return to their home country. The reason for Babiuk's move is believed by many, including historian Joan Sangster, to be found in the plot of his play Dvanaytsyat [The Twelve] (Winnipeg, 1923), which recounts the real-life story of a group of 12 Ukrainian Bolsheviks who raided the homes of Polish landlords in Polish Galicia in 1922 and were captured by the police. While some of the men were imprisoned and executed, Babiuk (who is believed to have been one of the Twelve) is thought to have escaped to what was then Czechoslovakia. While in Prague, he attended Charles University and was active in student movements.
Babiuk had begun writing as a child, and his first publication, a short story entitled "Zustrich" [Meeting], appeared in Svoboda [Liberty] (Lviv) in 1914. He signed as Myroslav Irchan, the pen name he would most often use. Later, he would use others, such as Yurko Ropsha and M. Zezyk. He began to submit articles on his wartime experiences to the Ukrainian press in North America as early as 1916. A transatlantic network of Ukrainian left-wing authors and intellectuals facilitated the exchange of newspapers and literature. His first collection of literary sketches and short stories, Smikh nirvany [Nirvana's laughter], was issued in Lviv two years later. While a student in Prague, he sent contributions on labour issues to the New York newspaper Ukrainski shchodenni visty [Ukrainian Daily News] and the Winnipeg publications Ukrainski robitnychi visty [Ukrainian Labour News] and Holos pratsi [Voice of Labour]. As well, five of his plays with leftist themes were published in Winnipeg in 1923, the year Babiuk came to Canada.
The headquarters of the leftist Ukrainian community in Canada were located in Winnipeg, where the Ukrainian Labour Temple Association (ULTA), known from 1924 as the Ukrainian Labour-Farmer Temple Association (ULFTA), had been established in 1918. The ULTA was a communist cultural and educational organization that sought to provide industrial, and later agricultural, workers and their families with a wide variety of services. It established libraries, drama groups, orchestras, choirs, and fraternal organizations that offered medical and social assistance. Eventually, there were branches in Ukrainian communities across Canada. The ULTA financed a number of publications, including those to which Babiuk had contributed. In the early 1920s the organization expanded its activities and increased its membership. The executive committee invited Babiuk, already well known because of his writings, to become editor of Robitnytsia [Working Woman], a bimonthly that was to replace a similar journal, and to act as an organizer for the ULTA's activities.
Babiuk arrived in Canada in October 1923 with his wife, and he published the first issue of Robitnytsia on 15 March 1924. From 1927 he also edited Svit molodi [World of Youth]. As a journalist he contributed to various leftist publications both in Canada and abroad; perhaps the leading activist of the ULFTA, he would work to instil communist ideals in Ukrainians and bring new members into the party fold. He was also an organizer of the leftist literary community. In August 1924, together with well-known Ukrainian poet and Soviet consul Ivan Kulyk, he established a Canadian branch of the Soviet Ukrainian revolutionary literary organization Hart, which they named Zaokeanskyi Hart (Overseas Hart). The group was small. Besides Babiuk and Kulyk, it included Kulyk's wife, Luciana Piontek; Matthew (Matvii) Popovich (Popovych); Matthew (Matvii) Myronovych Shatulsky (who used the pen name M. Volynets); and Mikhailo Syno-oberholets. Overseas Hart's activities would cease with Babiuk's return to Ukraine in 1929.
Babiuk joined the ULTA's drama-choral circle as a playwright, actor, and director as soon as he arrived. In a community with a low rate of literacy, drama was considered to be an important means of political and social education. The plays Babiuk wrote before and after his arrival were highly popular. By 1939 his Rodyna Shchitkariv [The family of brushmakers] (Winnipeg, 1923) had been staged 74 times by amateur groups across Canada, and Dvanaytsyat 54 times. Babiuk's manual Stsena [The stage] (Winnipeg, 1928) became the basic handbook for ULFTA dramatic circles throughout the country. He also taught Ukrainian language classes and lectured extensively on topics such as politics, culture, and education. Spies for the Royal Canadian Mounted Police described him as an excellent orator, claiming that "there is not another such speaker in the Ukrainian language in Canada." Most of his activities were limited to Winnipeg and its environs; in 1927, however, he undertook a speaking tour of communities in Ontario.
Besides countless articles in the Ukrainian and North American press, Babiuk, who is perhaps best known as a dramatist, published approximately 35 books, of which seven plays and a collection of short stories were issued in Canada. During his years in Winnipeg he released Pidzemna Halychyna [Underground Galicia] in 1926, the narratives Karpatska nich [Carpathian night] in 1924 and Proty smerti [Against death] in 1927, several short stories, and numerous poems.
None of Babiuk's Ukrainian Canadian publications reflect specific events taking place in the local Ukrainian community. Nor do they deal with the circumstances that spurred the rapid growth of the ULFTA, of which the cultural, artistic, and scientific effervescence occurring in Ukraine was especially important. Instead, he chose to write about the central ideals of communism, which permeate all his fiction. In stories about the Ukrainian–Polish war and other tales illustrating workers' and peasants' rights, most of the heroes are idealistic revolutionaries unwavering in their convictions. His non-fiction dealing with Canadian themes reflects the immigrant experience: the impoverished workers deceived by the hope of a better life in the New World, the difficult lives endured by Ukrainian Canadian farmers, and the worn-out labourers who toiled in urban factories and fell victim to industrial accidents. He showed a keen interest in Canada's native peoples and deplored attempts to assimilate them and wipe out their culture. After his return to Europe, he continued to publish material based on his years in Canada.
On 22 May 1929 Babiuk left Winnipeg for Kharkiv in Soviet Ukraine. His wife, in poor health, had departed for Prague with their daughter. He returned to his homeland for a number of reasons, the most important of which was probably that in Winnipeg he had had less time to pursue his literary activities than he had been promised. Kharkiv, then the capital, was the centre of Ukrainization (a policy pursued by the country's Communist Party to promote Ukrainian culture and the Ukrainian language), and it was thus more appealing than Winnipeg. Once there he took on the leadership of the Union of Revolutionary Writers of Western Ukraine and edited its journal Zakhidnia Ukraïna [Western Ukraine]. He continued to publish his own writings, and as he had promised, he stayed in touch with the Ukrainian Canadian community.
Ukrainization was short-lived. By late 1929 the Soviet Union, under Joseph Stalin, had begun a systematic process of political repression. Members of the intelligentsia were arrested as "enemies of the people." In 1933 Babiuk was apprehended and, after a lengthy interrogation, was accused of belonging to a nationalist, counter-revolutionary organization seeking to overthrow Soviet rule in Ukraine. He was sentenced to ten years in a prison camp on the Solovetsky Islands in the White Sea. News of his arrest and internment caused a split in the ranks of Winnipeg Communists; some members refused to accept official Soviet explanations of the events. After about four years Babiuk's sentence was changed to "execution by shooting." One of a group of 1,100 inmates, he died in nearby Sandarmokh, a tract of land used for the killing and burial of Soviet prisoners. He and others arrested during the Stalinist purges were posthumously rehabilitated in 1957 as part of Nikita Khrushchev's official condemnation of the "cult of Stalinism."
Andrii Babiuk left a stylistically complex body of literature – written in numerous genres – and focused on issues important to Communists, which reached an audience beyond those who shared his political affiliation. In an article in Saturday Night of 9 Feb. 1929, journalist Charles Roslin had described him as "the most popular and influential writer in the country," and asked: "Is there another writer in Canada whose appearance on the platform would be greeted with resounding long-continued applause ····· whose every new play is eagerly witnessed ····· who can see his audiences spell-bound, women weeping, men grinding their teeth, and then elevated with joy when the story takes a welcome turn?" Babiuk worked tirelessly to raise the social and national conscience of Ukrainians in their homeland and abroad, and made a unique and lasting contribution to Ukrainian Canadian history.
A list of Andrii Babiuk's works, published in Canada under the pseudonym Myroslav Irchan, appears in Peter Krawchuk, The unforgettable Myroslav Irchan: pages from a valiant life: dedicated to the 100th anniversary of his birth, 1897–1997, trans. Mary Skrypnyk, ed. Marshall Nay (Edmonton, 1998). The book by V. V. Mashotas, Myroslav Irchan, bibliografichnyi pokazhnyk [Myroslav Irchan, bibliography] (Kiev, 1961), contains a more complete bibliography of Babiuk's writings.
Winnipeg Free Press, 5 Feb. 1936, 3 Dec. 1949. Encyclopedia of Ukraine, ed. Volodymyr Kubijovyc (5v. in 6, Toronto, 1984–93). John Kolasky, The shattered illusion: the history of Ukrainian pro-communist organizations in Canada (Toronto, 1979). M. H. Marunchak, The Ukrainian Canadians: a history (2nd ed., Winnipeg and Ottawa, 1982). Prophets and proletarians: documents on the history of the rise and decline of Ukrainian communism in Canada, comp. and trans. John Kolasky (Edmonton, 1990). Joan Sangster, "Robitnytsia, Ukrainian communists, and the 'porcupinism' debate: reassessing ethnicity, gender, and class in early Canadian communism, 1922–1930," Labour (St John's), 56 (2005): 51–89. V. P. Vlasenko and Peter Krawchuk, Myroslav Irchan (Kiev, 1960). Paul Yuzyk, The Ukrainians in Manitoba: a social history (Toronto, 1953).
© 2019–2023 University of Toronto/Université Laval
Cite This Article
Alexandra Pawlowsky, "BABIUK, ANDRII (known as Myroslav Irchan)," in Dictionary of Canadian Biography, vol. 16, University of Toronto/Université Laval, 2003–, accessed November 30, 2023, http://www.biographi.ca/en/bio/babiuk_andrii_16E.html.
The citation above shows the format for footnotes and endnotes according to the Chicago manual of style (16th edition). Information to be used in other citation formats:
| | |
| --- | --- |
| Permalink: | http://www.biographi.ca/en/bio/babiuk_andrii_16E.html |
| Author of Article: | Alexandra Pawlowsky |
| Title of Article: | BABIUK, ANDRII (known as Myroslav Irchan) |
| Publication Name: | Dictionary of Canadian Biography, vol. 16 |
| Publisher: | University of Toronto/Université Laval |
| Year of publication: | 2019 |
| Year of revision: | 2019 |
| Access Date: | November 30, 2023 |