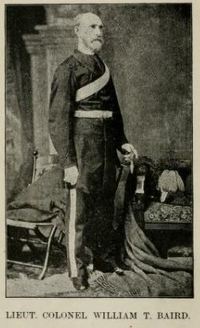 Source: Link
BAIRD, WILLIAM TEEL, pharmacist, office holder, militia officer, and author; b. c. 1819 in Fredericton, son of John Baird* and Annie Diggin; m. 6 Jan. 1842 Sarah Ann Shea in Woodstock, N.B., and they had six children; d. there 23 Feb. 1897.
William Teel Baird spent part of his early life on the upper Saint John River, where his schoolteacher father, a former soldier, had cleared a small plot. In 1825, however, the family returned to Fredericton, a move Baird later recalled as "one of the great events of my life," giving him unlimited access to a public library and opportunities for study and personal development. His reminiscences of his years there, published in his autobiography, provide a colourful and unusually perceptive commentary on life in the capital.
Baird's formal education began at age 14 in the local grammar school. Shortly thereafter he was apprenticed to a pharmacist and in 1839, his training completed, he moved to Woodstock to open his own business. His many interests found an outlet in community service. As a lover of music and an instrumentalist himself he encouraged the formation of musical societies, and he established the first circulating library in Woodstock, using books from his own collection. A keen debater, popular public speaker, and avid amateur historian, he served as secretary of the Woodstock Mechanics' Institute and held, among other civic offices, the position of school trustee. He was also a charter member of the Sons of Temperance. His great interest, however, was the militia.
This interest had begun in Fredericton, apparently sparked by the activities of the British garrison and the annual musters of local militia companies. In 1836, on reaching the required age, Baird had joined the rifle company of the 1st Battalion of York militia. In his new home he enrolled as a private in the 1st Carleton, a unit that was more active than many others because Woodstock, a border town, was always alert to the possibility of conflict. During the Orange riot of 1847, as a lieutenant in the rifle company, Baird commanded the guard defending the town. Two years later he was promoted captain. His was the only militia company in the pre-confederation period to be placed in readiness by the government for use in an industrial dispute – in 1862, when railway workers at Richmond took action to recover wages owed to them.
Indeed, the 1860s began a period of intense involvement by Baird in militia affairs. During the Trent affair of 1861 [see Sir Charles Hastings Doyle*] he organized guards to prevent desertions from British troops moving through New Brunswick, for which service he was made lieutenant-colonel on 1 Jan. 1863 and deputy quartermaster general five months later. As commanding officer of the 1st Carleton he worked diligently to revitalize his battalion. In January 1865 he was a member of the commission that reorganized the provincial militia and in July he commanded a battalion of service militia at the first camp of military instruction held in New Brunswick. That fall, at the time of the Fenian threat, he was placed in charge of the volunteer companies organized by Lieutenant Governor Arthur Hamilton Gordon* as "Home Guards" and detailed for frontier service. When the militia was restructured in 1869, after coming under federal control at confederation, Baird was responsible for organizing the Carleton Light Infantry (67th Battalion of Infantry). His distinguished contribution to the militia brought him the appointment of district paymaster that year. Ten years later he was made district storekeeper at Saint John. His responsibilities were not onerous and he retained his positions until early 1887 when, in an attempt to influence the impending election, the federal government gave them to another, an event which left him extremely bitter about "party political influence."
Baird retired to Woodstock and in 1890 published his autobiography, Seventy years of New Brunswick life, a compelling but highly personalized narrative of events that concentrates largely on his own career and on military affairs. The latter part reveals that Baird shared the concerns of many Americans about anarchy and social upheaval in the United States, which he feared would spill over into Canada. As a counter, he proposed the establishment of a small, highly trained permanent force for Canada, staffed by Canadian officers and backed by a well-equipped volunteer militia raised from among the politically reliable and the "solid yeomanry of the country" and ready, whenever necessary, to aid the civil authorities "in the suppression of riots . . . [and] to check incipient rowdyism."
Baird's autobiography reveals that he represented many of the public virtues typical of his time and station: he was a good family man, highly principled, with a strong sense of duty and patriotic feeling. After his death in 1897, the Carleton Sentinel praised in particular his contribution to Woodstock and his "willingness to forward any movement, having in view its moral or material advancement."
William Teel Baird's Seventy years of New Brunswick life: autobiographical sketches (Saint John, N.B., 1890), was reprinted in Fredericton in 1978.
L. P. Fisher Public Library (Woodstock, N.B.), W. T. Baird, letter-book, 1865–66 (mfm. at N.B. Museum). The New Brunswick census of 1851: Carleton County, New Brunswick, Canada, ed. R. F. Fellows (Fredericton, 1972). E. T. Sturdee, Historical records of the 62nd St. John Fusiliers (Canadian militia) (Saint John, 1880). Carleton Sentinel (Woodstock), 27 Feb. 1897. The New Brunswick militia commissioned officers' list, 1787–1867, comp. D. R. Facey-Crowther (Fredericton, 1984). D. R. Facey-Crowther, "The New Brunswick militia: 1784–1871" (ma thesis, Univ. of N.B., Fredericton, 1965).
© 1990–2023 University of Toronto/Université Laval
Cite This Article
David R. Facey-Crowther, "BAIRD, WILLIAM TEEL," in Dictionary of Canadian Biography, vol. 12, University of Toronto/Université Laval, 2003–, accessed December 6, 2023, http://www.biographi.ca/en/bio/baird_william_teel_12E.html.
The citation above shows the format for footnotes and endnotes according to the Chicago manual of style (16th edition). Information to be used in other citation formats:
| | |
| --- | --- |
| Permalink: | http://www.biographi.ca/en/bio/baird_william_teel_12E.html |
| Author of Article: | David R. Facey-Crowther |
| Title of Article: | BAIRD, WILLIAM TEEL |
| Publication Name: | Dictionary of Canadian Biography, vol. 12 |
| Publisher: | University of Toronto/Université Laval |
| Year of publication: | 1990 |
| Year of revision: | 1990 |
| Access Date: | December 6, 2023 |