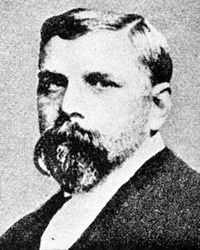 Source: Courtesy of Wikimedia Commons
BARR, ROBERT, teacher, journalist, editor, and author; b. 16 Sept. 1849 in Barony (Glasgow), son of Robert Barr and Jane Watson; m. 1 Aug. 1876 Eva Bennett in Raleigh Township, Ont., and they had one son and one daughter; d. 22 Oct. 1912 in Woldingham, England.
Robert Barr's family immigrated to Wallacetown, Upper Canada, in 1854 and later settled on a farm near Muirkirk. Barr assisted his father, a carpenter and builder who was also an avid reader, attended school in Dunwich Township, and became a teacher in Kent County. He entered the Toronto Normal School in 1873 and, after graduating, taught in Walkerville; in 1874 he was appointed principal of the Central School in Windsor.
Barr had entertained his many younger siblings with stories from an early age. In the 1870s, over the pseudonym Luke Sharp, he began to contribute anecdotes and facetiae to publications, including the satirical Grip in Toronto. His comic chronicle of an 1875 Lake Erie boating adventure, initially refused by Ontario papers, was serialized by the Detroit Free Press, which hired him as a reporter in 1876, the year he married the daughter of a school trustee. Barr, who was later joined at the Free Press by his brothers James and John, became a columnist, rose to the position of exchange editor, and in 1881 went to London to establish a weekly British edition. This publication, less news than popular entertainment in the American vein, was dramatically successful.
In 1892 Barr founded the Idler in London with playwright and humorist Jerome K. Jerome. In 1894 he withdrew as co-editor, but he became sole proprietor and editor with the April 1902 issue. The glossy monthly, which had been instantly popular, contained serialized novels and tales by such contributors as Barr, Stephen Crane, Mark Twain, Arthur Conan Doyle, Sara Jeannette Duncan*, and Israel Zangwill, as well as travel sketches, theatre and sporting reports, handsome illustrations, short fiction, interviews, and a column called the "Idlers Club." The Idler featured urbane gentleman's entertainment, and its tone was predominantly droll. It ceased publication in March 1911.
Well travelled and inveterately social, Barr was known as a raconteur, a bon vivant, and a dedicated club-man. He was acquainted with many of the more estimable writers of his time, including Arnold Bennett, Horatio Gilbert Parker*, Joseph Conrad, Bret Harte, Rudyard Kipling, H. Rider Haggard, H. G. Wells, and George Robert Gissing. Although he also produced sketches, several collaborative dramas, travel pieces, and interviews, Barr was a remarkably prolific writer of popular fiction, often adopting one of several formulas which he characteristically burlesqued. There was a workmanlike quality about his craft, and he was well rewarded for his understanding of his audience's taste in fiction.
Barr's volumes of short stories often favoured the ironic twist or the whimsical narrator; those collected in Revenge! (London, 1896) succeeded in their rapid development and general mordancy and did not manifest later, more romantic interests. His novels usually featured the well-born or innately clever, the cash nexus, bright repartee, clever plotting, loose treatments of history, melodrama, and conventional romantic entanglements. His protagonists included journalists, princes, detectives, deserving commercial and social climbers, financiers, the new woman of bright wit and aggressive accomplishment, and lords. His characters were largely stereotypical and idealized, his plots inventive, and the physical environments of his stories most often merely functional, though the local colour of his Canadian stories was convincing. Barr's format in fiction was predominantly episodic, the result of his newspaper background and his skill with the anecdote and vignette; often only the central character serves to link the nearly self-contained chapters of the novels. His narrative personae also featured moral and editorial interpolations within their tales. Barr's achievement was recognized by an honorary degree from the University of Michigan in 1900.
Barr wrote more than 20 novels. Among the more estimable are The victors (New York, 1901), about metropolitan politics, and The mutable many (New York and London, 1896), which focused on an industrial strike. Both had a distinctively realistic basis, and both were written more objectively and less floridly than was Barr's habit. A number of novels also had a Canadian setting. In the midst of alarms (Philadelphia, 1893) was a comic treatment of the 1866 Fenian invasion; as a teenager Barr had joined volunteers in St Thomas in anticipation of such a disturbance. The measure of the rule (London, 1907) was a satiric romance about his experiences at the Toronto Normal School. In 1903 he completed with considerable effectiveness The O'Ruddy, a posthumous picaresque novel by his good friend Stephen Crane. Barr's most enduring work was The triumphs of Eugène Valmont (London, 1906), a parody of Conan Doyle's Holmes and other gentlemanly sleuths in the person of a comically patronizing, self-inflating, and obtuse Gallic detective; several historians of the genre have identified Valmont as a possible model for Agatha Christie's Hercule Poirot.
Barr had few literary pretensions or illusions. He wrote several amusing articles about his profession as author; his two-part "Literature in Canada" (1899) excoriated the country whose "average citizen . . . loves whiskey better than books." A few of his stories of detection and the supernatural have enjoyed a later life in anthologies, and a few novels have been republished. His writings have also attracted some modest scholarly attention.
Robert Barr's novel The measure of the rule has been reprinted with an introduction by Louis K. MacKendrick (Toronto, 1973). His essay "Literature in Canada" was published in the Canadian Magazine, 14 (November 1899–April 1900): 3–7 and 130–36. The O'Ruddy: a romance, the novel he completed for Stephen Crane after the latter's death, appeared under both authors' names at New York in 1903, and in a London edition of the following year.
In addition to the works mentioned in his biography, Barr's publications include the following monographs, which appeared in separate London and New York editions unless otherwise noted: the novels Tekla: a romance of love and war (issued in Toronto and New York editions in 1898), Jennie Baxter, journalist (1899), A prince of good fellows (1902), and The speculations of John Steele (1905); a travelogue, The unchanging east (in a two-volume Boston edition, and a single-volume London one, both published in 1900); and several collections of short stories, among them In a steamer chair, and other shipboard stories (1892), The face and the mask (issued at London, 1894, and the following year in New York), and a modern anthology, Selected stories of Robert Barr, ed. and intro. John Parr (Ottawa, 1977).
Barr's output also includes numerous fiction and non-fiction contributions to periodicals. Further details concerning his writings are provided in John Parr's entry for him in the Dictionary of literary biography (cited below) and in L. K. MacKendrick, "The life and work of Robert Barr" (phil.m. thesis, Univ. of Toronto, 1966).
AO, RG 80-5-0-57, no.4711. Columbia Univ. Libraries (New York), Stephen Crane coll., Robert Barr letters to Stephen and Cora Crane. Univ. of Western Ont. Library, Regional Coll. (London, Ont.), Alexander McNeil, letters from Robert Barr, 1873–78. J. S. Bradshaw, "The Detroit Free Press in England," Journalism Hist. (Northridge, Calif.), 5 (1978–79): 4–7. Critical survey of mystery and detective fiction, ed. F. N. Magill (4v., Pasadena, Calif., and Englewood Hills, N.J., 1988). The 1890s: an encyclopedia of British literature, art, and culture, ed. G. A. Cevasco (New York, 1993), 39–40, 298–99. The Oxford companion to Canadian literature, ed. William Toye (Toronto, 1983). John Parr, "Robert Barr," Dictionary of literary biography (134v. to date, Detroit, 1978– ), vol.92 (Canadian writers, 1890–1920, ed. W. H. New, 1990): 17–23.
© 1998–2023 University of Toronto/Université Laval
Image Gallery

Cite This Article
Louis K. MacKendrick, "BARR, ROBERT (1849-1912)," in Dictionary of Canadian Biography, vol. 14, University of Toronto/Université Laval, 2003–, accessed December 3, 2023, http://www.biographi.ca/en/bio/barr_robert_1849_1912_14E.html.
The citation above shows the format for footnotes and endnotes according to the Chicago manual of style (16th edition). Information to be used in other citation formats:
| | |
| --- | --- |
| Permalink: | http://www.biographi.ca/en/bio/barr_robert_1849_1912_14E.html |
| Author of Article: | Louis K. MacKendrick |
| Title of Article: | BARR, ROBERT (1849-1912) |
| Publication Name: | Dictionary of Canadian Biography, vol. 14 |
| Publisher: | University of Toronto/Université Laval |
| Year of publication: | 1998 |
| Year of revision: | 1998 |
| Access Date: | December 3, 2023 |