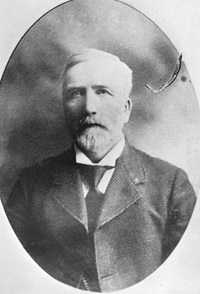 Source: Link
BAWLF, NICHOLAS, grain merchant; b. 17 July 1849 near Smiths Falls, Upper Canada, son of Nicholas Bawlf and Catharine Kirby; m. 6 Feb. 1877 in Almonte, Ont., Catharine Madden (d. 1918), and they had six sons and two daughters; d. 26 Dec. 1914 in Winnipeg.
If any one man symbolized the rise of Winnipeg as the grain centre of western Canada, it was Nicholas Bawlf. "Be sure you are right, then go ahead," was his motto and he followed it to the letter. He was educated at schools in Smiths Falls and trained as a moulder by Cossitt Brothers, a manufacturer of implements. He worked in the firm's shops in Smiths Falls and in the nearby town of Almonte, where he met his wife, Catharine Madden, in 1877. That year, like many of his generation, he sought new opportunities in the west. With his bride, he moved to Winnipeg. Initially, he established a flour and feed business on Main Street South, but within a few years he moved to larger quarters on Princess Street. He was one of the first merchants in the city to handle and cure rawhides.
The Bawlfs first lived in a small home on Main Street North. As his business prospered and the family grew, a larger home was required. Later, in 1897, Nicholas had a palatial home built at 11 Kennedy Street. Nicholas, Catherine, and their children were active in Winnipeg's Roman Catholic community and were members of St Mary's parish. Not only was Bawlf a generous financial supporter of the church, but, as a trustee of the school board, he became a spokesman for the city's Catholics on such controversial issues as the Public Schools Act of 1890 [see Thomas Greenway*]. He lobbied in Ottawa for the appointment of more Catholic senators as well.
It was in the grain business that Bawlf made his mark and his money. During the 1880s he had expanded his operations outside Winnipeg and in 1883 he was a promoter of a plan to establish a central market-place or exchange where wheat could be bought and sold more efficiently. Owing to the incomplete state of transportation, the lack of proper storage facilities, and a severe September frost which damaged the year's crop, the first attempt to organize an exchange failed.
Four years later, with the completion of the Canadian Pacific Railway and the dramatic increase in the province's wheat exports – from two million bushels in 1883 to four million in 1886 – local merchants tried again. The expansion of the railway had made Winnipeg the centre of the western transportation system, which meant that more wheat would pass through the city to be inspected and could therefore be traded on an open market. On 24 Nov. 1887, in the office of the Winnipeg Board of Trade at City Hall, 11 leading grain merchants, Bawlf among them, created the enduring Winnipeg Grain and Produce Exchange.
Bawlf served twice as the exchange's president, in 1890 and 1897, and was a member of its executive council and various committees, including the committee of appeals. For about four years the exchange operated out of the basement of the city hall. Thanks to Bawlf's generosity, however, construction of the first grain exchange building on Princess Street was completed in November 1892. Designed by architect Charles Arnold Barber, the new structure was described by the press as "the most convenient and comfortable office building in the city." Six years later an increase in membership forced the exchange to move to larger quarters. Bawlf was equally instrumental in obtaining the second grain exchange building, which was officially opened on 11 Jan. 1899.
During this period Bawlf had been expanding his business primarily through the construction of grain elevators. By 1892 the N. Bawlf Company had a total storage capacity of approximately 118,000 bushels in 10 communities across the province. But it quickly became apparent to Bawlf and other Winnipeg grain dealers that they had to consolidate their holdings if they were ever to compete successfully against the two leaders of the industry, the Ogilvie Milling Company [see William Watson Ogilvie*] and the Lake of the Woods Milling Company, established in 1887 by CPR entrepreneurs Sir George Stephen* and William Cornelius Van Horne. In September 1893 five grain firms merged to form the Northern Elevator Company Limited, with an authorized capital of $250,000. The firm's first board of directors consisted of Bawlf, Rodmond Palen Roblin*, Arthur Atkinson, Samuel Peck Clark, Herbert Crowe, and James A. Mitchell. By 1900 it would operate 92 country elevators (21 per cent of the prairie total) with a combined capacity of 2.4 million bushels, for a net profit of $180,643; by 1907 profits for the highly successful company would rise to more than $200,000.
Until he sold his interest in the Northern Elevator Company to an American milling company in 1909, Bawlf acted as the firm's president and in 1899 he was instrumental in organizing the Dominion Association. (Renamed the North-West Elevator Association in 1901, it would be incorporated two years later as the North-West Grain Dealers' Association.) This was an attempt by Bawlf and other dealers to reduce unnecessary competition at country points, but such commercial cooperation brought charges from western farmers that they were the victims of a monopoly. The grain men were forced to defend their companies and the elevator association at the hearings of the royal commission on the shipment and transportation of grain, appointed in 1899, the first of many such official investigations into the industry.
In 1909 Bawlf joined with his second eldest son, William Richard, to form a new grain corporation, the N. Bawlf Grain Company. It had an initial paid-up capital of $50,000 and soon acquired a terminal elevator in Port Arthur (Thunder Bay), Ont. Three years later Bawlf was president of the Alberta Pacific Grain Company of Calgary, an amalgamation of several companies. (Among his partners in this venture were William Maxwell Aitken* and Richard Bedford Bennett*.) As an astute businessman, Bawlf was one of the first traders to ship grain via Pacific ports. A former associate, Alvin K. Godfrey of the Canadian Elevator Company, credited Bawlf with shipping more wheat to Japan "than any man in Canada." By 1914, the year of his death, the authorized capital of the N. Bawlf Grain Company was $250,000, of which $100,500 was paid up. The next year profit totalled approximately $100,000.
A tall, handsome man with penetrating eyes and a full beard, Bawlf had a keen mind and a sharp wit. In his own words, he was "one of the best-known men in the west and one of the largest shippers of grain in the Dominion." This prominent position made him a popular candidate for directorships. He was a member of the Winnipeg Board of Trade and vice-president of Royal Canadian Securities, the Monarch Life Insurance Company, and the Great West Permanent Loan Company, as well as a director of the Bank of Toronto and the Standard Trusts Company. In 1883–84 he had a short stint in Winnipeg's civic politics when he served as an alderman of Ward 4, and he was a generous contributor to the city's various charities. At the time of his death, he was a director of the Manitoba branch of the Canadian Patriotic Fund.
On 26 Dec. 1914 Bawlf, who had been suffering from arteriosclerosis, returned home after a visit to the exchange, ate dinner with his family, and, on going to bed, had a heart attack. All of Winnipeg mourned his passing. He had been a true pioneer of the west, whose life, as his close friend Roblin then said, was "practically the history of the province." More important, Nicholas Bawlf was among the handful of businessmen who laid the foundations of the Canadian grain trade and who played a crucial role in its success, no less than the farmers who worked the fields. This task he always did with honesty and integrity.
Manitoba Culture, Heritage and Recreation, Hist. resources branch (Winnipeg), Rob Robson, "Nicholas Bawlf, 1849–1914" (typescript, 1979). NA, MG 26, G, 83072, 97062–64, 98150, 110632–33; MG 28, III 82, 1. PAM, MG 11, C53, 1; MG 13, E1, corr. and papers, 6873; letter-book, A/301, /361. Commercial (Winnipeg), 22 June 1886; 11 Feb. 1889; 13 Feb. 1893; 5 Feb., 7, 20 Aug. 1894; 7 Jan., 23 Sept. 1895; 14 Jan., 11 Feb. 1899; 14 Aug., 9 Oct. 1909. Manitoba Free Press, 28 Dec. 1914, 27 Nov. 1918, 1 July 1919. Winnipeg Free Press, 18 April 1940, 13 May 1952. Can., Parl., Sessional papers, 1894, no.16: 33; 1900, nos.81, 81a. Lillian Gibbons, "Bawlf House," Manitoba Pageant (Winnipeg), 23 (1977–78), no.1: 1–2. A. [G.] Levine, "The Bawlf family: a vanished legend in the Winnipeg grain trade," Manitoba Business (Winnipeg), November 1984: 33–38; The exchange: 100 years of trading grain in Winnipeg (Winnipeg, 1987). C. F. Wilson, A century of Canadian grain: government policy to 1951 (Saskatoon, 1978). Winnipeg Board of Trade, Annual report, 1878–1915. Winnipeg Grain and Produce Exchange, Annual report, 1887–1915.
© 1998–2023 University of Toronto/Université Laval
Image Gallery

Cite This Article
Allan Levine, "BAWLF, NICHOLAS," in Dictionary of Canadian Biography, vol. 14, University of Toronto/Université Laval, 2003–, accessed June 7, 2023, http://www.biographi.ca/en/bio/bawlf_nicholas_14E.html.
The citation above shows the format for footnotes and endnotes according to the Chicago manual of style (16th edition). Information to be used in other citation formats:
| | |
| --- | --- |
| Permalink: | http://www.biographi.ca/en/bio/bawlf_nicholas_14E.html |
| Author of Article: | Allan Levine |
| Title of Article: | BAWLF, NICHOLAS |
| Publication Name: | Dictionary of Canadian Biography, vol. 14 |
| Publisher: | University of Toronto/Université Laval |
| Year of publication: | 1998 |
| Year of revision: | 1998 |
| Access Date: | June 7, 2023 |