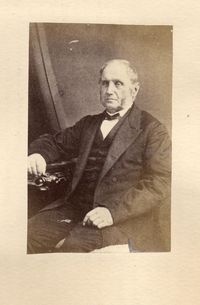 Source: Courtesy of Bibliothèque et Archives Nationales du Québec / 52327/1956109
BEAUBIEN, PIERRE, doctor, politician, and landowner; b. 13 Aug. 1796 at Baie-du-Febvre (Baieville), Lower Canada, son of Jean-Louis Beaubien, a farmer, and Marie-Jeanne Manseau; d. 9 Jan. 1881 at Outremont, Que.
After studying at the Séminaire de Nicolet from 1809 to 1815, Pierre Beaubien entered the Petit Séminaire de Montréal for a year of philosophy. With the encouragement of Abbé Jacques-Guillaume Roque*, one of his teachers there, and the financial support of his father and some of his family who were in religious orders, Beaubien sailed for France to study medicine. He completed his classical studies in France and on 27 May 1819 received a bachelier ès lettres from the Académie de Paris. Having begun to study medicine around 1817, he was granted the title of doctor on 16 Aug. 1822, following his defence of a thesis on rheumatoid arthritis which he dedicated to Joseph-Claude Récamier, his professor in the academy's medical faculty. During the next five years he worked in France and travelled in Germany, Switzerland, and Italy. Beaubien returned to Lower Canada in the autumn of 1827 and was granted a licence to practise medicine in the province by the Montreal Board of Medical Examiners on 28 February. On 11 May 1829 at Quebec he married Marie-Justine Casgrain, daughter of Pierre Casgrain*, seigneur of Rivière-Ouelle, and widow of Charles Butler Maguire, a former naval surgeon. They were to have eleven children, but six died in infancy; one son, Louis*, became a famous politician, two others were ordained priests, and their only daughter became a nun.
Despite a diversity of interests, medicine remained Beaubien's principal activity. When he returned to Canada, Abbé Roque, his former teacher who was influential in Montreal religious circles, had him appointed doctor to the Sulpicians and the sisters of the Congregation of Notre-Dame, as well as to both the Hôpital Général and the Hôtel-Dieu of Montreal. He was the first professor to give clinical lectures at the Hôtel-Dieu, where he practised from 1829 to 1880. During these years devoted to medicine, Beaubien is reputed to have been amongst the first to bring the stethoscope into use in Canada. In 1849 the Montreal School of Medicine and Surgery recruited him, and doctors Eugène-Hercule Trudel, Bernard-Henri Leprohon, and Jean-Baptiste-Curtius Trestler, to replace Daniel Arnoldi*, Francis Badgley*, and William Sutherland, who had gone to McGill College. Beaubien taught medical theory and practice in the school, and early in the 1860s agreed to become its president. In this capacity he participated in the thorny discussions concerning the affiliation of the school with a university authorized to grant medical degrees. As a result of McGill College's opposition to such a step, and of the successive refusals of the University of Toronto and Université Laval, the school finally affiliated with Victoria College in Cobourg, Canada West, in 1866 [see Hector Peltier*]. Beaubien was also public health officer for Montreal from 1832 to 1836, and medical superintendent of the Montreal prison from 1849 until his death.
During the union period, Beaubien became active in politics. He represented Montreal in the Legislative Assembly of the Province of Canada from 22 Nov. 1843 to 23 Sept. 1844. He was defeated by George Moffatt* in 1844 but won again in Chambly in 1848 and represented it until July 1849. In the assembly he sat with the Reformers, and promoted the development of means of communication. During these years he was involved in municipal politics in Montreal, serving as a councillor from 1843 to 1846 and becoming an alderman in 1847.
Beaubien also had substantial land holdings at Côte-Sainte-Catherine, Côte-Saint-Louis, and Côte-des-Neiges on which the present Côte-des-Neiges cemetery is located and the town of Outremont was developed at the end of the 19th century. He was joint owner with Louis-Hippolyte La Fontaine* and Joseph Bourret* of the sub-fief of La Gauchetière, which had been made over to them by the Sulpicians on 1 June 1844. In 1868 Beaubien presented four of his lots at Côte-Saint-Louis to Bishop Ignace Bourget, for the establishment of an educational institution for Roman Catholic children. The Clerics of St Viator built the Male Institution for the Catholic Deaf and Dumb of the Province of Quebec on this land in 1879. Three years before his death he gave to his son Louis the 22 lots he still owned in Côte-Saint-Louis.
Beaubien's role in the development of banking institutions in Quebec is not easy to determine but deserves mention. He helped set up the Banque du Peuple, being a member of its board of directors at its incorporation in 1835. In 1846 he also took part in the founding of the Montreal City and District Savings Bank, which had been started by Bishop Bourget, and was one of its directors until 1850. Beaubien also participated in the work of a number of organizations. By 1834 he had joined the Montreal Natural History Society. A member of the Association Saint-Jean-Baptiste de Montréal, he was elected its president in 1859.
Although Pierre Beaubien was not a prominent public figure, his diversified career and his wealth made him a person of note in 19th-century Montreal society.
Pierre Beaubien was the author of Dissertation sur le rhumatisme articulaire, présentée et soutenue à la faculté de médecine de Paris, le 16 août 1882 (Paris, 1822).
ANQ-M, Minutiers, Thomas Bédouin, 19 avril 1834; J.-J. Girouard, 23 juill. 1842, 15 mai 1844; L.-O. Hétu, 24 août 1878; Édouard Lafleur, 8 avril 1863; D.-É. Papineau, 6 févr. 1854. ANQ-Q, Minutiers, Louis Panet, 10 mai 1829. AP, Saint-Antoine-de-Padoue (Baieville), Reg. des baptêmes, mariages et sépultures, 13 août 1796. ASQ, Univ., Sér. U, Cartons 101, 8 déc. 1860, 9 janv. 1861; 102. Arch. privées, Pierre Beaubien (Hudson, Qué.), Certificat d'admission à la Soc. d'hist. naturelle de Montréal, 3 avril 1834; Corr., 8 janv. 1864, 23 janv. 1877, 8 mai 1880; Diplômes de l'académie de Paris, 1819, 1822; Licence to practice physic, surgery and midwifery in this province, 28 Feb. 1828. Bas-Canada, Chambre d'Assemblée, Journaux, 1835–36. "Le Dr Beaubien," L' Union médicale du Canada (Montréal), 10 (1881): 96. La Minerve, 6 nov. 1866. Le Monde, 10 janv. 1881. F.-J. Audet, Les députés de Montréal, 247, 270. C.-P. Beaubien, Écrin d'amour familial: détails historiques au sujet dune famine, comme il y en a tant d'autres au Canada qui devraient avoir leur histoire (Montréal, 1914), 146–47, 149, 151, 163. H.-J.-J.-B. Chouinard, Fête nationale des Canadiens-français célébrée à Québec en 1880: histoire, discours, rapports . . . (Québec, 1881), 615. Cornell, Alignment of political groups, 11, 15–16, 24–28. Histoire de la corporation de la cité de Montréal depuis son origine jusqu'à nos jours . . . , J.-C. Lamothe et al., édit. (Montréal, 1903). Robert Rumilly, Histoire d'Outremont, 1875–1975 (Montréal, 1975), 14. T. T. Smyth, The first hundred years: history of Montreal City District Savings Bank, 1846–1946 (Montreal, [1946]), 161. L.-D. Mignault, "Histoire de l'école de médecine et de chirurgie de Montréal," L'Union médicale du Canada, 55 (1926): 597–674.
© 1982–2023 University of Toronto/Université Laval
Image Gallery

Cite This Article
Jacques Bernier, "BEAUBIEN, PIERRE," in Dictionary of Canadian Biography, vol. 11, University of Toronto/Université Laval, 2003–, accessed October 3, 2023, http://www.biographi.ca/en/bio/beaubien_pierre_11E.html.
The citation above shows the format for footnotes and endnotes according to the Chicago manual of style (16th edition). Information to be used in other citation formats:
| | |
| --- | --- |
| Permalink: | http://www.biographi.ca/en/bio/beaubien_pierre_11E.html |
| Author of Article: | Jacques Bernier |
| Title of Article: | BEAUBIEN, PIERRE |
| Publication Name: | Dictionary of Canadian Biography, vol. 11 |
| Publisher: | University of Toronto/Université Laval |
| Year of publication: | 1982 |
| Year of revision: | 1982 |
| Access Date: | October 3, 2023 |