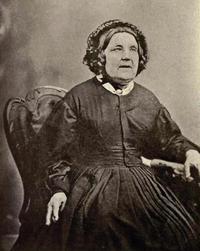 Source: Courtesy of Wikimedia Commons
BECKWITH, JULIA CATHERINE (Hart), author; b. 10 March 1796 in Fredericton, N.B., daughter of Nehemiah Beckwith and his second wife, Julie-Louise Lebrun de Duplessis; d. 28 Nov. 1867 at Fredericton.
Julia Catherine Beckwith's mother, whose apparently well-to-do forebears had immigrated to Canada from France in the 17th and 18th centuries, may have been working as governess in the Fredericton household of Thomas Carleton*, lieutenant governor of New Brunswick, about the time she married Nehemiah Beckwith, a loyalist of old Connecticut stock. About 1780 he had taken up land at Maugerville, N.B., and he ultimately became prosperous in shipping and shipbuilding. Julie-Louise forswore Roman Catholicism and adopted her husband's Wesleyan Methodist faith, but no bitterness marred her relations with her family. Julia Beckwith had a cousin who left Methodism to become a nun of the Hôtel-Dieu in Montreal; she corresponded with another cousin at the Collège de Nicolet who was later to be well known as a historian, Jean-Baptiste-Antoine Ferland, and she visited her French cousins during her girlhood, making the difficult journey to Quebec by canoe. It was the social and religious background of her mother's people that provided the subject-matter of her first novel, St. Ursula's convent, or the nun of Canada. With that world she was emotionally identified but because of her double heritage she could see it with a more detached vision. Written in Cornwallis and Fredericton when she was 17, the novel is filled with romance, suspense, complicated plots, and daring escapades, and resembles the picaresque and romantic literature of the time. It was not to be published for some ten years.
After her father's death by drowning in 1815, and probably in order to lessen the burden on her mother, Julia Beckwith went in 1820 to visit her aunt in Kingston, Upper Canada. There on 3 Jan. 1822 she married George Henry Hart, a bookbinder from England, and for two years ran a boarding school for girls. No doubt through her husband's connection with the book trade, in 1824 she found a publisher, Hugh C. Thomson*, for her novel, the first work of fiction written by a native-born Canadian and the first to be published in what is now Canada. She published it anonymously, with a dedication to the Countess of Dalhousie. Subscriptions were obtained from well-known persons in Upper Canada, New Brunswick, England, and the United States. In her preface she alludes to the "slow progress of improvement in British America, where until lately genius has slept . . . [and] scarcely a dawn of literary illumination is yet discerned." Two Montreal literary journals found her mode of expression elegant but repetitious and her plot sometimes too complicated to follow with ease, but were indulgent to the work of a young girl who had undertaken to do what had not been done before.
Mrs Hart's second novel, Tonnewonte; or, the adopted son of America, described as having been "written by an American," was published after she and her husband had moved, probably in 1824, to Rochester, N.Y. It exhibited a greater mastery of suspense, more depth of feeling, less resort to coincidence, but the same stilted expression and moral overtones of St. Ursula's convent. Mrs Hart wrote not just for entertainment but to express attitudes toward nature and society. In the beauties of the North American forest she saw God's beneficent hand; more significant was her view of the western frontier of settlement as a source of a spirit of freedom and independence. St. Ursula's convent had assumed the superiority of the aristocratic classes of the old world; her second novel contained some of the ideas that were to reappear with the frontier school of historiography of later times. Her conception of the simple and virtuous life of the American west no doubt stemmed from the 18th century ideas of the "noble savage" and "noble peasant" and reflected an obsession of the revolutionary age with the evils of social inequality, which she contrasted effectively with the character of life in the new settlements.
By 1831 Mrs Hart was back in Fredericton where her husband secured employment in the New Brunswick Crown Lands Office. There they continued to reside with their six children. Mrs Hart carried on her literary work, contributing to James Hogg's weekly paper, the New Brunswick Reporter. Among her later writings was a third novel, "Edith, or the doom," which received the qualified praise of certain local persons of prominence but which was never published.
UNBL, [J. C. Beckwith (Hart)], "Edith, or the doom." [J. C. Beckwith (Hart)], St. Ursula's convent, or the nun of Canada, containing scenes from real life (2v., Kingston, [Ont.], 1824); Tonnewonte; or, the adopted son of America: a tale containing scenes from real life, by an American (2v. in 1, Watertown, N.Y., 1824–25; 2v. in 1, Albany, N.Y., 1825; 1v., Exeter, N.H., 1831). W. G. MacFarlane, New Brunswick bibliography: the books and writers of the province (Saint John, N.B., 1895). D. A. Loughlin, "The development of social and intellectual attitudes as revealed in the literature of New Brunswick" (unpublished ma thesis, University of New Brunswick, Fredericton, 1948). C. L. Bennet, "An unpublished manuscript of the first Canadian novelist," Dal. Rev., XLIII (1963–64), 317–32. "The collector," Canadian Bookman (Toronto), XII (1930), 194–95. D. G. French, "Who's who in Canadian literature: some early writers," Canadian Bookman (Toronto), VIII (1926), 75–77. Philéas Gagnon, "Le premier roman canadien de sujet par un auteur canadien et imprimé au Canada," RSC Trans., 2nd ser., VI (1900), sect.i, 121–32. "Julia-Catharine Beckwith," BRH, VII (1901), 369–72. L. M. B. Maxwell, "The first Canadian born novelist," Dal. Rev., XXXI (1951–52), 59–64.
© 1976–2023 University of Toronto/Université Laval
Image Gallery

Cite This Article
Alfred G. Bailey, "BECKWITH, JULIA CATHERINE," in Dictionary of Canadian Biography, vol. 9, University of Toronto/Université Laval, 2003–, accessed September 24, 2023, http://www.biographi.ca/en/bio/beckwith_julia_catherine_9E.html.
The citation above shows the format for footnotes and endnotes according to the Chicago manual of style (16th edition). Information to be used in other citation formats:
| | |
| --- | --- |
| Permalink: | http://www.biographi.ca/en/bio/beckwith_julia_catherine_9E.html |
| Author of Article: | Alfred G. Bailey |
| Title of Article: | BECKWITH, JULIA CATHERINE |
| Publication Name: | Dictionary of Canadian Biography, vol. 9 |
| Publisher: | University of Toronto/Université Laval |
| Year of publication: | 1976 |
| Year of revision: | 1976 |
| Access Date: | September 24, 2023 |