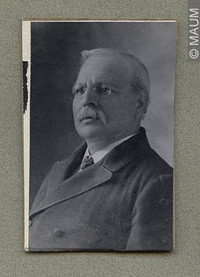 Source: Link
BELLIVEAU, ALPHÉE, teacher and school administrator; b. 9 July 1851, probably in Belliveau Village, N.B., where he was baptized the following month, son of François Belliveau and Madeleine Landry; m. 4 Aug. 1885 Marie Babineau in Saint-Louis de Kent, N.B., and they had five sons and two daughters; d. 1 June 1927 in Sainte-Anne-de-Kent, N.B.
Alphée Belliveau likely attended the elementary schools in his region before enrolling in the Séminaire Saint-Thomas. This institution, which had been founded in Memramcook in 1854 by Abbé François-Xavier-Stanislas Lafrance*, closed in 1862. It was replaced by the College of St Joseph, which Camille Lefebvre*, of the Holy Cross Fathers, established in 1864. Belliveau was one of the first Acadian students at this college, which his father had decided he and his brothers should attend. A fairly prosperous farmer, the elder Belliveau would be described by Father Lefebvre, in an article in the Moncton newspaper L'Évangéline on 17 Aug. 1933, as "the champion of education in [the] parish of Memramcook." Alphée began his secondary studies in the commercial course, and then transferred to the classical program. Among his classmates were Pascal Poirier*, who would later be an author and senator, Pierre-Amand Landry*, who would become a politician and judge, and his cousin Placide Gaudet, who would be the author of important works on Acadian genealogy.
Around 1870 Belliveau left the College of St Joseph and became a teacher at Memramcook. He taught there until 1874, when he left to practise his profession in Grosses Coques and Saulnierville, in Nova Scotia. Although he did not have a teaching certificate, he was allowed to teach in elementary schools, but at a lower salary than a certified teacher. His return to New Brunswick in 1879, when the great school crisis of the 1870s [see John Costigan*] was nearing its end, was a turning point in his career. On the initiative of the superintendent of education, Theodore Harding Rand*, a preparatory department for francophones had been created in 1878 at the Normal School in Fredericton in order to attract a greater number of them to this institution, where the only language of instruction was English. After a period of three to five months in this class, students received a "local licence," valid for two years. Valentin Landry* was the first professor in charge of this program, but he did not stay long since he accepted a position as inspector of schools in 1879. The 28-year-old Belliveau was invited to take his place.
Like others in the new Acadian elite, such as Pierre-Amand Landry, Belliveau was a man of compromise and an advocate of good relations between Acadians and the anglophone community. The preparatory department, where he taught after 1879, did not enjoy unanimous support. On 9 Dec. 1880, for instance, in the Shediac newspaper Le Moniteur acadien, the Acadian nationalist leader Abbé Marcel-François Richard* asserted, "This department is French [only in having a] French professor and [some] French students." In 1883 this section of the Normal School became the French department and Belliveau became its head.
Despite conditions that were often difficult, Belliveau spent some 40 years as the only French-speaking professor at the Normal School in Fredericton. He was not able to buy a house on his salary of $1,400 a year and he often had to borrow money. Altogether he taught more than 2,000 students. Although enrolment was low in 1879, it increased considerably over the years. At the beginning of the 20th century, the French department had several dozen students, from every Acadian region in New Brunswick. These future teachers took courses in both French and English. On the successful completion of an initial five-month session, they received a third-class teaching certificate entitling them to teach in the public schools of the province. In order to obtain a higher grade of teaching certificate (and thereby access to better working conditions), they could either return to the French department for another session or enrol in the Normal School. J.-Théodule Lejeune, who would succeed Belliveau in 1920, opted for the latter.
The courses dealt mainly with subjects then being taught in the schools, such as commercial arithmetic and science. Belliveau, who was both department head and professor, took responsibility, in particular, for giving instruction on teaching methods for spelling and grammar. Very few French-language textbooks were available in New Brunswick, a situation that was regularly denounced in the Acadian press. Belliveau's timid attempts in this regard met with little success.
Belliveau is remembered as being authoritarian, but intelligent and studious, and well liked by his students. A polyglot, he spoke seven languages, including Volapük, a language created in 1879 by a German, Johann Martin Schleyer, that was later displaced by Esperanto. He was also one of the early members of the French-speaking community in Fredericton. The Acadian mlas were in the habit of getting together at his home. His wife, Marie Babineau, who had been one of his first students at the Normal School, shared his interest in promoting the French and Acadian presence. Indeed, all their children studied in French in Fredericton, despite the fact that the city was a stronghold of the Anglo-loyalist tradition, and they enjoyed the benefits of a higher education. While she was still single and teaching in Saint-Louis de Kent, Marie had designed and made the first Acadian flag, at the request of her curé, Abbé Richard. This flag was adopted at the second Convention Nationale des Acadiens, which was held in 1884 in Miscouche, P.E.I.
Alphée Belliveau and his family manifestly were closely attached to the Roman Catholic Church, like many Acadian families of that time. One of his sisters was a nun and two of his brothers became priests, the best known being Mgr Philippe Belliveau. Two of Alphée and Marie's children chose the religious life: Alice entered the Congregation of Notre-Dame, and Hector, who brought his parents to live with him in 1923, was ordained to the priesthood in 1914.
The original Acadian flag created by Alphée Belliveau's wife, Marie Babineau, is preserved at the Musée Acadien at the Univ. de Moncton, N.-B. Hector Belliveau is the author of a biography of his father entitled "Alphée Belliveau: 40 ans de vie française à Fredericton, 1880–1920; un témoignage," Soc. Hist. Acadienne, Cahiers (Moncton), 7 (1976): 27–33.
Centre d'Études Acadiennes, Univ. de Moncton, Fonds Hector-Belliveau. LAC, RG 31, C1, 1901, Fredericton, St Anne's Ward: 22. L'Évangéline (Moncton), 9 juin 1927. S. M. Andrew, The development of élites in Acadian New Brunswick, 1861–1881 (Montreal and Kingston, Ont., 1997). Fernand Arsenault et Edmour Babineau, Philippe Belliveau (Moncton, 1988). Maurice Basque, De Marc Lescarbot à l'AEFNB: histoire de la profession enseignante acadienne au Nouveau-Brunswick (Edmundston, N.-B., 1994). J.-H. Béliveau, Genealogical dictionary of Belliveau–Béliveau families in North America (Trois-Rivières, Que., 1986). Gilberte Couturier LeBlanc et al., "French education in the Maritimes, 1604–1992," in Acadia of the Maritimes: thematic studies from the beginning to the present, ed. Jean Daigle (Moncton, 1995), 523–62. J.-E. Picot, Les écoles normales du Nouveau-Brunswick, 1848–1973 (Fredericton, 1974). A.-J. Savoie, Un siècle de revendications scolaires au Nouveau-Brunswick, 1871–1971 (2v., [Edmundston], 1978–80).
© 2005–2023 University of Toronto/Université Laval
Image Gallery

Cite This Article
Maurice Basque, "BELLIVEAU, ALPHÉE," in Dictionary of Canadian Biography, vol. 15, University of Toronto/Université Laval, 2003–, accessed September 30, 2023, http://www.biographi.ca/en/bio/belliveau_alphee_15E.html.
The citation above shows the format for footnotes and endnotes according to the Chicago manual of style (16th edition). Information to be used in other citation formats:
| | |
| --- | --- |
| Permalink: | http://www.biographi.ca/en/bio/belliveau_alphee_15E.html |
| Author of Article: | Maurice Basque |
| Title of Article: | BELLIVEAU, ALPHÉE |
| Publication Name: | Dictionary of Canadian Biography, vol. 15 |
| Publisher: | University of Toronto/Université Laval |
| Year of publication: | 2005 |
| Year of revision: | 2005 |
| Access Date: | September 30, 2023 |