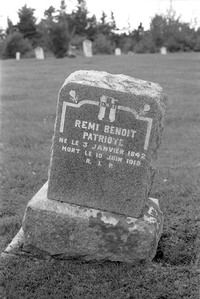 Source: Link
BENOÎT, RÉMI, teacher, office holder, newspaper editor, and officer of a mutual benefit society; b. 3 Jan. 1842 in D'Escousse, N.S., son of Jacques Benoît and Marina Petitpas; m. there first 22 Nov. 1869 Delvina-Angèle Pertus (d. 1875), and they had four children; m. there secondly 2 July 1879 Julie-Sabine Martel (d. 1899), and they had six or seven children; m. thirdly 23 May 1901 Rose Cook, née Bourget (d. 1935), in Lowell, Mass.; d. 19 June 1919 in Truro, N.S., and was buried in D'Escousse.
Rémi Benoît, a French-speaking Acadian, was first educated in local schools, where the instruction was primarily in English. In 1861 he graduated from St Francis Xavier College in Antigonish. After teaching in Richmond County and serving as principal of an academy at Church Point for four years, he was inspector of public schools for Richmond County from 1869 to 1879. An unsuccessful Conservative candidate in the federal elections of 1874 and 1878, Benoît probably owed his appointment in 1879 as collector of customs in Arichat at least in part to his political ties. He lost the position when the Liberals were returned in 1896. With little prospect of employment after his defeat in the provincial election of 1897, he chose the path taken by many Maritime Acadians, immigrating to the eastern United States.
Benoît's places of residence in Massachusetts suggest that he may have moved from job to job. He remained constant, however, in his support of the Acadian nationalist cause. In 1881 he had been a member of the committee which organized the Convention Nationale des Acadiens at Memramcook, N.B. [see François-Xavier Cormier*], and he served in the same capacity for the conventions of 1884, 1890, and 1900. Acadians in the eastern United States also met on a regular basis. At a convention in Waltham, Mass., in 1902, the creation of an exclusively Acadian organization was proposed in order to counter the increased participation by Acadians in English-speaking societies. In May 1903 Benoît was named to a committee to prepare a constitution for a mutual benefit society. On 7 September, in Waltham, the constitution was adopted and officers were elected for the Société l'Assomption. Benoît served as president until August 1904, when he became chancellor; from 1906 to 1914 he would be a director.
Sometimes called the Société Mutuelle l'Assomption to distinguish it from the Société Nationale de l'Assomption, which had been formed in New Brunswick in 1881 to defend Acadian interests, the Société l'Assomption was designed to assist members and their families in the event of death, illness, or injury; it would eventually become the most important Acadian financial institution of the 20th century. Since it also had as its goal the preservation of the Roman Catholic faith and the French language, it would mobilize Acadian society in a wide variety of patriotic endeavours as well and would gradually supplant the Société Nationale de l'Assomption. By the end of 1913 it had 115 branches, 7,520 members, and assets of $22,600. Two decisions that year, to convert its system of benefits to life insurance policies and to move the headquarters to Moncton, N.B., caused much dissension, however. In 1914 the American branches formed the Société l'Assomption des États-Unis, which would continue as a mutual benefit society.
Meanwhile, Benoît had moved to Moncton in 1913 to become editor of L'Évangéline [see Valentin Landry]. Under his pen the newspaper supported repatriation and colonization movements, promoted agriculture and improvements in education for Acadians, and urged Acadians to be thrifty and self-reliant. In late December 1914 he resigned to take up a position with the Société l'Assomption. As its general organizer until May 1918, he criss-crossed the Maritimes, setting up and assisting branches. A good speaker with a sense of humour, he was greatly appreciated by those with whom he worked. Membership increased and by 1917 the society had recovered the losses of 1913–14.
A modest man who played down his role in the founding of the Société l'Assomption, Benoît would none the less have been pleased to know that its successor since 1968, Assomption Compagnie Mutuelle d'Assurance-Vie, still plays an important role. Although he is not well known, Benoît deserves to be remembered as someone who devoted much of his life to championing Acadian causes.
[The author would like to thank J. Emile Benoit of Arichat, N.S., Kathleen MacKenzie of Antigonish, N.S., Sally Ross of Tantallon, N.S., and Stephen A. White of Moncton, N.B., for their assistance. p.m.c.]
Rémi Benoît is the author of a pamphlet, Mr. Remi Benoit to the electors of Richmond, Nova Scotia ([Arichat, N.S., 1892]).
Centre d'Études Acadiennes, Univ. de Moncton, Fonds L'Assomption compagnie mutuelle d'assurance-vie; Fonds A.-J. Léger, 21.1; Fonds L'Évangéline; Fonds Pascal Poirier, 6.1-2, 6.1-6; Fonds F.-J. Robidoux, 4.1-1; Fonds Soc. nationale de l'Assomption, 41.1-3. Mass., State Dept. of Public Health, Registry of vital records and statistics (Boston), Marriage records, Lowell, Mass., 23 May 1901. Casket (Antigonish), 28 June 1861. L'Évangéline (Weymouth Bridge, N.-É.; Moncton), 21 août 1890; 20 juill. 1910; 25 oct., 29 nov. 1911; 5 nov. 1913–22 mai 1918; 23, 30 juin, 3 juill. 1919. Le Moniteur acadien, 13 mars 1894; 7 mars 1899; 9, 23 août 1900; 21 janv. 1904; 23 févr. 1905; 3 juill. 1906; 20 août 1908; 14, 28 août 1913. Canadian album (Cochrane and Hopkins), 4: 304. Conventions Nationales des Acadiens, Recueil de travaux et délibérations des six premières conventions, F.-J. Robidoux, compil. (Shédiac, N.-B., 1907). CPG, 1878–79, 1898. Euclide Daigle, Petite histoire d'une grande idée (Moncton, 1978). A.-J. Léger, Les grandes lignes de l'histoire de la Société l'Assomption (Québec, 1933). N.S., House of Assembly, Journal and proc., 1870, 1879, reports of the superintendent of education, 1869, 1878. Pascal Poirier, "Mémoires de Pascal Poirier," Soc. Hist. Acadienne, Cahiers (Moncton), 4 (1971–73): 107–13. Deborah Robichaud, "Les conventions nationales (1890–1913): la Société nationale l'Assomption et son discours," Soc. Hist. Acadienne, Cahiers, 12 (1981): 36–58.
© 1998–2023 University of Toronto/Université Laval
Image Gallery

Cite This Article
Paulette M. Chiasson, "BENOÎT, RÉMI," in Dictionary of Canadian Biography, vol. 14, University of Toronto/Université Laval, 2003–, accessed September 28, 2023, http://www.biographi.ca/en/bio/benoit_remi_14E.html.
The citation above shows the format for footnotes and endnotes according to the Chicago manual of style (16th edition). Information to be used in other citation formats:
| | |
| --- | --- |
| Permalink: | http://www.biographi.ca/en/bio/benoit_remi_14E.html |
| Author of Article: | Paulette M. Chiasson |
| Title of Article: | BENOÎT, RÉMI |
| Publication Name: | Dictionary of Canadian Biography, vol. 14 |
| Publisher: | University of Toronto/Université Laval |
| Year of publication: | 1998 |
| Year of revision: | 1998 |
| Access Date: | September 28, 2023 |